Choosing the right nail size for fence panels is crucial for a sturdy and long-lasting fence.
If you want to avoid loose panels, structural instability, and premature wear, you should know what size nails for fence panels.
This blog will guide you on selecting the perfect nail size for your fence panels, ensuring a secure and durable fence.
Stay tuned to avoid the pitfalls of incorrect nail sizing and build a fence that stands the test of time.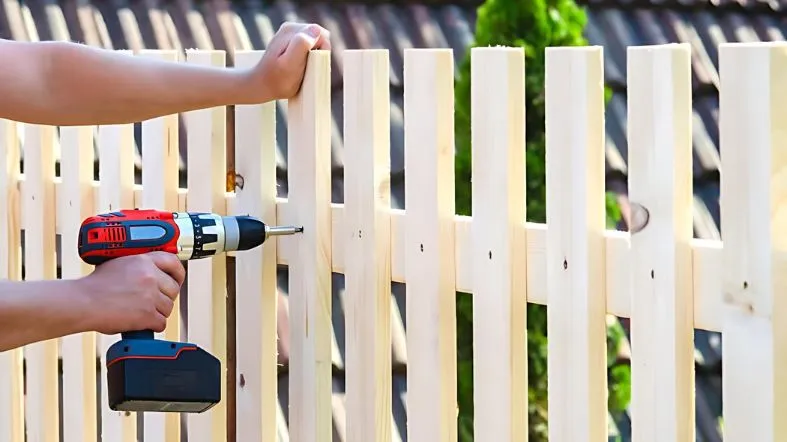 What Size Nails for Fence Panels?
For fence panels, the generally recommended nail sizes are 1.5 to 2.5 inches for wooden panels. Galvanized or stainless steel nails are often preferred due to their resistance to rust. The specific size can depend on the thickness of your panels and the local building codes.
Table Chart
| Nail Size | Suitable Material | Specific Use |
| --- | --- | --- |
| 1.5 inches | Wooden Panels | Attaching pickets to the panel |
| 2 inches | Wooden Panels | Attaching panel to post |
| 2.5 inches | Wooden or Metal Panels | Attaching heavier or thicker panels |
| Galvanized | Wooden or Metal Panels | General outdoor use to prevent rust |
| Stainless Steel | Wooden or Metal Panels | Premium choice for longevity and rust resistance |
Importance of Choosing the Right Nail Size
Stability and Longevity
Choosing the right nail size is crucial for the stability and longevity of your fence. If the nails are too small, they may not hold the panels securely.
On the other hand, nails that are too large can split the wood, damaging your fence.
Efficiency during Installation
The right nail size also contributes to a more efficient installation process. It helps you avoid unnecessary damage to the panels.
Plus, it makes the installation quicker and smoother, saving you time and effort.
Safety Concerns
Safety is another important factor to consider when choosing nail size. Using incorrectly sized nails can lead to accidents during installation.
Moreover, an unstable fence built with the wrong nail size could potentially collapse, posing a risk to people and property.
Different Types of Nails Suitable for Fence Panels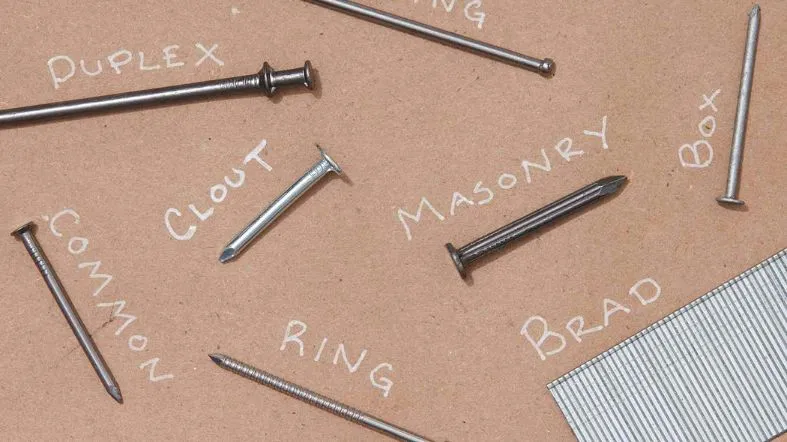 Galvanized Nails
Galvanized nails are a great choice for outdoor fences. They have a zinc coating that prevents rusting, ensuring your fence stays strong and sturdy.
Stainless Steel Nails
If you live in an area with high humidity or rainfall, stainless steel nails are your best bet. They are highly resistant to rust and corrosion, keeping your fence in top shape.
Aluminum Nails
Aluminum nails are lightweight and rust-resistant. However, they're not as strong as steel nails. These nails are best used for decorative elements on your fence.
Polymer-coated Nails
For treated woods, polymer-coated nails are the way to go. They have a layer of plastic that provides extra resistance against rust and corrosion, ensuring the longevity of your fence.
How to Determine the Perfect Nail Size for Your Fence Panels
Measuring the Thickness of Your Fence Panels
First, grab a ruler or a tape measure. Measure how thick your fence panels are. You need this information to pick the right nail size.
For example, if your fence panels are one inch thick, you'll need nails that are at least one and a half inches long.
Understanding Nail Length and Diameter
Nails come in various lengths and diameters. The length is how long the nail is from end to end. The diameter is how wide the nail is. In stores, you'll see labels like 2D, 4D, 6D, etc.
The "D" stands for "penny," an old term for sizing nails. If you're fixing a one-inch-thick fence, a 4D nail, about 1.5 inches long, would be ideal.
Nail Material Matters: Wood vs. Metal Panels
If you're using wood panels, go for galvanized nails. These nails have a special coating that stops rust. For metal panels, you'll need aluminum or stainless steel nails.
They prevent rust and hold the metal well. Let's say you have wooden panels. In this case, using galvanized nails will make your fence last longer.
Check the Weather Forecast
Think about the weather in your area. If you live in a place with lots of rain or snow, you'll need nails that can resist water damage.
Galvanized nails or stainless steel nails are the best choices. Imagine living in a rainy place like Seattle. Using regular nails will make them rust fast, damaging your fence.
Test Nail Strength: Bend Test
Nails should be strong, not brittle. You can perform a simple bend test. Take a nail and try to bend it with your hands. A quality nail will bend without breaking.
This test will help you feel confident about the nail strength. For instance, if a nail breaks when you try to bend it, don't use it for your fence.
Spacing Between Nails: The Rule of Thumb
Space out your nails at equal intervals. For most fence panels, aim for a spacing of 6 to 8 inches between each nail. Mark these spots lightly with a pencil.
For example, if you have a 6-foot panel, you'll end up with about 9 to 12 nails per panel.
The Angle Matters: Nailing Technique
When nailing the fence, aim the nail at a slight downward angle. This angle will help the nail grip the wood better.
Think about nailing a picture frame on the wall. If you nail it straight, it may slip over time. But an angle provides a better grip.
Pre-Drill Holes for Hardwood Panels
Some wood types, like oak or mahogany, are hard. Nailing directly into them can split the wood. For such woods, pre-drill holes slightly smaller than the nail diameter.
Let's pretend you're working with oak panels. Pre-drilling will save you from splitting the wood and wasting panels.
Safety First: Protective Gear
Safety is critical. Always wear safety glasses and gloves. The glasses will protect your eyes from flying bits of wood or metal.
Gloves will protect your hands from splinters or sharp nail points. Imagine you're a superhero. Even superheroes wear armor to stay safe!
Factors Influencing Nail Size Selection for Fence Panels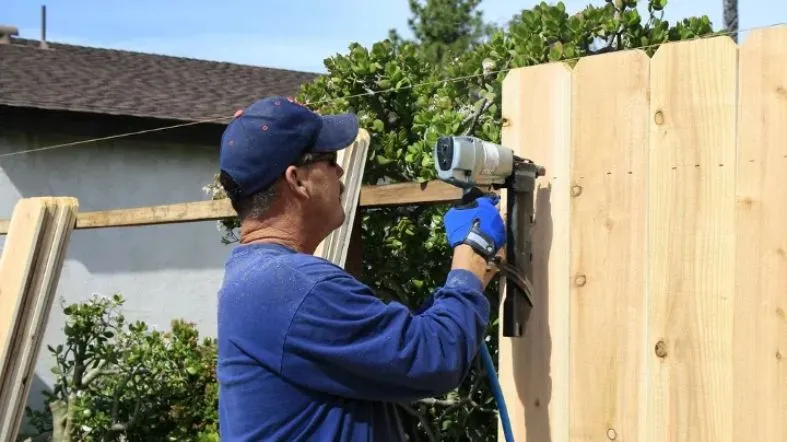 Material of the Fence Panel
The material of your fence panel plays a big role in nail size selection. For instance, wooden panels usually require longer nails compared to metal ones.
Environmental Conditions
Environmental conditions such as humidity, rainfall, and temperature can also affect your choice of nail size.
You might need larger nails in areas with high rainfall to ensure the panels are securely attached.
Design Codes and Standards
Design codes and standards can dictate certain requirements for nail sizes. Make sure to check these before starting your fence project.
Weight and Load Bearing Capacity of the Panels
The weight and load-bearing capacity of the panels are also important factors. Heavier panels or those that need to bear a load will require larger nails for secure attachment.
Budget Constraints
Your budget can influence your choice of nail size. Keep in mind that larger nails are usually more expensive.
Local Regulations and Zoning Requirements
Lastly, local regulations and zoning requirements might have rules about fence construction, including nail size. Always check with your local authorities before starting a fence project.
FAQs
Can I use regular nails for my outdoor fence?
No, it's recommended to use galvanized or stainless steel nails for outdoor fences due to their rust resistance.
Is it necessary to measure the thickness of my fence panels?
Yes, measuring the thickness of your fence panels helps you select the appropriate nail size for a secure fit.
Are aluminum nails suitable for heavy-duty fence panels?
No, aluminum nails are lighter and not as strong as steel nails, making them unsuitable for heavy-duty panels.
Do I need to pre-drill holes for hardwood panels?
Yes, for hardwood panels like oak or mahogany, pre-drilling holes can prevent the wood from splitting.
Does the angle of nailing affect the fence's stability?
Yes, nailing at a slight downward angle can provide better grip and add to the fence's stability.
Conclusion
Choosing the right nail size is crucial when installing or repairing fence panels. It ensures effectiveness, safety, stability, and longevity of your fence.
Always consider factors like panel material, environmental conditions, local regulations, and your budget when choosing nail size.