Smoke detectors are essential for keeping your home safe from fire hazards. However, you must know what size wire for smoke detectors to ensure safe operation avoiding reduced performance and reliability, and decreased energy efficiency.
In this blog post, we'll discuss the importance of selecting the right wire size and provide a quick guide to help you make the best choice for your home. Keep reading to learn more!
What Size Wire for Smoke Detectors?
For hardwired smoke detectors, 14-gauge wire is used for 15-amp circuits, while 12-gauge wire is used for 20-amp circuits. The wire size for smoke detectors depends on the electrical requirements and the distance between the detector and the power source.
Smoke Detectors Wire Size Chart:
| Wire Size | Suitability for Smoke Detectors |
| --- | --- |
| 14-gauge | Suitable for 15-amp circuits |
| 12-gauge | Suitable for 20-amp circuits |
Exploring Different Wire Types for Smoke Detectors
Various wire types offer distinct advantages for smoke detector installations. These include:
Copper Wires
Copper wires are a preferred option due to their high conductivity and durability. They are particularly well-suited for smoke detectors as they exhibit corrosion resistance, making them an ideal choice even in humid environments.
Aluminum Wires
Aluminum wires present an alternative for smoke detectors. They are characterized by their lightweight nature and lower cost compared to copper wires.
However, it's important to note that they may not match copper wires' longevity and might necessitate more frequent maintenance.
Solid Wires
Solid wires are composed of a single, unbroken conductor. They offer reliable connections and ease of handling.
Nevertheless, they lack the flexibility of stranded wires, which can make them challenging to install in confined spaces.
Stranded Wires
Stranded wires consist of multiple thin wire strands twisted together. They possess greater flexibility, making them more suitable for installation in tight spaces.
However, the presence of individual strands introduces the possibility of loose strands causing shorts, requiring careful handling.
Significance of Correct Wire Size Selection for Smoke Detectors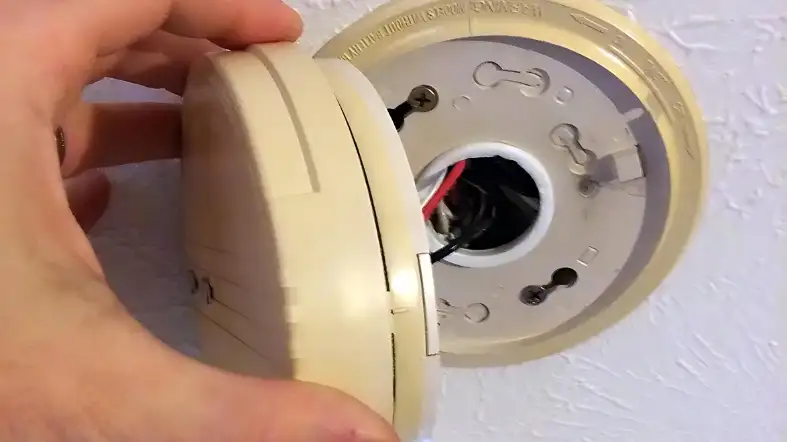 Selecting the appropriate wire size for your smoke detectors holds significant importance for various reasons:
Ensuring Safety
Using wires that are inadequately sized can lead to overheating and create potential fire hazards. Opting for the recommended wire size is crucial to safeguard your home and maintain reliable smoke detector operation.
Enhancing Performance and Reliability
Utilizing the correct wire size guarantees that your smoke detectors receive the appropriate power supply.
This serves to reduce the occurrence of false alarms and ensures that the smoke detectors will perform effectively during fire emergencies.
Promoting Energy Efficiency
Choosing the right wire size also has an impact on the energy efficiency of your smoke detectors.
Inappropriately sized wires can introduce higher resistance, resulting in energy wastage and subsequently increased electricity costs.

Factors to Consider When Choosing Wire Size for Smoke Detectors
Electrical Load
When determining the appropriate wire size for your smoke detectors, it's crucial to take into account the electrical load they draw.
This load pertains to the amount of current they require. Selecting a wire size capable of safely handling this load is of paramount importance.
Distance from the Power Source
The distance separating your smoke detectors from the power source has a direct impact on the necessary wire size.
Longer distances necessitate larger wire sizes to guarantee sufficient power supply to your smoke detectors.
Local Electrical Codes and Standards
Local electrical codes and standards impose specific requirements for the minimum wire size essential for smoke detectors.
It's imperative to liaise with local authorities to ensure strict adherence to relevant regulations and guidelines.
Insulation Type
The type of insulation applied to your wires also influences the requisite wire size. Certain insulation types may mandate the use of larger wire sizes due to their thickness or heat resistance characteristics.
Future Upgrades or Additional Smoke Detectors
If you have intentions of expanding your smoke detector system by adding more detectors or undertaking upgrades, it's vital to opt for a wire size that can accommodate these future changes effectively.
Environmental Conditions (Temperature, Humidity)
Environmental conditions encompassing factors like temperature and humidity have a bearing on the appropriate wire size selection.
Elevated temperatures or high humidity levels might necessitate the employment of larger wire sizes to ensure consistent, safe, and reliable operation.
Budget Constraints
In making your decision, financial considerations come into play. Budget constraints can influence your wire size choice, as larger wire sizes often come at a higher cost.
Achieving a balance between cost, safety, and performance considerations is imperative when selecting the optimal wire size.
How to Determine the Right Wire Size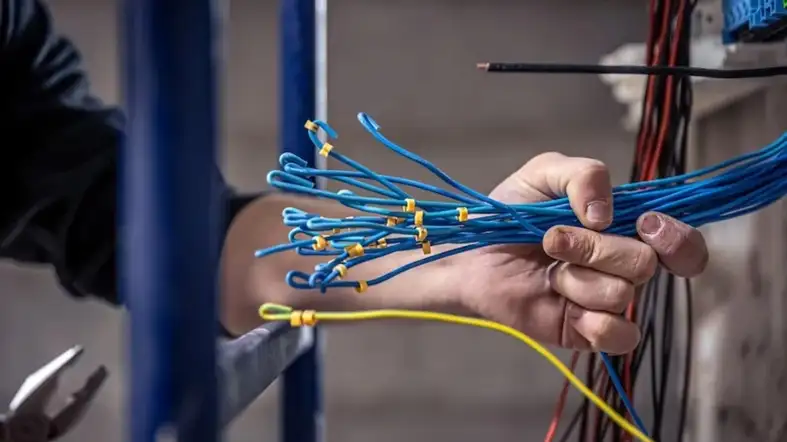 Choosing the correct wire size for your smoke detectors is crucial to ensure proper functioning and safety.
The wire size you select has a direct impact on the electrical capacity and efficiency of the smoke detector system. To determine the appropriate wire size, follow these steps:
Calculate Voltage Drop
Calculate voltage drop to ascertain the suitable wire gauge. Voltage drop results from wire resistance, influencing the power delivered to the smoke detector. Employ the formula:
Voltage Drop (V) = Current (I) x Resistance (R) x Length (L)
For example, if your smoke detector system demands 0.5A of current, the wire length spans 100 feet, and the resistance is 0.0021 ohms/foot for the chosen wire gauge, the voltage drop would be:
Voltage Drop = 0.5A x 0.0021 ohms/foot x 100 feet = 0.105V
Choose the Right Wire Gauge
Opt for a wire gauge that results in an acceptable voltage drop. Thicker wires exhibit lower resistance, thereby reducing voltage drop. Common wire gauges for smoke detectors include 14 AWG and 16 AWG.
Lower AWG numbers signify thicker wires. Consult a wire gauge chart to determine the permissible voltage drop for each gauge at the given distance.
Consider Wire Type
Select fire-resistant wires, such as Plenum-rated or Non-Plenum-rated cables. Plenum-rated wires are suitable for areas like drop ceilings, while Non-Plenum-rated wires are ideal for enclosed spaces. Fire-resistant wires enhance safety and align with building codes.
Plan for Power Source
Identify the power source for the smoke detectors. These detectors can be powered by low-voltage systems (e.g., 24V) or direct AC power.
Choose wires appropriate for the chosen power source. Utilize multi-conductor cables for interconnecting smoke detectors.
Account for Future Expansion
Anticipate potential expansions of your smoke detector system. Opt for a wire size that accommodates additional devices without resulting in excessive voltage drop. Future-proofing your system not only saves costs but also streamlines efforts in the long run.
Consult Codes and Standards
Refer to pertinent codes and standards, such as the National Electrical Code (NEC) and manufacturer guidelines. These sources outline precise wire sizing requirements, ensuring adherence to regulations and upholding safety standards.
Example Scenario
Imagine you're installing smoke detectors in a commercial establishment. After calculating a voltage drop of 0.105V using the formula, you review a wire gauge chart.
For a 100-foot distance, 14 AWG boasts an acceptable voltage drop of 0.139V, while 16 AWG has a drop of 0.22V. Opting for 14 AWG, with its lower voltage drop, becomes the choice due to its suitability.
Plenum-rated wires are selected due to the presence of a drop ceiling, guaranteeing fire safety. Employing a multi-conductor cable, you link the detectors to the 24V power source.
The consideration of potential future expansions and consultation of the NEC ensure comprehensive compliance.
Common Mistakes to Avoid When Selecting Wire Size
Using Undersized Wires
A critical mistake to steer clear of is using undersized wires. Such a choice poses dangerous risks, leading to overheating and fire hazards.
To guarantee the safety and reliability of your smoke detectors, adhering to the recommended wire size is imperative.
Ignoring Safety Standards
Neglecting safety standards and local electrical codes is another error that should be avoided.
Failure to comply with these standards can expose you to hazards. Ensuring proper installation safety requires strict adherence to relevant regulations.
Failing to Consider Future Needs
Disregarding the need to anticipate future changes and potential upgrades for your smoke detectors can be a significant oversight.
Opting for a wire size that can accommodate future modifications is key to preventing future complications.
FAQs
Can I use any household wire for smoke detectors?
No, it is not recommended to use any household wire for smoke detectors. Utilizing the appropriate wire size and type is crucial to ensure the safety and reliability of your smoke detectors.
How do I know if I've chosen the wrong wire size?
An incorrect wire size choice can manifest in various issues, including false alarms, reduced performance and reliability, or increased energy consumption. If you're unsure about the right wire size, seek advice from a professional electrician.
What are the signs of a faulty wire installation?
Indications of a faulty wire installation encompass frequent false alarms, diminished performance and reliability, or heightened energy consumption. Should you suspect incorrect installation, enlist the expertise of a professional electrician for inspection.
Can I use an 18-gauge wire for my 15-amp smoke detector circuit?
No, an 18-gauge wire is not recommended for a 15-amp circuit; use a 14-gauge wire instead.
Is aluminum wire safe for smoke detectors?
Aluminum wire is an alternative but may require more frequent maintenance compared to copper wire.
Conclusion
Choosing the right wire size for your smoke detectors is essential to ensuring the safety, performance, and reliability of your smoke detectors is selecting the right wire size. When uncertain, consulting a professional electrician is a prudent step.
Remember to avoid common mistakes such as using undersized wires or ignoring safety standards when selecting the right wire size for your smoke detectors.
By following these guidelines, you can ensure that your smoke detectors are installed safely and correctly.