Curious if a 1000 watt inverter can handle your refrigerator's demands? You're in the right place.
Our deep-dive analysis breaks down power consumption, efficiency, and inverter capabilities.
Ensure your food stays fresh while maintaining energy efficiency. Stay informed, stay cool.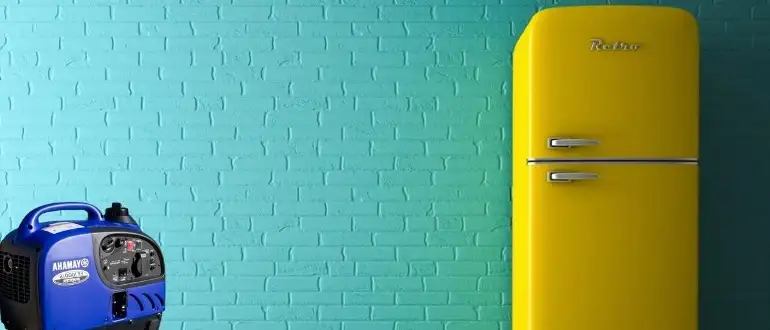 Will a 1000 watt inverter run a refrigerator?
Yes, a 1000 watt inverter can run a refrigerator. While most refrigerators operate under 500 running watts, their starting wattage can spike much higher. Ensure the inverter can handle these power surges during startup.
Refrigerator Required Power Size Chart:
| Refrigerator Size | Starting Power | Running Power | Ideal Inverter Size |
| --- | --- | --- | --- |
| 14-16 cu. ft. | 2000Watt | 600-1000watt | 2000Watt |
| 19-20 cu.ft | 3000Watt | 1500watt | 3000Watt |
| 21 cu.ft. | 3400Watt | 1700watt | 3500Watt |
| 24 cu. ft. | 3500Watt | 1800watt | 4000Watt |
Factors that Influence a Refrigerator's Power Consumption
Refrigerators are common in households. They use energy. But how much? Let's explore the reasons.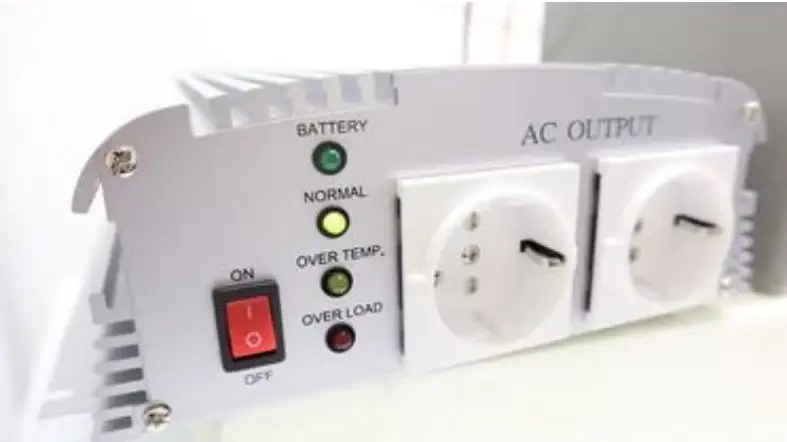 Size and Type of the Refrigerator
Refrigerators come in sizes. Bigger ones use more power than small ones. Why? They cool more space. Different types exist.
There's a top freezer, bottom freezer, and more. Each type uses power differently. For example, top-freezer fridges use 387 kWh a year.
French-door types use 683 kWh. Bigger numbers mean more power. So, a top-freezer fridge saves more energy.
External Temperature and Climate
Climate matters. Hot places make fridges work harder. Hot and humid air makes fridges use more power. Humid air has moisture.
Moisture forms ice inside. Ice makes fridges less efficient. Cold and dry places are better for fridges.
Frequency of Door Openings
Do you open your fridge a lot? Each time you do, cold air escapes. Warm air enters. This makes the fridge work more. More work means more power.
An LG study showed that opening the door for 10 seconds can increase power by 7%. So, it's better to think before opening. Grab all you need in one go.
Age and Condition of the Refrigerator
Old fridges use more power. They have old parts and tech. A 15-year-old fridge can cost you more in power. New fridges save money. Why?
They use better parts and tech. Keep your fridge clean. Dust and dirt block airflow. Blocked airflow uses more power.
Efficiency and Energy Star Ratings
Numbers help. Efficiency tells how well a fridge uses power. A fridge's label shows this number. Lower numbers are better.
There's also the Energy Star rating. It's a rating from one to five stars. More stars mean better energy use. Look for these ratings when buying. They help you choose.
Contents of the Refrigerator (full vs. empty)
Is your fridge full or empty? Full fridges save power. They have more stuff inside. More stuff means more thermal mass. It holds temperature well.
But full fridges can have bad airflow. This can make some spots hotter. It's best to keep the fridge not too full and not too empty. Balance is key.
Benefits of Using an Inverter with a Refrigerator
Using an inverter with a refrigerator can have many benefits, such as: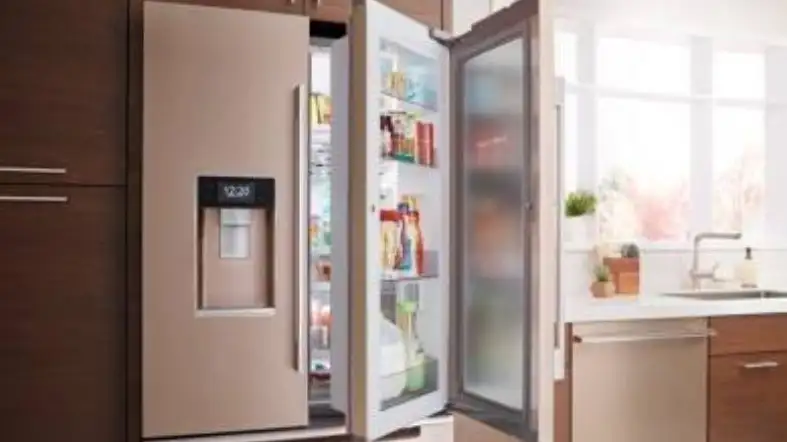 Energy Efficiency Improvements:
An inverter can improve the energy efficiency of a refrigerator by providing a stable and consistent power supply.
This can prevent voltage fluctuations, power surges, or brownouts that can damage or reduce the performance of the refrigerator.
An inverter can also adjust the power output according to the load demand, which can save energy and extend the battery life.
Uninterrupted Cooling During Power Outages:
An inverter can provide uninterrupted cooling for your refrigerator during power outages, which can prevent food spoilage and waste.
An inverter can also protect your refrigerator from sudden power resumption, which can cause high current and voltage spikes that can harm the compressor or other components.
Enhanced Longevity of the Refrigerator:
An inverter can enhance the longevity of your refrigerator by reducing the wear and tear of its parts.
An inverter can reduce the noise and vibration of the compressor, which can improve its durability and reliability.
It can also prevent overheating or overloading of the refrigerator, which can extend its lifespan.
Cost Savings on Electricity Bills:
An inverter can save you money on your electricity bills by reducing the power consumption of your refrigerator.
An inverter can lower your peak demand charges, which are based on the highest amount of power you use during a billing period.
An inverter can also help you take advantage of off-peak rates, which are lower than normal rates during certain times of the day or night.
Environmentally-Friendly Energy Consumption:
An inverter can reduce your environmental impact by reducing your greenhouse gas emissions and carbon footprint.
An inverter can help you use renewable energy sources, such as solar panels or wind turbines, to power your refrigerator.
An inverter can also help you recycle or reuse your old batteries or appliances, which can reduce waste and pollution.
Quieter Operation of Refrigerator:
An inverter can make your refrigerator quieter by eliminating or reducing the humming or buzzing sounds of the compressor or fan.
An inverter can also reduce noise pollution and disturbance for you and your neighbors.
Portability for Outdoor or Travel Scenarios:
An inverter can make your refrigerator portable for outdoor or travel scenarios, such as camping, picnicking, boating, or road trips.
An inverter can help you run your refrigerator from your car battery or other portable power sources.
An inverter can also help you enjoy cold food and drinks wherever you go.
Better Performance in Voltage Fluctuations:
An inverter can improve the performance of your refrigerator in areas where there are frequent voltage fluctuations, such as in rural areas or developing countries.
An inverter can stabilize the voltage and frequency of the power supply, which can prevent damage or malfunction of your refrigerator.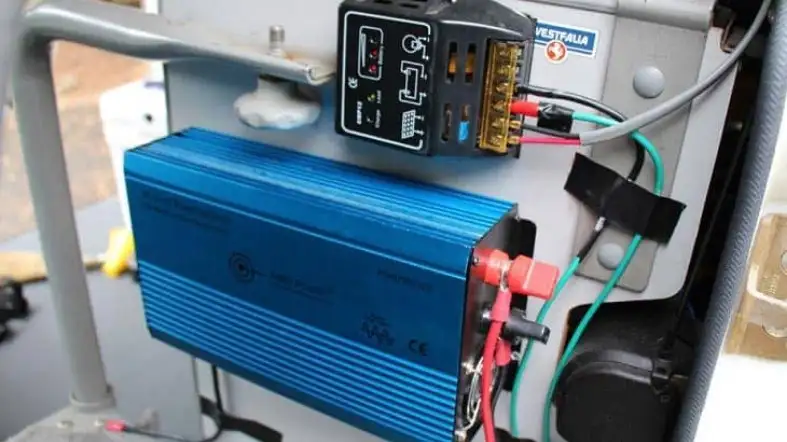 Tips to Ensure Smooth Running of Your Refrigerator with an Inverter
To ensure smooth running of your refrigerator with an inverter, you should follow these tips:
Inverter's Capacity:
You should choose an inverter that has enough capacity to run your refrigerator and other appliances that you want to connect to it.
You should check the running watts and starting watts of your appliances and compare them with the continuous watts and surge watts of your inverter.
You should also consider the efficiency and power factor of your appliances and inverter, which affect how much power they actually use or deliver.
Reducing Unnecessary Power Consumption:
You should reduce unnecessary power consumption by turning off or unplugging any appliances that you are not using.
You should also adjust the thermostat setting of your refrigerator to a moderate level, such as 3°C to 5°C for fresh food compartment and -18°C to -15°C for freezer compartment.
You should also avoid placing hot or warm food or drinks in your refrigerator, as they will increase the cooling load and power consumption.
Keeping the Refrigerator Well-maintained:
You should keep your refrigerator well-maintained by cleaning and inspecting it regularly.
You should remove any dust or dirt from the coils, vents, or fans of your refrigerator, as they can reduce its airflow and heat transfer.
You should also check and replace any worn-out or damaged parts, such as seals, gaskets, filters, or bulbs.
Proper Placement of the Inverter:
You should place your inverter in a cool, dry, and well-ventilated place, away from direct sunlight, heat sources, or flammable materials.
You should also keep your inverter away from any magnetic or electronic devices, such as speakers, radios, or TVs, as they can interfere with its operation.
You should also make sure that your inverter has enough clearance and space around it for proper cooling and air circulation.
Monitoring Battery Health and Capacity:
You should monitor the health and capacity of your battery that powers your inverter.
You should check the voltage and current of your battery and make sure that they are within the recommended range for your inverter.
You should also check the electrolyte level and specific gravity of your battery and make sure that they are adequate and balanced.
You should also charge your battery regularly and avoid overcharging or deep discharging it.
FAQs on running your refrigerator with a 1000 Watt inverter
Can A 1000 Watt Inverter Run A Fridge?
Well, if the 1000 watts is the continuous power wattage and the surge watt is 2000 watts, then it can run a fridge.
What Appliances Can A 1000watt Inverter Run?
A 1000 watt running power inverter can run fridges, bulbs, microwaves, fans, washing machines, etc.
Which Inverter Is Best For A Refrigerator?
You can buy WEN 56200i 2000 watt inverter Generator to run the refrigerator safely.
Can An Inverter Support A Refrigerator?
Nowadays, you will find inverter fridges that improve refrigerator performance.
Final verdict
Navigating the world of inverters can be tricky. Armed with the insights on a 1000 watt inverter, you're one step closer to making informed decisions.
Remember, it's all about matching power needs with capacity. We appreciate you taking the time to learn more about your refrigerator and energy efficiency.