Is your ceiling light playing hide and seek when it's supposed to be off? Let's find out why!
We'll put on our detective hats and follow the clues to solve the flickering mystery.
Get your magnifying glass and notebook, because we're about to uncover the secrets of your sneaky ceiling light.
11 Common Reasons Why Your Ceiling Light Is Flickering When Off
Loose Wiring
Imagine your wires as roads for electricity. If they are not connected properly, the electricity gets confused.
This might cause your light to flicker, even when it's off. A professional electrician can check your wires and fix any loose connections.
Incorrectly screwed-in bulb
When you play with a puzzle, pieces need to fit just right. Light bulbs are the same.
If a bulb doesn't fit in its socket correctly, it might flicker. You can try to fix this by gently tightening the bulb.
Malfunctioning Light Switches
Picture a light switch as the captain of a ship. If the captain isn't doing his job, the ship won't sail right.
When your light switch is faulty, it can't control the light correctly, causing it to flicker.
If you notice other signs of a faulty switch, like sparking or heat, it might be time to call an electrician to replace it.
Bulbs Not Suited for Your Fixture
Now, imagine you're trying to fit a square peg into a round hole. It just won't work, will it? That's what happens when you use the wrong bulb for your fixture.
It could be too big, too small, or the wrong type altogether. This mismatch can lead to flickering.
Always check the fixture's instructions before buying new bulbs. They'll tell you which bulb type fits just right.
Voltage Fluctuations
Voltage is like the speed of electricity. If it changes quickly, your lights might flicker.
This can happen because of issues with the company that provides your electricity. If the flickering continues, you should call them.
Bulb Type
Just like different shoes, are good for different things, different light bulbs work differently.
Some types, like the ones that glow like a stick called fluorescent bulbs, flicker more than others. Trying a new type of bulb might solve the flickering problem.
Dimmer Switches
Dimmer switches are special light switches. They can change how bright your light is. But they can also make your light flicker if the dimmer and bulb aren't friends.
Getting a dimmer and bulb that like each other, or removing the dimmer, can help.
Overloaded Circuits
Imagine a lot of cars on a small road. It gets crowded and slows down, right? Same with electricity.
Too many devices using the same circuit can cause your light to flicker. Moving some devices to use other circuits can help this issue.
Age of Fixture
Everything gets old, even your light fixture. As it gets older, parts can wear out, causing your light to flicker.
If your light fixture is old, getting a new one might stop the flickering.
Neon Signs or LED Lights
Neon signs and LED lights can be like a noisy neighbor to your light fixture. They can interrupt your fixture, causing it to flicker.
If this happens, moving your light fixture or the noisy device may help.
Weather Conditions
Bad weather, like thunderstorms, can cause your light to flicker. They can make the power surge or get stronger suddenly.
When the weather is bad, it's a good idea to protect your lights and other devices.
Troubleshooting Steps to Address Flickering Ceiling Lights When Off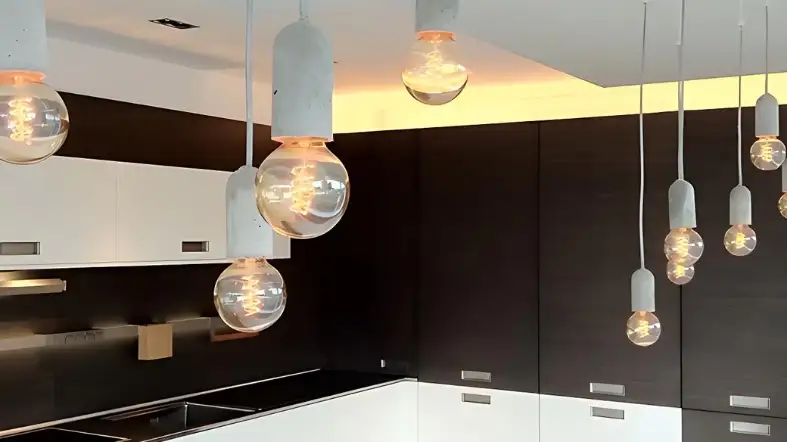 Verify the Bulb's Tightness
Think of the bulb and its socket as a pair of clasped hands. If they're not securely held together, the bulb can flicker.
You first need to switch off the light and wait for the bulb to cool down. Once it's safe to touch, gently try screwing it tighter into the socket.
A snug fit can often solve the flickering issue.
Examine the Light Switch
The switch acts like a gatekeeper, controlling the flow of electricity to the light. If the gatekeeper is not doing its job well, the light may flicker.
By wiggling the switch gently, you can check if it's causing the flickering. If the light flickers while you do this, it might mean that you need to replace the switch.
Identify Voltage Fluctuations
Voltage is like the speed of electricity. If it keeps changing, it can lead to flickering lights.
Your other appliances can act like canaries in a coal mine, giving early warning signs. Keep an eye on them.
If they start acting strangely, your electricity provider might be having issues. A call to them could help sort it out.
Check for Overloaded Circuits
Your house's electrical system can be compared to a team. If too many tasks are given to one team member (circuit), they might not be able to handle it, causing your lights to flicker.
You could try easing the load by turning off some devices. If the flicker stops, it means that the circuit was overloaded.
Try Different Bulb Types
Every bulb type has its strengths and weaknesses. Some, like LEDs or fluorescents, might flicker more than others in certain conditions.
Swapping your bulb for a different type might solve the problem. It's like trying a different approach to solving a puzzle.
Assess the Age of Fixture
Over time, light fixtures can wear out, just like an old toy. As they age, their parts may not work as well, leading to flickering.
If your fixture has been around for a while, it might be time to replace it.
Investigate Nearby Electronics
Some devices, like those flashy LED displays or neon signs, can interfere with your light's electrical flow.
It's like having a loud concert next to a quiet library. If such devices are near your light, moving them away might help stop the flickering.
Protect Against Weather Conditions
Weather, especially storms, can make your lights put on an unwanted light show. They can cause power surges, which make your lights flicker.
Getting surge protectors can be like giving your electronics an umbrella, protecting them during stormy weather.
Inspect for Loose Wiring
Loose wires can be dangerous and can cause your light to flicker. It's like a shaky bridge, unstable and unsafe.
Since dealing with them involves understanding your home's electrical system, it's safer to get a professional electrician to look into it.
Maintaining a Stable and Flicker-Free Lighting System
Choose the Right Bulbs
You wouldn't wear sandals in the snow, right? Same with bulbs. Some bulbs work better in certain fixtures.
I suggest trying LED bulbs. They last longer and are more energy-efficient. Make sure the wattage matches what your fixture needs.
Keep Them Snug
Like a handshake, the bulb and socket need a good grip. If a bulb is loose, it can flicker.
So, after turning off the lights and letting the bulb cool, gently screw it in tighter.
Update Those Light Switches
Light switches are like the boss of your lights. If they're not working well, your lights might flicker.
You should replace old or wiggly switches. Sometimes, dimmer switches can cause flickers too, especially with LED bulbs. Pick dimmers that say they work with LEDs.
Wave Goodbye to Overloaded Circuits
Imagine ten people trying to get through a door at once. It's chaos, right? The same thing can happen with your electricity.
Too many gadgets on one circuit can cause flickering. Spread them out among different circuits.
Keep It Cool
Lights don't like to get too hot. If they do, they might flicker. Make sure there's space around your lights for air to flow.
Avoid putting anything too close that could block air, like furniture or curtains.
Ward Off Flicker-Causing Devices
Some gadgets are like bullies to your lights. They can make them flicker. Neon signs and some electronics can do this. Try moving them further away from your lights.
Use Surge Protectors
Storms and other issues can make the electricity do a wild dance. This can cause flickering.
Plug your lights and electronics into surge protectors. They're like bodyguards, keeping your stuff safe from crazy electricity.
Regularly Check Your Lighting System
Just like you brush your teeth to keep them healthy, check on your lights regularly.
Look for any signs of flickering or damage. Keeping a close eye on things helps catch problems early.
Potential Risks Associated with Flickering Ceiling Lights 
Risk of Fire
Think of loose wires like two sticks being rubbed together. They can spark and, if close to something that burns easily, start a fire.
That's why a flickering light, which could be a sign of loose wiring, might lead to a fire hazard.
Electrical Shock
Loose or exposed wires, like the ones that might make your light flicker, are dangerous.
They're like snakes that can bite you with an electrical shock. If you're not trained to handle them, it's safer to call a professional.
Damage to Other Appliances
Inconsistent power, which might cause your light to flicker, is bad for all your appliances.
It's like feeding them the wrong food. They can become sick, or in other words, get damaged.
This is because they are designed to work best with a certain amount of power.
Elevated Stress Levels
Flickering lights can be very annoying, like a constantly dripping tap. Over time, they can stress you out and make you uncomfortable in your own home or office.
Potential Health Concerns
For some people, flickering lights can trigger health issues. The rapid changes in light can cause migraines or make conditions like epilepsy worse.
It's similar to how flashing lights at a concert can cause discomfort for some people.
Decreased Bulb Lifespan
Flickering can be a sign of a problem with your light bulb or its connection.
The constant on-off cycles can make the bulb wear out faster, like a machine that's being overworked. This means you'll have to replace the bulb more often.
Higher Electricity Bills
A problem with the electrical circuit that's causing the flickering might also cause your light to use more power.
This is like a leaky faucet wasting water. The extra power use can make your electricity bills go up.
Frequently Asked Questions About Flickering Ceiling Lights
Can Voltage Fluctuations Cause A Ceiling Light To Flicker?
Yes, voltage fluctuations can indeed cause your ceiling light to flicker. If the electricity speed changes, it can lead to flickering.
Can The Type Of Light Bulb Cause Flickering?
Absolutely. Certain types of light bulbs, like fluorescent and LED, can flicker more than others. Trying a different bulb might help.
Does An Old Fixture Cause The Light To Flicker?
It can. As fixtures age, their parts may not work as well, leading to flickering. A new fixture might solve the problem.
Can Weather Conditions Cause My Ceiling Light To Flicker?
Yes, storms and other adverse weather conditions can cause your light to flicker. They can cause a sudden increase in power.
What Can I Do If My Ceiling Light Keeps Flickering?
You can check for loose wiring, or a bulb that's not screwed in properly. If you're not sure, an electrician can help.
Does Having Too Many Devices On The Same Circuit Cause Flickering?
Yes, overloaded circuits can cause your lights to flicker. Spreading your devices out over different circuits might help.
Conclusion
Flickering ceiling lights when off can be a nuisance, disrupting your peace and potentially posing safety risks. But remember, you're not powerless.
From ensuring snug bulb fitting and proper wiring to checking for overloaded circuits to choosing the right bulb type – you have a host of solutions to combat this issue.
Never ignore a flickering light. Make your home a flicker-free zone today!