Tired of dealing with annoying flickering lights in your house? Wondering what's causing this exasperating issue?
In this guide, we'll delve into the heart of the matter and uncover the reasons behind those pesky flickers.
With actionable solutions, we'll help you bid farewell to this troublesome problem once and for all. It's time to end the frustration of flickering in your home!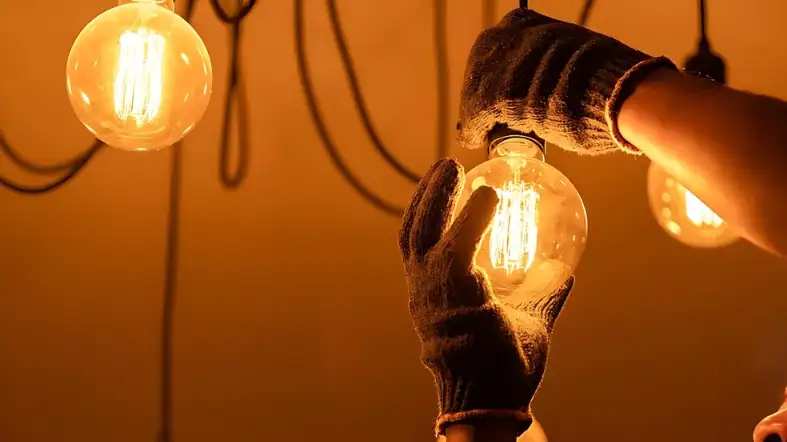 How To Fix Flickering Lights In House?
Here are some ways to fix flickering lights in your house:
Check the Light Bulbs
Flickering lights can be a nuisance, but before you start panicking, let's begin with the basics.
One of the most common reasons for flickering lights is simply a loose or burned-out light bulb. So, grab a step stool and carefully access the fixture.
Ensure the bulb is securely tightened in its socket. If you notice any darkened areas on the bulb or if it fails to light up, it's time for a replacement.
Your nearest hardware store can help you find the right bulb wattage and type. Try switching out the old bulb with a new one and see if the flickering has disappeared.
Check the Light Switches
Now that we've covered the bulbs, let's move on to the light switches. Flickers might not seem like a big deal, but worn-out or loose switches can be the culprit.
Start by turning off the power to the affected light at the circuit breaker. Then, carefully remove the switch cover plate using a screwdriver.
Check for any visible damage or looseness in the switch. If you notice any issues, get a new switch.
Head to the hardware store and pick up a replacement that matches the current switch type. Install the new switch, replace the cover plate, and restore power.
Check the Wiring
If the flickering persists, it's time to dive deeper into the electrical system. Loose or damaged wiring within the fixture or the electrical box can be the root cause.
You need to exercise caution as we're dealing with live electrical connections. First, turn off the power to the affected light at the circuit breaker.
Next, carefully unscrew the fixture from the ceiling or wall, depending on its location. Inspect the wiring for any signs of fraying, exposure, or disconnection.
If you spot any issues, it's time to call in the professionals. Ensure your lighting system is in perfect working order with the help of an experienced electrician.
Check the Circuit Breaker
Alright, you've tried the above steps, but the flickering persists. Don't worry; there's still hope. The issue could be linked to a tripped circuit breaker.
During an overload or short circuit, circuit breakers shut off the power to your home's electrical system. Start by locating your home's main electrical panel.
If any breakers are in the "Off" position or in the middle position, open the panel door. If you spot one, firmly push it to the "On" position.
Now, turn on the light and observe if the flickering has stopped. If the problem persists, it's time to seek professional help to investigate further.
Check the Power Source
If the flickering is not limited to just one area of your house, the issue might be related to the power source.
Power fluctuations or problems with the utility lines can cause lights to flicker throughout the home. To determine if this is the case, reach out to your utility company and explain the situation.
Technicians can inspect the power lines and assess if there's any problem with the electrical supply. They'll fix any irregularities, so your home can once again be filled with flicker-free lighting.
Possible Causes of Lights Flickering
There are several possible causes of flickering lights.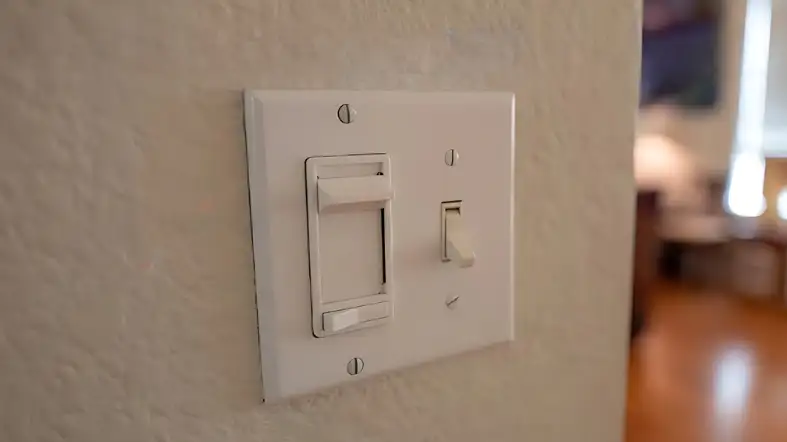 Loose Light Bulbs:
Flickering lights can often be traced back to something as simple as a loose light bulb.
The flickering effect can be caused by an intermittent connection created by an unsecured bulb.
Turn off the light switch and carefully twist the bulb clockwise until it's snugly in place.
Faulty Light Switches:
Worn-out or damaged light switches can also be a culprit behind flickering lights. A faulty switch can cause interruptions in the flow of electricity, leading to flickering.
To address this issue, first, ensure the power is turned off at the circuit breaker. Then, carefully remove the switch cover and inspect for any visible damage.
If the switch appears damaged or loose, it's time to replace it with a new one.
Overloaded Circuits:
Overloading circuits can lead to flickering lights. The power is drained from a single circuit when too many appliances are running at once.
To prevent overloading, unplug some devices and distribute the load across different circuits.
Aging Wiring:
As houses age, so do their electrical systems. Wiring can deteriorate over time, leading to flickering lights and potential safety hazards.
Having your wiring inspected by an electrician can detect any problems and make repairs if necessary.
Tripped Circuit Breakers:
A tripped circuit breaker can cause lights to flicker or turn off completely. This safety feature protects the electrical system from overload.
This can be fixed by identifying the tripped breaker in the electrical panel, and firmly switching it back to "On".
Voltage Fluctuations:
Fluctuations in the voltage supplied to your house can cause lights to flicker. This might be due to external factors like power grid issues or lightning strikes.
If you suspect voltage fluctuations, contact your utility company to investigate and resolve the problem.
Weather Conditions:
Extreme weather conditions can affect power lines and cause lights to flicker.
Storms, high winds, and heavy snow can damage power lines, resulting in intermittent power supply.
Once the weather stabilizes, and the utility company addresses any damages, the flickering should subside.
Electrical Interference:
Electrical interference from nearby appliances or electronic devices can also contribute to flickering lights.
Devices like air conditioners, refrigerators, or microwaves can create fluctuations in the electrical supply.
Try moving these appliances to different outlets to see if the flickering stops.
When Should I Be Concerned About Flickering Lights?
There are a number of people who are concerned about flickering lights.
Occasional and Brief Flickering:
Flickering lights are usually not a cause for concern, especially when turning appliances on or off.
This type of flickering can be normal and may result from minor fluctuations in the electrical supply. It's often a temporary issue that doesn't require immediate action.
Flickering in a Specific Fixture:
When the flickering is limited to one specific light fixture, it might indicate a simple fix. There could be a loose bulb or faulty switch causing this problem.
Take a moment to check and ensure the bulb is securely tightened in the socket. If the problem persists, consider replacing the light switch with a new one.
Persistent and Widespread Flickering:
Flickering could indicate more serious electrical problems if it occurs across multiple fixtures. Voltage fluctuations, aging wiring, or overloaded circuits might be the culprits.
In such cases, seek the assistance of a professional electrician to identify and resolve the issue safely.
Flickering Accompanied by Other Electrical Issues:
Flickering lights as well as unusual sounds, such as buzzing, sparking, or burning smells, indicate a potential danger.
Immediately turn off the affected circuit at the breaker to prevent further problems. Contact a licensed electrician promptly for a thorough inspection and necessary repairs.
Flickering During or After Storms:
It's not uncommon for lights to flicker during severe storms. After a storm, flickering might be caused by weather-related damage to power lines or electrical infrastructure.
In such cases, report the problem to your utility company for investigation and resolution.
Flickering Alongside High-Powered Appliances:
Using high-powered appliances like air conditioners or heaters can sometimes lead to minor flickering.
These appliances draw significant power, which can cause temporary fluctuations. Ensure your electrical system can handle the load if the flickering is severe or interrupting the appliance.
Flickering with No Apparent Cause:
Flickering lights without any identifiable cause or pattern could be a sign of more complex problems.
Contact a professional electrician for a comprehensive inspection in such cases. Identify the root cause and implement solutions to ensure the electrical safety of your home.
When to Seek Professional Help for Persistent Light Flickering?
Persistent Flickering
If you notice that a particular light or multiple lights in your home consistently flicker over an extended period, it's a clear sign that you should seek professional help. 
This ongoing issue suggests an underlying problem that requires attention from an expert.
Multiple Flickering Lights
When multiple lights throughout your home are flickering simultaneously, it's a strong indication that there might be an electrical problem. 
This scenario is a definite red flag and should prompt you to call a professional electrician for a thorough inspection.
Flickering Along with Other Electrical Issues
If you experience flickering lights along with other electrical problems, such as power surges, or frequent circuit breaker trips, seek professional assistance promptly. 
These symptoms may point to more significant electrical issues that require immediate attention.
Flickering in New Light Fixtures
Did you recently install new light fixtures, and now they're flickering? While it's possible that the issue stems from a faulty installation, consult a professional electrician.
They can ensure the wiring and connections are secure and safe.
Flickering in Specific Rooms or Circuits
If the flickering is localized in specific rooms or circuits, it suggests a localized issue that needs professional evaluation. 
It could be related to faulty wiring, overloaded circuits, or other electrical malfunctions. An electrician can identify the root cause and provide a targeted solution.
Flickering in Combination with Other Symptoms
If the light flickering is accompanied by other concerning symptoms, such as a burning smell, sparks, or smoke, it's vital to prioritize your safety. 
Immediately turn off the affected circuit or the main power supply and contact a professional electrician without delay. 
These symptoms could indicate a serious electrical hazard.
FAQs on Fixing Flickering Lights In House
How Long Is It Considered Persistent Light Flickering?
Persistent light flickering is considered to occur when it lasts consistently for minutes or longer.
The occasional flickering is normal, but it could indicate underlying electrical problems if it persists.
What Should I Do If My Newly Installed Light Fixtures Flicker?
If newly installed light fixtures are flickering, consult a professional electrician to ensure proper installation.
Address any wiring or connection issues.
Is It A Problem If Only Specific Rooms Or Circuits Have Flickering Lights?
Flickering lights in specific rooms or circuits could indicate localized issues like faulty wiring or overloaded circuits, which should be evaluated by a professional electrician.
Can I Fix Flickering Lights By Myself?
While changing a faulty light bulb is a simple fix, for persistent or widespread flickering issues, it's best to leave the repairs to a professional electrician.
Conclusion
You've now got the power to conquer those pesky flickering lights! You can eliminate flickering lights in your home by following these simple steps and paying attention to the wiring.
With a little know-how, you can ensure a well-lit, cozy home where flickers are a thing of the past. Embrace a steady glow instead of flickering!