Have you ever experienced the eerie phenomenon of multiple lights flickering in your house?
Imagine yourself relaxing in your favorite chair when suddenly, flickering lights bathe the entire room. What could be causing this uncanny occurrence?
Today we'll explore the common reasons behind these flickering lights, and shed light on potential electrical issues you should never ignore. 
What Would Cause Multiple Lights to Flicker?
The most common causes of flickering lights are listed below.
Loose or Damaged Wiring
Having loose or damaged wiring can cause a decrease in voltage, which can lead to flickering lights. Wiring serves as the pathway for electrical current to flow throughout your home.
Over time, wires can become loose due to wear and tear or improper installation. The loose wires might interrupt the electrical flow, causing the lights to flicker and interrupt the electrical flow.
Various factors can damage wiring, such as rodent damage, corrosion, or extreme weather. You should have a qualified electrician inspect and repair flickering lights if you suspect loose or damaged wiring.
Overloaded Circuit
Another common cause of flickering lights is an overloaded circuit. Flickering lights or circuit breakers can occur if the circuit is overloaded with appliances or lights.
Each circuit in your home is designed to handle a specific amount of electrical load. Flickering lights can occur when the demand exceeds this limit, disrupting the flow of electricity.
Consider redistributing electrical load across multiple circuits, especially for high-power appliances. A licensed electrician can help you determine whether your electrical system needs an upgrade.
Problem with the Power Source
Flickering lights can also be attributed to problems with the power source. Power outages or brownouts (temporary drops in voltage) can affect the stability of your electrical supply.
During a power outage, the lights may flicker or dim before going out completely. Brownouts can lead to voltage fluctuations, causing lights to flicker intermittently.
Power surges or brownouts can cause voltage fluctuations that damage sensitive devices.
Faulty Light Bulbs
Sometimes, the culprit behind flickering lights can be as simple as a faulty light bulb. Light bulbs have a limited lifespan and can develop problems over time.
One common issue is a loose filament inside the bulb, which can cause flickering as it moves. It is also possible that the socket is damaged or worn out, preventing the bulb from making contact.
To address this, try replacing the flickering bulb with a new one of the same wattage. Replacing the socket or seeking professional assistance if necessary will solve the problem.
Faulty Light Switches
Faulty light switches can also contribute to flickering lights. The switch is an essential component that controls the flow of electricity to the light fixture.
Flickering lights and irregular electrical connections can be caused by worn out or loose switches. The switch might need to be replaced if you notice flickering lights or if it feels warm to the touch.
To avoid electrical accidents, turn off the switch before attempting any replacements.
Is flickering light a problem? 
Yes, flickering lights can indeed be a problem. Persistent or severe flickering can indicate several problems.
Safety Hazard:
Flickering lights could be a symptom of loose or damaged wiring, which poses a safety risk.
Electrical issues like this can lead to short circuits, electrical shocks, or even electrical fires. Ignoring flickering lights can jeopardize the safety of your home and its occupants.
To ensure safety, always prioritize investigating and resolving the root cause of flickering lights promptly. If you suspect electrical wiring problems, never attempt to fix them yourself.
Instead, hire a qualified electrician who can assess the situation safely and make the necessary repairs.
Electrical System Health:
Flickering lights might indicate an overloaded electrical circuit or problems with the power source. Circuit overloads can damage appliances and electronics, leading to further complications.
To safeguard your electrical system's health, be mindful of the power demands on each circuit. Don't plug multiple high-power appliances into one circuit.
Distribute the load between circuits. Make sure your electrical system is functioning optimally if you experience persistent flickering.
Home Appliances:
Flickering lights can affect the performance and lifespan of electronic devices and appliances. Flickering lights can cause voltage fluctuations that can damage sensitive equipment.
Surge protectors can protect your computers, televisions, and other electronics in your home. Protect your valuable appliances from voltage spikes and fluctuations with these surge protectors.
Energy Consumption:
The flickering can result in wasteful energy use if the electrical components are damaged or faulty.
Inefficient lighting can lead to higher electricity bills, impacting your household budget over time.
Regularly inspect and maintain your light fixtures and electrical connections to reduce energy waste. LED bulbs are energy-efficient and have a longer lifespan, requiring fewer replacements.
Discomfort and Inconvenience:
Persistent flickering lights can cause discomfort, eye strain, and headaches for occupants. In places like offices or classrooms, flickering lights can hamper productivity and concentration.
Flickering lights may affect your well-being or work environment. Take action immediately. Fix the problem by adjusting the lighting, replacing faulty bulbs, or consulting an electrician.
Early Warning Sign:
There might not be an immediate concern with some flickering, but it can serve as an early warning sign.
Addressing flickering lights promptly can prevent potential disasters and costly repairs in the future.
Treat flickering lights as indicators of potential electrical issues, and don't ignore them. Detect and mitigate risks early by inspecting and maintaining your electrical system regularly.
Aesthetic Concerns:
In addition to the practical implications, flickering lights can also affect the ambiance of a space. In areas such as reading rooms or workstations, flickering lights can be especially troublesome.
Ensure that light fixtures and bulbs are in good working order to maintain a pleasant atmosphere.
Fix flickering bulbs and lighting issues promptly to create a visually appealing and comfortable environment.
Flickering lights: How to stop them?
In order to stop flickering lights, there are some factors you need to know.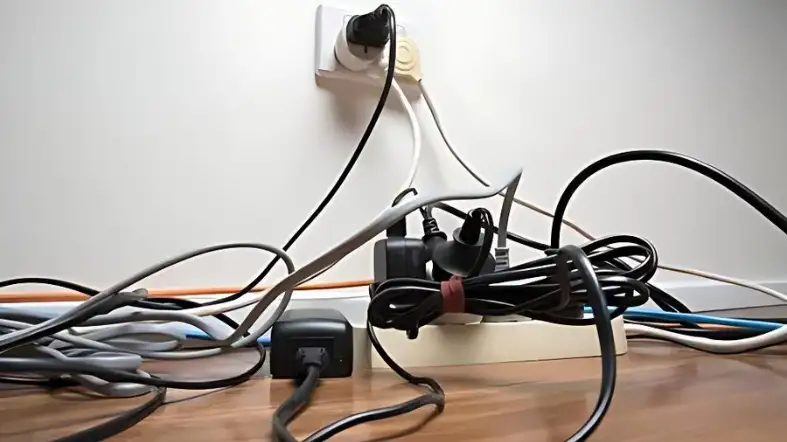 Check for Loose or Damaged Wiring
Examine your home's wiring for loose connections or damaged wires to stop flickering lights.
When wires are loose, the electrical flow can get interrupted, causing flickering lights. If you spot any issues, remember to turn off the power, and don't attempt to fix it yourself.
It's best to call a qualified electrician to handle the repair, as working with electricity can be dangerous.
Avoid Overloading Circuits
Flickering lights can result from overloaded circuits. Be cautious not to plug too many appliances into a single circuit.
Spread the load across multiple circuits in your home. Circuit breakers that keep tripping may mean your electrical system needs to be upgraded.
Investigate Power Source Problems
Sometimes flickering lights are caused by power source issues. Check if there are any power outages or brownouts in your area.
These external events can lead to flickering lights. Use surge protectors for sensitive electronics during such situations to prevent voltage fluctuations.
Replace Faulty Light Bulbs
A common cause of flickering lights is faulty light bulbs. If you notice a bulb flickering, try replacing it with a new one of the same wattage.
If the problem persists, check the bulb's socket for damage and replace it if needed. Sometimes, a damaged socket can also cause flickering.
Inspect and Replace Faulty Light Switches
Faulty light switches can be a culprit behind flickering lights too. If the switch feels warm to the touch or you observe flickering when toggling it, it's time to replace it.
Remember to turn off the power before attempting any replacements to ensure safety.
Get Professional Help If Needed
Don't hesitate to call a licensed electrician if you can't solve flickering lights on your own.
They have the necessary expertise to diagnose and resolve electrical problems safely.
Preventative Measures
To prevent flickering lights and voltage fluctuations in your home, install voltage regulators or stabilizers.
Regularly checking and maintaining your electrical system can also help avoid flickering issues in the future.
Safety Risks Associated With Multiple Lights Flickering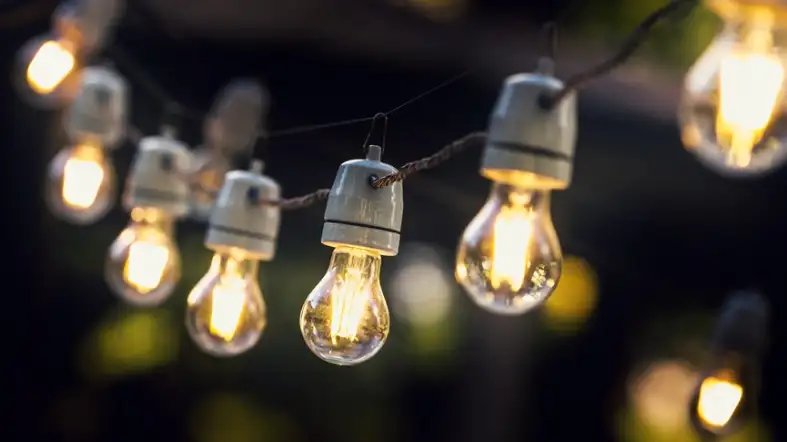 Fire Hazard
Multiple lights flickering simultaneously could indicate an underlying electrical problem. 
Loose connections, damaged wiring, or overloaded circuits can generate heat and increase the risk of electrical fires. 
It's crucial to address these issues promptly to minimize the chances of a fire hazard.
Electrical Shock
Flickering lights may be a symptom of faulty electrical components. There's a risk of electric shock if exposed wires or damaged fixtures. 
Touching or coming into contact with these compromised elements can be dangerous. Ensure you keep a safe distance and avoid any direct contact.
Power Surges
Frequent flickering of lights might be a sign of power surges. These sudden increases in electrical voltage can damage sensitive electronics and appliances connected to the same circuit. 
Consider using surge protectors to safeguard your devices from potential damage caused by power surges.
Trip and Fall Hazards
Dim or flickering lights can impair visibility, increasing the risk of accidents, such as trips and falls.
This is especially concerning in areas like staircases, hallways, and outdoor pathways. 
Ensure proper illumination in these spaces to prevent accidents and injuries.
Mental and Emotional Stress
Prolonged exposure to flickering lights can cause mental and emotional stress. The constant change in light intensity can be distracting and discomforting. 
It's essential to create a stable and well-lit environment to promote a sense of calmness and reduce stress levels.
FAQs on Multiple Lights Flickering In House
Can Weather Conditions Cause Lights To Flicker?
Yes, certain weather conditions like storms or power fluctuations can cause lights to flicker temporarily.
If the flickering persists even when the weather is calm, it's likely an electrical issue that needs attention.
Can Using Too Many Electrical Devices Cause Lights To Flicker?
Using multiple electrical devices simultaneously can put a strain on your electrical system, leading to lights flickering. 
Consider redistributing your devices across different circuits or consult an electrician to ensure your home's electrical capacity meets your needs.
Why Do Lights Flicker When Appliances Turn On Or Off?
When large appliances like refrigerators or air conditioners turn on or off, they draw a significant amount of power. 
This sudden power surge can cause lights to momentarily dim or flicker. 
It's generally normal, but if it becomes excessive, have an electrician investigate the issue.
How Can I Prevent Lights From Flickering?
To prevent lights from flickering, make sure lightbulbs are securely screwed in and not loose. 
Avoid overloading electrical circuits by evenly distributing your appliances. 
If flickering continues, consult a professional electrician to evaluate your home's electrical system and make any necessary repairs or upgrades.
Conclusion
Embrace the power of illumination as you uncover the truth behind multiple lights flickering in your house. 
These flickers often signal hidden electrical issues, from faulty wiring to overburdened circuits. Don't let the shadows of uncertainty linger – take action.