Are you familiar with that unsettling moment when the lights in your home start flickering? You might wonder, "Should I worry about my lights flickering?"
It's a common concern that many homeowners face. Those sudden flashes of light can evoke a mix of emotions – from annoyance to genuine worry.
The purpose of this article is to provide you with actionable solutions to flickering lights. We must tackle this flickering phenomenon head on!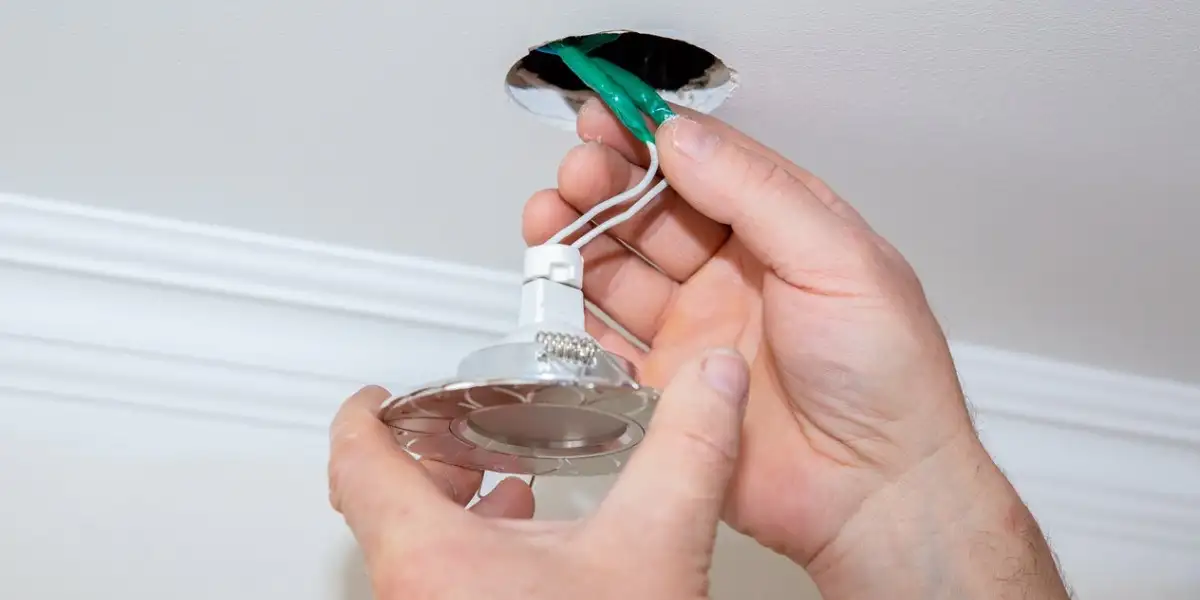 Should I Worry If My Lights Flicker?
Yes, you should be concerned if your lights flicker regularly. Electrical flickering may indicate loose wiring, overloading circuits, or supply problems. These issues could lead to potential hazards like electrical fires or damage to appliances.
why should I be concerned about my lights flickering?
There are several reasons why you should be concerned about your lights flickering:
Fire Hazard and Arcing
Flickering lights may be a sign of a potential fire hazard. ARCing can cause fires and sparks if loose or damaged wiring causes flickering.
Electricity jumps across a gap between two conductive materials, such as damaged wires. If left unattended, this can pose a significant risk to your safety and property.
Regularly check your electrical connections. Also, hire a qualified electrician if you notice any issues to prevent potential fire hazards.
Damage to Electronics
Flickering lights can also have adverse effects on your electronic devices and appliances. A fluctuating voltage level can damage sensitive electronics, especially computers and TVs.
These devices require stable and consistent power to function properly. If your home's voltage isn't steady due to flickering lights, your valuable electronics could prematurely fail.
Voltage fluctuations and potential damage can be prevented with surge protectors.
Annoyance and Sleep Disturbance
Aside from safety and electronic concerns, flickering lights can be a nuisance and disrupt your daily life.
It can be particularly bothersome at night when you're trying to sleep. The constant on-off flickering can be distracting and make it difficult to relax and rest.
LED bulbs have a longer lifespan and are less likely to flicker, so you can mitigate this issue. Consider using dimmers to adjust the brightness of your lights and reduce flickering.
Common Factors that Contribute to Light Flickering
Loose Electrical Connections
When the electrical connections in your home become loose or corroded, it can lead to light flickering.
These connections can occur in outlets, switches, or even the electrical panel.
Loose connections can disrupt the flow of electricity and cause lights to flicker intermittently.
Voltage Fluctuations
Fluctuations in voltage can also be a contributing factor to light flickering. This can happen due to various reasons.
For instance, power grid issues, nearby heavy machinery, or electrical appliances with high power demands. 
When the voltage supplied to your home fluctuates, it can cause the lights to flicker.
Faulty Light Bulbs
Sometimes, the issue may lie with the light bulbs themselves. If you have old or defective bulbs, they may flicker when they are nearing the end of their lifespan. 
It's important to replace these bulbs to ensure consistent lighting without flickering.
Overloaded Circuits
 Overloading your electrical circuits can lead to flickering lights. When you have too many appliances or devices drawing power from a single circuit, it can exceed its capacity. 
As a result, the voltage supplied to the lights may drop, causing them to flicker.
Faulty Dimmer Switches
If you have dimmer switches installed, they can be a potential cause of light flickering.
Dimmer switches work by adjusting the amount of electricity flowing into the light bulb. 
If the dimmer switch is old or not compatible with the type of bulb being used, it can cause flickering issues.
Voltage Drops from Power Company:
In some cases, light flickering may be caused by voltage drops from the power company.
This can happen during periods of high electricity demand or when there are issues with the power grid.
These voltage drops can affect the stability of your home's electrical supply, leading to flickering lights.
Nearby Electrical Interference
Sometimes, external factors can introduce electrical interference that leads to light flickering.
This interference can come from nearby power lines, radio frequency devices, or other electrical equipment. 
These external sources can disrupt the electrical signals, resulting in flickering lights.
Power Outages
When power outages occur, and the power is restored, lights may flicker momentarily. This is a normal occurrence as the electrical system stabilizes. 
If the flickering persists after the power is restored, it may indicate an underlying issue.
Weather Conditions
Extreme weather conditions, such as storms or high winds, can cause light flickering.
These conditions can damage power lines or cause trees to come into contact with electrical wires. 
The resulting fluctuations in the power supply can lead to flickering lights.
How to Troubleshoot Light Flickering Issues?
Check the Light Bulbs
Start by examining the light bulbs experiencing flickering. Ensure they are tightly screwed into their sockets. If they're loose, gently twist them clockwise until they are snug. 
If the problem persists, try replacing the bulbs with new ones to rule out any issues with the bulbs themselves.
Inspect the Electrical Connections
Next, it's time to check the electrical connections. Turn off the power to the affected area from your electrical panel to ensure safety. 
Carefully inspect the light switch, outlets, and junction boxes for any loose or damaged connections. 
If you find any, tighten them or consider contacting a qualified electrician for professional assistance.
Evaluate Dimmer Switches
If you have dimmer switches installed, they might be causing the flickering. 
Dimmer switches are designed to adjust the brightness of the lights.
Incompatible dimmer switches or using the wrong type of bulb can lead to issues. 
Ensure that the dimmer switch is compatible with the light bulbs being used, and consider replacing it if necessary.
Examine the Circuit Breaker
Check your circuit breaker to ensure it hasn't tripped. Locate the breaker corresponding to the affected lights and reset it if necessary.
A tripped breaker can cause lights to flicker, so this simple step might resolve the issue.
Remove Overloading
Overloaded circuits can cause lights to flicker. Take a moment to assess the number of devices and appliances connected to the circuit. 
If it seems overloaded, redistribute the load by connecting some devices to a different circuit. 
This step can help stabilize the electrical flow and reduce flickering.
Investigate Voltage Fluctuations
Voltage fluctuations can contribute to light flickering. Contact your local power company to inquire about any recent voltage issues in your area. 
If they confirm fluctuations, unfortunately, there isn't much you can do on your own. 
Documenting the occurrences and sharing the information with your power company can help them investigate and resolve the problem.
Test with Different Bulbs
If the flickering persists, try using different types or brands of light bulbs. Some bulbs may be more sensitive to electrical fluctuations than others. 
Experiment with different options to find bulbs that provide stable lighting without flickering.
What Are The Dangers of Light flickering?
Fire Hazard
Light flickering can state an underlying electrical problem. Such as loose connections, faulty wiring, or overloaded circuits. 
These issues can increase the risk of electrical fires if they are not resolved. Identifying and addressing these problems promptly is crucial to minimize the fire hazard.
Electrical Damage
The inconsistent flow of electricity can damage sensitive components, leading to malfunctions. This can result in the need for repairs or replacements.
Electrical Shock
In some cases, light flickering can signal a faulty or damaged electrical system. These issues can create a risk of electrical shock.
Damage to Electronics
Fluctuating power supply caused by light flickering can harm sensitive electronic devices. 
The irregular electrical flow can result in voltage spikes or drops. 
It may damage computers, televisions, gaming consoles, and other valuable electronics. 
Safety Concerns
Light flickering can create safety concerns. For example, flickering lights in stairwells or hallways can make it difficult to navigate.
It increases the risk of trips, falls, or accidents. It is vital to ensure stable lighting in such areas to maintain a safe environment for everyone.
Tips for Preventing Light Flickering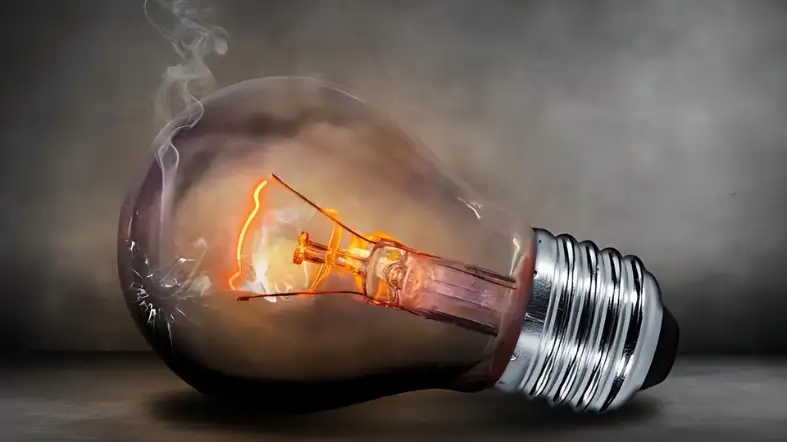 Check and Tighten Connections
Regularly inspect the connections of your light fixtures, switches, and outlets. Ensure they are secure and tightly connected.
Loose connections can lead to flickering. If you find any loose connections, gently tighten them using the appropriate tools.
Use High-Quality Bulbs
Invest in high-quality light bulbs from reputable brands. Opt for bulbs that are compatible with your fixtures and meet your desired lighting requirements. 
Low-quality or incompatible bulbs are more prone to flickering. Look for bulbs with good customer reviews and reliable performance.
Avoid Overloading Circuits
Overloading electrical circuits can cause flickering lights. Distribute your electrical load evenly across different circuits. 
If you notice that a particular circuit is frequently overloaded, consider installing additional circuits or redistributing the load to maintain.
Address Voltage Fluctuations
Voltage fluctuations can contribute to light flickering. Install voltage stabilizers or surge protectors to regulate and stabilize the voltage supply to your lighting fixtures. 
These devices can help prevent sudden spikes or drops in voltage that can cause flickering.
Replace Faulty Dimmer Switches
If you have dimmer switches causing light flickering, consider replacing them with high-quality, compatible ones. 
Ensure that the dimmer switch is suitable for the type of bulbs you are using. Consult an electrician if you need assistance with installation or selection.
Schedule Regular Maintenance: 
Regular electrical system maintenance is crucial for preventing light flickering. 
Hire a qualified electrician to inspect your electrical connections, wiring, and fixtures periodically. 
They can identify any potential issues and address them proactively before they result in flickering lights.
Address Electrical Wiring Problems
Faulty or damaged electrical wiring can contribute to light flickering.
If you suspect wiring issues, such as old or worn-out wiring, contact a professional electrician for a thorough inspection. 
They can repair or replace any faulty wiring to ensure a safe and reliable electrical system.
Avoid DIY Electrical Work
Unless you have the necessary knowledge and experience, avoid performing DIY electrical work. 
Mishandling electrical components can lead to dangerous situations and further exacerbate flickering issues. 
Monitor Power Grid Issues
Stay informed about any power grid issues in your area. Subscribe to notifications or follow your local power company's updates to be aware of scheduled maintenance.
Knowing in advance lets you prepare for potential flickering or take necessary precautions.
FAQs on lights flickering
Is Occasional Flickering Normal? 
Occasional flickering is usually harmless and can be attributed to external factors like power fluctuations.
If the flickering becomes frequent or intense, it's advisable to investigate further.
Can Flickering Lights Be Dangerous? 
In most cases, flickering lights are not dangerous.
If accompanied by buzzing sounds, dimming, or electrical burning smells, it could indicate a potential fire hazard.
Seek professional help to address the issue promptly.
Should I Worry About LED Lights Flickering? 
LED lights are less prone to flickering compared to traditional bulbs.
If your LED lights flicker, it could be due to incompatible dimmers or wiring issues. Consult an electrician to resolve the problem.
Are Flickering Lights A Sign Of An Electrical Problem? 
Flickering lights can be an indicator of underlying electrical issues.
It's advisable to have a professional electrician evaluate your electrical system to ensure it is safe and functioning correctly.
Can I Fix Flickering Lights Myself? 
Minor issues like loose bulbs or connections can be fixed by homeowners.
For complex electrical problems, seek the expertise of a licensed electrician to avoid any safety risks and ensure proper resolution.
Conclusion
Don't let light flickering keep you in the dark. While flickering lights can be a nuisance, they often have underlying causes that can be resolved.
By addressing loose connections, voltage fluctuations, and other potential factors, you can ensure a safe and stable lighting environment.