Welcome to our TV Size Calculator, your ultimate guide to finding the ideal TV size for your space and preferences.
Whether you're setting up a cozy living room theater or upgrading your entertainment setup, our calculator ensures that you make an informed decision for an optimal viewing experience.
TV Size Calculator Usage Instructions:
1. Choose Your Viewing Distance:
Start by selecting the appropriate viewing distance in feet from the "Viewing Distance (in feet)" dropdown menu. Choose from the available options: 4, 6, 8, 10, or 12 feet.
Want to know your Ideal TV Viewing Distance? Check out our Free TV Viewing Distance Calculator.
2. Select Your Preferred Resolution:
Next, select the desired resolution of the TV from the "Resolution" dropdown menu. Choose from the available options: 720p, 1080p, 4K, or 8K.
3. Click Calculate:
After selecting both the viewing distance and resolution, click on the "Calculate" button. This will initiate the calculator to determine the recommended TV size based on your selections.
Recommended TV Size Result:
Once you click the "Calculate" button, the calculator will process your inputs and display the recommended TV size based on your selections. The result will appear below the button, displaying the recommended TV size in inches.
Example Usage:
If you select a viewing distance of 6 feet and a resolution of 4K, clicking the "Calculate" button will show the result "Recommended TV Size: 55 inch."
If you choose a viewing distance of 10 feet and a resolution of 1080p, clicking the "Calculate" button will display the result "Recommended TV Size: 60 inch."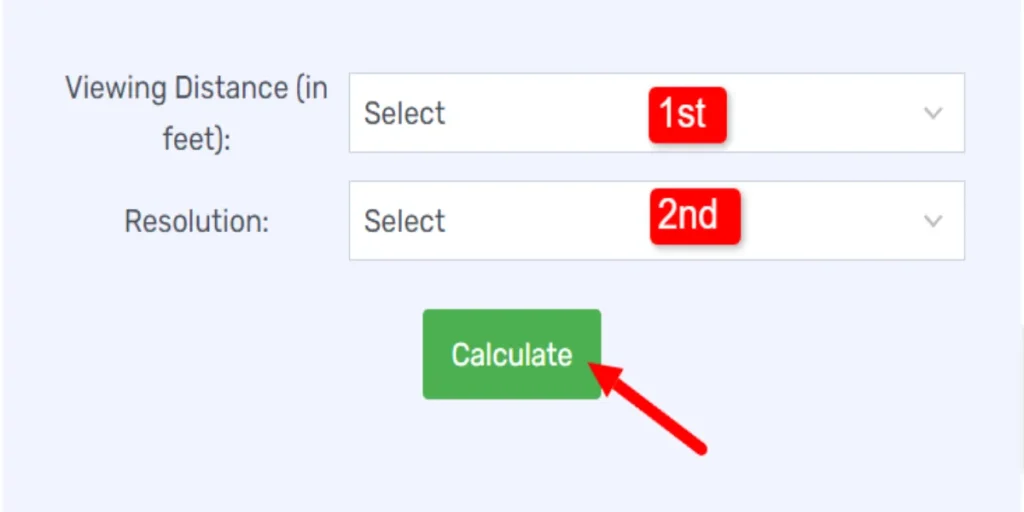 Why Use Our Calculator?
Accurate Recommendations
Have you ever sat down to watch your favorite show and felt like something was off? Our calculator is here to help.
By precisely measuring both the viewing distance and resolution, we ensure that the TV size matches your room just right.
It means the images will be crisp, and you'll enjoy an optimal viewing experience without a hint of eye strain.
With our calculator's accurate recommendations, you don't have to worry about blurry pictures or tired eyes anymore.
Easy to Use
Let's face it, nobody likes complicated tools. That's why our calculator is so refreshing. It's incredibly user-friendly and straightforward.
You simply enter your viewing distance and desired resolution, and presto! You're all set.
No need to juggle multiple options or scratch your head in confusion. The process is quick, hassle-free, and designed to get you the information you need without any fuss.
Tailored for You
One size does not fit all, especially when it comes to TV viewing. Our calculator understands that.
Whether you like to sit closer to the screen or a bit farther away, we adjust the recommendations to suit your specific viewing distance.
This personalized approach guarantees that the suggested TV size will fit your room perfectly, enhancing your viewing pleasure.
Wide Range of Resolutions
Whether you're a fan of HD or dreaming of 4K or even 8K resolution, our calculator has got you covered.
We offer a wide range of options that you can explore at your leisure. No need to settle for something that's not quite right.
With our calculator, you can find the resolution that best matches your needs and preferences, giving you the top-notch quality you deserve.
Instant Results
Time is precious, and our calculator knows that. Just input your preferences, click the "Calculate" button, and voila!
You'll receive instant results. No waiting around, no delays.
The recommended TV size is displayed right on the screen, so you can make your decision without any guesswork or uncertainty.
Informed Decision Making
Investing in a TV is a significant decision, one that you shouldn't take lightly. With our calculator, you can make that choice with full confidence.
We provide all the essential information you need, helping you select the right TV size for your room.
It's all about making informed decisions that you'll be happy with for years to come.
No Buyer's Remorse
Ever bought something and then regretted it? It's a frustrating experience, one that our calculator is designed to prevent.
By delivering accurate recommendations, we ensure that you won't end up with a TV that's too small or too big.
Say goodbye to disappointment and the hassle of returns. With our calculator, you can be sure of your choice, saving time, money, and unnecessary stress.
Optimal Entertainment Experience
Entertainment should be pure joy, and the right TV size is key to that joy.
Our calculator helps you create a theater-like experience right in the comfort of your home.
Whether it's movie night with the family or catching the latest game, selecting the right TV size is vital.
It's about optimizing the enjoyment and turning your living room into a personal cinema.
Our calculator ensures that every moment spent watching TV is a delightful and unforgettable experience.
How to Measure Your Room and Calculate TV Size
To create a perfect viewing experience, measuring your room and calculating the appropriate TV size are crucial steps.
Step 1: Measure the Room:
The first step in calculating the appropriate TV size is to measure the length and width of your room.
This will give you an idea of the size of the space and how much room you have to work with.
It is essential to measure your room in feet or meters to ensure that you can calculate the TV size correctly.
Step 2: Choose Viewing Distance:
The next step is to determine your preferred viewing distance. This is the distance from the TV screen that you will be sitting on while watching.
The general rule of thumb is that the viewing distance should be 1.5 to 2 times the diagonal measurement of the TV.
For example, if you have a 50-inch TV, your viewing distance should be between 75 inches and 100 inches.
Step 3: Calculate TV Size:
Now that you have your room measurements and preferred viewing distance, you can calculate the ideal TV size.
To do this, divide your viewing distance by 1.5 to 2. This will give you the diagonal measurement of the TV that is appropriate for your space.
For example, if your viewing distance is 100 inches, the ideal TV size is between 66 inches and 50 inches.
Step 4: Consider Other Factors:
When calculating the ideal TV size, it is essential to consider other factors that may impact your viewing experience.
For example, the lighting in your room, the distance between your seating and the TV, and the overall design of the space.
These factors can all impact the viewing experience, and it is essential to take them into account when selecting the right TV size.
How to Position Your TV for Optimal Viewing
Eye Level Placement
When you're sitting down to watch a favorite show, you'll want the center of your TV screen at eye level.
Imagine the comfort of having everything lined up just right. No craning your neck up or down.
Just a simple, straight-ahead view that makes everything more enjoyable. It's all about reducing strain and boosting comfort.
Distance from the Wall
Ever touch the back of a TV that's been on for a while? It can get warm. That's why it's vital to leave some space between the TV and the wall.
This gap allows air to circulate, preventing your TV from overheating.
And don't just guess; take a moment to consult the manufacturer's guide for your specific model. They know the best setup to keep your TV cool.
Centered in the Room
You want the room to feel just right. That means having the TV centered on the wall or in line with the main pieces of furniture.
It's about balance. If something's off, the entire room might feel a bit strange.
Move your seats or adjust the TV position so everyone can enjoy a symmetrical view.
Avoid Glare
Those annoying reflections on the screen can be a real distraction. But it doesn't have to be that way.
Place the TV away from windows or bright lights. It's a simple move that can minimize glare and reflections.
Using adjustable blinds or curtains can be a smart addition to control the light and keep your view clear.
Viewing Distance
The distance from the screen matters, too. With our TV Size Calculator, you'll know the perfect spot to place your sofa.
It's not just a random decision. Your TV's resolution, whether it's HD, 4K, or something else, affects how close you should sit.
Follow the guidance, and you'll create an immersive experience that feels just right.
Wall Mounting
Wall mounting the TV? It can look fantastic, but it must be done right. Find a mount that's designed for your TV's size and weight.
Ensure it's securely installed and perfectly level. You'll love the clean look, and you'll have peace of mind knowing it's safe and stable.
Cable Management
Cables everywhere can look messy. But with a bit of effort, you can have a neat and tidy TV area.
Use cable management solutions like clips or sleeves. Suddenly, those chaotic cords are out of sight, and everything looks more organized and pleasing.
Sound Quality
Sound is part of the experience, too. Think about where your speakers or sound systems are in the room.
Their position can truly enhance your entertainment experience. Whether it's a big action scene or soft dialogue, the right placement will make it all sound better.
Furniture Arrangement
You want everyone to enjoy the show, right? That means arranging the furniture so that everyone has a clear view of the screen.
It's more than just where the sofa goes. Think about the chairs, coffee table, and other pieces.
Arrange them in a way that invites people in and makes them feel part of the action.
Test from Different Seating Positions
You've made all these changes, but how do they feel? Sit in different spots. See how the view is from there.
Testing from various seating positions helps to ensure that everyone, from kids to guests, gets a great view without straining their necks.
Calibrate Your TV
Now for the final touch. Spend some time adjusting your TV's picture and audio settings.
Dive into those menus. Explore the preset modes for different types of content.
With a little bit of tinkering, you'll find the settings that make everything look and sound its best. It's like custom-tailoring your TV for optimal enjoyment.
Make your entertainment space the epitome of enjoyment with the right TV size. Use our TV Size Calculator to make an informed decision and transform your home into a captivating entertainment hub.