What Size Dutch Oven For A Family Of 4?
We may earn affiliate fees for purchases using our links (at no additional cost to you).
It is often asked what should be the proper size of a Dutch oven for a family of 4.
When you choose the proper one, you need to be sure as a Dutch oven is a long-term investment. 
So, know the answer of what Size Dutch Oven For A Family Of 4.
What Is The Best Size Dutch Oven For A Family Of 4?
A Dutch Oven sizing from 5-7 quarts are the most common size for a family of 4.
If you do the regular serving, this oven is the perfect size for preparing any food your family requires.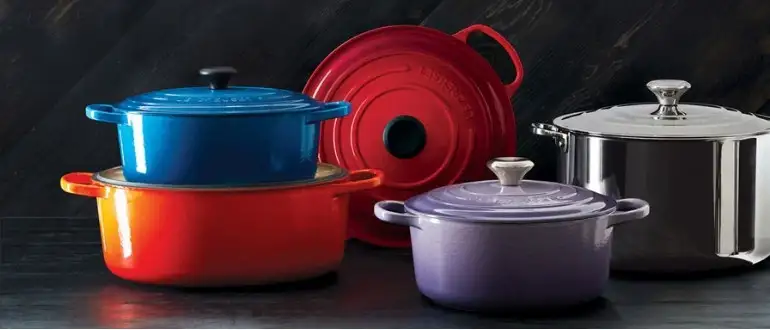 The below list can help you find out the right size Dutch Oven for your family of 4. 
| Size | Capacity  | Quantity of Serving |
| --- | --- | --- |
| 5 qt | Smaller  | A medium-size whole chicken, roast beef, veggies, fish, etc. |
| 6 qt | Perfect |  Braised meats, stews, soups, baked dishes, medium-sized turkeys, etc. |
| 7 qt  | Bigger | A large whole turkey, large pieces of meat with bone, veggies, etc. |
What Is the Best Shape Of A Dutch Oven For A Family Of 4?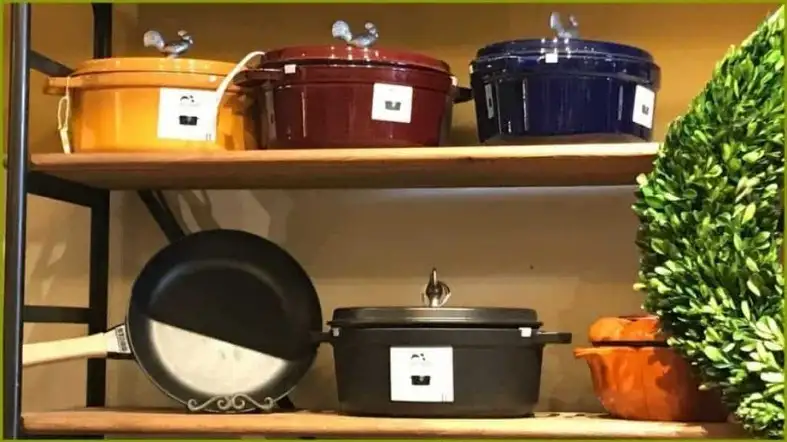 Dutch ovens are frequently available in two shapes: an utter round and an oblong oval. The oval form is less common than the round shape.
Round Shape
For most individuals, the rounded form is ideal for versatility because it will provide even heating on any stove setup and function for a range of jobs.
A round dutch oven fits considerably better on a burner, resulting in equal heating.
Oval Size
However, if you plan to prepare many roasts, the oval form has advantages; some types of meat, such as a leg of lamb, would fit better in an oval shape.
How To Choose The Right Size Dutch Oven For A Family Of 4?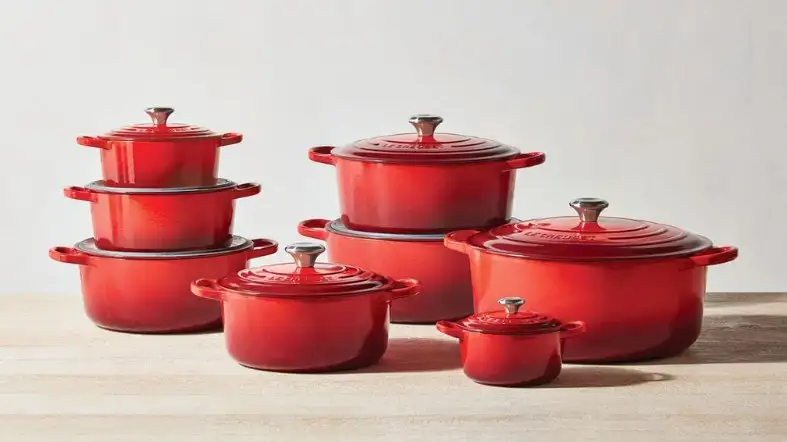 Consider the following factors when choosing your ideal size  Dutch Oven for slow-cooking, chicken-frying, and bread-baking for a family of four.
Materials
There are four basic materials: stainless steel, naked cast iron, enameled cast iron, and ceramic. Stainless steel is suitable for cleaning and maintaining.
Cast iron holds heat for an extended time and is ideal for slow-cooking and maintaining a steady oil temperature for deep frying.
Enameled cast iron retains heat better than cast iron without the inconvenience of additional cleaning and seasoning.
Ceramic Dutch ovens are the lightest of the materials available.
Size
If you want to cook for your family of 4, you may need a medium Dutch Oven.
If you're looking for the ideal Dutch oven for most recipes, a 5 to 7 quarts oven can feed 4 people.
It will accommodate a whole chicken, and most recipes are built for this size of a Dutch oven.
Interior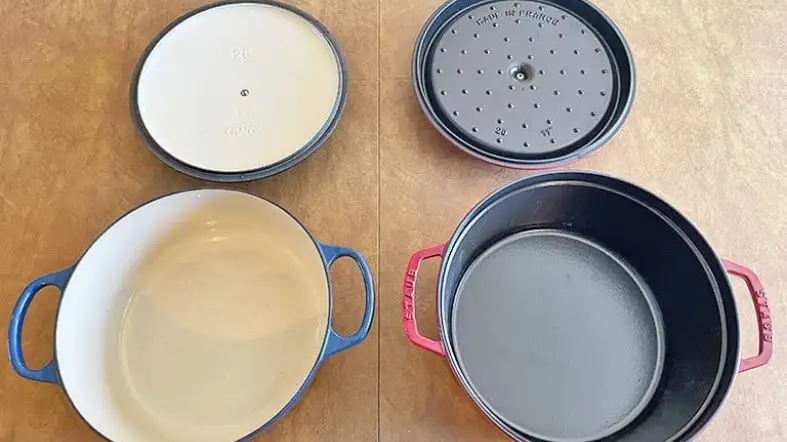 You should determine the color of the interior of the Dutch oven. Lighter interiors are helpful because they let you see more into the oven during cooking.
Dark interior Dutch ovens can hide the cracks, discolorations, and stains. Comparing both, the dark one is better than lighter interior Dutch ovens.
Lid
You will find many designable lids available in the market for the dutch oven.
One of them is spikes, which are provided to help moisture drop from steam properly back onto the meal to keep it wet.
And the other lids just allow water to trickle back down the oven's interior walls.
Safety
Whatever you are cooking, ensure that your best-sized dutch oven has a robust handle and avoids dripping or leaking. 
Easy Cleaning
Make sure what dutch oven you are buying is easy to clean.
Whether it can cause harm to you and your family's health, through cleaning, be safe from leftover food's germs.
What Dutch Oven Should I Buy For A Family Of 4?
Nowadays, Dutch ovens are available in two types: a traditional Dutch oven and a modern one.
Though both are different in feature and style, they are durable and great to cook. 
Conventional Dutch Oven
Traditional dutch ovens are durable and made of heavy cast iron and have a semi-circular loop handle on their lid.
Its 3″/4″ legs differ from the modern one and have a wide bottom. Its tight lids allow you to put coals over it for a better fry. 
Modern Dutch Oven
You will find heavy cast-iron Dutch ovens and enameled cast iron, stainless steel, or aluminum ones with "Ear-type" handles on the pot and a wide flat bottom Loop or knob handle on the lid.
You can use it on the stovetop and in a modern oven.
FAQs About The Right Size Dutch Oven For A Family Of Four
What Will Be The Budget For A Proper Size Dutch Oven For A Family Of 4?
The brad and material will decide what should be your budget for the correct size dutch oven for your family of 4.
So if your goal and budget match, then buy the best for your family. 
Can I Deep Fry In My Dutch Oven When Cooking For My Family Of 4?
Yes, you can. And an enamel dutch oven is better for that.
But before deep fry, make sure the interior is dark-colored.
You have to give much time for deep fry to ensure your safety. 
Can I Use A Dutch Oven For Camping With My Family Of 4?
Of course, you can. But make sure your dutch oven has legs and a tightly fitted lid to put coals over it.
If you think of camping, choose a durable and heavy Dutch oven. 
Do I Have To Worry About My Family's Health When Cooking In A Dutch Oven? 
Most of the time, foods make our health good, not the oven. Even then, some materials in the oven can make the food toxic.
The enamel dutch oven considers healthier than the others. 
The Bottom Lines
Dutch ovens always create happiness for the cook. Dutch ovens always produce the best feeling whether you cook, inside or outside. 
This article shows that a Dutch oven between 5-7 quarts is the best when you have 4 members in your family. So, choose the best size Dutch Oven for your family of 4.