Do you love cooking delicious meals for your family?
If so, you might have heard of a Dutch oven, a versatile pot that can be used for baking, braising, roasting, stewing, and more.
A Dutch oven is a great addition to any kitchen, but how do you choose the right size for your family?
In this blog post, we will help you answer the question: what size Dutch oven is for a family of 4?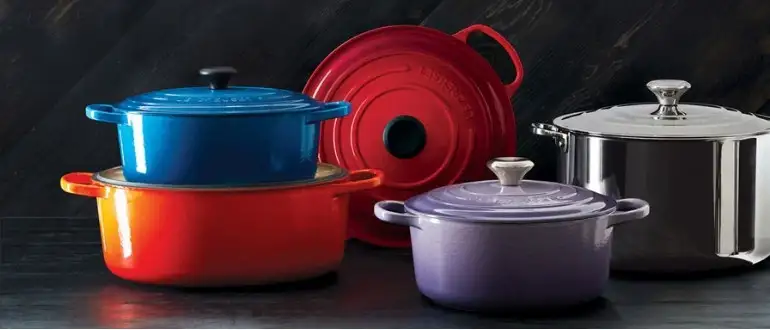 What Is The Best Size Dutch Oven For A Family Of 4?
For a family of 4, a 5 to 7 quart Dutch oven is ideal, adequately accommodating meals for all members and ensuring versatility for various recipes, while remaining manageable in terms of storage, handling, and cleaning.
Dutch Oven size chart for the family of 4:
| Size (Quarts) | Servings | Portions |
| --- | --- | --- |
| 2-3 | 1-2 | 2-3 |
| 3-5 | 2-4 | 3-5 |
| 5-7 | 4-6 | 5-7 |
| 7-9 | 6-8 | 7-9 |
| 9+ | 8+ | 9+ |
Different Types of Dutch Ovens Suitable for a Family of 4
Here are some of the most common types of Dutch ovens that you can choose from.
Cast Iron Dutch Ovens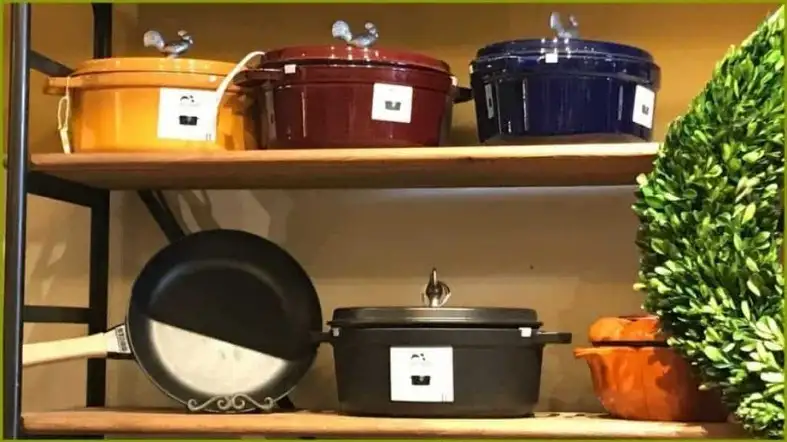 Cast iron is one of the most popular materials for Dutch ovens because it is durable, heat-resistant, and retains heat well.
Cast iron Dutch ovens can be used on any heat source, including gas, electric, induction, and open fire.
They are also great for browning meat and creating crispy crusts. Cast iron Dutch ovens are also heavy, prone to rusting, and require seasoning before use.
Seasoning is the process of coating the surface of the cast iron with oil and heating it to create a non-stick layer.
Enameled Cast Iron Dutch Ovens
Enameled cast iron Dutch ovens are similar to cast iron Dutch ovens, but they have a layer of enamel coating on the surface.
Enamel is a type of glass that adds color and shine to the pot. Enameled cast iron
Dutch ovens are easier to clean and maintain than cast iron Dutch ovens because they do not need seasoning and do not rust.
They are also available in many colors and designs that can match your kitchen decor.
Enameled cast iron Dutch ovens are also heavy, expensive, and can chip or crack if dropped or heated too high.
Ceramic Dutch Ovens
Ceramic Dutch ovens are made of clay that is fired at high temperatures to create a hard and smooth surface.
Ceramic Dutch ovens are lightweight, colorful, and eco-friendly.
They are also good for cooking acidic foods like tomatoes and wine because they do not react with them.
Ceramic Dutch ovens are also fragile, sensitive to temperature changes, and can crack or break if mishandled or exposed to extreme heat or cold.
Aluminum Dutch Ovens
Aluminum Dutch ovens are made of metal that is lightweight, cheap and conducts heat well.
Aluminum Dutch ovens are easy to carry and store and can be used on most heat sources except induction.
They are also good for cooking fast and even meals because they heat up quickly and evenly.
Aluminum Dutch ovens are also soft, prone to denting and scratching, and can react with acidic foods and change their flavor or color.
Stainless Steel Dutch Ovens
Stainless steel Dutch ovens are made of metal that is shiny, sturdy, and corrosion-resistant.
Stainless steel Dutch ovens are easy to clean and sanitize and can be used on any heat source including induction.
They are also good for cooking healthy and low-fat meals because they do not need oil or butter to prevent sticking.
Stainless steel Dutch ovens are also poor heat conductors, which means they heat up slowly and unevenly and can create hot spots or burn food.
How to Determine the Ideal Size of a Dutch Oven?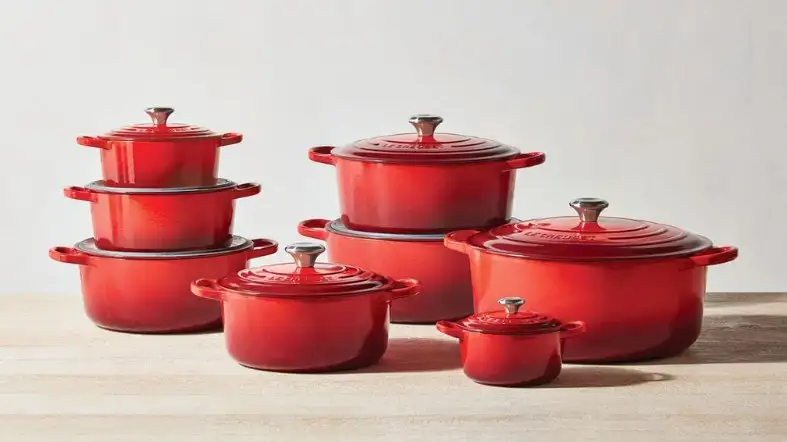 Measuring Portion Sizes
Start by understanding portion sizes. Different foods have different portion sizes. For instance, a meat portion is about 3 ounces.
Grains like rice or pasta represent a 1-ounce portion. Vegetables typically measure about 1 cup. Fruits are about 1/2 cup.
Use tools like a kitchen scale, measuring cup, or your hand to gauge portions. Plan the meal's total size by multiplying single portions by the number of eaters.
Don't forget to include some extra for guests or leftovers. Calculate your Dutch oven size in quarts. One quart equals 32 ounces.
You'll need to convert your total food portion from ounces to quarts. Most Dutch ovens come in standard sizes, so round up to the nearest quart.
Choose a bigger size if you plan to cook different dishes. A slightly larger Dutch oven prevents spills and offers more cooking flexibility.
Taking into Account Meal Leftovers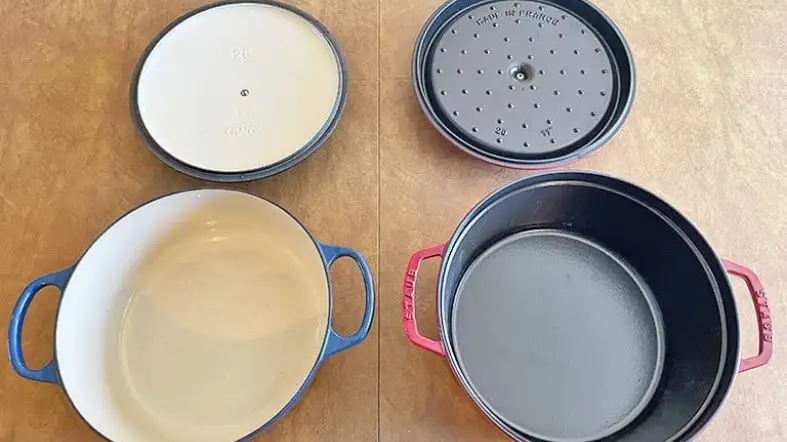 Plan for meal leftovers. Leftovers save time and reduce waste but need proper storage. Consider how often you plan to have leftovers.
Frequent leftovers require a larger Dutch oven. You'll also need sufficient storage containers and refrigerator space. A 5 to 7-quart Dutch oven might be ideal.
Occasional leftovers mean you'll need a medium-sized Dutch oven. A 3 to 5-quart size could be sufficient.
For minimal leftovers, a small-sized Dutch oven suffices. A 2 to 3-quart Dutch oven might be all you need. Adjust recipes accordingly.
Considering Additional Guests or Occasions
Think about future entertainment. You might host dinners, holidays, or parties. The number of guests you expect will affect your Dutch oven size.
Frequent, large gatherings need a large Dutch oven. A size of 7 to 9 quarts or larger is advisable.
Infrequent, small gatherings require a medium-sized Dutch oven. Choose a size between 5 to 7 quarts.
If you don't plan to entertain, a small Dutch oven works. A 2 to 3-quart size should be enough for just your family.
>> What dutch oven size for outdoor cooking? 
Factors Influencing Dutch Oven Size Selection for a Family of 4
Cooking Needs and Preferences
Cooking needs and preferences dictate your Dutch oven size. Frequent large meal preparers need bigger sizes.
Daily, smaller meal cooks require modest sizes. Experimental cooks benefit from versatile sizes.
Types of Dishes Planned
Dish types also guide size selection. Soups and stews demand larger sizes to prevent spillage. Breads and cakes need space to expand, requiring medium sizes.
Pies or tarts do best in smaller sizes for crust perfection.
Oven and Stovetop Size
Oven and stovetop dimensions limit your Dutch oven size. Large stoves accommodate any size. Medium stoves require adjustment for larger Dutch ovens.
Small stoves fit only small Dutch ovens, needing careful placement.
Storage Space
Storage space affects your choice. Abundant space fits any size. Limited space might favor a medium or small Dutch oven, necessitating creative storage solutions.
Versatility and Multi-Functional Use
Versatility is key for diverse cooking methods. A medium Dutch oven offers the most flexibility.
Specialized cooking may demand either small or large sizes, focusing on specific dishes.
Maintenance and Cleaning
Ease of maintenance influences size choice. Smaller Dutch ovens provide simpler cleaning.
Larger ones demand more care but offer higher resilience and temperature endurance.
Durability and Material Quality
Durability and material quality matter. High-quality materials command a higher price but offer durability, mostly in larger sizes.
Cheaper, smaller options might be less robust but more affordable.
Price and Budget Considerations
Budget greatly affects your options. High budgets align with larger, premium materials. Tighter budgets might necessitate smaller, less durable materials.
Brand Reputation and Reviews
Brand reputation guides quality expectations. Renowned brands, often pricier, promise quality and come in larger sizes.
Lesser-known brands might offer budget-friendly options in smaller sizes.
Safety and Health Concerns
Safety and health are paramount. Non-toxic, non-reactive materials are safest, often found in smaller Dutch ovens.
Larger ones, while robust, might pose health risks with certain materials.
FAQs About The Right Size Dutch Oven For A Family Of Four
What Will Be The Budget For A Proper Size Dutch Oven For A Family Of 4?
The brad and material will decide what should be your budget for the correct size Dutch oven for your family of 4.
Can I Deep Fry In My Dutch Oven When Cooking For My Family Of 4?
Yes, you can. And an enamel Dutch oven is better for that.
Can I Use A Dutch Oven For Camping With My Family Of 4?
Of course, you can. But make sure your Dutch oven has legs and a tightly fitted lid to put coals over it.
Do I Have To Worry About My Family's Health When Cooking In A Dutch Oven? 
Most of the time, foods make our health good, not the oven. Even then, some materials in the oven can make the food toxic.
The Bottom Lines
Selecting the perfect Dutch oven size for a family of four requires considering various factors.
From cooking preferences to budget constraints, each aspect plays a significant role.
Ultimately, the right choice meets your family's unique culinary needs, ensuring delightful meals and unforgettable moments around the dinner table.