Do you often find yourself asking, "what size generator do I need for my house?" If so, then this calculator is for you!
Simply enter in some basic information about your home and power needs, and our calculator will provide you with an estimate of the minimum generator size that you would need to keep your home running in the event of a power outage.
Keep in mind that this is just a rough guide – for more accurate estimation, we recommend consulting with your generator provider.
Generator Size Calculator
***All wattages are estimates. Your actual device wattage may vary.
Always remember you need to buy a generator that is 1000-3000 watts more than your total running wattage. Because the starting wattage of each appliance is more than the running wattage.
***All wattages are estimates. Your actual device wattage may vary.
Always remember you need to buy a generator that is 1000-3000 watts more than your total running wattage. Because the starting wattage of each appliance is more than the running wattage.
***All wattages are estimates. Your actual device wattage may vary.
Always remember you need to buy a generator that is 1000-3000 watts more than your total running wattage. Because the starting wattage of each appliance is more than the running wattage.
There are 3 types of generator:
PORTABLE
Primary Use: Multi-Purpose
Surge Watts: 1,000-30,000
Rated Watts: 1,000-20,000
Portable, versatile power for home or jobsite, outdoor projects or emergency back-up.
INVERTER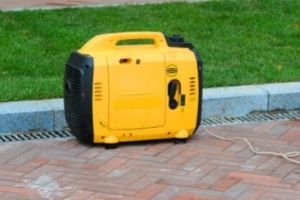 Primary Use: Recreational
Surge Watts: 500-6,000
Rated Watts: 500-4,000
Lightweight, portable, super quiet clean stable power for recreational use.
STANDBY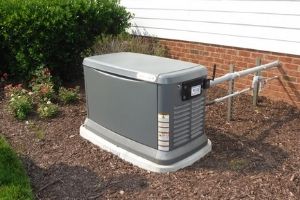 Primary Use: Backup
Rated Watts: 20,000-200,000
Reliable quiet smooth operation, intuitive controls kick in within seconds of power loss.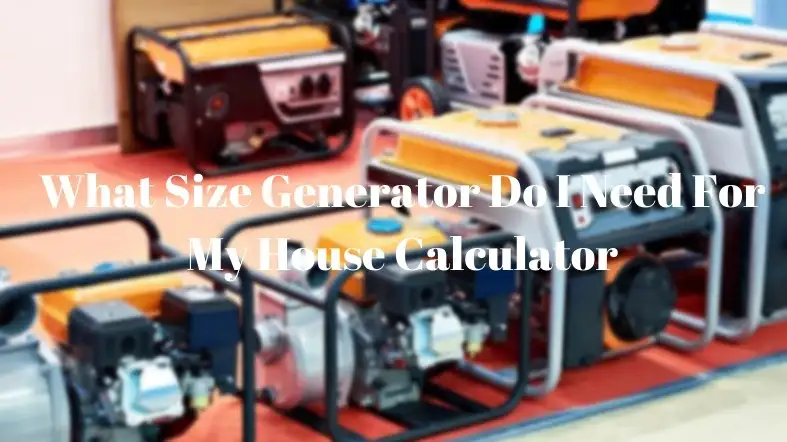 Portable Generator
Portable generators are small, lightweight and easily transportable.
They can run on gasoline or diesel fuel (or both). Portable generators provide you with all the power that you need for your appliances and electronics in your home.
You can take them anywhere to power any device, as long as it has a standard AC plug.
Read More: What Size Generator Do I Need For 200 Amp Service?
Inverter Generator
Inverters work by converting DC current (direct current) into alternating current for your appliances and electronics in your home or business.
Inverter generators will give you less wattage than portable generators, which is good if you want something smaller or cheaper and not always on the go.
Standby Generator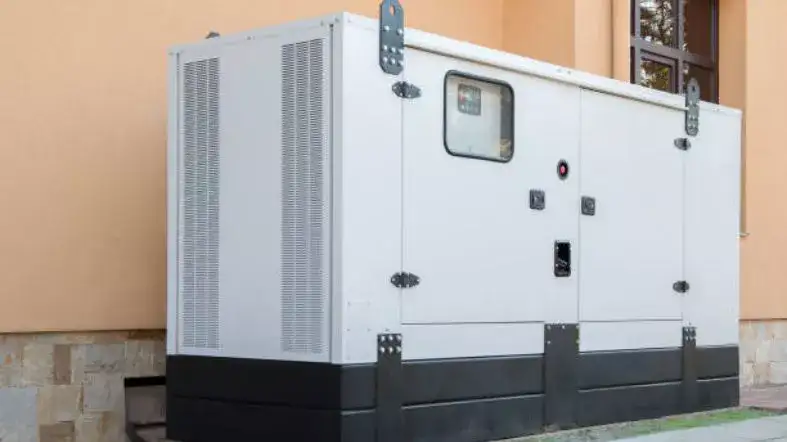 The third type is standby generators. These are generators that run on fuel, whether gas or diesel.
They're typically built to provide power in the event of an outage and can be hooked up to your home's natural gas line so they automatically start when there's a loss of power.
Read More: What Size Generator For 30 Amp RV?
How to calculate What Size Generator Do I Need For My House
The first step is to figure out the total wattage of your appliance and include any appliances you may use in emergency situations.
The next step is to divide your appliance watts by the number of hours you want to use it for.
For example, if you have an electric stove that has a total wattage of 1250W and you plan on using it for 20 hours then: 1250/20=625watts per hour or 625Whrs
The third step is to take this number and multiply it by the number of hours you want to run your generator, then divide it by 1000. If you plan on running a 625Whrs appliance for 20 hours: 625×20/1000=625000 or 6000 watts
The fourth step is to take this wattage figure and find out how many amps are required which determines how large of a generator you need.
There are two ways to calculate the amps required: by looking at your appliance's rating and then multiplying it by 120% or using this formula (120xwatts)/1000=amps required for that device in order for it to run from the generator.
If we use our example, 6000/1000=6000 amps are required.
If you want to find out how many hours it takes for the generator to deplete its fuel, just divide the total wattage by 120 which is a typical usage of generators.
For example, if your appliance has a 1800W rating and you use it on average for 20 hours every day then: 1800/120=15.66 hours.
So if you have a generator that can provide 6000 amps, then it could run your appliance for 15.66 hours per day without any problem.
If you want to know how many days worth of fuel this takes, divide the total wattage by 120 and then multiply that figure by 24.
Because on average a person uses a generator for 24 hours per day. So in our example, the total fuel that would last is 15.66×24=368 hours which equals 20 days of power from a single tank of gas.
Read More: What Size Generator Do I Need For My House (Chart Added)
How Many Watts Do I Need For Home Back Up Power?
It is important to understand how many watts you need for home back up power. There are two main factors that determine the wattage of your generator:
The electrical demands in your house
The size of your backup battery.
A typical American household with a refrigerator/freezer, lights, TVs, computers and small appliances uses around 1800-2200 watts on an average day without any summertime air conditioning usage.
A 1500 watt rated generator can supply enough electricity to run these needs during most low-demand hours.
But it may not be able to provide continuous use throughout the night or when there is a heavy appliance load at certain times like cooking dinner or running the dishwasher. It will also depend on what type of breaker panel system your house has.
The size of your backup battery is the other factor that determines how much electricity a generator can supply continuously before it needs to be recharged in order to provide power for your home during an outage.
A typical 12-volt car battery will only power lights, cell phones and laptops on low settings for about six hours if you are lucky.
But larger lead-acid batteries like those found in most recreational vehicles (RVs) have capacities from 75 amp hours up to 400 or more amps hour capacity which could generate at least ten days worth of emergency back up power.
It's important not only to purchase a portable generator with enough wattage ability for your electrical demands but also one with the right amount of energy storage so you don't get stuck without power should the situation arise.
How Many Watts Do I Need For A Job Site?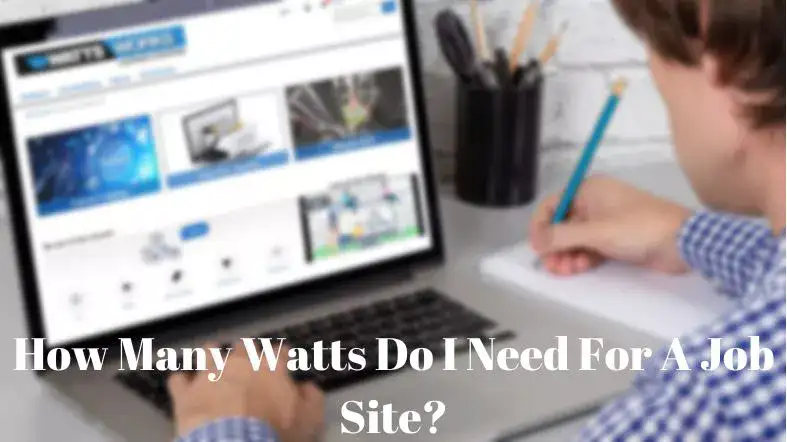 You need a generator with more than enough wattage to provide power for your work site. Your typical residential home requires somewhere around 1000 watts of electricity.
But you would be looking at something in the range of 5000 watts if you have an electric-powered welder or other heavy-duty tools that is drawing a lot of currents.
The best way to determine how many kilowatts will be necessary for your needs depends on the type and size of equipment as well as which appliances are being used simultaneously.
Generally speaking though, anything over 2000 watts should generally suffice for most job sites even when using high-intensity tools like welders or compressors.
How Many Watts Do I Need For Recreational Use?
One thing to keep in mind is that the size of your generator will be determined by how many watts you need and want for recreational use.
For example, a 1000-watt portable inverter generator can power small appliances like an electric heater or coffee maker but might not have enough juice to run air conditioning units or larger tools like welders.
If you were using this as emergency backup power during storms, it should work just fine given time limitations on things running at one time.
The same goes for something under 1500 watts which would also only provide enough electricity when used sparingly.
1600 – 2000 watt generators are best suited to powering up your requirements around the house so long as they won't be overworked at any moment.
What To Look At Before Buying A Generator: Generator Features
Using A Parallel Capable Generator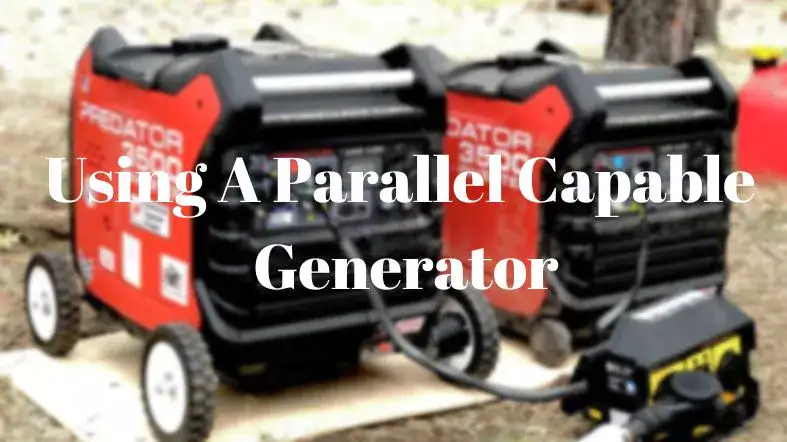 You've got a generator that is either not capable of running the whole house, or you just don't want to take up all your power in one spot.
This means needing to use it with something called a parallel cable and this lets you connect two generators together so they both are providing electricity at once instead of taking turns as they work.
Dual Fuel Capabilities
Some generators are capable of running on either gas or diesel. You will need to have a fuel tank with the appropriate type, but it's nice when you can get away without carrying around two heavy tanks."
Gas Tank Capacity
The bigger the better for those long power outages where you won't be able to refuel. A 20-gallon tank can provide enough electricity for about ten hours while a 40-gallon one will give closer to 18 hours of constant use before needing.
Duty Cycle
What are the conditions that you will be running your generator under? If it is an emergency such as power outage, what can you expect from the weather and how long might this last? How many hours a day do you need to run it for?
Fuel Consumption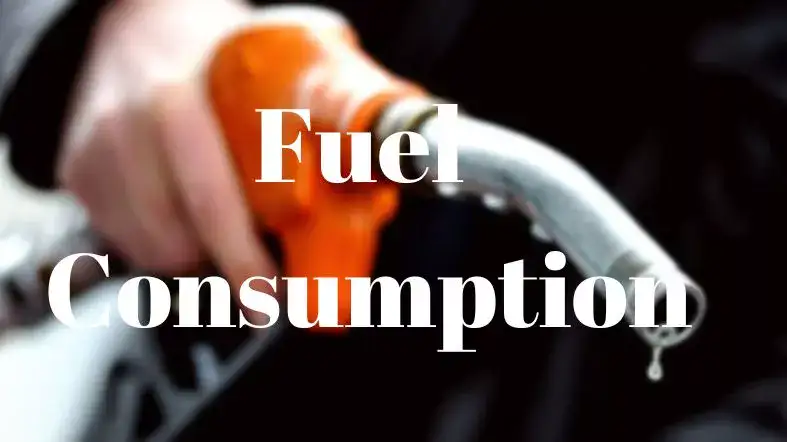 How much fuel does your generator require per hour of operation, either gasoline or diesel.
Knowing your needs beforehand will help determine which type of fuel to order with your unit so that there's no downtime during delivery or waiting for additional supplies.
Price
Of course, choosing between different models comes down to price versus features. For those on a tight budget, we recommend simpler generators without all the bells and whistles in favor of low cost but high output options.
These units are the perfect choice for those powering simple home appliances, such as lights and small electronic devices.
For those with a bigger budget, we recommend more powerful generators that are able to power all of your home's major electrical components in an emergency outage or storm event.
Noise Level
Will it be noisy or silent to operate your generator? Can people hear it from a distance away, say in another room while they are sleeping?
How close does one have to get before they can identify that sound as coming from your home's backup power supply system?
Power Source
Is this an AC (Alternating Current) Generator or DC (Direct Current)? An AC model provides more back-up time than a DC because of its ability to run on utility electricity.
A 12V battery could only last 15 minutes with no outside energy source available. However, if there was access to 120 volts through household wiring, the 12V battery backup would last up to 18 hours.
Output
How many amps does it produce? The number of amps is determined by the size and type of generator you purchase, from as little as 200 or so to over 10000.
Capacity refers to how much power your home needs on a regular basis in order for this particular model (or any other) to work effectively when running off-grid.
This should include all appliances that are necessary for daily life such as refrigerators, freezers, microwaves, washers/dryers, etc., but also items like televisions and surround sound systems which may be considered luxury items.
Conclusion:
The size of the generator you'll need to power your home during an outage depends on a number of factors, including the wattage of the devices and appliances you want to run and the length of time you need to keep them running.
Use our calculator to get a more accurate estimate of the generator size you'll need.