Ready to install a new subfloor but puzzled about what size nails for subfloor? While choosing the right size will ensure a strong bond between your subfloor and joist, the wrong size can cause a creaky floor and instability.
So, don't let these pitfalls derail your home improvement dreams.
In this blog post, we'll guide you through the process of determining the right nail size for your subfloor. Read on to make your subfloor as sturdy as it deserves to be!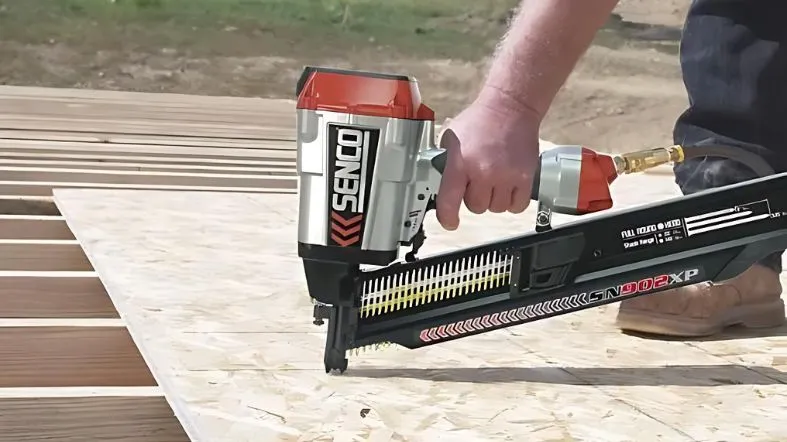 What Size Nails for the Subfloor?
For installing a subfloor, 8d (2.5-inch) ring-shank nails are commonly used for plywood, while 6d (2-inch) ring-shank nails are suitable for OSB (Oriented Strand Board). The appropriate nail size for your subfloor largely depends on the material you're using.
Nails Size Chart for Subfloor:
| Subfloor Material | Recommended Nail Size |
| --- | --- |
| Plywood | 8d (2.5-inch) |
| OSB | 6d (2-inch) |
| Plank | 3 inches |
Why Nail Size Matters for Subfloor Installation?
Importance of the Right Size
Choosing the right nail size is crucial for a secure and stable subfloor. If your nails are too short or thin, they won't hold the subfloor securely to the joists.
The correct size ensures a strong bond between the subfloor and the joists, making a stable house.
Consequences of Wrong Size Choices
On the other hand, using nails that are too short can lead to a weak connection.
Nails that are too long can cause damage to the material or create safety hazards. Think about trying to put a large peg into a small hole – it could split the hole or stick out on the other side.
In the same way, nails that are too long could split your subfloor material or stick out on the other side, creating a potential hazard.
Types of Nails Suitable for Subfloor
Common Nails
They are often used for subfloors due to their strength and durability. Common nails can hold different types of subfloors effectively.
Ring-Shank Nails
They have rings along their shaft which provide extra holding power. Imagine trying to climb a tree with a smooth bark versus one with grooves.
The grooves give you a better grip, right? Similarly, the rings on these nails grip the subfloor material better.
Spiral-Shank Nails
Spiral-shank nails are like screws. They are designed to resist pulling out, making them ideal for subfloors.
Flooring Cleats
Flooring cleats are another good option, especially for hardwood flooring. Flooring cleats provide great hold for hardwood floors.
How to Determine the Right Nail Size for Your Subfloor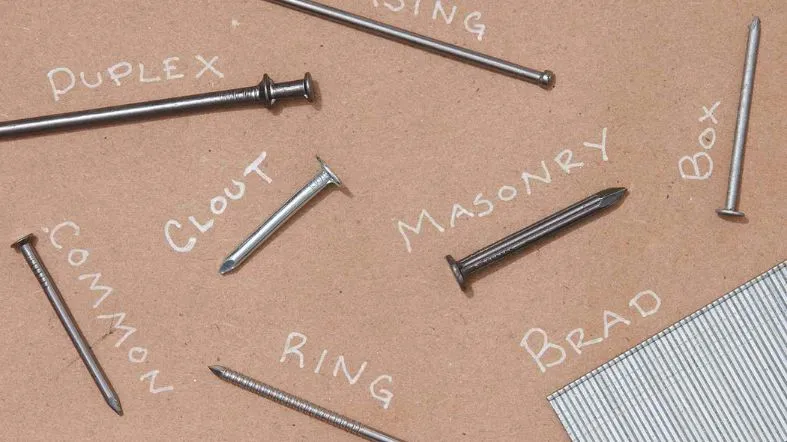 Measure the Thickness of Your Subfloor Material
Start off by measuring your subfloor material. Is it plywood, OSB, or something else? Use a tape measure to find the thickness.
Plywood usually comes in 1/2-inch, 5/8-inch, or 3/4-inch thicknesses. Write down this number. If you're putting down plywood for a new bedroom, make sure all sheets are the same thickness.
Nail Length: The Golden Rule of 1.5
The length of the nail matters a lot. A general rule is that the nail should be 1.5 times the thickness of your subfloor material.
So, if you're using 3/4-inch plywood, you'll need nails that are at least 1.125 inches long.
Types of Nails: Ring-Shank vs. Screw-Shank
Your subfloor deserves the right type of nail. Ring-shank and screw-shank nails grip the wood better than smooth nails.
For example, ring-shank nails are great for places where there's a lot of movement, like near doors. Screw-shank nails are good for floors that need extra holding power.
Nail Diameter: 6d or 8d Nails Usually Work Best
A 6d or 8d nail is typically the best choice for subfloors. These are just right for most types of plywood and provide a secure grip.
If you're working on a kitchen floor, where you'll have heavy appliances, 8D might be a safer bet.
Coating Matters: Use Coated Nails
Coated nails are nails with a thin layer of resin. They grip better than non-coated ones. This is super useful if your house will face lots of wear and tear.
Test Before Committing: Do a Mini Project
Don't skip this step. Use some scrap pieces of your subfloor material. Nail them together to see how well they hold. If it's rock-solid, you're on the right track. If it wiggles, reassess your choices.
Use the Right Nail Pattern: Follow the 6-8 Rule
When nailing down subfloors, placement is key. Nails should be 6 inches apart along the edges and 8 inches apart in the middle.
This pattern is known as the 6-8 Rule and ensures a secure floor.
Calculate the Number of Nails: Always Have Extras
Finally, count how many nails you'll need. A simple formula is to multiply the total square footage of the room by the number of nails per square foot based on your 6-8 Rule.
Add 10% more for good measure. If you need 200 nails for your living room, get at least 220.
Factors Influencing Nail Size Selection for Subfloor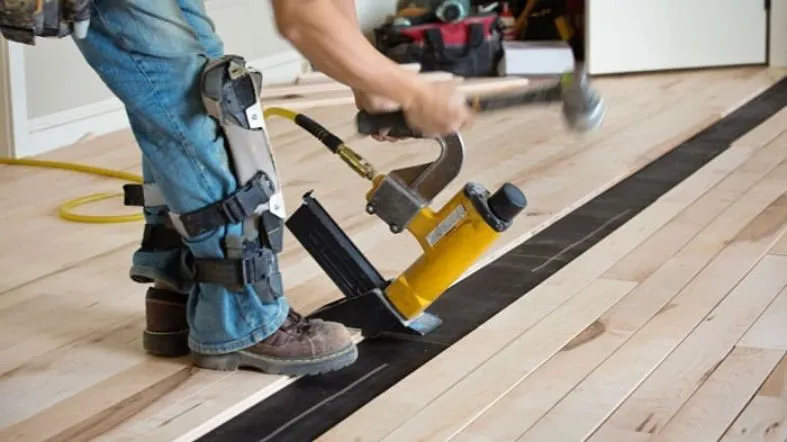 Material of Subfloor
The material of your subfloor is like the type of paper you're using for a craft project. Some papers are thin and delicate, while others are thick and sturdy. Use different nail sizes for different subfloor materials.
Load-bearing Considerations
Load-bearing considerations are like the weight a backpack can carry. If your subfloor needs to support heavy loads, you'd need larger nails.
Local Building Codes
Each area has its own building codes that specify what size nails to use for subfloors.
Climate and Environmental Factors
Climate and environmental factors are like the weather conditions for a picnic. Just like you'd plan your picnic based on the weather forecast, you'd choose your nail size based on factors like humidity and temperature.
Availability of Tools
If you don't have the right tools, you might need to choose a different nail size.
Installation Method
Different subfloors require different installation methods, which can affect the nail size.
Preexisting Conditions (like moisture level)
If your subfloor has preexisting conditions like high moisture levels, it could affect your choice of nail size.
Practical Tips for Subfloor Installation
Safety Measures
Always prioritize safety when installing a subfloor. Wear protective gear, like gloves and safety glasses, and make sure your work area is well-lit and free of hazards.
When to Use Screws Instead
In some cases, screws may be a better choice than nails for subfloor installation. They provide a stronger hold but require more time to install.
Pre-Installation Checks
Always perform pre-installation checks to ensure everything is in order. Check the condition of your subfloor material, ensure your tools are in good working order, and verify that you have the correct nail size.
FAQs
Can I use common nails for installing a subfloor?
Yes, common nails can be used for subfloors, but ring-shank or screw-shank nails offer better grip.
Is it okay to use different thicknesses of plywood in the same room?
No, it's advisable to use plywood sheets of the same thickness for uniformity and stability.
Are coated nails better for subfloors?
Yes, coated nails offer better grip and are useful for high-wear areas.
Does humidity affect my choice of nail size for subfloors?
Yes, high moisture levels could affect the material and, consequently, the nail size you should use.
Are screws a viable alternative to nails for subfloor installation?
Yes, screws can provide a stronger hold but require more time for installation.
Conclusion
Choosing the right nail size is crucial for a successful subfloor installation. Always consider factors like material thickness and joist spacing when making your selection. Happy building!