Ever wondered why your lights flicker when you switch on another device? It's a common phenomenon with a simple explanation. 
But how does this affect your lights? Why does it happen? Today we will explore the intriguing reasons behind this flickering phenomenon and possible solutions.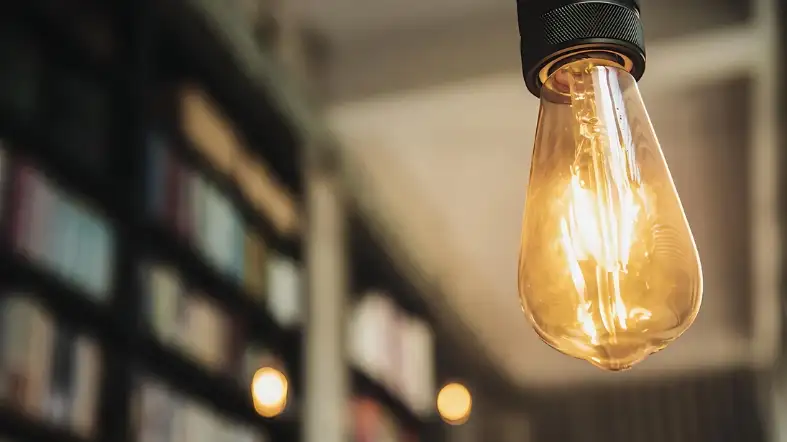 Common Causes of Light Flickering When Switching On Appliances
Loose Electrical Connections
When the connection between an appliance and the electrical source is loose or faulty, it can cause the light to flicker. 
Imagine trying to talk to a friend, but the connection keeps breaking up. The same thing happens with electricity. To fix this, make sure all the electrical connections are tightened and secure. 
It's like making sure all the pieces of a puzzle fit together perfectly.
High Electrical Load
Sometimes, when you have multiple appliances connected to the same electrical circuit, they all use a lot of electricity.
It's like having too many people trying to squeeze through a narrow doorway at once—it gets crowded, and things start to flicker. 
This overload can cause the lights to flicker when you turn on another appliance. 
Voltage Fluctuations
Have you ever noticed that sometimes the lights in your house get brighter or dimmer? That's because the voltage, which is like the strength of the electricity flowing into your home, can change. 
When a lot of people are using electricity at the same time, it can make the voltage fluctuate. These fluctuations can cause the lights to flicker. 
Incompatible Light Bulbs
Using the wrong light bulbs can also make the lights flicker. Imagine trying to wear shoes that are too big or too small for your feet—it just doesn't work well. 
The same goes for light bulbs. If you use bulbs that are old or not meant to work with the electricity in your home, they might flicker. 
Common Symptoms of Electrical Load Imbalance
Motors Running Hot
Motors that are running hot are a sign of unbalanced currents. The electrical load may not be distributed evenly across the three phases of the electrical system.
A current imbalance can cause certain motors to overheat, posing a serious risk to the equipment. Deficiency in insulation on motor windings can lead to premature motor failure due to excessive heat.
To prevent costly damages and ensure the system's efficiency and longevity, it is crucial to monitor motor temperatures regularly.
Motors Vibrating
Unbalanced currents can also cause motors to vibrate. During torque pulsations, currents are unevenly distributed in the system, causing torque pulsations.
The forces acting on the motor become asymmetrical when the electrical load is not balanced correctly. Vibrations can cause mechanical stress to the motor components, increasing the likelihood of failures.
To maintain a reliable and stable electrical system, motor vibrations should be detected early and rectified.
Lights Flickering
Flickering lights can be a noticeable symptom of voltage imbalance in the electrical system. Voltage imbalance occurs when the voltage levels of the three phases are not evenly distributed.
As a result, lights connected to the imbalanced phases may flicker or fluctuate in brightness. Voltage fluctuations can cause malfunctions or reduce the lifespan of sensitive electronic equipment.
Voltage imbalances should be identified and resolved promptly to ensure that the electrical system runs efficiently.
Power Surges
Power surges can also be a sign of load imbalance in the electrical system. Variations in voltage levels across the three phases can result from unbalanced currents.
These fluctuations can manifest as sudden spikes or dips in voltage, commonly known as power surges. Increased voltage poses a significant risk to electronic devices and appliances during power surges.
Surges can cause electrical equipment to prematurely fail, resulting in costly replacements or repairs. Ensure electrical integrity, a balanced load, and stable voltage levels are critical.
Solutions for Addressing Light Flickering When Turning On Other Devices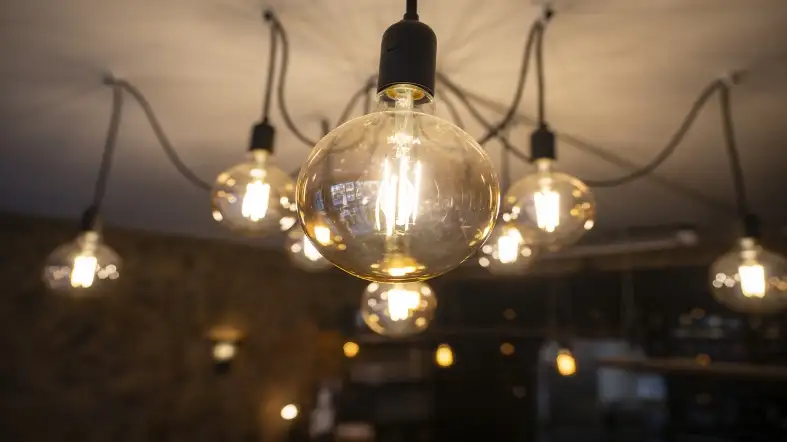 Tightening Electrical Connections
When you notice light flickering, it could be due to loose or faulty electrical connections. It's like when a toy's batteries aren't properly connected—it won't work properly. 
To fix this, you can tighten all the electrical connections, making sure they're secure. It's like giving a tight hug to make sure everything stays in place.
Balancing Electrical Loads
Sometimes, flickering happens because too much electricity is used on one circuit.
It's like having too many friends trying to play on a seesaw—it becomes unbalanced. 
To address this, you can distribute the appliances across different circuits. It's like dividing your friends into different seesaws so that everyone can play without any flickering. 
If needed, you can ask an electrician, who is like an expert playground supervisor, to install additional circuits for heavy electrical loads.
Stabilizing Voltage Fluctuations
If you experience flickering lights due to voltage fluctuations, it's like riding a roller coaster that goes up and down unexpectedly. 
To stabilize the voltage, you can contact your electricity provider, who is like a magician with electrical powers. 
They can investigate and take steps to ensure a more steady supply of electricity. It's like making the roller coaster ride smoother and less flickery.
Using Compatible Light Bulbs
Using the right light bulbs is important to avoid flickering. It's like finding the perfect puzzle piece that fits just right. 
Make sure to use bulbs that are compatible with your fixtures. This means using bulbs that work well with the type of electricity in your home and meet the recommended specifications. 
It's like wearing shoes that are just the right size, so they don't cause any discomfort or flickering.
How Can I Prevent Light Flickering When I Switch On Other Appliances?
Ensure Secure Electrical Connections
To prevent light flickering, it's important to have secure electrical connections. Loose or faulty connections can disrupt the flow of electricity and cause flickering. 
Check all the connections between your appliances and the power source, such as plugs and outlets, to ensure they are tight and secure. 
If you notice any loose connections, gently insert the plug fully into the outlet or tighten any loose screws. 
This way, the electricity can flow smoothly without interruptions, keeping your lights steady.
Balance the Electrical Load
When multiple appliances are connected to the same circuit and draw a lot of electricity simultaneously, it can overload the circuit and lead to light flickering. 
To prevent this, distribute your appliances across different circuits. You can do this by plugging them into outlets on different walls or in different rooms. 
By spreading out the electrical load, each circuit will have a balanced distribution of electricity.
Stabilize Voltage Fluctuations
Voltage fluctuations can also contribute to light flickering. If the voltage supplied to your home varies, it can affect the performance of your lights. 
You can install a voltage stabilizer or surge protector to stabilize voltage fluctuations. 
These devices help regulate the voltage and protect your appliances from sudden voltage changes. 
You can consult an electrician to choose the right stabilizer or surge protector for your home.
Use Compatible Light Bulbs
Using the correct type of light bulb is crucial to prevent flickering. Make sure the light bulbs you use are compatible with your fixtures and meet the recommended specifications. 
Different fixtures require specific types of bulbs, such as incandescent, LED, or CFL 
bulbs. Refer to the fixture's manual or consult a lighting specialist to determine the appropriate bulbs for your fixtures.
Using compatible bulbs ensures a consistent and reliable light source without any flickering.
FAQs About Lights Flickering When Turn Something Else On
Are Flickering Lights Dangerous?
Flickering lights themselves are usually not dangerous. However, they might indicate an electrical problem that needs attention.
If you notice persistent flickering or other electrical issues, it's best to have a grown-up check it out to ensure safety.
Can I Fix The Flickering Lights Myself?
As a 5th grader, it's important to leave electrical repairs to adults who have the necessary knowledge and skills.
If you see flickering lights, let a grown-up know about it so they can take care of the issue safely.
How Can I Prevent Lights From Flickering?
Sometimes, flickering lights can be caused by old or worn-out light bulbs.
Ask a grown-up to replace the bulb with a new one to see if that helps. If the problem persists, it's best to consult an electrician.
Do All Appliances Cause Lights To Flicker?
No, not all appliances cause lights to flicker.
Only devices that use a lot of power when starting up, like refrigerators or air conditioners, can cause momentary power fluctuations.
Regular everyday devices like lamps or televisions typically don't cause flickering.
Why Do My Lights Flicker More At Certain Times?
During peak usage times, when many people are using electricity at once, the power supply might be stretched thin.
This can lead to more frequent flickering of lights. However, if flickering happens all the time, it's best to investigate further.
Conclusion
Next time your lights flicker when turning something else on, remember that it's all about electricity distribution. 
Turning something on temporarily drains power from the same circuit, causing a brief voltage drop that affects your lights. 
To ensure stable lighting, consider balancing the electrical load, checking for loose connections, or consulting an electrician for a professional assessment.