How To Get Creases Out Of Polypropylene Rug?
We may earn affiliate fees for purchases using our links (at no additional cost to you).
Forming creases on the polypropylene rug is a common problem. That's why many of us ask,  "how to get creases out of polypropylene rug?"
If you give proper maintenance to the polypropylene rug, you will get rid of the creases as well as the usability will be lengthened.
 In this article, we will answer your question with a detailed way of getting creases out of polypropylene rug.
13 Ways Of Removing Creases From Polypropylene Rug
1. Let It Sit For A Few Days
There are times when you can just let the rug lay on the floor and let it settle.
After a few days, you can go back and examine if the rug still has the wrinkles you gave it, though sometimes they disappear and the rug ends up flat.
If wrinkles persist after trying the suggestions above, keep looking.
2. Spend A Week Walking On The Rug
The problem can be easily fixed by waiting a few days for the carpeting to settle.
But if you're all about getting things done quickly, you probably aren't a member of that school of thought.
Then get the whole family together and impress upon them the significance of stepping on the new rug multiple times daily.
Perhaps you'll put on some tunes and have a little dance party. No matter what method you use, regular foot traffic will smooth out the rug's wrinkles.
3. Cylinder Roll The Rug
Crinkles emerge as a result of folding and can be quite challenging to smooth out. Before putting your rug away, simply roll it up into a cylindrical shape.
Keep it so that it won't curl or fold at the edges and corners. This is the trickiest part of the hill to level out.
4. Unwind And Roll Backwards In The Other Direction
The rugs always arrive rolled up every time we acquire a new one. This rolled-up rug is more likely to have folds and creases than a flat one.
It's best to roll a fresh rug backward to prevent any damage. When the rug is folded, an anti-roll is applied from the other side to apply pressure to the existing roll.
After the rug's two rolls have collided, it can be laid flat. If you want to get rid of wrinkles with this method, you need to apply pressure to the area.
5. Use A Steam Iron
Steaming rugs is the quickest and easiest method for removing wrinkles, dents, and creases. A steam iron and a damp cloth are required.
In order to avoid damaging the rug, you should use a steam setting on the iron.
In addition, you should check a small section of the rug for damage to make sure the reaction isn't going to spread.
It's best to use a moist cloth to cover the dent before ironing it. An alternative is to use a low-heat blow drier on rugs with thicker heaps.
You can speed up the process of flattening the rug by blogging on it while using a soft brush.
6. Hang To Sun Dry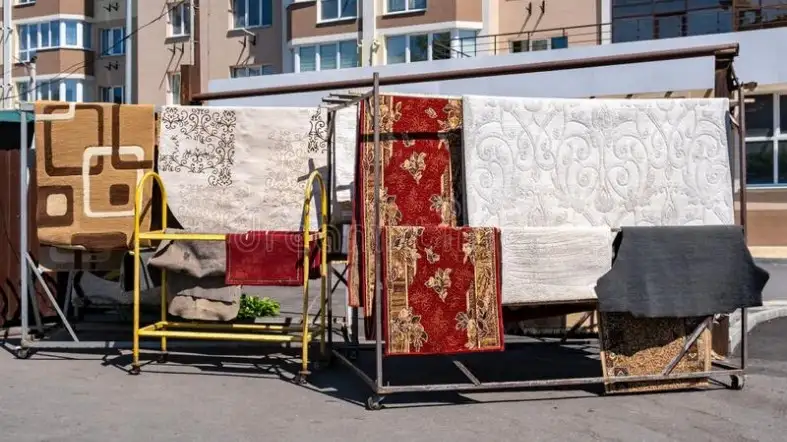 The purpose of repairing buckled carpets is to release the excess tension that strains certain rug fibers.
Placing the rug in direct sunshine for a period of time can assist in naturally alleviating this tension.
Remember that some rugs might fade or be damaged by the sun, so you must ensure that your rug is safe when exposed to excessive heat.
Even synthetic carpets made from Polypropylene or Nylon must be handled with care since they can melt if exposed to excessive heat.
7. Place Weighty Items On The Corners
This solution requires the user to place furniture in the afflicted area and leave it alone for a few days.
The user may also opt for heavyweight books in lieu of exercise or furniture weight. This procedure will also work for corners that are curled or tuff.
8. Use Water
As this process uses water, it is advised that you thoroughly clean the rug.
For this, you would need a spray bottle filled with a cleaning solution containing fabric softeners, soapy water, etc., a damp cloth, towel, or sponge.
You might substitute baking soda for the cleaning agent. That also works. Even a vacuum cleaner or steam cleaner with a medium heat setting can be used.
You can even use a hair dryer if you do not have a steam cleaner. However, if you are using a steam setting, be careful to steam every crease and wrinkle.
Thus, the rug pad's tensioned portions will be released.
Use a dry cleaning towel to wipe the carpet once the cleaning process is complete, and then use a garden hose to swiftly administer water to the carpet after hanging it.
Water pressure on a carpet treated with fabric softener would eliminate wrinkles and creases.
9. Suspend The Rug Inside The Shower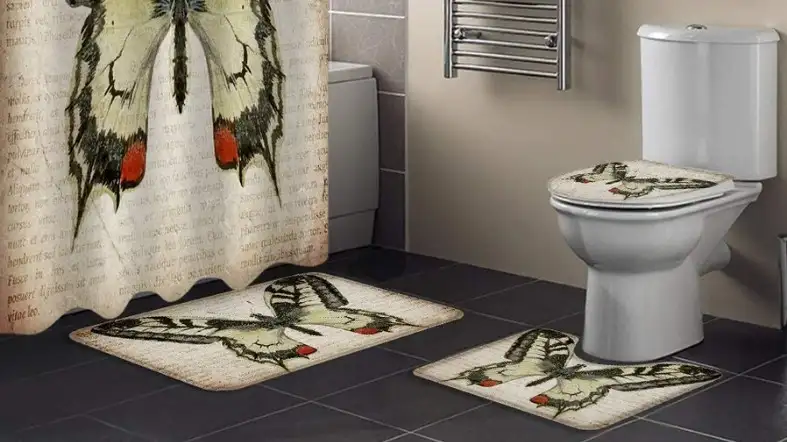 The shower method for removing wrinkles is dependent on the steam produced by flowing shower water.
Start by suspending the rug or other material you wish to de-wrinkle in the shower. Choose a strategic location, such as the shower door or a shower wall.
Ideally, your rug or garment should be positioned so that it captures hot steam but does not become wet from the shower's running water.
Turn on the shower with the highest water temperature setting. Allow the water to run for at least 15 minutes before turning off the shower.
10. Utilize A Steamer
The objective of a steamer is nearly identical to that of a steam iron, but it is considerably gentler.
In actuality, a gentle wrinkle release procedure is sufficient for the majority of rugs. Although gentle techniques may be slow, they retain the integrity of your rug.
Turn on the steamer and direct the nozzle to the area of the rug you wish to de-wrinkle. Move the steamer back and forth along the wrinkles' direction.
Repeat this process with each wrinkled part of your rug.
Do not focus excessively on individual portions, as pouring excessively hot moisture through some rugs may result in color leakage.
11. Use An Anti-Curl Underlay For Corners That Curl
After laundering, certain rugs develop unsightly curls at all four corners. The curls appear insurmountable and continue to get more apparent over time.
In this instance, all you need is a rug anti-curl gripper to secure your rug's corners.
This is especially helpful if you have tried every other feasible treatment and the problem still continues.
12. Soak The Corners And Edges With Water
Depending on the material and construction of your rug, applying water to the corners may prevent them from curling.
If you choose to use this method, you can increase its efficacy by laying heavy objects on the borders that have been wet.
Due to the possibility of mold growth, you should avoid storing a rug with damp edges indoors for an extended period of time.
13. Wash The Rug Once More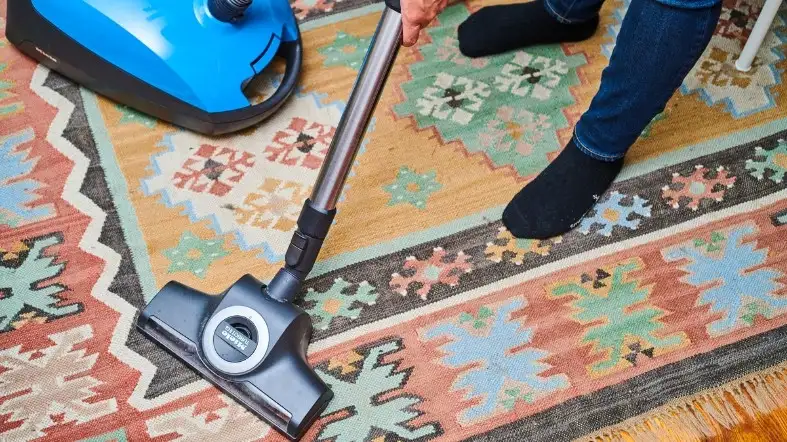 The wrinkled appearance of your rug after washing could be the result of detergent residue.
If you do not rinse the rug with sufficient water after laundering it, the detergent residue remaining in the fibers might cause wrinkling and deterioration.
This renders you unable to eliminate wrinkles using various approaches. The issue can be remedied by rewashing the rug in a tub of water.
Alternatively, if your rug is machine-washable, run it through a rinse cycle in the washing machine.
Several Advice And Suggestions
Iron the rug at a high temperature to fuse the fibers. This will diminish the ripples in your rug. If you are concerned about burning or melting your rug, cover it with a towel first.
When cleaning polypropylene rugs, do not use fabric softeners. Fabric softeners reduce absorbency, which might lead to mildew on the rug.
Vacuum your polypropylene rug frequently, and beat it outside approximately once per month to remove dirt and debris.
Utilize the bathtub when you need to clean a huge area rug. Soak the carpet in a tub filled with soapy water for a bit. Thoroughly rinse, then hang over a railing or shower curtain rod to dry.
On polypropylene rugs, you can use any mild soap. Do not use benzene, thinners, bleach, ammonia, or any other harsh chemicals that may harm the rug's fibers.
If a rug has a significant amount of chewing gum or tar on it, do not attempt to scrape it off with a sharp object, since this could harm the fibers.
FAQs on how to get creases out of polypropylene rug
How Can Creases Be Removed From Polypropylene Fabric?
In order to remove creases, a fabric composed of 50% polypropylene and 50% cotton, for instance, must be heated to at least C and preferably to -200 C.
In this temperature range, however, approximately 165 C.
What Is A  Polypropylene Fabric?
The apparel and furniture industries utilize washable spun bond polypropylene.
It is one of several materials used as interfacing, to provide waistbands and collar rigidity, and to encase zippers.
Additionally, it is utilized to seal the bottom of sofas and chairs.
Can A Steamer Be Used On A Polypropylene Rug?
On polypropylene carpets and rugs, steam cleaners are highly effective.
They are able to thoroughly clean, remove and dissolve dirt, reduce oil and grime, and disinfect your carpet or rug.
Plus, they are incredibly simple to use and quick as well!
Final Thoughts
Now you know how to get creases out of polypropylene rug.  If you need to eliminate rug creases, consider the following advice. 
Utilize a vacuum cleaner with an upholstery attachment or a handheld vacuum to remove all of the air and debris from the rug's folds.
Sprinkle still-dirty, deep regions with warm water and let them soak for 10 minutes.
Then, flip one side of the rug over the other so that both sides remain moist as they dry together.
You can even stack heavy objects such as books or furniture on top of them until they are totally dry!