Installing smart siding is a crucial task that requires careful selection of nails. If you don't know what size nails for smart siding and use the wrong ones, it can cause weak connections, splitting wood, and even injury. Your smart siding deserves smart choices.
This blog post will guide you through the process of choosing the right nail size for smart siding, a key factor in ensuring a successful and durable installation.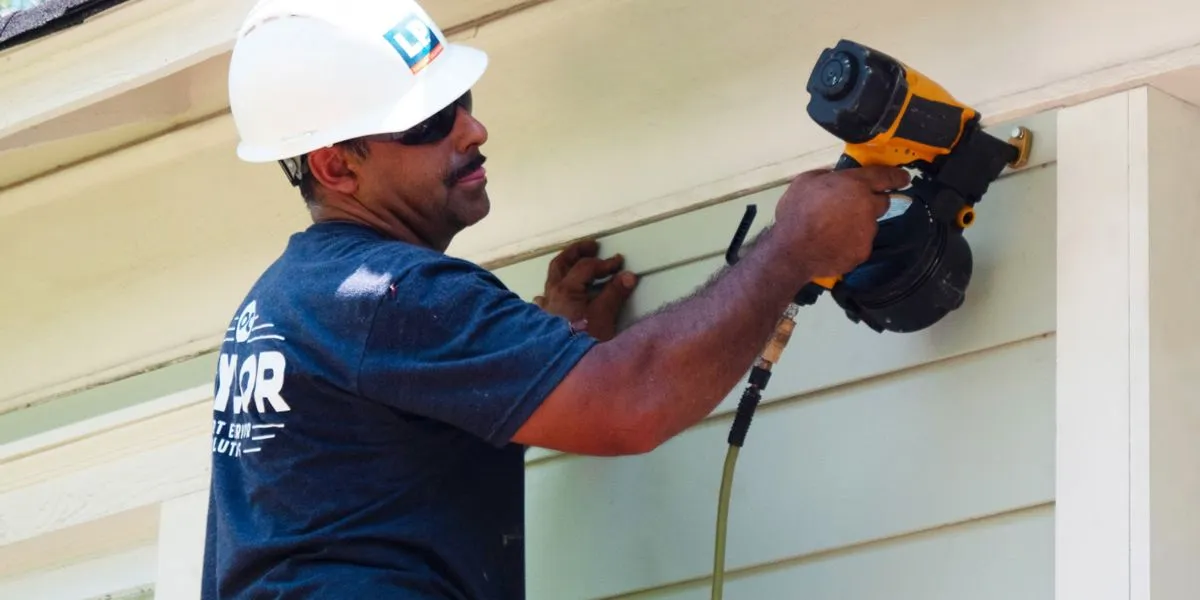 What Size Nails for Smart Siding?
For smart siding, the generally recommended nail size is a 2-inch to 2 1/2-inch long galvanized nail, specifically siding nails or ring shank nails. These provide optimal holding power and weather resistance. The right nail size depends on factors like wind pressure, and wind exposure category.
Here is a quick table:
| Nail Type | Length | Recommended Use |
| --- | --- | --- |
| Galvanized Nails | 2-inch | Standard Panels |
| Ring Shank Nails | 2-inch | High-Wind Areas |
| Siding Nails | 2.5-inch | Heavy-Duty Panels |
| Galvanized Nails | 2.5-inch | Humid Climates |
Types of Nails Suitable for Smart Siding
Ring Shank Nails
Ring shank nails are a great choice for smart siding. The rings on the shank of these nails create a strong grip in the wood, making them less likely to pull out.
Imagine trying to pull a rubber band off a ball. It's tough, right? That's how ring shank nails hold onto the siding!
Roofing Nails
Roofing nails are typically shorter and might not penetrate as deeply into the siding as other types of nails. However, they can still be used in certain situations.
For example, if you're installing thin, lightweight siding, roofing nails could be just the ticket.
Siding Nails
Siding nails are the go-to choice for most smart siding installations. They're specifically designed for this purpose. When you're installing smart siding, siding nails are your chef's knife!
Galvanized Nails
Galvanized nails are treated with zinc to resist rust, making them a strong contender for outdoor applications like siding. These nails are especially useful in areas with high humidity or rainfall.
How to Determine the Right Nail Size for Your Smart Siding
Measure the Thickness of Your Smart Siding
Kickstart your project by measuring the thickness of your smart siding. Use a ruler or tape measure for this. Smart siding usually varies in thickness from 3/8-inch to 5/8-inch.
Knowing this helps you make a smart choice for nail size. For example, if your siding is 1/2-inch thick, jot that down on a piece of paper.
Follow the 2.5 Times Rule for Nail Length
Apply the "2.5 Times Rule" to find the right nail length. Multiply the thickness of your smart siding by 2.5. If your siding is 1/2-inch thick, that means you'll need nails that are 1.25 inches long.
This rule ensures that the nail goes deep enough into the siding without penetrating too far.
Choose the Right Nail Diameter: 6d or 8d Nails
Nail diameter is vital. Look for 6D or 8D nails for smart siding projects. These numbers relate to the nail's thickness.
A 6d nail is generally around 2 inches long, while an 8d nail is around 2.5 inches long. If you're working on siding for a shed, 6D nails are usually more than adequate.
Types of Nails: Galvanized Nails are a Must
When it comes to types of nails, galvanized nails are your go-to option. These nails are coated with zinc to prevent rusting. If you're installing smart siding on a beach house, rust-resistant galvanized nails are a must.
Examine the Nail Heads: Large Heads are Better
Take a close look at the nail head. Larger heads are better because they grip the siding more effectively. This ensures your siding won't fly off during a storm.
Imagine you're building a dog house; larger nail heads make sure the siding stays put, giving your pup a safe home.
Check for Quality: Shake the Nail Box
Shake that box of nails before you buy it. No rattling sounds should be heard. Consistency in nail size guarantees a smoother installation process.
If you're putting up siding for a treehouse, inconsistent nails could make it unstable.
Run a Nail Test: Always Do a Patch Test
Before you go all-in, conduct a patch test. Use some extra smart siding pieces and hammer a few nails in. Try to pull the siding apart.
If the nails hold strong, you're golden. If not, reassess your choices based on the earlier steps.
Calculate Your Nail Requirements: Always Buy Extra
Lastly, figure out how many nails you'll need. Count the number of siding pieces and calculate the number of nails per piece. Add 10% more to this number for safety.
Say you're working on your garage's siding and it needs 100 nails; buy at least 110 to be on the safe side.
Factors Influencing Nail Size Selection for Smart Siding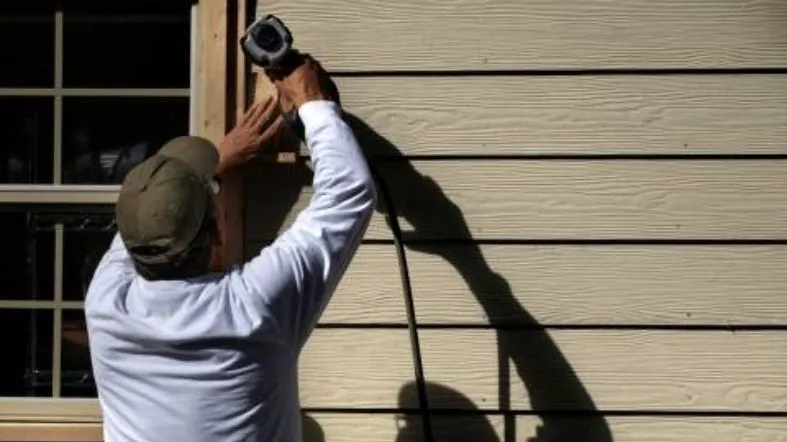 Material of Smart Siding
The material of your smart siding plays a big role in nail size selection.
For instance, thicker, heavier materials might require larger nails for secure installation, just like you'd need bigger screws to assemble a heavy bookshelf.
Climate and Weather Conditions
Local weather conditions, such as wind pressure and speed, can influence your choice of nail size.
If you live in a windy area, you might need larger nails to keep your siding secure, much like you'd need heavier rocks to hold down a picnic blanket on a windy day.
Load-bearing and Structural Requirements
The load-bearing capacity of your walls and the structural requirements of your building also play a role in determining the appropriate nail size.
It's like choosing the right size of pillars for a building; larger buildings need thicker pillars.
Local Building Codes and Regulations
Always check local building codes and regulations as they may specify certain requirements for nail size.
It's like following the rules of a board game; if you don't follow them, you might not get the results you want.
Cost Considerations
While it's important to choose the right nail size, you also need to consider cost. Larger nails are typically more expensive, just like larger pizzas usually cost more than smaller ones.
Availability of Tools
The tools you have available may also influence your choice of nail size. For example, some nail guns may not accommodate larger nails, similar to how some pencil sharpeners can't sharpen larger pencils.
Installation Method
The method you use to install your siding can affect which nail size is most appropriate.
For instance, if you're using a nail gun, you might need specific sizes of nails that fit the gun, just like how certain coffee machines only take specific types of coffee pods.
Common Mistakes to Avoid When Choosing Nails for Smart Siding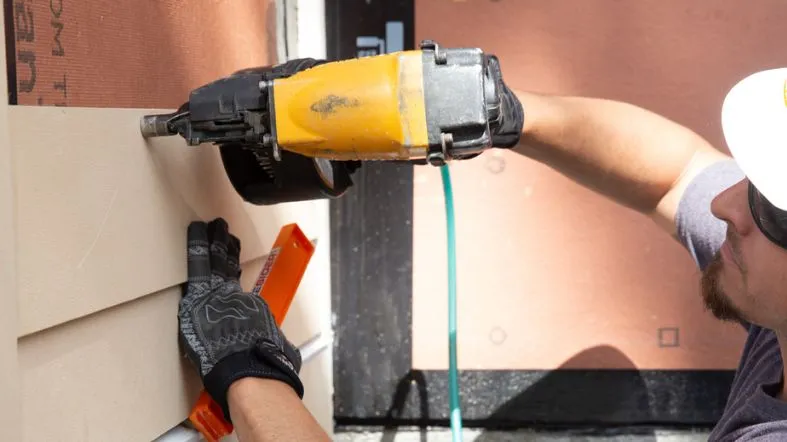 Using the Wrong Nail Type
One common mistake is using the wrong type of nail, such as brad nails or roofing nails. It's like using a butter knife instead of a steak knife to cut a steak.
These types of nails might not provide the necessary strength or depth for siding installation.
Ignoring Local Codes
Another mistake is ignoring local building codes. These codes are there for a reason, much like traffic rules on the road.
Not following them can result in fines or other penalties, so it's always important to check them before starting your installation.
Not Considering Weather Resistance
Not considering weather resistance when choosing a nail can lead to premature failure of your siding.
It's like wearing a raincoat that isn't waterproof in a rainstorm. Always choose nails that are resistant to your local weather conditions.
Inadequate Penetration
Lastly, failing to ensure adequate penetration into the structural framing can result in loose siding. It's like trying to hang a heavy picture with a small nail; it just won't hold up.
Make sure your nails penetrate at least 1-1/2 inches into the structural framing or wood structural panels.
How to Test if You've Chosen the Right Nail Size
Doing a Trial Run
Before you install all your siding, it's a good idea to do a trial run with a few pieces. It's like trying on a pair of shoes before buying them. This way, you can make sure your chosen nail size is suitable for your siding.
Checking for Stability
Once your siding is installed, check that it's stable and secure. It should be as firm as a well-built house of bricks. If it's loose or wobbly, you may need to use larger nails.
Conducting a Pull Test
Finally, try pulling on your siding to test the holding power of your nails. It's like testing the strength of a knot by pulling on a rope. If the siding comes loose easily, you may need larger nails.
FAQs
Can I use roofing nails for smart siding?
Roofing nails are generally not recommended for smart siding due to their shorter length, but they may be suitable for thin, lightweight siding.
Is it necessary to use galvanized nails?
Yes, galvanized nails are recommended for smart siding, especially in humid or wet climates, because they are rust-resistant.
Are ring shank nails better for high-wind areas?
Yes, ring shank nails are preferable for high-wind areas due to their superior holding power.
Does the "2.5 Times Rule" apply to all types of smart siding?
The "2.5 Times Rule" is a general guideline and may need adjustment based on specific siding materials or local conditions.
Are larger nail heads more effective?
Yes, larger nail heads provide better grip and are more effective in keeping the siding secure, especially in high-wind conditions.
Conclusion
Choosing the right nail size for smart siding isn't just a technicality—it's a necessity. Armed with insights on nail types, weather considerations, and local building codes, you're now well-equipped to make a smart choice for your smart siding project.
Don't underestimate the importance of the nails; they hold your investment together, quite literally.