Are you tired of poorly-lit bathrooms that leave you struggling to get ready in the morning? How wide should vanity lights be compared to the vanity?
In this captivating blog post, we'll unravel the secret to creating a beautifully illuminated vanity space.
Get rid of shadows and boost your beauty routine with a radiant glow. Discover the ideal vanity light width for your daily rituals!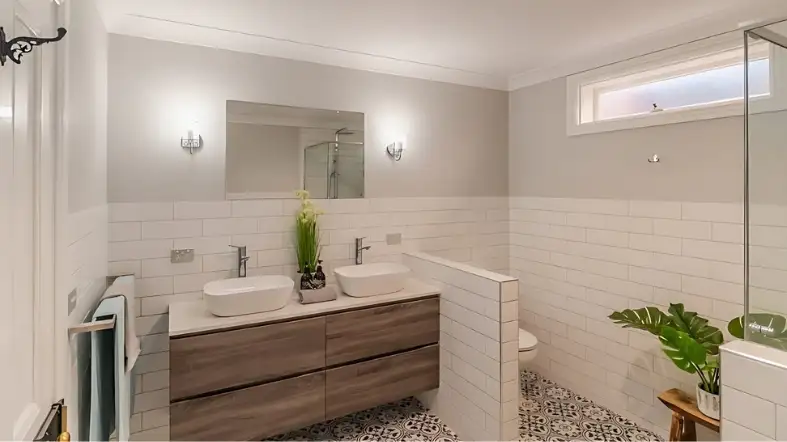 How Wide Should Vanity Light Be Compared To Vanity?
In general, the width of the light fixture should be no more than the width of the vanity or approximately 75-80% of its width. If the vanity is 36 inches wide, the vanity light should be around 27-30 inches wide.
Vanity Lighting: What Is It?
Vanity lighting serves a crucial role in the bathroom, providing illumination to the vanity area. During grooming, this designated space includes the vanity sink, countertop, and vanity mirror.
Vanity lights are task lighting that allows individuals to see their faces clearly while preparing. There are various benefits of incorporating the right vanity lights into your bathroom space.
Enhanced Visibility for Grooming
The primary benefit of vanity lighting is its ability to provide ample illumination to the vanity area.
People can perform grooming tasks with precision with focused lighting on their vanity mirrors. Effortlessly apply makeup and shave without squinting.
Minimized Shadows and Glare
Well-positioned vanity lights, such as wall sconces or mirror lights, help reduce shadows and glare.
They ensure a balanced and flattering illumination of the face, making grooming more precise.
Aesthetic Appeal and Ambiance
Vanity lighting serves as a stylish addition to your bathroom decor.
Choose lights that complement your interior and enhance the ambiance of your space with various styles and designs.
Task-Specific Lighting
As task lighting, vanity lights are specifically tailored to fulfill the unique lighting needs of the vanity area.
Grooming routines are more efficient with targeted illumination, unlike general overhead fixtures.
Energy Efficiency
Opting for LED bulbs in your vanity lights can lead to significant energy savings.
LED bulbs consume less electricity and have a longer lifespan, reducing both your carbon footprint and utility bills.
Versatility in Installation
Vanity lights come in various types, allowing for versatile installation options.
Whatever lighting setup you choose, you can customize it to suit your bathroom's layout and personal taste.
Increased Home Value
Well-designed and properly installed vanity lighting can enhance the overall value of your home.
Bathrooms with functional and aesthetically appealing vanity lighting are often more attractive to buyers.
Improved Bathroom Safety
A well-lit vanity area contributes to a safer bathroom environment.
Proper lighting helps prevent accidents, especially during nighttime visits, by reducing the risk of slips, trips, and falls.
What Size Vanity Light Should I Buy?
A vanity light needs to be the right size to provide proper illumination and be aesthetically pleasing.
Here's a step-by-step guide on how to determine the appropriate size for your vanity light:
1. Measure the Vanity Width
Start by measuring the width of your vanity from one side to the other. Use a tape measure to get an accurate measurement in inches or centimeters.
This measurement will be the total width that your vanity lights should span.
2. Determine Recommended Width
As a general guideline, your vanity lights should be at least 75% of the width of the vanity or wider.
This ensures that the lights adequately cover the vanity area and provide ample illumination. To find the recommended width of your vanity lights, multiply the width of your vanity by 0.75.
For example, if your vanity is 36 inches wide, the recommended width for your vanity lights would be 27 inches (36 inches x 0.75).
3. Consider Vanity Mirror Height
Take into account the height of your vanity mirror. The taller your mirror, the taller the vanity light you may need to ensure that light is evenly distributed across the mirror.
A vanity light that extends slightly above and below the mirror will provide even lighting for grooming tasks.
4. Think About Bathroom Style
Consider the overall style of your bathroom when selecting a vanity light. Modern bathroom vanity lights with sleek and contemporary designs are ideal for bathrooms with clean lines.
Vanity lights with ornate details and classic finishes complement traditional or vintage bathrooms.
5. Set a Budget
Vanity lights come in a wide range of prices, set a budget that aligns with your needs and preferences.
Consider how much you are willing to spend on a vanity light and explore options within that price range. Also, there are quality options available at various price points.
How Many Vanity Lights Do I Need?
The number of vanity lights required for your bathroom depends on various factors, including the size of your vanity, bathroom layout, and personal preferences.
Vanity with One Sink
If your vanity has only one sink, you will typically need two vanity lights. Placing one light on each side of the vanity mirror ensures even illumination and a balanced light source.
The setup provides a flattering lighting setup for grooming tasks and sees your face clearly.
Vanity with Two Sinks
For a vanity with two sinks, you will typically need three vanity lights. Installing two lights on each side of the mirror, flanking each sink, creates adequate light for both users.
In addition to balancing the lighting, a third light at the center of the mirror enhances the overall look.
Large Vanity Considerations
The entire area may need more than three vanity lights if your vanity has an extended countertop.
In order to achieve even lighting, additional lights can be strategically placed along the edge of the mirror.
Small Bathroom Solutions
To avoid harsh and overwhelming lighting in a smaller bathroom, choose vanity lights with a lower wattage.
Lower-wattage bulbs produce a softer glow, creating a more pleasant and comfortable ambiance.
Opting for Diffused or Direct Light
Consider your lighting preferences when choosing vanity lights. If you prefer a more diffused and gentle light, select fixtures with shades or frosted glass.
These elements help soften the light, making it more flattering for grooming tasks. To maximize brightness, consider vanity lights without shades for activities like applying makeup and shaving.
Comparing Vanity Light Widths: Narrow vs. Wide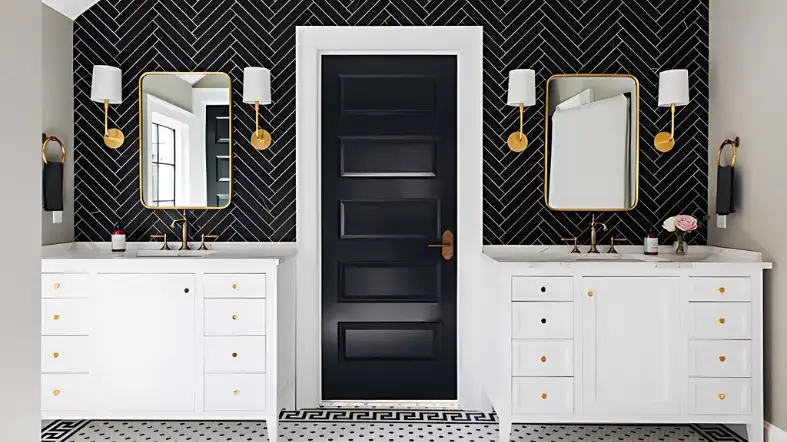 Narrow Vanity Lights:
As the name suggests, narrow vanity lights have a smaller width than their wide counterparts.
They typically feature a slim profile and a sleek design. Here are some key points to consider when it comes to narrow vanity lights:
Focus on Task Lighting:
Narrow vanity lights are great for task-oriented lighting. They provide focused illumination that helps you with activities like grooming, applying makeup, or shaving.
The narrow width ensures that the light is concentrated in a specific area, making it easier to see details.
Space-Saving Option: 
If you have limited space above your vanity or a smaller mirror, narrow vanity lights can be a practical choice.
Their compact design allows them to fit nicely in tighter spaces without overwhelming the area.
Clean and Modern Aesthetic
Narrow vanity lights often have a contemporary and minimalist aesthetic.
Their slender profile adds a touch of elegance to your space, creating a sleek and modern look.
Wide Vanity Lights
Even Illumination
Wide vanity lights provide a more diffused and even distribution of light.
The broader width helps to spread the light across a larger area, reducing the chances of shadows and creating a more balanced illumination.
Ambient Lighting
 If you're looking to create a softer and more ambient lighting atmosphere, wide vanity lights can be an excellent choice.
They offer a gentle glow that enhances the overall ambiance of your space, making it feel cozy and inviting.
Design Statement: 
Wide vanity lights can make a design statement in your bathroom or dressing area. Their broader profile adds visual impact and becomes a focal point in the room. 
They are available in various styles and designs, allowing you to choose one that complements your overall aesthetic.
Common Mistakes to Avoid in Vanity Light Sizing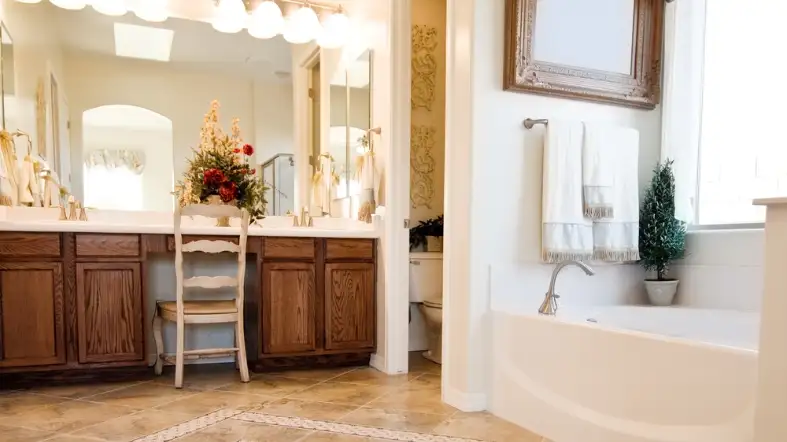 Mistake 1: Choosing Lights That Are Too Small
When it comes to vanity light sizing, one common mistake to avoid is selecting lights that are too small for your space. 
If you choose too small lights, they may not provide adequate lighting coverage, resulting in uneven illumination and shadows on your face.
This can make tasks like applying makeup or shaving more difficult. Make sure to measure the width of your vanity mirror or the space where you plan to install the lights. 
Choose vanity lights with a width equal to or slightly larger than your mirror's or the space's width. This will ensure that the lights adequately cover the area and provide sufficient illumination.
Mistake 2: Opting for Lights That Are Too Large
Selecting vanity lights that are too large can also be a mistake. Oversized lights can overwhelm the space and create an unbalanced aesthetic.
They may also produce excessive glare, making it uncomfortable to use the vanity area. Consider the size of your vanity and the overall dimensions of your bathroom or dressing area. 
Choose vanity lights proportional to the space's size and the other elements in the room. This will help create a visually pleasing and harmonious look.
Mistake 3: Neglecting to Consider Ceiling Height
Another mistake to avoid is neglecting to consider the ceiling height when selecting vanity lights. The height of your ceiling can influence the type and size of lights that will work best in your space.
For lower ceilings, choose vanity lights with a more compact profile, such as flush-mount or semi-flush-mount fixtures. 
These types of lights sit closer to the ceiling, allowing for sufficient clearance and preventing the lights from overpowering the room. For higher ceilings, you have more flexibility in terms of size and style.
You can opt for pendant lights or chandeliers that hang down, creating an elegant and dramatic effect. Just ensure that the lights are positioned appropriately for optimal lighting distribution.
Mistake 4: Ignoring Style and Aesthetic
While it's important to consider the size of vanity lights, it's equally crucial not to overlook the style and aesthetic they bring to your space.
Vanity lights should complement the overall design theme of your bathroom or dressing area. Consider the existing decor, such as the style of your vanity, the color scheme, and the overall ambiance you want to create. 
Choose vanity lights that align with these elements and enhance the overall aesthetic. This will help create a cohesive and visually pleasing look.
By avoiding these common mistakes in vanity light sizing, you can ensure that your lighting setup is not only functional but also visually appealing. 
Remember to measure carefully, consider the proportion to the space, factor in ceiling height, and choose lights that align with your style and aesthetic preferences.
FAQs on Comparing Vanity Lights to Vanity Lights
Can I Opt For Vanity Lights That Are Larger Than The Vanity?
While it's important to avoid oversized lights, you can choose vanity lights that are slightly larger than the vanity.
Just ensure they are proportional to the space to maintain a balanced aesthetic.
How Does Ceiling Height Affect Vanity Light Sizing?
Ceiling height influences the type and size of vanity lights that work best.
Lower ceilings require more compact fixtures, while higher ceilings allow for pendant lights or chandeliers to create a dramatic effect.
Should I Prioritize Functionality Or Style When Choosing Vanity Lights?
Both functionality and style are important.
Select vanity lights that provide adequate lighting for your tasks while complementing the overall design theme and aesthetic of your space.
Are There Any General Guidelines For Vanity Light Sizing?
A general guideline is to measure the width of your vanity mirror or the space where the lights will be installed.
Choose lights that have a width equal to or slightly larger than this measurement.
Can I Seek Professional Assistance For Vanity Light Sizing?
Yes, if you're unsure or want expert guidance, consult a professional electrician or lighting specialist.
They can assess your space, recommend suitable vanity light sizes, and ensure proper installation.
Conclusion
Illuminate your vanity with the perfect width of vanity lights. Ensure an even distribution of light and eliminate shadows on your face.
You create a harmonious and well-lit space by choosing vanity lights that are equal to or slightly larger than your vanity.
Achieve the ideal balance between functionality and style, and transform your vanity area into a stunning oasis of light.