The Pressure Tank Sizing Calculator helps you determine the optimal tank size for your water system. Ensure consistent water pressure and efficiency with this easy-to-use tool.
To use our Pressure Tank Sizing Calculator, follow these steps:
1. Flow Rate (GPM):
Enter the flow rate you require in gallons per minute (GPM) into the "Flow Rate (GPM)" field.
This represents how quickly you need water to flow in your system.
For example, if you need a consistent flow for a shower, you might enter the typical GPM for a showerhead.
2. Cut-In Pressure (PSI):
Enter the cut-in pressure in pounds per square inch (PSI) into the "Cut-In Pressure (PSI)" field. This is the pressure at which your pump starts working.
3. Cut-Out Pressure (PSI):
Enter the cut-out pressure in pounds per square inch (PSI) into the "Cut-Out Pressure (PSI)" field. This is the pressure at which your pump stops working.
4. Run Time (minutes):
Enter the desired pump run time in minutes into the "Run Time (minutes)" field. This represents how long you want the pump to run during each cycle.
5. Calculate:
After entering these values, click the "Calculate" button. The calculator will then determine the recommended tank size based on the input values.
6. View Result:
The recommended tank size in gallons will be displayed below the "Calculate" button. It will provide you with the optimal tank size to ensure a consistent water supply and efficient system.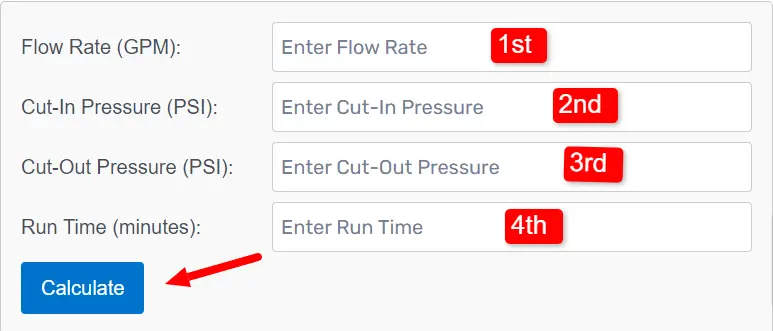 What Is Pressure Tank Sizing and Why Is It Important?
Pressure tank sizing isn't just a technical specification; it's an essential step that makes or breaks the efficiency of your water supply system.
If you've ever wondered why you're getting inconsistent water pressure, the size of your pressure tank could be the culprit.
The Critical Role of Pressure Tank Sizing
Getting the size right means less wear and tear on your water pump and a longer-lasting system overall.
It also translates to consistent water pressure, and who doesn't want that? Skimp on sizing, and you're looking at higher maintenance costs and a less efficient system.
The Science Behind Pressure Tank Sizing
At its core, pressure tank sizing is all about fluid dynamics and engineering. The magic word here is "drawdown," which refers to the water your tank can supply between pump cycles.
A properly sized tank reduces the need for frequent pump cycling, saving your pump from unnecessary wear.
Mathematical Formulas
Let's get into numbers. The drawdown capacity is calculated using your system's flow rate, cut-in and cut-out pressures, and desired pump run time. And yes, there's a formula for that:

Trust the math; it's here to ensure you get the most efficient system possible.
Factors to Consider for Accurate Pressure Tank Sizing
Understand Your Water Demand
First, let's talk about water demand. It's the total amount of water you need.
Think about how much water you use for showers, cooking, and cleaning. This gives you an idea of what you need. Get it right, and you're halfway there!
Check The Cut-In and Cut-Out Pressure
Now let's focus on cut-in and cut-out pressure. Cut-in pressure is the point when your pump starts.
Cut-out is when it stops. Your pump turns on and off within these two points. You must know these numbers. If you do, your system will run smoothly.
Know the Flow Rate
Don't forget the flow rate! This number shows how quickly water moves in your system.
It's usually given in gallons per minute or GPM. A low flow rate means slow water. A high rate means fast water. Choose the right flow rate to make sure your system works well.
The Role of Pump Efficiency
Pump efficiency is vital too. You want a pump that does its job without wasting energy.
Pump efficiency is like the miles-per-gallon for cars. The higher the number, the better the pump.
Plan for the Future
Lastly, always plan for what's next. Maybe you're thinking about expanding your home.
Or perhaps new people will move in. Keep future needs in mind when choosing your tank size. That way, you won't need to upgrade your system too soon.
Benefits of Proper Pressure Tank Sizing
Consistent Water Flow
When your tank is the right size, you get consistent water flow. Imagine turning on the faucet.
You expect a steady stream of water, right? A well-sized tank makes sure this happens. So, no more annoying spurts or trickles when you least expect them.
Lower Energy Bills
A correctly sized tank helps you save energy. Your pump won't have to work as hard. So it uses less electricity.
This means you can expect lower energy bills at the end of the month. And who wouldn't want that?
Increased Pump Life
Pumps are like athletes. They need breaks to perform well. A well-sized tank gives your pump these much-needed breaks.
This increases your pump's lifespan. It's like making sure your star player gets enough rest to stay in the game for many seasons.
Fewer Maintenance Headaches
The right size tank reduces wear and tear on your pump. Less wear and tear means fewer breakdowns.
You won't have to call the repairman as often. Your pump and tank will be like a well-oiled machine, literally!
Better Water Pressure During Peak Hours
Imagine it's Monday morning. Everyone is getting ready for school or work. The demand for water is high.
A proper tank ensures that water pressure stays stable, even during these busy times. You won't have to deal with a weak shower just when you need to wake up!
Common Mistakes in Pressure Tank Sizing
Overestimating Demand
People often think they need more water than they do. This mistake leads you to buy a tank that's too big.
Big tanks cost more money upfront. They also cost more to run. That's because the pump has to work harder to fill a larger tank.
Ignoring Pump Efficiency
Pump efficiency is a big deal. But sometimes, people ignore it. Every pump has its own "personality."
It has a special way it moves water. When you ignore how efficient your pump is, problems happen. Your pump may not match well with your tank.
Failure to Consider Future Needs
Thinking ahead is crucial. You might only have a small need for water now. But what about later?
Maybe you're planning to build more rooms in your house. Or maybe you're thinking of adding a swimming pool.
If you don't think ahead, you might need to buy a new tank later. That's another big cost you could avoid.
Mixing Up Cut-In and Cut-Out Pressures
Cut-in and cut-out pressures matter a lot. The cut-in is the pressure that tells your pump to start working.
The cut-out is the pressure that tells it to stop. If you mix these up, your pump will be confused. It won't work properly. You could end up with weak water pressure.
Not Testing The System
Testing is the key last step. But some people skip it. They set up their tank and think they're done.
But without testing, you won't know if you've made a mistake. You won't know if everything is working the way it should.
There you have it. Pressure tank sizing is not just about numbers; it's about optimizing efficiency, ensuring reliability, and ultimately, making your life a whole lot easier. So give it the attention it deserves, and you won't regret it.