Have you ever wondered, should vanity lights be up or down? Get ready to illuminate your bathroom with the perfect lighting solution.
We'll explore the benefits of both upward and downward vanity lights. So, grab your imagination, and let's find out which direction will make your reflection shine bright.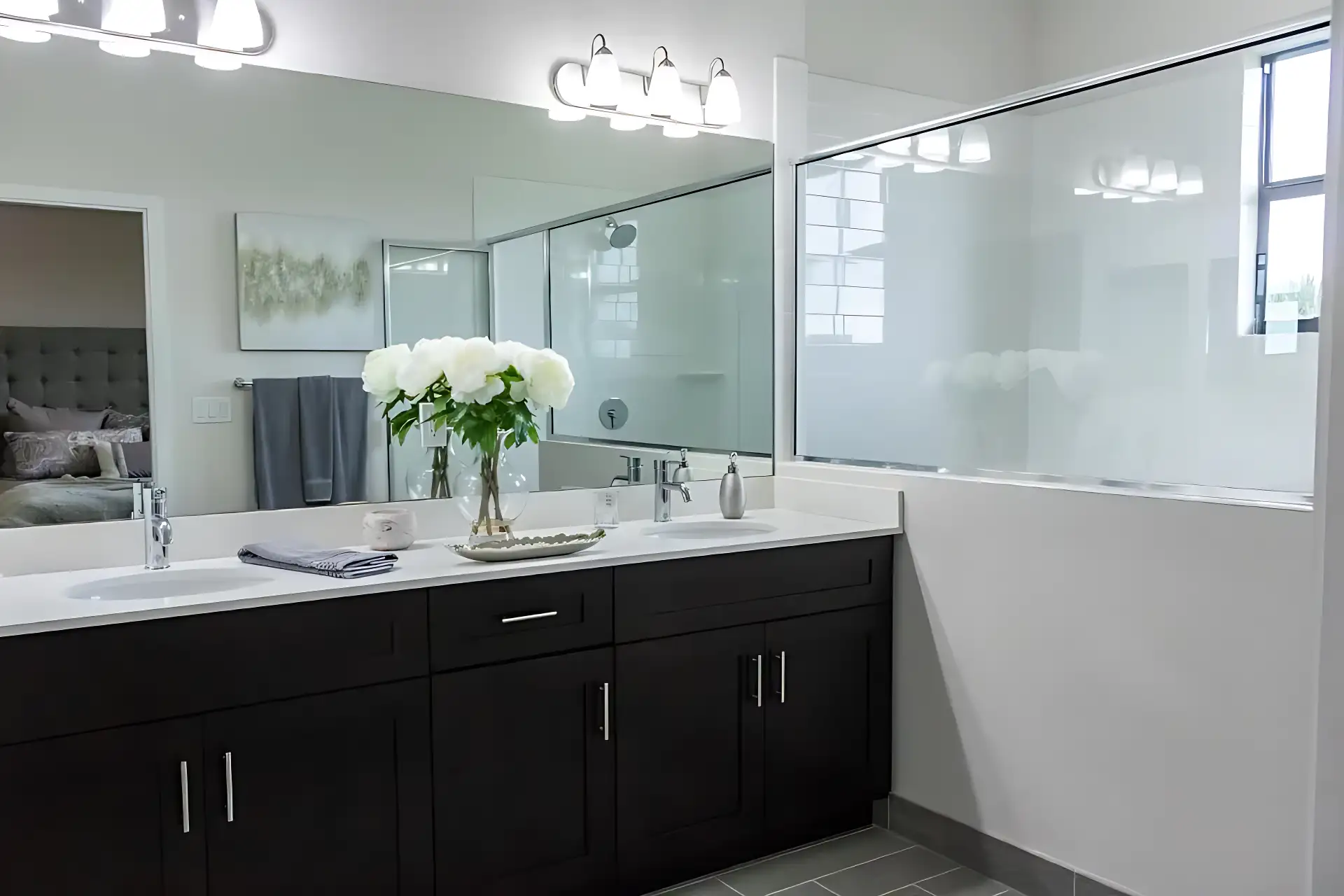 Should Vanity Lights Be Up Or Down?
Vanity lights should be installed facing downward for even and shadow-free illumination. This placement enhances facial visibility and provides better overall lighting for grooming tasks.
How to Hang Vanity Lights: Up or Down?
Hanging your vanity lights depends on your personal preference and the needs of your bathroom. Before making a decision, consider both up and down vanity lights.
Upward-Facing Vanity Lights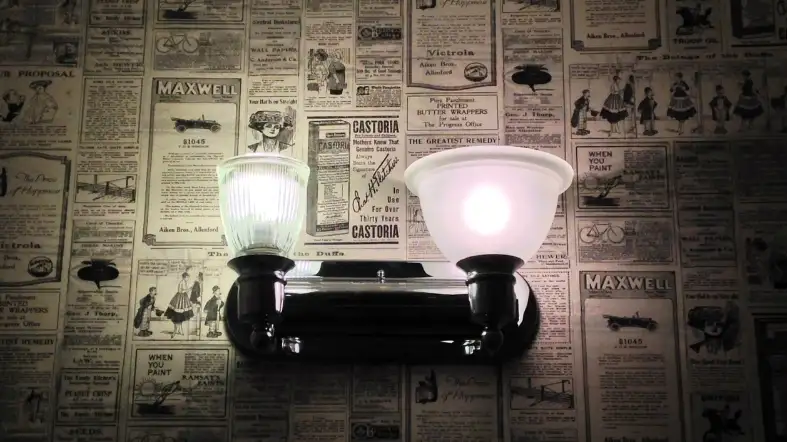 Pros
1. Enhanced Facial Illumination: 
When vanity lights are positioned upwards, they cast a soft and diffused light that reduces shadows on your face.
This provides more even lighting, making it easier to apply makeup, shave, or groom yourself with precision.
2. Flattering Light Distribution: 
Upward-facing vanity lights create a gentle upward bounce, which helps illuminate your entire face evenly.
This minimizes harsh shadows and highlights your natural features, resulting in a more flattering appearance.
3. Brighter Ambient Lighting: 
By directing the light upwards, you can enhance the overall brightness of your bathroom.
This can be particularly beneficial in bathrooms with limited natural light, creating a brighter and more inviting atmosphere.
4. Increased Perception of Space: 
When vanity lights are positioned upwards, the light is reflected off the ceiling, giving the illusion of a larger space.
This can be especially advantageous for smaller bathrooms, making them feel more open and spacious.
Cons
1. Overhead Shadows: 
One potential drawback of upward-facing vanity lights is the creation of shadows under your eyes, nose, and chin.
These shadows can make it slightly challenging to see certain areas of your face with utmost clarity.
2. Inconsistent Lighting for Certain Tasks: 
It may be difficult to apply precise eyebrows or apply detailed makeup with upward-facing lights. In such cases, additional task lighting might be necessary.
3. Limited Control Over Light Intensity: 
With upward-facing vanity lights, it can be more challenging to control the intensity of the light.
This means you have limited options to adjust the brightness according to your preferences or specific lighting needs.
4. Potential Glare or Reflections: 
Depending on the design and placement of your vanity lights, upward-facing lights can sometimes create glare or reflections on mirrors or glossy surfaces.
This can be distracting and affect the overall visual experience.
Downward-Facing Vanity Lights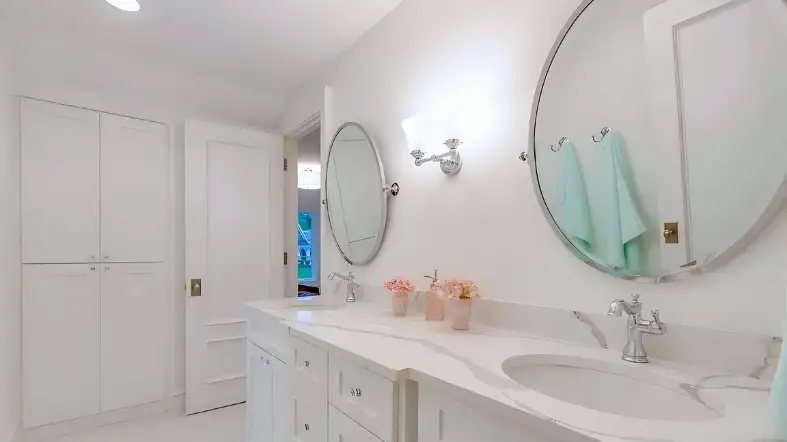 Pros
Enhanced Facial Illumination: 
When vanity lights are installed facing downwards, they provide direct lighting onto your face, reducing shadows and creating a clearer view for tasks like applying makeup or shaving.
Soft Ambient Lighting: 
Downward-facing vanity lights create a cozy and inviting ambiance in your bathroom.
The light reflects off the walls and surfaces, diffusing gently and creating a soothing atmosphere.
Easy Bulb Replacement: 
With downward installation, changing bulbs becomes hassle-free. You can easily access the bulbs without having to remove or disassemble the entire fixture.
Contemporary Aesthetic: 
Downward-facing vanity lights often give a modern and sleek look to your bathroom.
They can complement various decor styles and provide a visually pleasing focal point.
Cons
Potential Shadows: 
One drawback of installing vanity lights downward is the possibility of casting shadows on your face.
This can make it challenging to achieve precise makeup application or shaving.
Less Overall Illumination: 
While downward lights focus on the immediate area, they may not provide as much general illumination for the entire bathroom.
If you prefer a brighter overall space, additional lighting may be necessary.
Limited Light Distribution: 
Downward-facing vanity lights primarily illuminate the lower part of your face, which may not evenly light up the entire area.
This can lead to uneven lighting and potential visual distortions.
More Maintenance: 
Dust and debris may accumulate on the exposed bulbs due to their downward position, requiring more frequent cleaning to maintain optimal lighting quality.
What Fixture Size Is Best for Vanity Light?
Your vanity light fixture size can have a significant impact on your bathroom's lighting and aesthetics.
Here are some essential guidelines to help you make the best decision based on your vanity's width:
30 inches or Less
The light provided by a single-light fixture is usually sufficient for vanities less than 30 inches wide. Single-light fixtures typically measure 12 to 18 inches in diameter.
This size is perfect for smaller vanities and will offer ample illumination for daily grooming tasks.
36 inches or More
To achieve better and more even illumination, consider a two-light fixture on vanities 36 inches and wider.
Two-light fixtures typically measure 24 to 36 inches in diameter. With balanced light distribution and reduced shadows, this option is ideal for medium-sized vanities.
48 inches or More
If you have a spacious vanity measuring 48 inches wide or more, opt for a three-light fixture to ensure the light is evenly distributed across the entire area.
Three-light fixtures typically measure 48 to 60 inches in diameter, providing sufficient light for larger vanities and avoiding any dark spots.
Here are some of the most popular vanity light fixture sizes:
| Fixture Size | Diameter Range |
| --- | --- |
| Single-light | 12 to 18 inches |
| Two-light | 24 to 36 inches |
| Three-light | 48 to 60 inches |
Factors to Consider When Choosing Vanity Light Placement
The right fixture size for your vanity light depends on the following factors: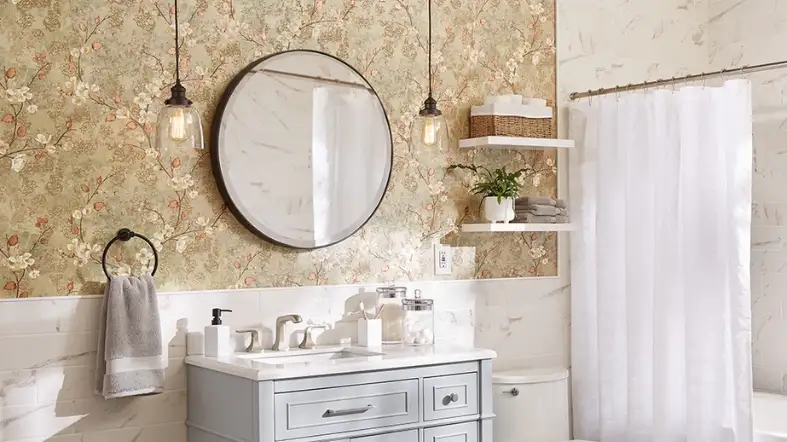 Bathroom Layout: 
Assess the layout and size of your bathroom to determine the most suitable placement for vanity lights.
Consider factors such as the location of the vanity, mirrors, and other fixtures.
Lighting Needs: 
Evaluate your lighting needs and preferences. Decide whether you require more focused task lighting or a softer, ambient lighting effect.
This will influence the direction and positioning of your vanity lights.
Personal Preference: 
Consider your personal style and the overall aesthetic you want to achieve in your bathroom.
Decide if you prefer the upward-facing lights for a gentle glow or the downward-facing lights for direct illumination.
Facial Illumination: 
Determine how important it is for you to have a well-lit face when using the vanity.
If you need clear visibility for tasks like applying makeup or shaving, consider installing lights that face downwards.
Shadow Control: 
Think about your desired level of shadow control. Upward-facing lights may create shadows under your eyes, nose, and chin, while downward-facing lights can help minimize shadows and provide more even lighting.
Dimming Options:
If you want the flexibility to adjust the brightness of your vanity lights, choose fixtures that are compatible with dimmer switches.
This allows you to create the desired ambiance and cater to different lighting needs.
Fixture Design: 
Explore different styles and designs of vanity light fixtures. Consider how they will complement the overall décor of your bathroom and enhance its visual appeal.
Energy Efficiency: 
Look for energy-efficient options when selecting vanity lights.
LED lights, for example, offer long-lasting performance and consume less energy, resulting in cost savings and reduced environmental impact.
Maintenance Tips for Long-lasting Vanity Lights
Regular Cleaning: 
Dust and dirt can accumulate on your vanity lights, affecting their brightness. Clean the fixtures regularly using a soft cloth or duster to remove any debris.
Gentle Cleaning Solutions: 
When cleaning your vanity lights, use mild, non-abrasive cleaning solutions. Avoid harsh chemicals that can damage the fixtures or the bulbs.
Proper Bulb Replacement: 
Replace burnt-out bulbs promptly to maintain consistent lighting. Make sure to use the correct wattage and bulb type recommended by the manufacturer.
Secure Connections: 
Check the wiring connections of your vanity lights periodically. Ensure that they are secure and free from any loose or exposed wires.
Avoid Excessive Heat: 
Overheating can decrease the lifespan of your vanity lights. Make sure that the bulbs are not in direct contact with flammable materials and allow proper ventilation around the fixtures.
Adjust for Bulb Positioning: 
If you notice uneven lighting or shadows, adjust the positioning of the bulbs to ensure uniform illumination across the vanity area.
Check for Loose Parts: 
Regularly inspect the fixtures for any loose parts or screws. Tighten them as needed to prevent the lights from shifting or falling.
FAQs on adjusting vanity lights: up or down
Why Would Someone Choose To Install Vanity Lights Facing Downward?
Downward-facing vanity lights offer direct illumination onto the face, minimizing shadows and providing better visibility for tasks like makeup application or shaving.
Can I Mix Upward And Downward-Facing Vanity Lights?
Yes, you can mix upward and downward-facing vanity lights for a combination of ambient and task lighting.
This allows you to customize the lighting to suit your needs and preferences.
Do Downward-Facing Vanity Lights Create More Shadows On The Face?
Downward-facing vanity lights have the potential to cast shadows, but proper positioning and the use of additional lighting can help minimize this issue.
Are There Any Safety Considerations When Installing Vanity Lights Facing Downward?
When installing downward-facing vanity lights, ensure they are securely fastened and properly insulated to prevent any risk of electrical hazards.
Is There A Right Or Wrong Way To Install Vanity Lights?
There is no strict right or wrong way to install vanity lights.
It ultimately depends on your personal preference, the desired lighting effect, and the specific layout of your bathroom.
Conclusion
The decision of whether to install vanity lights facing upwards or downwards depends on your personal preference and specific lighting needs.
Upward-facing lights create a softer ambiance and more even lighting, while downward-facing lights provide better facial illumination.
Consider factors such as shadow control, brightness, and aesthetic appeal when making your choice.
Ultimately, the perfect vanity lighting solution is the one that makes you feel confident and enhances your bathroom experience.