Understanding what size battery do I need for my travel trailer is crucial for a smooth and worry-free journey. It ensures you have enough power for all your needs, from lighting to running appliances.
However, choosing the wrong size could lead to power shortages or unnecessary weight.
In this blog, we'll guide you through the process of determining the correct battery size, exploring various types of batteries, and even giving maintenance tips.
So, let's dive in and ensure your next adventure is powered up and ready to go!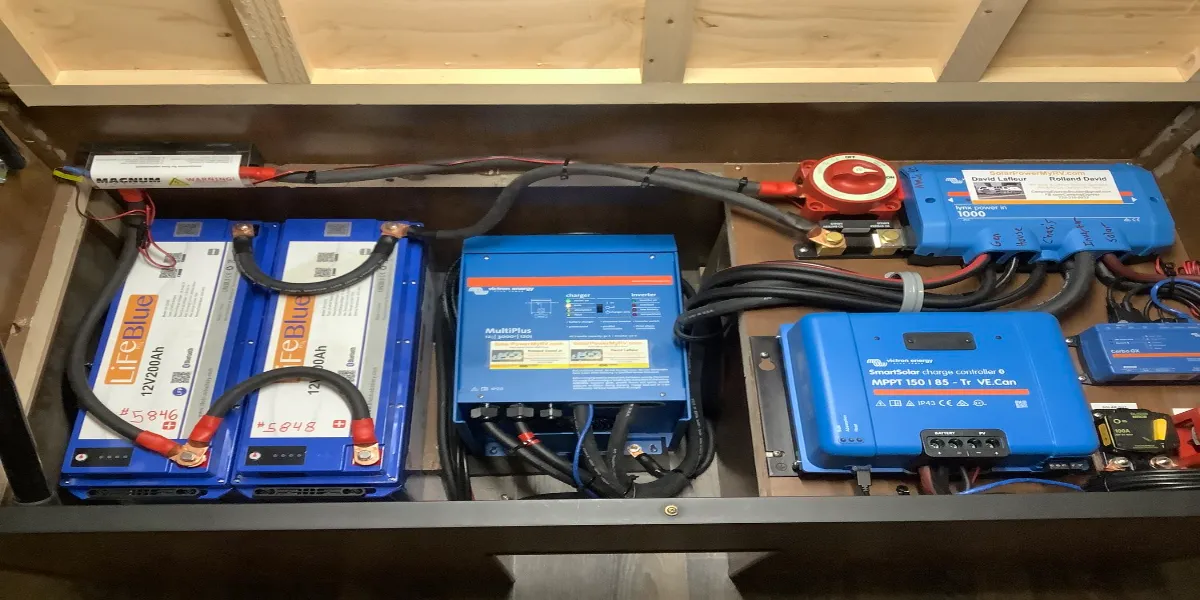 What Size Battery Do I Need For My Travel Trailer?
A deep-cycle battery ranging from 100Ah to 200Ah is suitable for most travel trailers. It ensures adequate power for appliances and devices during the trip. The size of the battery you need for a travel trailer depends on your power usage.
Travel Trailer Battery Size Chart:
| Appliance | Power Consumption (Watts) | Hours of Use per Day | Total Daily Consumption (Wh) |
| --- | --- | --- | --- |
| Lights | 10 | 5 | 50 |
| Fridge | 100 | 24 | 2400 |
| TV | 120 | 3 | 360 |
Understanding Battery Types for Travel Trailers
Lead-acid Batteries
Lead-acid batteries are the traditional choice for travel trailers. They're known for their affordability and reliability.
These batteries use a simple technology: the energy is stored in a liquid electrolyte solution, and when you use the battery, a chemical reaction releases that energy.
However, they do have some drawbacks. They're quite heavy and require regular maintenance to keep them working well. You'll need to check the electrolyte levels and top them up with distilled water regularly.
Lithium-ion Batteries
Lithium-ion batteries are a more modern option. They're much lighter than lead-acid batteries and can store a lot of energy in a small space, making them ideal for travel trailers where space and weight are at a premium.
They also have a longer lifespan and don't require any maintenance. However, they do come with a higher price tag.
It's also worth noting that they need a special type of charger, so you'll need to factor this into your budget.
Absorbent Glass Mat (AGM) Batteries
AGM batteries are a type of lead-acid battery, but they're sealed and maintenance-free. This means you won't need to top them up with water or worry about acid leaks.
They're also more resistant to vibration and can be mounted in any position, which can be handy in a travel trailer. However, like lithium-ion batteries, they're more expensive than traditional lead-acid batteries.
They also don't last as long as lithium-ion batteries, so you'll need to replace them more often.
Factors Influencing Battery Size for Travel Trailers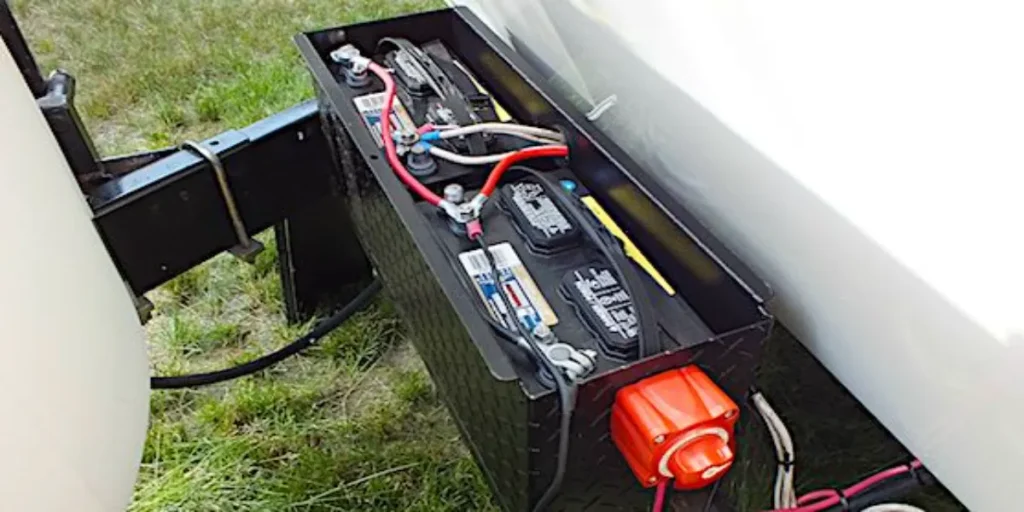 Power Consumption Needs
The total power needs of your trailer are crucial. Every appliance and device in your trailer consumes power.
The more devices you have, the more power you'll need. This means you'll need a larger battery to keep everything running.
Type of Travel
The type of travel you're planning also affects the battery size. If you're going on long trips or boondocking (camping without hookups), you'll need a larger battery. For weekend trips, a smaller battery might be enough.
Budget Constraints
Your budget plays a big role too. Larger batteries are more expensive. If you're on a tight budget, you might need to settle for a smaller battery and manage your power use carefully.
Space Availability
The amount of space in your trailer is another factor. Batteries come in different sizes, and you'll need to make sure the one you choose will fit in your trailer.
Weight Limitations
Every trailer has a weight limit. Batteries can be heavy, and adding a large battery could put you over the weight limit. You'll need to consider this when choosing your battery size.
Climate and Environmental Conditions
Finally, the climate and environmental conditions can affect battery performance. Batteries can struggle in extreme cold or heat, so if you're traveling in these conditions, you might need a larger battery or one designed to handle these conditions.
How to Choose the Right Battery for Travel Trailer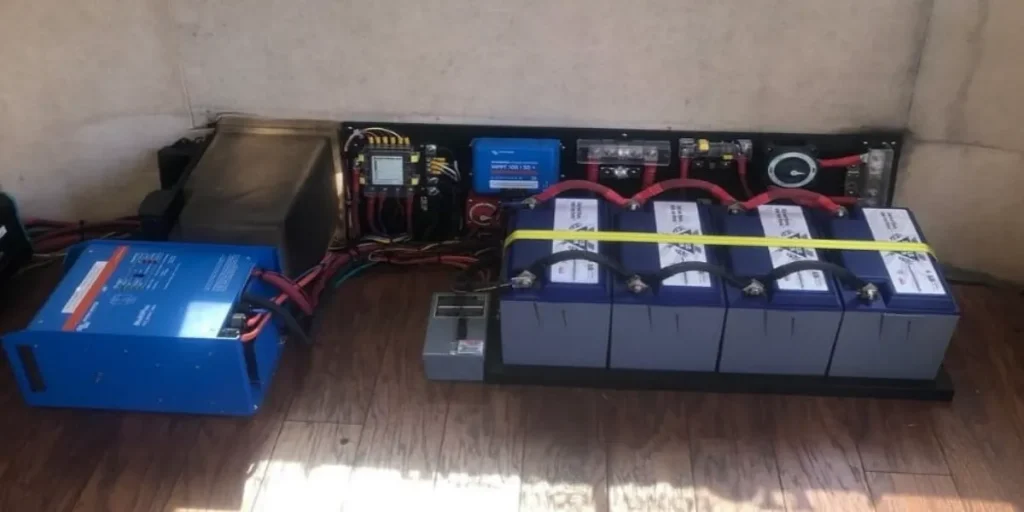 Identifying Power Needs
When you want to pick the right battery for your travel trailer, first know your power needs. Look at all the things in your trailer that use power.
Lights, fridges, and fans are some of them. Write down how much power each one uses. This list will help you understand how much power you need.
For example, if you have a fan that uses 2 amps and you run it for 10 hours, you need 20 amp hours.
Determining Battery Capacity
Battery capacity is like a tank of energy. It tells you how much power a battery can hold. It's measured in amp-hours (Ah). Look for a battery with enough capacity to meet your needs.
For instance, if your trailer needs 50 amp-hours per day, get a battery with more than 50 amp-hours. This way, you won't run out of power quickly.
Evaluating Battery Types
There are different battery types. The main ones are lead-acid, lithium-ion, and AGM. Lead-acid batteries are common and less pricey. Lithium-ion batteries hold more power and are lighter.
AGM batteries are durable and safe. Pick the one that suits your needs and budget. If you go camping often, a lithium-ion might be best because it's long-lasting.
Considering Battery Size and Weight
Batteries come in different sizes and weights. Look for one that fits in your trailer and is easy to carry. If your trailer has a small space for the battery, measure it.
This will help you find a battery that fits well. For example, if your space is 10 inches wide, don't get a battery wider than 10 inches.
Reviewing Battery Life
Battery life is how long a battery will last before it needs replacing. Check the life cycles of the battery. A life cycle is one full charge and discharge of the battery.
The more cycles a battery has, the longer it will last. For example, a battery with 500 cycles will last longer than one with 200 cycles.
Reviewing Warranty and Brand
Before buying, look at the warranty. A warranty is a promise from the maker that the battery will work well for a certain time. If it doesn't, they will fix it.
Pick a battery with a good warranty. Also, choose a reliable brand. A good brand is like a friend you can trust. They make sure you get a quality battery.
Comparing Prices
Price is how much the battery costs. Compare prices of different batteries. Find one that gives you good value for your money. Don't just buy the cheapest one.
It might not be the best quality. For example, a $100 battery with 300 cycles is better value than a $50 battery with 100 cycles.
Reading Customer Reviews
Reviews are what other people say about the battery. Read them to know if the battery is good. Look for batteries with positive reviews.
If many people say the battery is good, it probably is. For instance, if a battery has 20 good reviews and 2 bad ones, it might be a good choice.
Seeking Recommendations
Don't forget to ask friends or family who have travel trailers. They can share their experiences and tell you which batteries are good.
For example, if your friend has a travel trailer and loves their lithium-ion battery, you might like it too. They can tell you about the battery's life, weight, and how it works for them.
Prioritizing Safety
Finally, safety is most important. Pick a battery that is safe to use. Some batteries have safety features like protection from overcharging. This keeps you and your trailer safe.
For example, a battery with a built-in safety valve is a good choice. It lets out gas if the battery gets too hot, preventing any danger.
Ensuring the Longevity of Your Travel Trailer Battery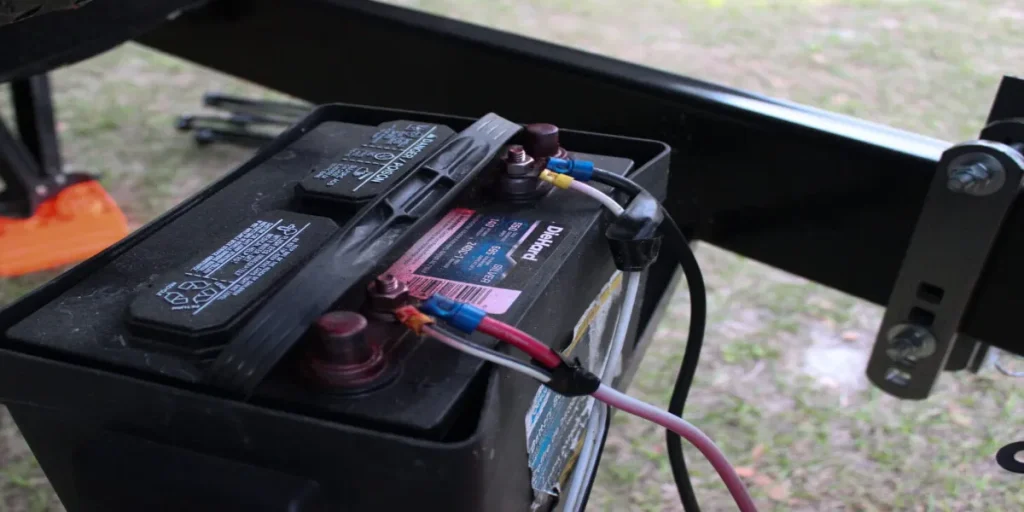 Conducting Regular Inspection
It's important to regularly check your battery to ensure it's in good health. Look for any signs of damage or wear, such as cracks or leaks.
Also, check the battery terminals for any corrosion. If you notice anything unusual, it might be time to replace the battery.
Ensuring Proper Storage
Storing your battery properly can help extend its life. If you're not using your travel trailer for a while, remove the battery and store it in a cool, dry place.
Avoid placing it directly on concrete as this can drain the battery. Instead, place it on a piece of wood or cardboard.
Maintaining Timely Charging
Regular charging is key to maintaining your battery's health and performance. Don't let the battery's charge drop too low before recharging it. Ideally, recharge the battery when it reaches about 50% charge.
This helps prevent damage to the battery and ensures it's always ready to provide power when you need it.
Keeping Battery Terminals Clean
Keeping the battery terminals clean is also important. Dirty or corroded terminals can affect the battery's performance.
You can clean the terminals with a mixture of baking soda and water, then rinse with clean water and dry thoroughly.
Safeguarding from Extreme Temperatures
Batteries can be affected by extreme temperatures, both hot and cold. If possible, try to protect your battery from extreme temperatures by providing insulation in cold weather and shade in hot weather.
FAQs
Can I use a car battery for my travel trailer?
No, it's advisable to use a deep-cycle battery specifically designed for travel trailers as car batteries are not suited for the energy requirements of travel trailers.
Is a lead-acid battery maintenance-free?
No, traditional lead-acid batteries require regular maintenance such as checking and topping up electrolyte levels.
Do lithium-ion batteries require a special charger?
Yes, lithium-ion batteries require a special charger designed to accommodate their specific charging needs.
Does extreme temperature affect battery performance?
Yes, batteries can struggle in extreme cold or heat, which can affect their performance and lifespan.
Do all batteries fit all travel trailers?
No, batteries come in different sizes and capacities, so it's important to choose one that fits the available space and meets the power needs of your travel trailer.
Conclusion
Choosing the right battery size for your travel trailer is essential for a smooth and enjoyable travel experience.
By understanding your power needs, evaluating different factors, and following the right steps, you can select the perfect battery for your needs.