Searching for the perfect battery for your Chevy Silverado 1500? This guide will help you select the right battery size and type for your truck.
From factors that influence your choice to DIY installation steps, we've got you covered. Boost your engine with confidence!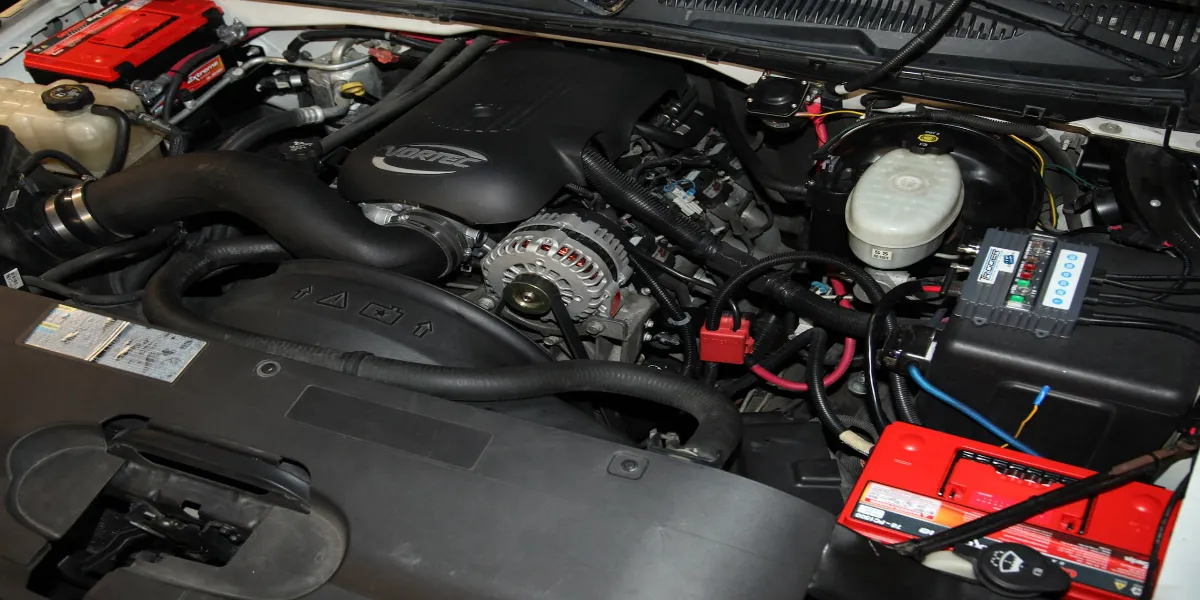 What Size Battery Do You Need for a Chevy Silverado 1500?
The most common battery sizes for a Chevy Silverado 1500 are H6, H7, 34/78, 75/86, and 781. These sizes are designed to fit various model years and engine types, ensuring optimal performance for your truck.
The table below shows some of the common Chevy Silverado 1500 battery sizes:
| Battery Type | Dimensions (inches) | Cold Cranking Amps (CCA) | Reserve Capacity (minutes) |
| --- | --- | --- | --- |
| H6 | 12.06 x 6.88 x 7.56 | 760 | 120 |
| H7 | 12.38 x 6.88 x 7.50 | 850 | 140 |
| 34/78 | 10.25 x 6.81 x 7.88 | 800 | 100 |
| 75/86 | 9.50 x 7.25 x 8.38 | 700 | 90 |
| 78 | 10.25 x 7.06 x 7.69 | 800 | 110 |
Types of Batteries Suitable for Chevy Silverado 1500
A Chevy Silverado 1500 battery can be found in four basic types, each with its own pros and cons.
Lead-Acid Batteries
Lead-acid batteries are the most common and affordable type of batteries for vehicles. They are made of lead plates submerged in a sulfuric acid solution.
They have a high CCA and can withstand extreme temperatures and vibrations.
Absorbent Glass Mat (AGM) Batteries
Instead of using a liquid electrolyte, AGM batteries use a fiberglass mat to absorb the electrolyte. Battery technology is more durable, more resistant to leaks and spills, and lasts longer.
For vehicles with high electrical demands, AGM batteries have higher capacity and CCAs than lead-acid batteries.
Lithium-Ion Batteries
Lithium-ion batteries are the newest and most advanced type of batteries for vehicles. Chemical reactions release and store energy in lithium metal or lithium compounds.
Lithium-ion batteries have many benefits over other types of batteries. They are lighter, smaller, more efficient, and have a longer lifespan than lead-acid or AGM batteries.
Gel Cell Batteries
In gel cell batteries, the electrolyte is contained in a gel-like substance instead of a liquid solution.
They are similar to AGM batteries in terms of durability, resistance to leaks and spills, and lifespan.
Compared to AGM batteries, gel cell batteries have lower CCA and reserve capacity. They also require a specific charger to prevent overcharging and damage.
Factors to Consider When Choosing a Battery for Chevy Silverado 1500
When choosing a battery for your Chevy Silverado 1500, you should consider the following factors:
Cold Cranking Amps (CCA):
This is the most important factor to consider if you live in a cold climate. You want a battery that can deliver enough power to start your engine in low temperatures.
The higher the CCA, the better the battery's performance in cold weather.
Reserve Capacity:
This is another important factor to consider, especially if you use a lot of accessories in your truck such as lights, radio, or air conditioner.
You want a battery that can run your accessories without the engine running for a long time. The higher the reserve capacity, the longer the battery's run time.
Battery Life and Warranty:
You want a battery that can last for a long time and has a good warranty. Battery life for vehicles ranges from three to five years, depending on usage and maintenance.
The warranty usually covers defects or failures within a certain period or mileage. Choose a battery that offers the best value and protection among different brands and models.
Battery Size and Dimensions:
You want a battery that fits your vehicle's battery tray and has the correct terminal layout.
Your truck's owner's manual or old battery's label will tell you the exact battery size and group code. Check your battery tray's dimensions against the battery's to ensure a proper fit.
Vehicle's Electrical Load:
The battery should be able to handle the total amount of electricity your vehicle consumes.
The more accessories and features your truck has, the higher its electrical load. Find out your vehicle's electrical load from its owner's manual or consult a professional.
Weather Conditions:
You want a battery that can perform well in different weather conditions, such as hot, cold, humid, or dry.
Some types of batteries are more resistant to heat or cold than others. You should choose a battery that matches your climate and driving habits.
Maintenance Requirements:
Maintaining a battery is easy if you check the water level, clean the terminals, or add distilled water.
Some types of batteries are maintenance-free, while others require periodic maintenance. You should choose a battery that suits your preference and convenience.
Price and Brand Reputation:
You want a battery that is affordable and reliable. Comparing prices and brands of batteries and reading customer reviews is important.
Saving money on your purchase can also be achieved with discounts, coupons, and promotions.
How to Install a New Battery in a Chevy Silverado 1500?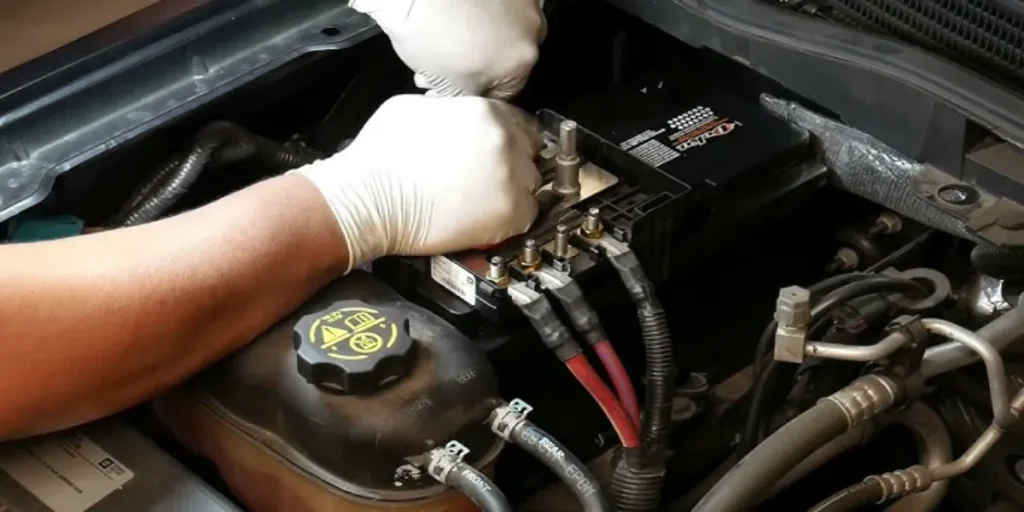 A Chevy Silverado 1500 battery installation isn't difficult, but it requires some tools and safety precautions. Here are the steps to follow:
Tools Needed
You will need the following tools to install a new battery in your truck:
Safety Precautions
Park your truck on a level surface and turn off the engine. Remove the key from the ignition and disconnect any accessories such as lights or radio.
Wear gloves and safety glasses to protect your hands and eyes from acid or sparks. Keep children and pets away from the work area.
The battery must not be dropped or damaged. Smoke and open flames are not allowed near it. Do not touch the positive (+) or negative (-) terminals of the battery.
Installation Steps
Remove the old battery from the battery tray and place it aside. Clean the battery tray and cables with a wire brush and a solution of baking soda and water.
Rinse and dry the battery tray and cables with a rag. Place the new battery in the battery tray and secure it with the hold-down clamp.
Connect the positive cable to the positive terminal and tighten it with a wrench.
Also, connect the negative cable to the negative terminal and tighten it with a wrench. Start your truck and check if everything works properly.
Troubleshooting Common Battery Issues in a Chevy Silverado 1500
Sometimes, you may encounter some issues with your battery, such as:
Battery Drains Quickly
Battery drains quickly due to various reasons. A faulty alternator might not charge the battery well. Another reason is a parasitic drain.
It sucks your battery dry even when your truck is off. Loose cables can also cause a quick drain. These cables resist the electrical flow.
A high electrical load can also sap the battery fast. Finally, an old battery can't hold its charge well anymore.
Battery Won't Hold a Charge
When a battery won't hold a charge, there are usual suspects. Deep discharge can damage battery cells. Sulfation affects the plates in your battery.
This forms crystals that lower the battery's capacity. A short circuit can happen too. It drains your battery fast. Low electrolyte levels can lead to corrosion.
Lastly, old age in batteries means they won't hold a charge well.
Battery Warning Light On
A battery warning light spells trouble. Loose cables might be the culprit. Or it might be a bad alternator that's not charging your battery.
Bad voltage regulators can also trigger the warning light. They mess up the charge going to your battery.
A blown fuse could also be the issue. Finally, a weak battery might fail to give enough power.
Engine Cranks but Doesn't Start
This issue means your engine cranks but doesn't fire up. Low fuel level is one reason. A clogged fuel filter might be blocking fuel flow.
Faulty spark plugs can fail to ignite the engine. Bad ignition coils can also mess up the spark needed to start. Weak batteries may not supply enough power for the spark.
Swollen Battery Case
A swollen battery case is a big red flag. Overcharging could cause the battery to swell. Overheating can also lead to a swollen case.
Freezing conditions can crack the case. Defective batteries can also swell due to internal issues.
Acid Leaks or Corrosion
Acid leaks or corrosion are serious. Overfilling can cause acid to spill. Dropping the battery can crack its case, leading to leaks.
Loose terminals might let acid seep out. An old battery may have corroded seals. This lets acid escape.
Tests and Inspections
To find these issues, perform tests and inspections. Use a voltmeter to check the battery voltage. An ammeter can test your alternator's output.
An ohmmeter can check for continuity problems. Always look for physical damage or signs of wear and tear on your battery.
FAQs about what size battery to use for a Chevy Silverado 1500
What are some suitable aftermarket replacement sizes?
Common direct replacement sizes are Group 65, Group 78, or Group 35 batteries in the 800-850 CCA range.
Will a larger battery hurt performance or fuel economy?
It won't affect performance or mpg if it fits in the factory tray.
What if I add more electrical accessories?
Adding significant aftermarket electronics may necessitate a higher capacity battery of up to 70Ah/1000CCA for hearty reserve power.
Is an AGM or standard lead-acid better for a Silverado 1500?
For main city/highway use, a quality lead-acid battery usually suits Silverado 1500s fine for less cost.
Where is the battery located in a 1500 Silverado?
The battery is installed into a tray under the back seat on the passenger side of most 1500 Silverado models.
How long should the battery last before needing replacement?
With proper maintenance, a quality lead-acid battery in a Silverado 1500 typically lasts 3-5 years.
Conclusion
Having the right battery size for your Chevy Silverado 1500 is vital for its optimal performance and reliability. The right battery for your truck depends on its model, year, engine, electrical load, and weather.
You also need to install and maintain your battery properly and troubleshoot any issues that may arise.
Thus, you can enjoy your truck's power and comfort for a long time. This blog post is intended to be informative and helpful.