Man's and women's bike sizes are different. As 6-foot is not an average size for women, finding the right size bike for a woman of this height is difficult.
In that case, being a 6-foot tall woman, you should know the right size bike for you. 
This article will let you know what size bike for 6-foot women actually needs. 
What Is The Right Size Bike For 6-Foot Tall Woman?
An 'L' size bike will be the right size for a 6-foot tall woman.
The chart below about the sizes of bikes will help you find out the right size for 6-foot tall women.
| Bike | Size (In cm) | Size (In Inches) |
| --- | --- | --- |
| Road Bike | 55 – 57 | 21″ – 22″ |
| Mountain Bike | 48 – 50 | 19″ – 20″ |
| Hybrid Bike | 48 – 50 | 19″ – 20″ |
Recommended Bikes:
Mountain Bike: Redfire 7-21 Speed Aluminum Frame Mountain Bike
Hybrid Bike: Schwinn GTX Dual Sport Aluminum Frame Bicycle
Why Should  A 6-Foot Tall Women Need The Right Size Bike?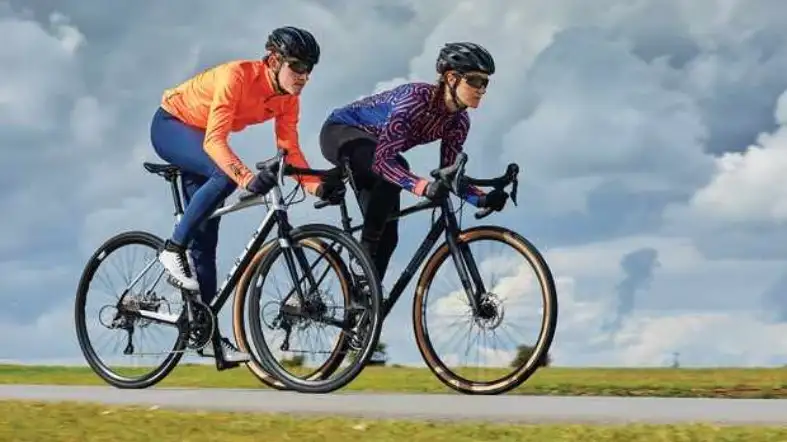 A proper size bike for 6-foot tall women is needed as women's body structures are different from men's. Women have lesser muscles and weight.
The bike materials are also lighter, thinner, and shorter seat tube length, and a small proportion of the bike's body parts according to the rider's inseam. 
How To Know The Right Size Bike For A 6-Foot Tall Woman?
There is some bike you will find, like, road bike, hybrid bike, mountain bike and so on, whose sizes can be different for the 6-foot tall women.
The dimensions are measured in centimeters, generic lengths, or inches. 
Rider Measurement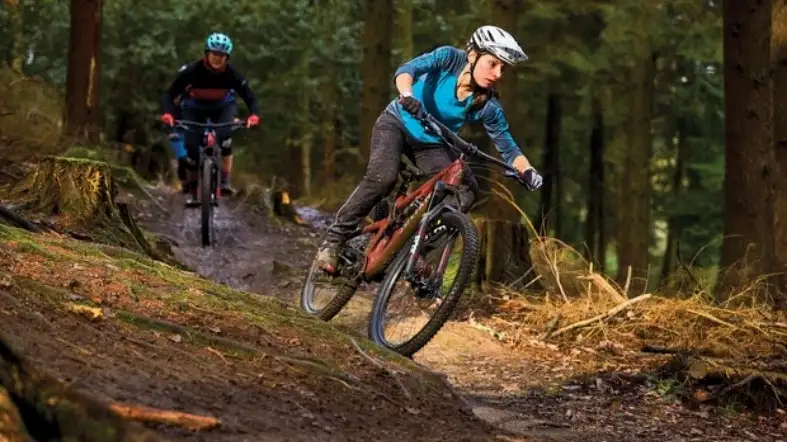 You'll need to assess your height and inside leg to obtain the right bike size. 
Stand against a wall and level it to the top of your head using a pencil to determine your height. 
Then, starting from the bottom, measure to the mark.
Stand against a wall with a book between your legs and your hip, and make sure it's flat against the wall for your inside leg measurement. 
Measure the distance between the book and the floor.
If you're on the border between sizes, your reach is often the deciding factor in which size to choose.
Bike Types
The bike's measurements vary with what type of bike you will ride.
Road Bike Sizes
Road bikes are generally suitable for long rides and racing.
These road bikes are sized according to the rider's height, sized in cm. And the size implies the length of a bike's seat tube. 
Mountain Bike Sizes
Mountain bikes are made for riding in the forest and mud trails. They are measured in inches and are often generic, referring to the bike's seat tube length.    
Hybrid Bike Sizes
Hybrid bikes are made as mountain and road bikes. These bikes are usually sized in inches though most frequently in cm.
This bike has a lower top tube, and the size of this bike implies by its length. 
What To Look For in A Right Size Bike For 6-Foot Tall Women?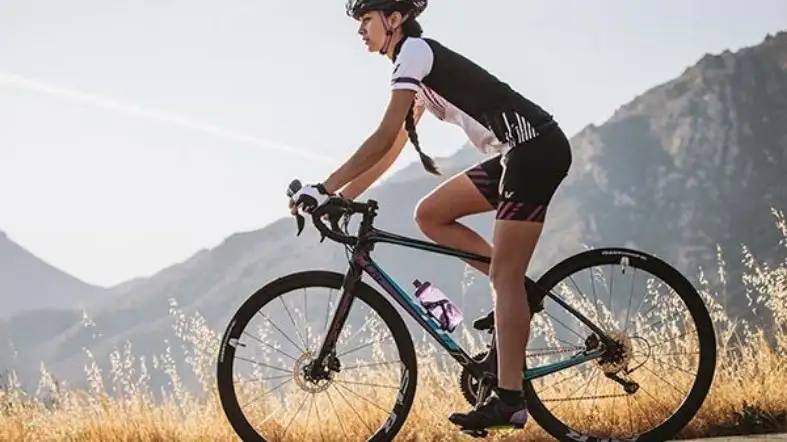 Choosing the right size bike is a pretty complicated job. But some obstruction regarding this can make this job more manageable. 
Saddle
Women have difficulties with bike sits as they have a delicate body structure.
That is why, in women's bikes, saddles are specially designed for their comfort and safety.
Also, you can buy a bike with a double-thickness saddle for more comfort. 
Back Length
If your bike length is wrong, your bike's handlebar will be too close to your chest while riding, causing you to lose balance.
Some bikes are designed with a specified back length in mind so that you will have the perfect back length.
Shoulder width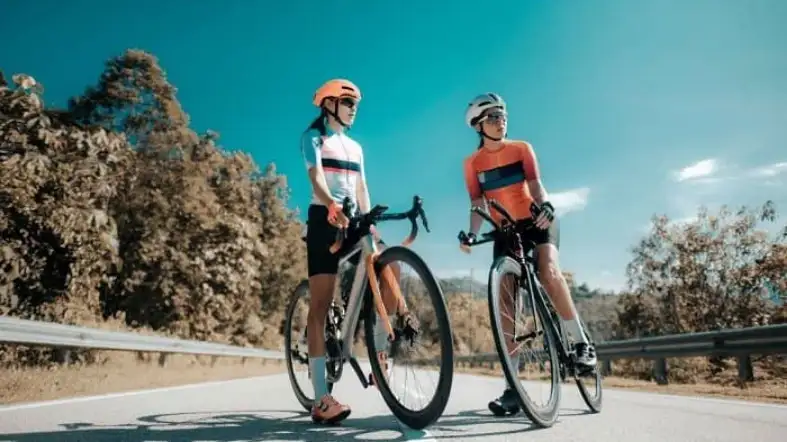 Shoulder width is vital because the more comprehensive you stretch your arms to grasp the handlebars, the more air you trap, and the more difficulty you will experience.
Consequently, you'll need more energy to reach top speed on your bike, and you won't be able to ride for extended distances since you'll fatigue quickly.
Hand size 
You must be able to access your bike's brakes easily.
Women's bikes have a shorter gap between the handlebars and the brake levers for a quick and straightforward hold.
Gear
Gearing started from one to more than 24. Correct gearing is also essential. Go for more gear to ride on the hill. 
Riding Style
There are various types of bikes, and each is built for a specific riding style. Road bikes ride on smoother terrain such as sidewalks and city streets.
Mountain bikes handle more challenging terrain, such as off-road paths. And hybrid bikes are built to accommodate both.
Consider the riding you expect to perform, and then look for a bike that fits your riding style.
Racks and fenders
It frequently occurs that you must ride on a muddy or wet surface.
A fender mounted to your bike will keep you dry and tidy. It will be much appreciated by those who follow you.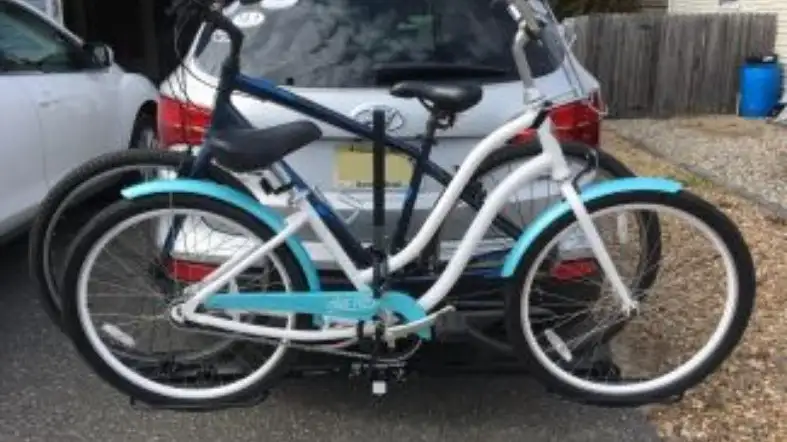 Tires
Tires are an extremely vital component of every bicycle. The bike component contacts the ground and keeps the whole thing upright.
You have to choose a set of broad and comfortable tires and absorb all of the bumps along the journey.
Maintenance 
Proper maintenance ensures that your items remain durable and safe. Keeping your bike in good working order keeps it clean and greased.
Also, remember to keep the tires inflated and the components lubricated.
Other Features
It's an exciting moment to be a woman riding a bike these days, with so many alternatives.
One can choose the option between carbon, aluminum, or steel frames, in addition to bike style and fit.
All are strong materials, but carbon is the lightest and most costly, while steel is the heaviest and most durable.
Can A 6-Foot Tall Women Have A Right Size Unisex Bike?
A 6-foot tall woman can have a simple and comfortable men's or unisex bike.
But it is still a complicated issue to consider. Some bike models are made for both men and women.
In that case, there should be no division between them. 
FAQs About The Right Size Bike For A 6-Foot Tall Woman 
Can A 6-Foot Woman Ride A 26-Inch Bike?
For any adult, the 26-inch bike is the most acceptable size. It's also one of the most approved sizes among tall people.
In particular, if you are roughly 6.2 feet tall, the 26-inch bike is ideal for you.
Is Weight Matter When Buying A Bike For A 6-Foot Tall Woman?
Yes, because wheels and tires rotate weight, they're widely regarded as the most acceptable spot on the bike to shed grams.
Additional weight increases inertia, and in cycling, wheel inertia is essential for the rider must overcome it to accelerate.
Heavier wheels demand more energy to overcome friction.
Is A Sports Bike Good For 6-Foot Tall Women?
Of course, it is. The manufacturer has somewhat altered the style of women's sports bikes for ladies to feel more comfortable when riding.
Women feel resolute about riding a sports bike since it is ideal for anybody passionate about cycling.
Is 18 Inches Bike Too Small For The 6-Foot Tall Woman?
An 18 inches bike may adjust the 6-foot woman, but an 18-inch bicycle is preferable for someone under six feet tall.
Although the inseam length and variances between bike brands may also impact the fit.
The Final Verdicts
Although all bikes appear to be the same, you will immediately learn that it is not as comfortable as you would want if you ride a different bike.
That is why a perfect size women's bike is most important.
Once your bike arrives, you may make a few modifications to the saddle, handlebars, and other components to ensure a comfortable ride every time.
This article gives you a fair idea about what size bike you need for 6-foot tall women.