Selecting the right size bolt for a battery hold down is essential to ensure stability and functionality. A mismatch in size can result in battery displacement, leading to potential vehicular damage and safety hazards.
This article will unravel what size bolt for battery hold down, examine the diverse types available, and offer a comprehensive guide on the installation process.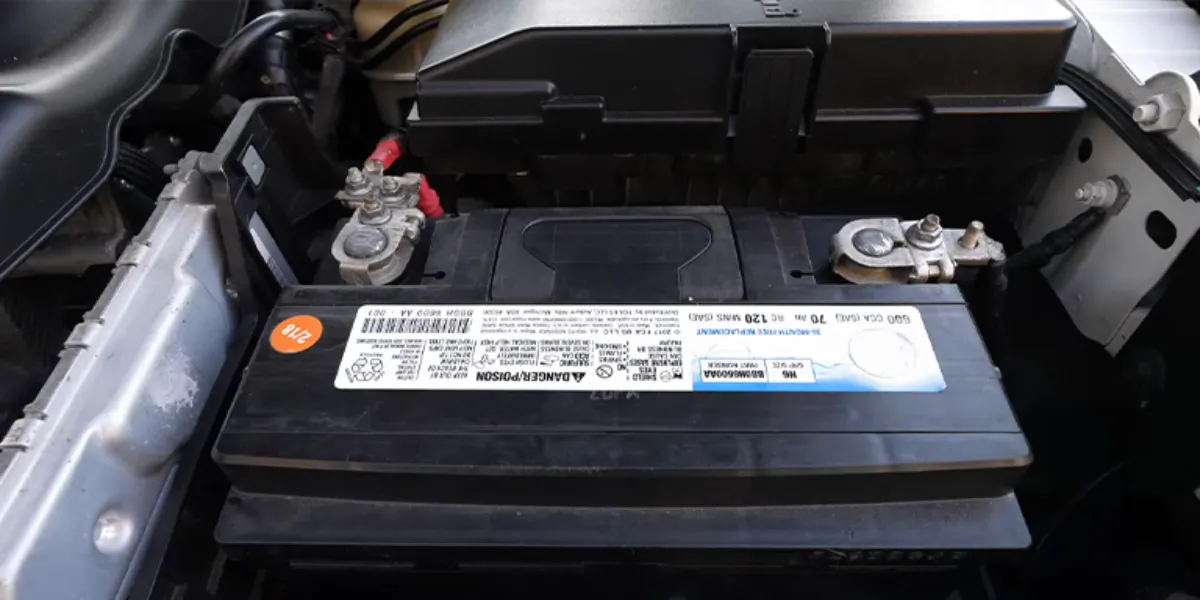 What Size Bolt For Battery Hold Down?
For battery hold down, a 3/8 inch or 10mm bolt is a suitable option to secure the battery firmly. However, the size of the bolt for a battery hold-down ranges from 1/4 inch to 3/8 inch. The exact size depends on the battery type and vehicle model.
Battery Hold Down Bolt Size Chart:
| Battery Type | Vehicle Model | Bolt Size |
| --- | --- | --- |
| Small | Compact Car | 1/4 inch or 6mm |
| Medium | Sedan | 5/16 inch or 8mm |
| Large | SUV | 3/8 inch or 10mm |
Different Types of Bolts Suitable for Battery Hold Down
Standard Bolts
Standard bolts are the most common type used in battery hold-downs. They're easy to find and simple to use, making them a popular choice.
However, they might not offer as much grip as other types of bolts. Standard bolts are suitable for most car models, but always check your vehicle's manual to be sure.
Flange Bolts
Flange bolts have a circular flange right under the head, acting like a built-in washer. This design gives them better-holding power, ensuring a tighter fit.
But, they might be a bit harder to find compared to standard bolts. Flange bolts are often used in heavy-duty vehicles due to their strong grip.
Carriage Bolts
Carriage bolts have a smooth, rounded head giving a neat appearance. The square section under the head stops the bolt from turning when tightening, which is handy.
But, you'll need a special tool to install them. Carriage bolts are great for vintage cars where aesthetics matter.
Square Head Bolts
Square head bolts provide more wrenching space, making them easier to tighten or loosen. However, their larger size might not fit all battery hold downs.
These bolts are typically used in larger vehicles like trucks or SUVs where there's more space for the bolt head.
Selection Criteria for the Appropriate Bolt Size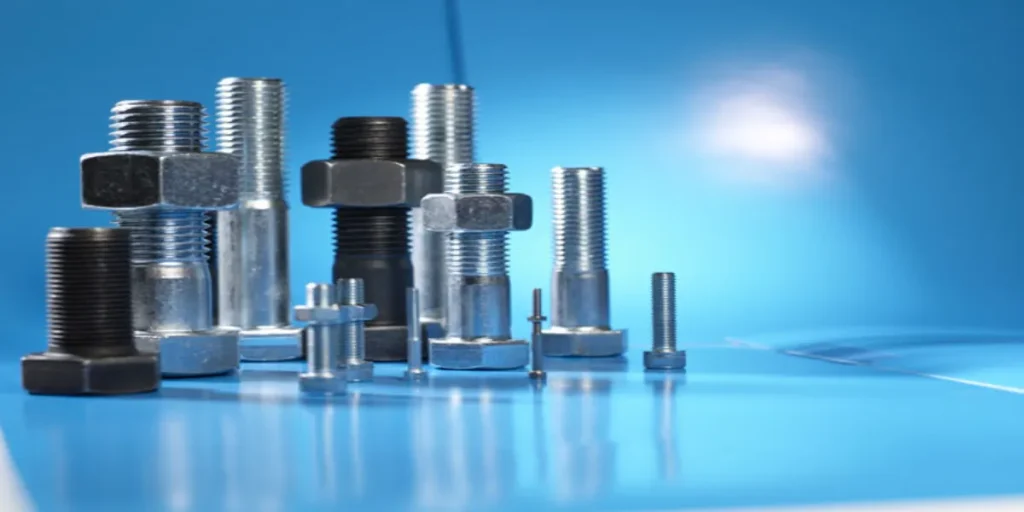 Battery Size and Type
The size and type of your battery play a big role in choosing the right bolt. Larger batteries usually need larger bolts to hold them securely.
For example, a small car battery might need a 1/4 inch bolt, while a larger truck battery might need a 3/8 inch bolt.
Vehicle Type and Model
Every vehicle is unique, and so are their bolt size requirements. A compact car might need smaller bolts compared to an SUV or a truck. Always check your vehicle's manual for the correct bolt size.
Hold Down Design and Material
The design of the battery hold-down can also affect the bolt size. Some hold-downs might have larger holes that require larger bolts. The material of the hold down (like metal or plastic) can also influence the bolt size.
Environmental and Vibration Considerations
If you drive in harsh conditions (like off-road or in extreme weather), you might need specific bolt sizes to ensure your battery stays secure. More vibration usually means you'll need larger bolts to keep everything tight.
Regulatory Compliance
In some places, there are rules about what size bolts you can use for battery hold-downs. Always make sure to follow these rules to stay safe and avoid any legal issues.
Determining the Correct Bolt Size for Battery Hold Down
Understanding Bolt Dimensions
Bolt dimensions include the diameter, length, and thread pitch. The diameter is the thickness of the bolt, the length is how long it is, and the thread pitch is the distance between the threads.
For example, if you have a bolt labeled as "1/4-20 x 1.5", it means the bolt has a diameter of 1/4 inch, a thread pitch of 20, and a length of 1.5 inches.
Using Bolt Gauges
A bolt gauge is a handy tool that can help you determine the size of a bolt. It has holes of different sizes that you can fit your bolt into. The hole that your bolt fits into snugly without forcing or wiggling is the correct size.
For example, if your bolt fits perfectly into the hole labeled "1/4", then your bolt's diameter is 1/4 inch.
Consulting Vehicle Manuals and Specifications
Your vehicle's manual or specification sheet will often tell you what size bolt you need for your battery hold down. It's always a good idea to check this first before buying any bolts.
For instance, if your manual says "Use only 5/16 inch bolts for battery hold down", then you should get bolts that are 5/16 inch in diameter.
Seeking Professional Advice
If you're still unsure about what size bolt to use, don't hesitate to ask a professional mechanic or automotive technician. They have the knowledge and experience to guide you in choosing the right bolt size for your battery hold-down.
Influencing Factors in Bolt Size Selection for Battery Hold Down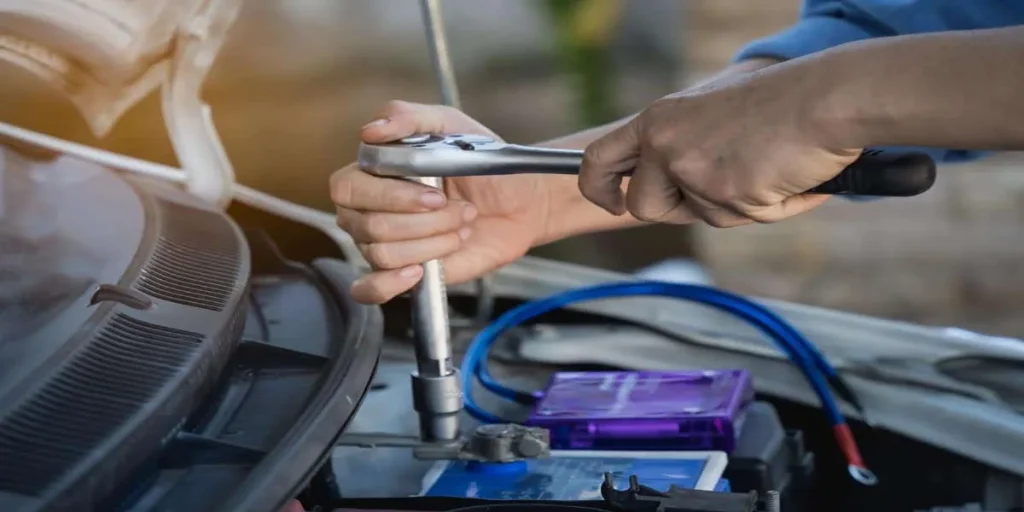 Material Type and Strength
The bolt's material can greatly affect its strength. For example, a bolt made of stainless steel is stronger than one made of plastic. So, if you have a heavy battery, you might need a stronger bolt.
Thread Pitch and Size
The thread pitch and size of the bolt can influence how well it will fit and hold the battery. A bolt with a larger thread size and higher thread pitch can provide a stronger hold.
Torque Requirements
Different bolts can withstand different amounts of torque. If your vehicle tends to vibrate a lot, you might need a bolt that can withstand higher torque.
Corrosion Resistance
If your vehicle is often exposed to rain or snow, you should consider using corrosion-resistant bolts. These bolts are specially designed to resist rusting, which can weaken the bolt over time.
Availability and Cost
Sometimes, the best bolt for your battery hold-down might not be readily available in your local store, or it might be too expensive. In such cases, you might have to choose a different bolt that is available and fits your budget.
Installation and Maintenance Considerations
Some bolts are easier to install and maintain than others. For example, a bolt with a hexagonal head might be easier to tighten or loosen with a wrench compared to one with a round head.
Industry Standards and Certifications
There are certain industry standards and certifications that dictate what size and type of bolts should be used for battery hold-downs. Make sure to check these before choosing your bolt.
Environmental Conditions and Exposure
The environmental conditions that your vehicle is exposed to can also influence your choice of bolt size. For example, if you live in a coastal area where the air is salty, you might need a larger, corrosion-resistant bolt.
Importance of Choosing the Correct Bolt Size for Battery Hold Down
Security and Stability
The correct bolt size is essential for the security and stability of the battery hold down. If the bolt is too small, it may not secure the battery properly, leading to excessive movement or vibration during vehicle operation.
Conversely, a bolt that's too large might not fit the hold down properly or could cause damage to the hold down itself.
Prolonged Battery Life
Vibration is one of the leading causes of premature battery failure. By using the correct bolt size to secure the battery hold down, you can minimize vibration and potentially prolong the life of your battery.
Avoidance of Damage and Leakage
Using the correct bolt size helps avoid potential damage to the battery case and harmful acid leaks which are dangerous and can cause damage to other parts of your vehicle.
Compliance with Automotive Standards
Using a bolt size that complies with automotive standards ensures that your vehicle's battery system is up to code and functioning as intended.
FAQs
How long should the battery hold-down bolt be?
The bolt should typically be long enough to pass through the battery bracket or clamp and have enough thread to secure a nut. A length of 6 inches (15 cm) is often sufficient.
Are there specific materials recommended for battery hold-down bolts?
Stainless steel or zinc-plated steel bolts are good choices for battery hold-downs as they resist corrosion and provide durability.
Do I need any special tools to install a battery hold-down bolt?
You may need a socket wrench or a pair of pliers to tighten the bolt securely.
Can I use a shorter bolt if it's the same diameter?
It's important to choose a bolt length that provides enough thread engagement to securely hold the battery in place. A longer bolt is generally better than one that's too short.
Where can I find replacement battery hold-down bolts?
You can typically find battery hold-down bolts at automotive supply stores, hardware stores, or online retailers that specialize in automotive parts and accessories.
Conclusion
Understanding Bolt Sizes for Battery Hold Down is integral for achieving optimal battery stability and functionality in vehicles.
Selecting an appropriate bolt size, in alignment with the vehicle model and battery type, can mitigate risks of displacement and damages, guaranteeing safety and compliance with automotive standards.
This article aims to unravel the complexities in bolt sizes and to guide users in making discerning choices in their automotive maintenance endeavors.