Choosing the right brad nail size for your quarter round can make or break your DIY project.
Whether you're a seasoned handyman or tackling home improvements for the first time, knowing what size nails for quarter round is crucial for a clean, secure finish.
This blog will guide you through the maze of options, from gauges to material compatibility, and arm you with the know-how to make an informed decision.
What Size Brad Nails for Quarter Round?
For installing quarter-round molding, 18-gauge brad nails ranging from 1 to 1-1/2 inches in length are commonly used. The exact size may vary based on the thickness of the quarter round and the underlying material. Always test nail size on a scrap piece first.
Quick Table
| Brad Nail Gauge | Length Range | Suitable For |
| --- | --- | --- |
| 18-gauge | 1 inch | Thinner quarter round or nailing into softer material |
| 18-gauge | 1-1/4 inches | Standard quarter round, provides a secure hold |
| 18-gauge | 1-1/2 inches | Thicker quarter round or nailing into harder material |
Different Types of Brad Nails Suitable for Quarter Round
18-Gauge Brad Nails
18-gauge brad nails are the most common type used for quarter-round installations. They are thin, which reduces the chance of splitting the wood.
Imagine you're building a small birdhouse out of thin plywood. You'd want to use these nails to avoid splitting the delicate wood.
16-Gauge Brad Nails
16-gauge brad nails are slightly thicker and provide a stronger hold, making them suitable for thicker moldings.
Think of it like hanging a heavy picture frame on your wall. You'd want a nail that can support the weight without bending or breaking.
15-Gauge Brad Nails
15-gauge brad nails are the thickest and provide the strongest hold. They are typically used for hardwood installations.
It's like using a sturdy anchor to secure a large ship. These nails ensure your quarter-round stays put, even in tough conditions.
Specialized Brad Nails for Different Materials
There are also specialized brad nails designed for specific materials such as MDF or PVC.
It's like using a special screwdriver for a unique screw head. These nails ensure the best hold and finish for your specific material.
How to Determine the Right Brad Nail Size for Your Quarter-Round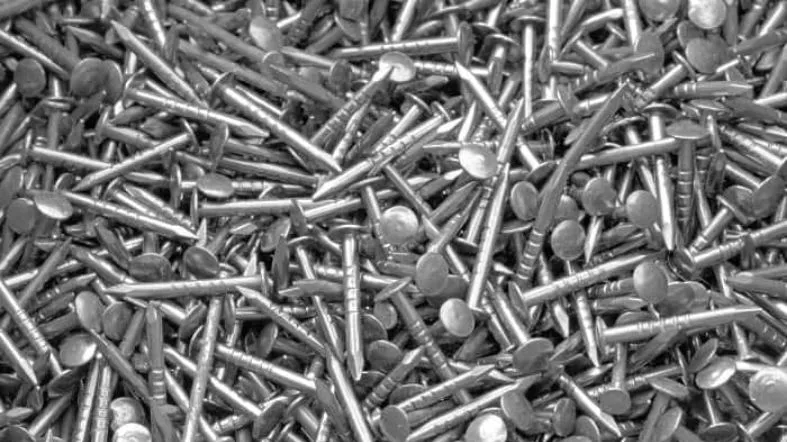 Check the Quarter Round Material
First, you have to know what your quarter round is made of. Is it wood, PVC, or maybe MDF? Knowing the material helps you pick the right brad nail.
For instance, wood quarter rounds usually work best with 18-gauge brad nails. Why? Because these nails are strong but not so big that they split the wood.
If you have a pinewood quarter round, 18-gauge brad nails will give you the right balance of strength and size.
Evaluate the Wall Surface
Next, look at the wall where you'll attach the quarter round. Is it drywall or something stronger like concrete?
For drywall, you can use lighter nails. But for concrete, you'll need heavier 16-gauge nails to make sure they hold well.
In a room with drywall, an 18-gauge brad nail will suffice. But if you're working on a garage with concrete walls, switch to 16-gauge brad nails.
Consider the Overall Design
Think about how the quarter round will look when it's done. Are you painting it or staining it?
If you're painting it, you can use nails that are a bit bigger since the paint will cover them. But if you're staining the wood, choose smaller nails so they blend in better.
For a painted quarter-round, 16-gauge nails work well because you won't see them. For a stained oak quarter round, try to use smaller 18-gauge nails for a cleaner look.
Take Into Account Baseboard Thickness
Now, how thick is your baseboard? If you have a thick baseboard, you can use longer nails. If it's thin, stick to shorter nails so you don't punch through the other side.
For a baseboard that's 1 inch thick, using a 1.5-inch brad nail is a safe bet. It's long enough to hold but not too long to cause problems.
Take a Test Run
Before you start the real job, it's a good idea to test your choices. Grab a scrap piece of quarter round and the size of Brad nail you think is right.
Attach the quarter round to a scrap piece of wall material. Did it hold well? Did it look good? If yes, you've found your match!
Let's say you're unsure between 18-gauge and 16-gauge brad nails. Test both on a piece of spare quarter round and drywall. This helps you see what works best before you start the real project.
Factors Influencing Brad Nail Size Selection for Quarter Round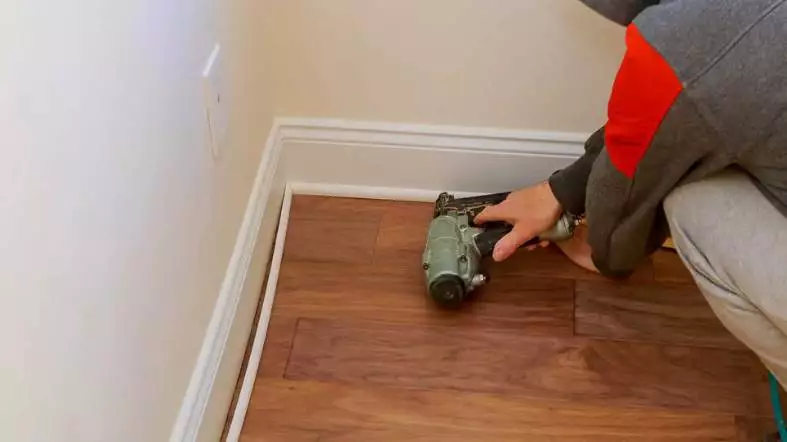 Material of Quarter Round
The material of the quarter round can greatly influence the size of the brad nail you choose. For instance, softer materials like pine might require smaller, thinner nails to prevent splitting.
Surface Material (Drywall, Wood, etc.)
The surface you're nailing into also matters. Drywall might not hold larger nails as well, while solid wood could handle larger sizes.
Interior Design Considerations
The overall design of your room can influence your choice. If you have thick, ornate moldings, you might need larger nails. But if your design is more delicate, smaller nails might be more appropriate.
Durability and Holding Strength
Larger nails typically offer more durability and holding strength. So if your quarter round will see a lot of wear and tear, you might want to opt for a larger size.
Safety Concerns
Safety is always a priority. Larger nails can sometimes pose more of a safety risk during installation, so it's important to choose a size that you feel comfortable working with.
Ease of Installation
Smaller nails are generally easier to work with and install, which might be a factor if you're new to DIY projects.
Budget and Cost
Finally, cost can be a factor. Larger nails are typically more expensive, so you'll need to balance the cost with the other factors listed above.
Step-by-Step Guide to Nailing Quarter Round with Brad Nails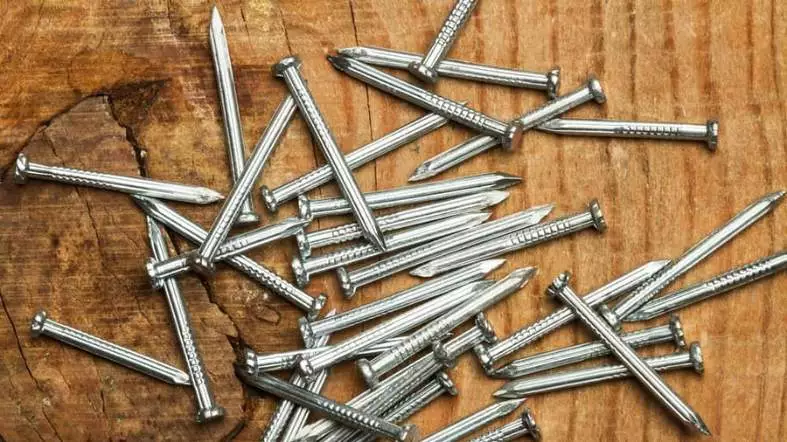 Step 1: Measure and Cut the Quarter Round
First, measure the length of the wall where you'll install the quarter round. Use a tape measure for this.
Then, mark the measurement on your quarter-round piece and cut it using a miter saw. Remember, it's like measuring and cutting a piece of ribbon to fit perfectly on a gift box.
Step 2: Prepare the Surface
Next, clean the area where you'll install the quarter round. Remove any dust or debris. This step is like cleaning a window before putting up a sticker – it helps the sticker stick better.
Step 3: Position the Quarter Round
Now, position your cut quarter-round against the wall and floor. Make sure it fits perfectly. It's like fitting a puzzle piece in its correct spot.
Step 4: Choose the Right Brad Nail Size
Choose your brad nail size based on the factors we discussed earlier. Remember, it's like choosing the right size of shoes – they need to fit well for the best results.
Step 5: Start Nailing
Start nailing your quarter-round into place. Be careful not to hammer too hard to avoid damaging the quarter round or wall. It's like gently tapping a nail into a picture frame – too much force can cause damage.
Step 6: Finishing Touches
Finally, fill any visible nail holes with wood filler and paint or stain your quarter round as desired. It's like adding icing on a cake – it covers any imperfections and adds a finishing touch.
Mistakes to Avoid When Choosing Brad Nail Size for Quarter Round
Using Too Short or Too Long Nails
One common mistake is using nails that are either too short or too long. Make sure your nails are the right length for your quarter round and wall thickness.
Ignoring Material Compatibility
Another mistake is ignoring the compatibility between the nail and the material of your quarter round or wall. Make sure your nails are suitable for the materials you're working with.
Skipping Safety Precautions
Safety should always be a priority when working with tools. Skipping safety precautions, like not wearing safety glasses or gloves, can lead to accidents.
Overlooking Local Building Regulations
Finally, overlooking local building regulations can lead to problems down the line. Always check your local regulations before starting a project.
FAQs
Can I use 16-gauge brad nails for a quarter-round made of softwood like pine?
No, 16-gauge nails are generally too thick for softwoods like pine; 18-gauge nails are more suitable to prevent splitting.
Is it necessary to test nail size on a scrap piece before starting the project?
Yes, testing on a scrap piece helps you ensure that you've chosen the right nail size and won't damage your quarter round or wall.
Does the baseboard thickness affect the brad nail length?
Yes, thicker baseboards allow for longer brad nails without the risk of punching through the other side.
Can wood filler be used to cover nail holes in a painted quarter-round?
Yes, wood filler is excellent for covering nail holes and can be painted over for a seamless finish.
Are safety glasses necessary when using a nail gun for quarter-round installation?
Yes, wearing safety glasses is crucial to protect your eyes from potential accidents during the nailing process.
Conclusion
Choosing the right brad nail size is crucial for a successful quarter-round installation.
By considering all the factors mentioned in this blog post, you can ensure a smooth and efficient installation process.