What Size Impact Wrench For Automotive Work?
We may earn affiliate fees for purchases using our links (at no additional cost to you).
Are you looking for an impact wrench for automotive work, but unsure of what size is best?
With so many options on the market, it can be difficult to know where to start.
In this blog post, we'll cover the different sizes available and their respective capabilities, so you can make an informed decision on the best impact wrench for your needs.
From changing a tire to removing a stubborn bolt, we'll help you find the ideal size for your project.
What Size Impact Wrench For Automotive Work?
Most regular-sized vehicles can be worked on using a 1/2-inch impact wrench. With such size, the impact wrench can handle any job.
What kind of car you have will determine the ideal size of the impact wrench.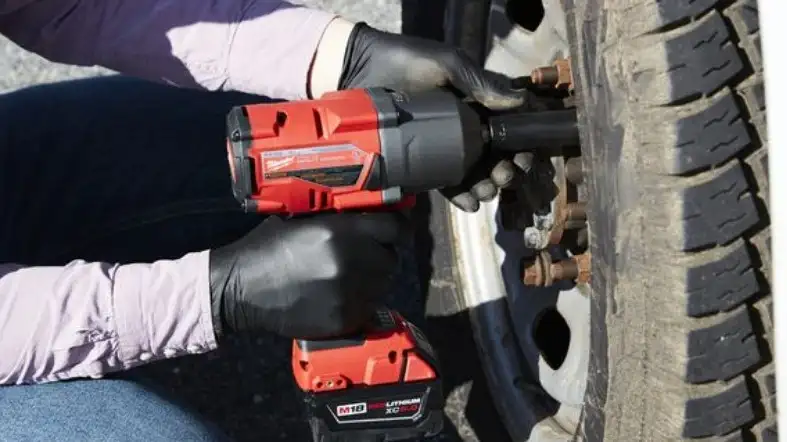 1/2-inch impact wrenches aren't too huge to maneuver.
A 3/4-inch impact wrench may be appropriate for a large vehicle or truck. This size impact wrench is more powerful and can handle larger truck parts.
Here's a table showing the recommended impact wrench sizes for different types of automotive work:
| Type of Automotive Work | Recommended Impact Wrench Size |
| --- | --- |
| Tire changes | 1/2-inch or 3/8-inch |
| Suspension work | 1/2-inch or 3/8-inch |
| Engine work | 1/2-inch or 3/4-inch |
| Transmission work | 3/4-inch or 1-inch |
| Heavy-duty applications | 1-inch or larger |
Different Impact Wrench Sizes For Automotive Work
First, let us clarify what we mean by size in this context. The dimension of the driving anvil is the size of an impact wrench.
In this section of the essay, we would like to describe some of the most popular impact wrench sizes you'll get when purchasing. 
The following are the sizes of impact wrenches that you will find in any hardware shop, for easy reference: 1/4-inch, then 3/8-inch, then 1/2-inch, then 3/4-inch, and finally 1-inch.
1/4 And 3/8 Inches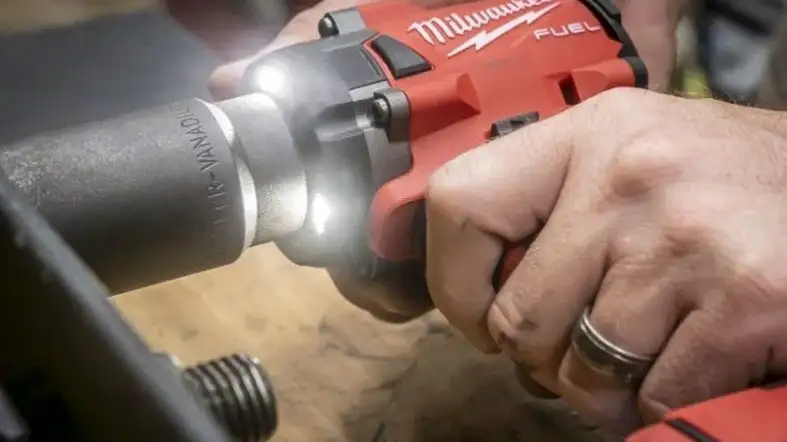 These little wrenches are often quite compact and simple to operate in confined situations.
They are available in a variety of forms, including pistol grip and inline grip.
These are ideal for bolts with a diameter of 10 mm or less. They are also ideal for operating in situations where precision and accuracy transcend brute force.
1/2-Inch
The reasons for this are rather evident, particularly if you have utilized these power tools extensively in the past. 
Due to their position in the middle of the size chart, 1/2-inch impact wrenches provide the optimal mix of precision and power.
On the one hand, you may use them to properly remove nuts and bolts without having to worry about exerting excessive torque and inflicting damage. 
In contrast, this size of impact wrench typically has sufficient power to perform a wide range of tasks, including those that smaller, less powerful impact wrenches cannot.
3/4-Inch And 1-Inch 
The two largest wrench sizes are 3/4-inch and 1-inch wrenches. These two sizes are the rarest of all sizes.
The reason for this is that they are typically too powerful to be practical for most household undertakings. 
If you visit a local building site, you will begin to see a lot more 3/4-inch and 1-inch wrenches, as their strength is far more beneficial in a professional context.
The Proper Way To Use An Impact Wrench
It's important to use it correctly to ensure that you get the most out of your tool and avoid damaging the fasteners or the equipment you're working on.
Here are some tips on the proper way to use an impact wrench:
Choose the right socket size:
Make sure you have the correct socket size for the bolt or nut you will be working with.
Using the wrong size socket can damage the fastener and may also damage the socket or the impact wrench.
Use the right torque setting:
Adjust the torque setting on the impact wrench to the appropriate level for the job you are doing.
Follow the manufacturer's recommendations or use a torque wrench to determine the correct torque setting.
Hold the wrench securely:
Use both hands to hold the impact wrench securely and maintain control over the tool. Keep your fingers away from the trigger until you are ready to use it.
Apply the impact wrench to the fastener:
Place the socket onto the fastener and apply the impact wrench to the socket.
Be sure to keep the socket straight and aligned with the fastener to avoid damaging the threads.
Use short bursts:
Instead of holding down the trigger continuously, use short bursts of the impact wrench to avoid overtightening the fastener.
Apply the impact wrench until you hear a click or feel the fastener turn, then release the trigger.
Inspect the fastener:
Once the fastener is tightened or removed, inspect it for damage or wear. Replace any damaged or worn fasteners before reinstalling them.
FAQs about the size of impact wrench for automotive work
Lug Nut Impact Wrench Size?
We recommend staying midsize. Choose a 3/8- or 1/2-inch impact wrench.
These sizes provide adequate power to remove stubborn lug nuts without applying too much torque. 
Tire-Changing Impact Wrench Size?
Changing tires requires a 1/2-inch impact wrench.
A 3/4-inch or 1-inch impact wrench is excessive unless you're working on a large truck, construction site, or commercial location. 3/8-inch or 1/2-inch is best.
What Size Impact Wrench For Changing Lawnmower Blade?
Changing lawnmower blades requires little power.
Precision is key. Smaller impact wrenches are needed for precise blade changes.
We recommend a 1/4-inch or 3/8-inch impact wrench.
These will be tiny enough for accurate work yet powerful enough to remove and replace blades.
Final Thoughts
Now you know the answer to the question, " what size impact wrench for automotive work?"
A Right size impact wrench is an exceptionally handy tool for automotive work because it can readily remove nuts and bolts from your vehicle.
There are several sizes of impact wrenches to suit various sizes of bolts.
For getting the best service, consider the size of the sockets, the maximum continuous torque, and the weight of the wrench along with the size.