Knowing what size marine battery do I need is crucial for anyone wanting smooth sailing. It determines how efficiently your boat's electrical components run, impacting overall performance. Get it wrong, and you could be left stranded.
This article will guide you through the process of determining the right size marine battery for your needs, exploring various types, and even touching on maintenance tips.
So, whether you're a seasoned sailor or a boating beginner, read on to ensure your voyages are powered to perfection.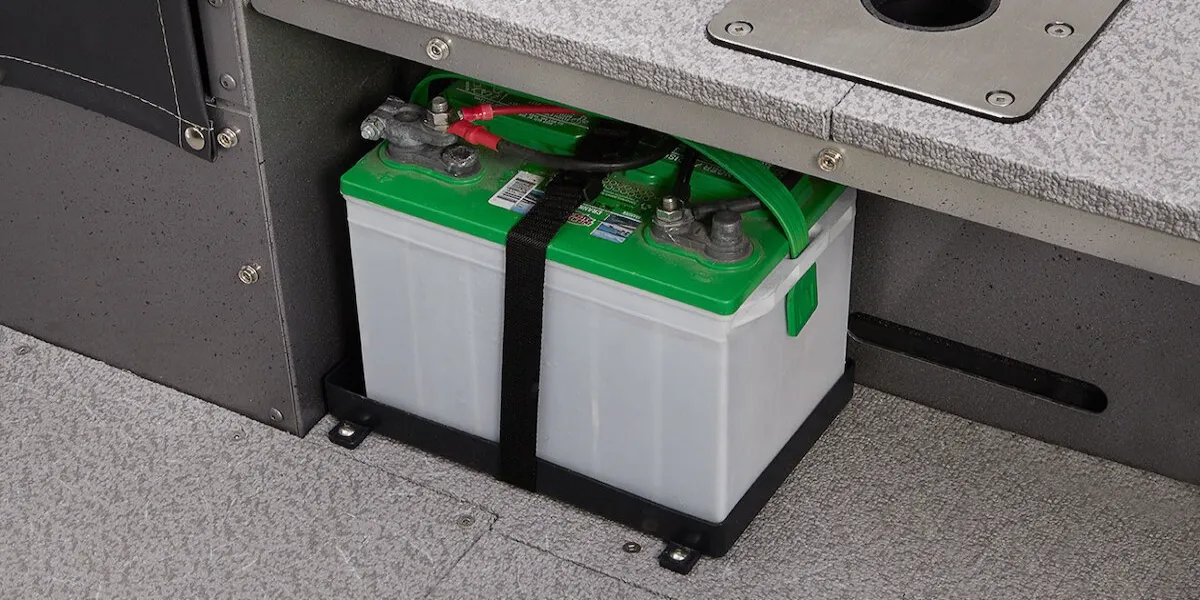 What Size Marine Battery Do I Need?
For a small boat, you may require a 12V, 75Ah marine battery battery, whereas larger boats might need 24V, 200Ah, or more to accommodate extensive electrical components and usage. A marine battery with sufficient capacity and a higher reserve is ideal for versatile use.
Marine Battery for Various Use
| Battery Size | Battery Type | Suitable For |
| --- | --- | --- |
| 12V, 75Ah | Lead-Acid | Small boats with minimal components |
| 24V, 100Ah | Lithium-Ion | Medium-sized boats with moderate components |
| 24V, 200Ah | AGM (Absorbed Glass Mat) | Larger boats with extensive electrical components |
| 12V, 150Ah | Gel Cell | Small to medium boats requiring frequent deep cycles |
Different Types of Marine Batteries
Lead-Acid Batteries: The Hard-Working Bees
Lead-acid batteries are like the hard-working bees of the marine world. They're common because they're affordable and reliable. The benefits are that they're easy to find and fit most budgets.
However, they require regular maintenance, including regular topping up with distilled water to keep them in good shape.
Lithium-Ion Batteries: The Marathon Runners
Lithium-ion batteries are akin to marathon runners. They're lightweight and efficient, ideal for long trips on the water.
While they do have a higher initial cost, they last longer and require less maintenance, potentially saving money in the long run.
AGM Batteries: The Strong, Silent Types
Absorbed Glass Mat (AGM) batteries are the strong, silent types. They are durable and maintenance-free, suitable for boats that need a lot of power, and can handle heavy loads.
They are a good fit for those who don't mind a higher price tag for the added benefits.
Gel Cell Batteries: Reliable Navigators
Gel cell batteries, having a gel electrolyte, are safe and reliable, even in rough conditions. They share similarities with AGM batteries but are also maintenance-free, letting you focus more on sailing than battery care.
However, they are more expensive compared to other battery types.
How to Determine the Right Size Marine Battery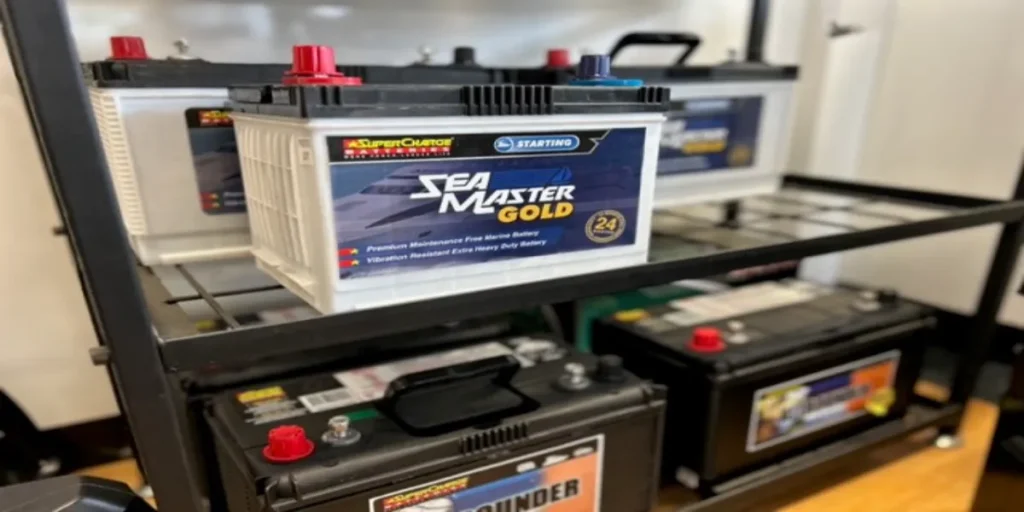 Calculate Energy Needs
To find the right marine battery, first, figure out how much energy your boat uses. Start by listing all electrical items on your boat, like lights and radios.
Next, find out how many watts each item uses per hour; this information is usually in the item's manual. Then, add up all the watts. This total is your boat's energy need per hour.
For example, if you have a light that uses 10 watts and a radio that uses 5 watts, your boat needs 15 watts per hour.
Consider the Type of Boat
Different boats need different batteries. If you have a small boat, you'll likely need a smaller battery, like a 12V, 75Ah. If your boat is bigger, with more electrical items, you might need a bigger battery, like a 24V, 200Ah.
For instance, a large yacht with a kitchen and air conditioning will need a larger battery than a small fishing boat with only a radio and a light.
Assess Space and Weight Limitations
Look at where your battery will go in your boat. Measure this space to know the size of the battery your boat can hold. Also, think about how heavy the battery is. Boats can only carry so much weight.
If a battery is too heavy, it might make your boat unsafe. So, if your space is small and you have a weight limit of 50 pounds, you can't have a big, 100-pound battery.
Examine Electrical Load
Every electrical item on your boat adds to the total electrical load. This load is the total energy your boat needs. To know this, look at each electrical item's wattage, then add all these wattages together.
Let's say you have a pump that uses 20 watts and a light that uses 10 watts. Your total electrical load is 30 watts.
Evaluate Reserve Capacity Requirements
The reserve capacity is how long a battery can run your boat's electrical items without the engine on. To figure out the reserve capacity you need, think about how long you use your boat without starting the engine.
If you like to fish and spend 3 hours on your boat with the engine off, you'll need a battery with enough reserve capacity to run your electrical items for at least 3 hours.
Investigate Battery Type and Technology
There are different types of marine batteries, like lead-acid, lithium-ion, AGM, and gel cells. Each type has its benefits. Lead-acid batteries are common and affordable.
Lithium-ion batteries are lightweight and long-lasting. AGM batteries are safe and spill-proof. Gel cell batteries work well in high temperatures. Decide which type suits your boat's needs best.
For example, if you live in a hot place and use your boat often, a gel cell battery might be right for you.
Factors Influencing Marine Battery Size Selection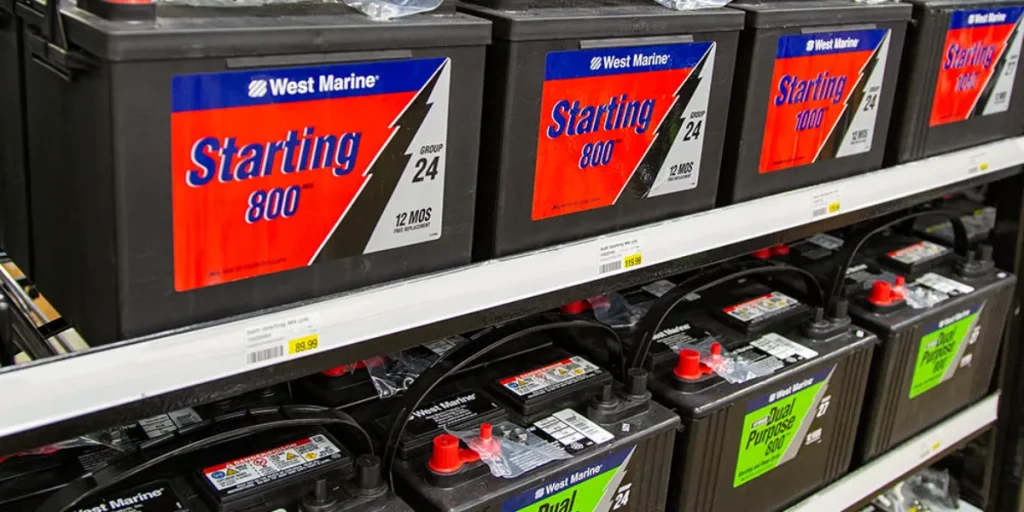 Examine Boat's Electrical Load
The electrical load of your boat is like its appetite for power. It's the total amount of electricity that all your onboard devices and systems need to work properly.
For example, a boat with a lot of high-powered electronics will have a larger electrical load than a boat with just a few basic devices.
Understand Reserve Capacity Requirements
Reserve capacity is like a safety net. It's the amount of time the battery can deliver power if your boat's alternator fails.
For example, if you're planning long trips far from shore, you might want a battery with a high reserve capacity for peace of mind.
Consider Engine Starting Current
The engine starting current is like the initial push you need to get your boat moving. It's the amount of power needed to start your boat's engine. For example, larger engines usually require more starting currents than smaller ones.
Investigate Battery Type and Technology
Different types of batteries have different strengths and weaknesses.
For example, lead-acid batteries are affordable but require regular maintenance, while lithium-ion batteries are more expensive but last longer and require less maintenance.
Evaluate Environmental Conditions and Usage
The conditions in which you use your boat can also affect the size of the battery you need. For example, if you often boat in hot weather or rough waters, you might need a more robust battery.
Set Budget and Price Expectations
Your budget can also influence your choice of battery size. Larger, more advanced batteries tend to be more expensive than smaller, simpler ones.
Review Manufacturer Recommendations and Warranties
Always check the manufacturer's recommendations for your specific boat model and consider the warranties offered on different batteries.
Assess Maintenance Requirements
Some batteries require more maintenance than others. If you're not keen on regular battery check-ups, consider a maintenance-free option like an AGM or gel cell battery.
Measure Space and Installation Considerations
The size and layout of your boat can limit what size of battery you can install. Make sure to measure your available space before making a decision.
Check Availability and Local Regulations
Finally, consider what types of batteries are available in your area and if there are any local regulations about marine battery disposal or recycling.
How to Maintain Marine Battery for Optimal Performance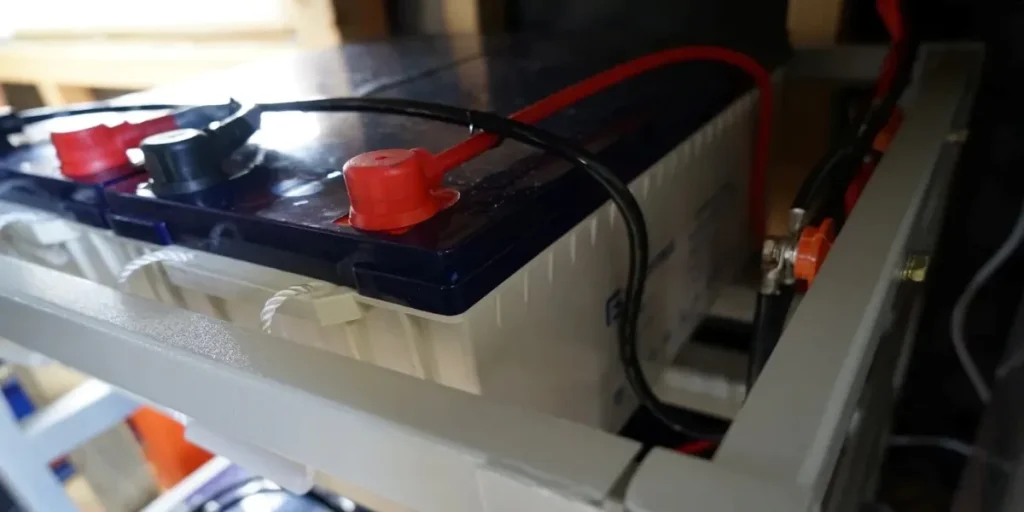 Implement Regular Inspection and Cleaning
Just like you would check your boat before setting sail, it's important to regularly inspect your marine battery. Look for any signs of damage or wear and tear.
Also, keep the battery clean. Dirt and corrosion can reduce its performance. For example, you can use a soft brush and a mixture of baking soda and water to clean the battery terminals.
Ensure Proper Charging and Discharging
Batteries are like athletes – they need to exercise to stay in good shape. Regularly charging and discharging your battery can help it perform better and last longer.
But remember, don't overdo it! Overcharging or discharging your battery too much can damage it. It's like running a marathon without any training – it's just not good for you!
Maintain Adequate Storage Conditions
Finally, think about where you store your battery when it's not in use. It should be in a cool, dry place away from direct sunlight.
Also, make sure it's fully charged before storing it. This is like putting your boat in a safe harbor when there's a storm coming – it helps protect it from damage.
FAQs
Can I use a regular automotive battery for my boat?
No, marine batteries are designed specifically to handle the unique demands of boat appliances and conditions.
Are AGM batteries maintenance-free?
Yes, AGM (Absorbed Glass Mat) batteries are maintenance-free and do not require topping up with distilled water.
Do Gel Cell batteries work well in high temperatures?
Yes, Gel Cell batteries are suitable for high temperatures and offer reliable performance under such conditions.
Does overcharging damage marine batteries?
Yes, overcharging can significantly damage marine batteries, reducing their efficiency and lifespan.
Do I need to regularly clean the marine battery terminals?
Yes, regular cleaning of marine battery terminals is essential to avoid corrosion and ensure optimal performance.
Conclusion
Choosing the right size marine battery is crucial for your boat's performance. By considering factors like your boat's power needs and the type of battery, you can find the perfect fit for your boat.
Remember to maintain your battery properly for optimal performance!