Knowing what size pressure tank for family of 5 is crucial for maintaining a steady and reliable water supply in your home. It ensures the efficient operation of your water system and can save you from unnecessary energy costs.
However, choosing the wrong size can lead to frequent pump cycles and reduced pump life.
This article will guide you through the process of determining the ideal pressure tank size, and explore various types of pressure tanks suitable for a family of 5. We'll also provide insights into the installation process. Stay tuned!
What Size Pressure Tank Do You Need for a Family of 5?
For a family of 5, a pressure tank size ranging from 36 to 50 gallons is generally recommended to accommodate daily water needs and provide consistent water pressure. The exact size may vary based on factors like water usage patterns and pump capacity.
Tank Size Table
| Tank Size (Gallons) | Suitability for Family of 5 | Additional Notes |
| --- | --- | --- |
| 20-30 | Not Recommended | Insufficient for family needs |
| 30-36 | Minimum Recommended Size | Adequate for low water usage |
| 36-50 | Ideal | Covers most family water needs |
| 50-60 | Above Average Requirements | For high water usage or extra fixtures |
| 60+ | Usually Excessive | Suitable for very high water demand |
Different Types of Pressure Tanks Suitable for a Family of 5
There are several types of pressure tanks that can be suitable for a family of 5. Let's explore some of them:
Diaphragm Tanks
Diaphragm tanks are a popular choice for many households. They work by using a flexible rubber diaphragm to separate the water and air within the tank.
This design prevents water from coming into contact with the metal tank, reducing the risk of corrosion and extending the life of the tank.
Diaphragm tanks are suitable for potable water systems, making them a safe choice for your family's drinking water.
Bladder Tanks
Bladder tanks are another excellent option. They function similarly to diaphragm tanks but use a replaceable bladder instead of a diaphragm to separate water and air.
The advantage of this design is that you can replace the bladder if it gets damaged, saving you the cost of replacing the entire tank. Like diaphragm tanks, bladder tanks are also suitable for potable water systems.
Fiberglass Tanks
If you're looking for a lightweight and durable option, consider fiberglass tanks. These tanks are made from composite materials, making them resistant to corrosion.
This resistance makes them an excellent choice for environments with aggressive water or harsh conditions.
Plus, their lightweight design makes installation easier. Fiberglass tanks are also suitable for potable water systems.
Steel Tanks
Steel tanks are a traditional choice, but they've become less popular due to the risk of corrosion.
However, they're still a viable option if you're willing to invest in regular maintenance to ensure the coating remains intact.
Steel tanks can last for many years with proper care, making them a cost-effective choice in the long run.
Calculating the Ideal Pressure Tank Size for a Family of 5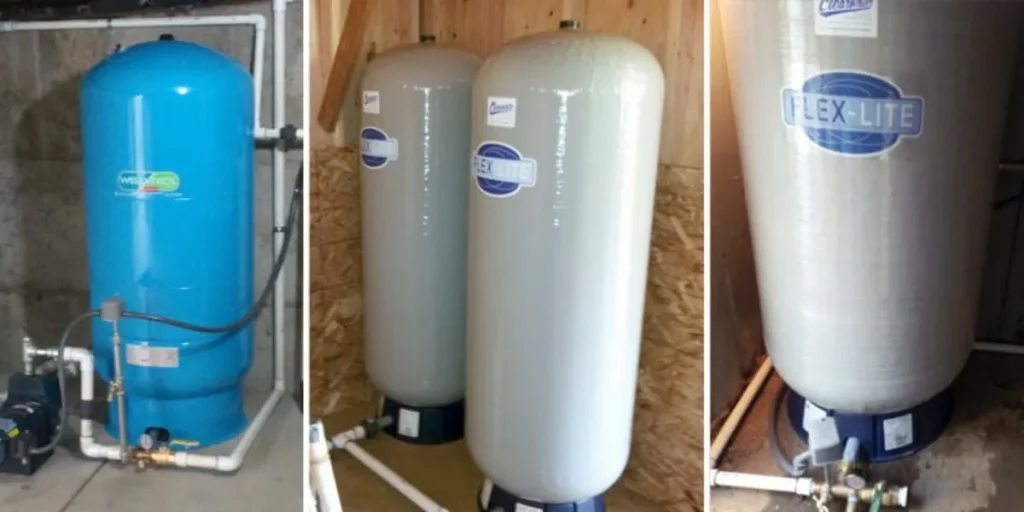 Daily Water Consumption
The first step in calculating the ideal pressure tank size is to estimate your family's daily water consumption. This includes all activities that use water, such as drinking, cooking, bathing, laundry, and even watering plants.
For example, if each person in your family uses an average of 80-100 gallons of water per day, a family of 5 would use between 400-500 gallons per day.
Number of Water Outlets
Next, count the number of water outlets in your home. This includes faucets, showers, toilets, and appliances like washing machines and dishwashers. The more outlets you have, the larger your pressure tank needs to be.
For instance, a home with 10 water outlets will require a larger tank than a home with only 5.
| Number of Water Fixtures | Estimated Daily Water Usage (Gallons) |
| --- | --- |
| 1-5 | 100-200 |
| 6-10 | 200-300 |
| 11-15 | 300-400 |
| 16-20 | 400-500 |
| 21-25 | 500-600 |
Peak Usage Hours
Identify the times when your family uses the most water. These are your peak usage hours. If everyone in your family tends to shower and prepare meals at the same time, you'll need a larger tank to meet this high demand.
For example, if your peak usage hours are in the morning when everyone is getting ready for school or work, you'll need a tank that can handle this increased load.
Backup Supply
Finally, consider how much backup water supply you want in case of power outages or pump failures.
This is especially important if you live in an area prone to storms or power outages. A larger tank can store more water and provide a longer backup supply.
For example, if you want a backup supply that lasts for 24 hours and your family uses 500 gallons of water per day, you'll need a tank that can hold at least 500 gallons.
Factors Influencing Pressure Tank Size Selection for a Family of 5
Pump Capacity
The capacity of your pump is a crucial factor in selecting a pressure tank size. The pump's capacity determines how quickly it can refill the tank.
For example, a pump with a high capacity can refill the tank faster, which may allow you to opt for a smaller tank.
Plumbing System Design
The design and layout of your plumbing system also play a role in the selection process. A well-designed system can distribute water efficiently throughout your home, reducing the need for a larger tank.
For instance, a home with a compact plumbing design may require a smaller tank compared to a home with a more complex plumbing layout.
Water Quality
Water quality is another important consideration. Poor water quality can cause damage to the tank over time, leading to leaks or failures.
For example, water with high mineral content can lead to sediment buildup in the tank, which can reduce its efficiency and lifespan.
Space Considerations
The size and location of your tank should fit comfortably within your available space. If you have limited space, you may need to opt for a smaller tank or consider tanks with a vertical design that takes up less floor space.
Energy Efficiency
A larger tank may be more energy-efficient as it reduces the frequency of pump cycles. Fewer pump cycles mean less energy consumption, which can result in lower energy bills.
However, keep in mind that larger tanks also take up more space and may cost more upfront.
Budget and Cost
Consider both the upfront cost of the tank and ongoing maintenance costs. While larger tanks may be more expensive initially, they could save you money in the long run through reduced energy consumption and fewer pump replacements.
Local Regulations and Zoning Requirements
Lastly, check local regulations regarding pressure tank installations. Some areas may have specific requirements or restrictions on tank size or type.
Always ensure that your chosen pressure tank complies with local regulations to avoid potential fines or penalties.
Signs You May Need to Upgrade Your Pressure Tank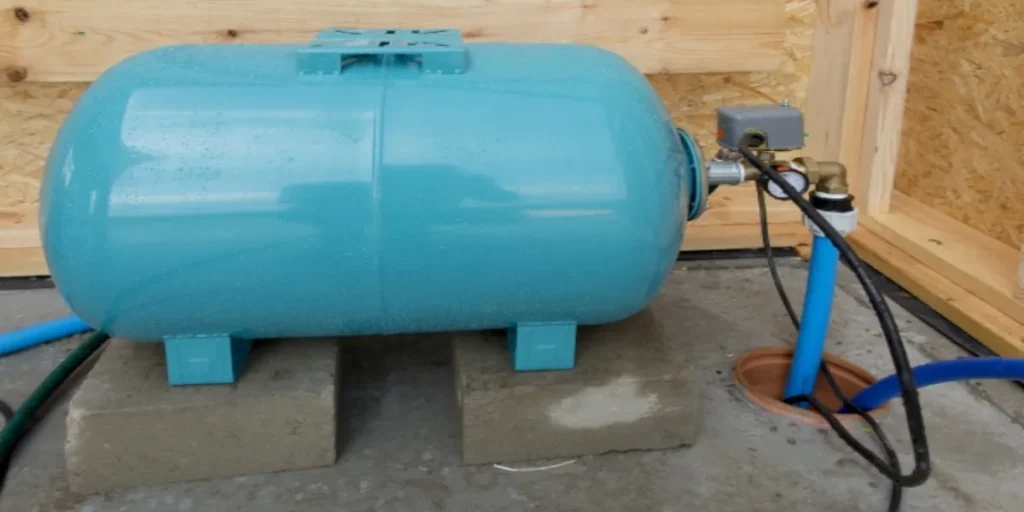 Decreased Water Pressure
One of the first signs that you may need to upgrade your pressure tank is decreased water pressure.
If you notice that your faucets are not providing a steady flow of water, it could be due to an issue with your pressure tank.
This could mean that the tank is not holding enough water or that there's a problem with the pump.
Frequent Pump Cycles
Another sign is frequent pump cycles. If your pump is turning on and off more often than usual, it could indicate that your pressure tank is not holding enough water.
This can put extra strain on the pump, leading to wear and tear over time.
Age of the Tank
The age of your pressure tank can also be a factor. Pressure tanks typically last between 5 to 15 years depending on their quality and maintenance.
If your tank is nearing the end of this range, it might be time to consider an upgrade.
Change in Family Size or Water Usage
Finally, a change in your family size or water usage can also necessitate an upgrade.
If your family has grown or if you're using more water than before, you may need a larger tank to meet your increased water needs.
Tips for Long-Term Maintenance of Your Pressure Tank
Regular Inspections
One of the best ways to maintain your pressure tank is to have it inspected at least once a year by a professional. These inspections can help identify any potential issues before they become serious problems.
For example, a professional might spot signs of corrosion or damage to the tank's interior that you might miss.
Cleanliness and Hygiene
Keeping the area around your pressure tank clean and free from debris is another important maintenance tip. This not only helps to prevent damage to the tank but also ensures that your water supply remains clean and safe.
For instance, regularly sweeping and dusting the area around the tank can help prevent dust and dirt from entering the tank.
Timely Repairs
Finally, if you notice any issues with your pressure tank, get it repaired as soon as possible. This can prevent further damage and extend the life of your tank.
For example, if you notice a drop in water pressure or hear unusual noises from the tank, it's a good idea to call a professional for repairs.
FAQs
Can I use a 20-30 gallon pressure tank for a family of 5?
No, a 20-30 gallon tank is not recommended as it is insufficient for a family of 5's water needs.
Is a steel tank a good option for a family of 5?
Steel tanks are viable but less popular due to the risk of corrosion; they require regular maintenance.
Are fiberglass tanks suitable for drinking water?
Yes, fiberglass tanks are suitable for potable water systems.
Does water quality impact the lifespan of a pressure tank?
Yes, poor water quality can lead to sediment buildup and reduce the efficiency and lifespan of the tank.
Is it necessary to consider pump capacity when selecting a pressure tank?
Yes, the pump's capacity affects how quickly the tank can be refilled and therefore influences tank size.
Conclusion
Choosing the right pressure tank for your family of 5 involves considering factors like daily water consumption, number of water outlets, peak usage hours, and backup supply.
Regular maintenance and timely repairs can extend the lifespan of your pressure tank.
Always consult with a professional and adhere to local regulations when selecting and installing a pressure tank.