Stumped on finding the perfect round rug for your 42-inch table? The right rug can transform a room's ambiance.
You'll find everything from rug dimensions to style considerations in this comprehensive guide. No more second-guessing; find your ideal rug today!
What Size Round Rug for a 42-Inch Table?
For a 42-inch table, the ideal round rug size is 72 inches in diameter. This accounts for enough room to comfortably pull out chairs, adding at least 24 inches to the table's diameter and rounding up to the nearest standard rug size.
Here is a table chart that compares different rug sizes and their suitability for a 42-inch table:
| Rug Diameter | Pros | Cons |
| --- | --- | --- |
| 48 inches | Fits in small spaces | Too small for most chairs |
| 60 inches | Allows some chair movement | May look too small in large rooms |
| 72 inches | Ideal for most situations | May be too large for some spaces |
| 84 inches | Creates a spacious look | May overwhelm the room |
Types of Rugs Suitable for a 42-Inch Table
Here are some of the most common types of rugs and their pros and cons for a 42-inch table:
Wool Rugs
Wool rugs are natural, soft, warm, and durable. They can withstand high traffic and resist stains and fading.
They also come in a variety of colors, patterns, and textures. Wool rugs are ideal for dining rooms, living rooms, and bedrooms.
They can also be expensive, heavy, and prone to shedding. They may also require professional cleaning and care.
Cotton Rugs
Cotton rugs are affordable, lightweight, and easy to clean. They can be machine-washed or spot-cleaned with mild detergent and water.
They also come in many colors and styles, from casual to elegant. Cotton rugs are suitable for kitchens, bathrooms, entryways, and kids' rooms.
They can also be less durable, less plush, and more prone to fading than wool rugs. They may also shrink or stretch over time.
Synthetic Rugs
Synthetic rugs are made from man-made fibers such as nylon, polyester, acrylic, or polypropylene.
They are inexpensive, stain-resistant, fade-resistant, and easy to maintain. They also come in a wide range of colors and designs.
Synthetic rugs are good for outdoor use, high-traffic areas, and spill-prone zones. They can also be less soft, less breathable, and less eco-friendly than natural rugs.
They may also emit volatile organic compounds (VOCs) that can affect indoor air quality.
Jute and Sisal Rugs
Jute and sisal rugs are made from natural plant fibers that are woven into coarse textures. They are durable, biodegradable, and low-maintenance.
They also have a natural and rustic look that can add warmth and character to any room. Jute and sisal rugs are great for living rooms, bedrooms, and hallways.
Jute and sisal rugs can also be rough on bare feet, sensitive to moisture and stains, and difficult to clean. They may also shed or fray over time.
Silk Rugs
Silk rugs are made from natural silk fibers that are hand-knotted into fine and intricate patterns. They are luxurious, soft, smooth, and shiny.
They also have a rich color and depth that can enhance any decor. Silk rugs are perfect for adding elegance and sophistication to any room.
They can also be very expensive, delicate, and hard to clean. They may also require professional care and protection from sunlight and insects.
Room Considerations When Choosing a Rug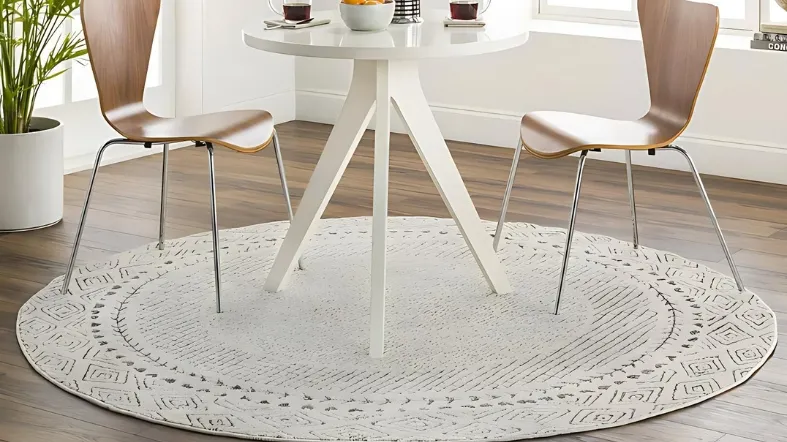 The room where you plan to place your rug can also affect your choice of rug size. Here are some tips on how to choose a rug size for different rooms:
Dining Room:
A dining room rug should be large enough to accommodate your table and chairs comfortably.
To make the chairs easy to slide in and out, leave 24 inches of extra space on either side of the table. You should also consider the shape of your table when choosing a rug shape.
A round rug works well with a round table, as it creates a harmonious and balanced look. Rectangular or oval rugs can work with round tables if they cover the entire table and chairs.
Living Room:
Rugs in living rooms should be proportionate to their seating areas and furniture arrangements. You can place your rug in three ways: all furniture legs on the rug, front legs on the rug, or none at all.
All furniture legs on the rug create a cohesive and spacious look but may not fit in some rooms. It defines the seating area and anchors the furniture but leaves some floor space around it.
The rug without legs creates a more casual and flexible look but may look disconnected from the furniture.
When choosing a rug size, take into account the focal point of your room. Whether large or small, rugs can enhance fireplaces, windows, or art.
Outdoor Use:
An outdoor rug can add color, comfort, and style to your patio, deck, or porch. Synthetic fibers or natural fibers treated with special coatings should be used for outdoor rugs.
An outdoor rug should also be easy to clean and dry, as it may get dirty or wet from rain, snow, or spills.
Rugs should be large enough to cover outdoor furniture and create a cozy atmosphere. You can also use multiple rugs to define different zones or functions in your outdoor area.
Factors Affecting Rug Size Choice for a 42-Inch Table
Your 42-inch table's dimensions are not the only thing to consider when choosing a rug size. There are other factors that can influence your decision, such as:
Shape of the Table:
The shape of your table can affect how much space you need around it for the chairs and movement. Since round tables have no corners or edges, they can fit more people in less space.
A round table can also create a more intimate and conversational atmosphere than a linear table. There is too much empty space on the sides of a round table in narrow or rectangular rooms.
Space Constraints:
The size of your room and the amount of floor space you have available can limit your choice of rug size.
Small rooms or rooms with a lot of furniture may require a smaller rug to fit the space. A larger rug will fill up a large room or an open floor plan and create a feeling of warmth and coziness.
Purpose and Functionality:
The purpose and functionality of your rug can also affect your choice of rug size.
A rug designed primarily for comfort and warmth may be larger and provide more cushioning.
Your rug should be smaller if you use it mostly for decoration and style. This will allow you to show off your floor and add some contrast.
Proximity to Other Furniture:
Choosing a rug size can also be influenced by your table and chairs' proximity to other furniture.
You can choose a rug that is smaller than your table and chairs if there is other furniture nearby.
Choose a rug that connects your table and chairs if there is no other furniture near them.
Style and Aesthetics:
Your room's style and aesthetic can also influence rug size. Choose a smaller rug if your room has a modern or minimalist style.
The texture and pattern of a larger rug add richness to your room and create some negative space.
Budget Constraints:
The budget constraints of your project can also affect your choice of rug size. A larger rug requires more material and labor to produce, so it is generally more expensive.
It is not always the case, since rug prices can also vary based on their type, quality, design, and origin. You should always compare different options and look for deals before making your final decision.
How to Measure for the Perfect Rug Size?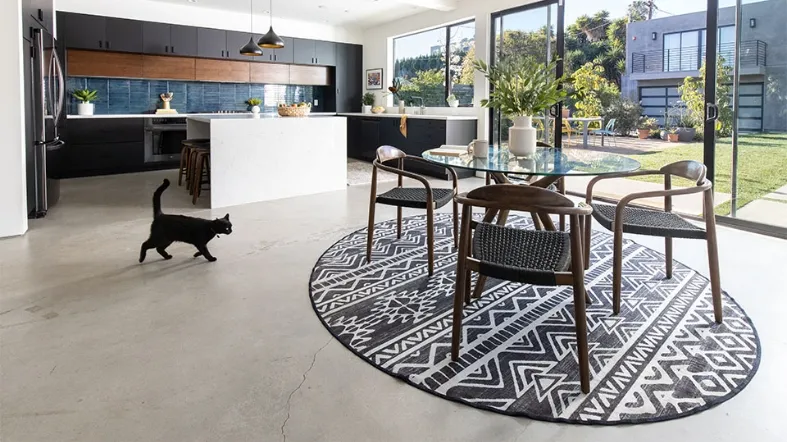 Measuring for the perfect rug size is not difficult if you follow some simple steps:
Use Measuring Tape:
The easiest way to measure for the perfect rug size is to use measuring tape. Measure the diameter and length of your table and your room with a measuring tape.
Measure the distance between your table and other furniture or walls in your room with a measuring tape.
It will help you determine how large or small your rug should be based on the available space.
Use Software or Apps for Planning:
Software or apps can also help you visualize rug placement and determine the perfect rug size.
There are many online tools and mobile apps that you can use for this purpose. Add furniture, accessories, and rugs of different shapes, sizes, and colors to your floor plan.
You can also see how your rug will look in 3D or in real time using augmented reality.
Use Expert Consultation:
A rug specialist or interior designer can help you measure the perfect rug. You can find such experts online or in local stores that sell rugs.
Size can be influenced by your 42-inch table's dimensions, furniture arrangement, and budget. They can also help you find the right type, quality, and design of rug that suits your needs and tastes.
FAQs on the right Size Round Rug For 42 Inch Table
Is a 4-foot round rug too small for a 42-inch table?
Yes, a 4-foot round rug leaves under 12 inches of floor space, and chair legs may sit atop the rug edge.
Can I use a 7-foot round rug with a 42-inch dining table?
A 7-foot round rug (84 inches) will work but provides very ample surrounding floor space of 30-36 inches.
Should the entire table fit on top of the rug?
No, around 18-24 inches of bare floor space should surround the table legs. The table can overhang the rug.
What size should I use in a small dining nook?
For tight spaces under 8 x 8 feet, a 4-foot round rug can work, though chair legs may still sit on the edges.
Is a rug pad recommended under dining rugs?
Yes, a non-slip pad prevents wrinkling and slipping beneath shifting chair legs and heavy table use.
Can I layer rugs under the dining table?
Layering two rugs of differing sizes and textures can add visual interest in a dining setting.
Final thoughts
Choosing the right rug size for your 42-inch table transforms your space. Balance, aesthetics, and practicality come into play.
With this guide, you're armed with knowledge. Dive into decor adventures and make your space truly shine. Remember, every detail counts, and you've got this!