Deciding on the perfect rug size for your entryway? It's a common conundrum. Your entryway sets the tone for your home, so making it welcoming is key.
With our expert-backed recommendations, navigate the maze of sizes and styles. Transform your entryway from drab to fab in no time.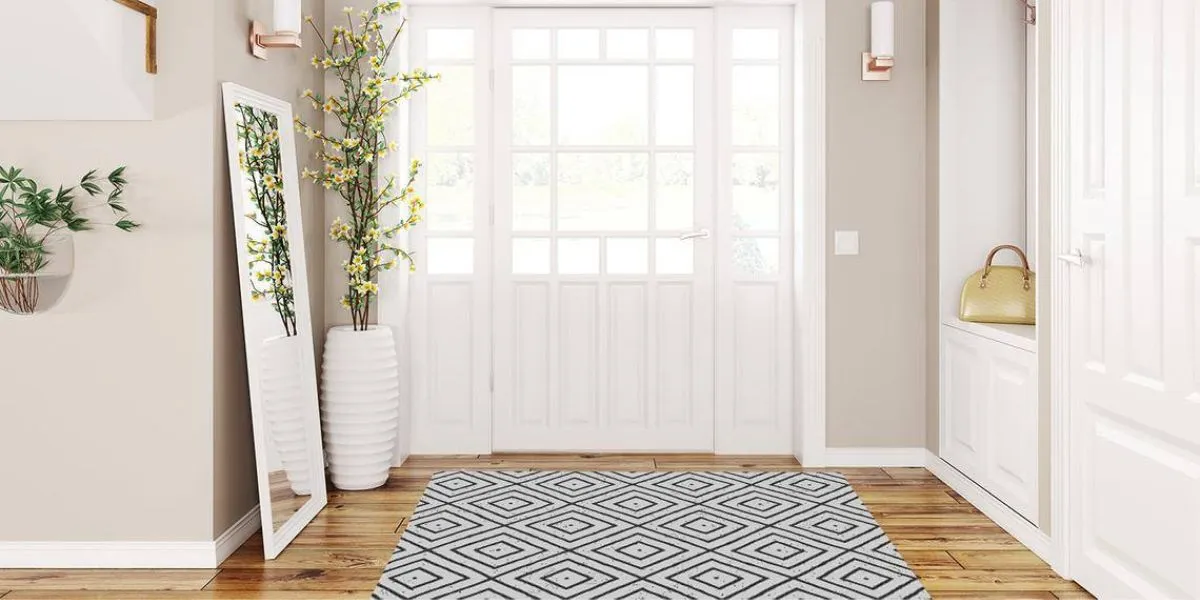 What Size Rug for an Entryway?
For a small entryway less than 5 feet wide, a 2 by 3-foot rug is recommended. For a medium-sized entryway measuring between 5 to 8 feet in width, a 4 by 6-foot rug is ideal. In large entryways, wider than 8 feet, a 6 by 9-foot rug works best.
The following table charts describe the recommended rug sizes for different entryways:
| Entryway Size | Rug Size |
| --- | --- |
| Small | 2'x3' |
| Medium | 4'x6' |
| Large | 6'x9' |
Types of Rugs Suitable for an Entryway
Here are some of the most common types of rugs that you can use for your entryway:
Natural Fiber Rugs
In addition to being eco-friendly, durable, and affordable, natural fiber rugs have a rustic and natural look.
It will complement any decor style. These rugs are made from jute, sisal, seagrass, hemp, and bamboo.
The rugs catch dirt and moisture from shoes and boots, but they can stain or fade easily, making them rough and scratchy for bare feet.
Synthetic Rugs
Synthetic rugs are made from man-made materials such as nylon, polyester, polypropylene, or acrylic. These rugs are soft, smooth, and comfortable on bare feet.
They also come in a variety of colors, patterns, and styles that can match any decor theme. Synthetic rugs are stain-resistant, water-resistant, and easy to clean.
They can also be less durable and more prone to shedding or pilling than natural fiber rugs.
Wool Rugs
Sheep or alpaca wool is used to make wool rugs, and they are warm, cozy, and luxurious on bare feet.
They also have an elegant, rich look that compliments any décor style. Wool rugs are naturally stain-resistant, durable, and resilient.
They can also insulate your floor from cold or heat. If not properly maintained, they can also attract dust mites or moths.
Cotton Rugs
Plant-based cotton rugs are lightweight, breathable, and soft to the touch. A cotton rug has a casual and relaxed feel that complements any decor style.
It is inexpensive, versatile, and easy to clean. You can even wash them in your washing machine if they are small enough.
They can be less durable and more prone to fading or shrinking.
Indoor-Outdoor Rugs
Outdoor indoor rugs are made from synthetic materials specifically designed to withstand outside conditions.
They are durable, weather-resistant, and easy to clean. The indoor-outdoor rug is ideal for entryways exposed to rain, snow, or sun.
It can also be less comfortable and less attractive than other types of rugs.
Importance of Rug Proportions in Entryways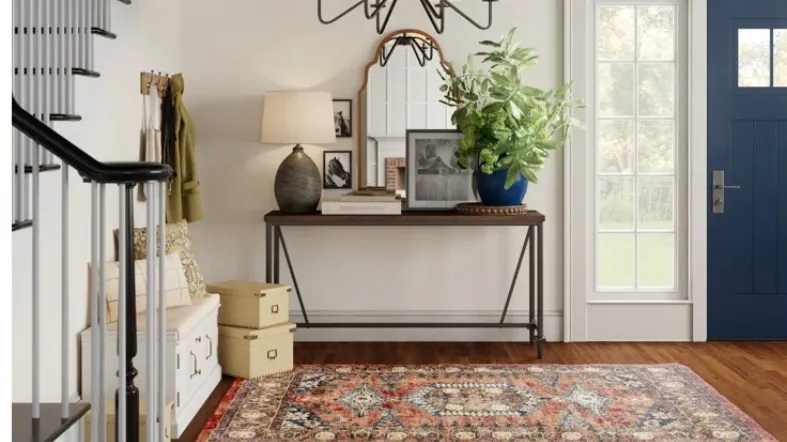 The following are some benefits of choosing a rug size that is proportional to your entryway:
Enhancing Aesthetics
You can enhance the beauty and harmony of your space with a rug that is proportional to it.
For example, a large rug in a small entryway can make it look cramped and cluttered. You do not want your entryway to look unbalanced and awkward with a rug that's too narrow or wide.
Providing Comfort
Warm your feet, reduce noise, and reduce echo with rugs proportionate to your entryway. The hard floor can be cold under rugs that are too small.
Rugs that are too large can make your door inoperable or make it a tripping hazard.
Functional Purposes
The right rug will protect your floors, catch dirt and moisture, and define your space. Rugs that are too large for your entryway can hide floor vents, outlets, or switches.
Small rugs may not cover high-traffic areas or places where you take off your shoes.
Room Size Consideration
The size of your entryway is one of the main factors that determine the size of your rug.
Generally, you want your rug to match your room's shape and leave some floor space around it. Here are some tips on how to choose a rug size based on your room size:
Small Entryway
Choose a rug that measures 2′ x 3′ or 3′ x 5′ if your entryway measures less than 50 square feet.
This will create a cozy and welcoming feel without making the space look cramped or cluttered. You can place the rug in front of the door, under a console table, or in front of a bench or chair.
Medium Entryway
Choose a medium rug that measures 4' x 6' or 5' x 8' if your entryway measures 50 to 100 square feet.
This will create a balanced and proportional look without leaving too much or too little floor space.
You can place the rug in the center of the room, under a round table, or along a wall.
Large Entryway
You should choose a large rug that measures 6′ x 9′ or 8′ x 10′ if your entryway is more than 100 square feet.
This will create a grand and impressive look without covering the entire floor. You can place the rug under a large table, under a seating area, or across the room.
Hallway Width
The width of your hallway is another factor that determines the size of your rug. Runner rugs should fit your hallway's length and width if you have a long and narrow hallway.
Long and narrow, runner rugs typically measure between 6′ and 14′ long and 2′ to 3′ wide.
You can add style, color, and comfort to your hallway with a runner rug. Here are some tips on how to choose a runner rug size based on your hallway width:
Narrow Hallway
If your hallway is under 3 feet wide, the runner rug should be between 2′ and 2.5′ wide.
Place the runner rug along the center of the hallway, leaving about 6 inches of space from the wall.
Medium Hallway
If your hallway measures 3-4 feet wide, choose a runner rug that measures 2.5′-3′ wide to create a frame effect.
Place it in the center of the hall, leaving 12 inches between it and the wall.
Wide Hallway
The width of a runner rug should be between 3′ and 3.5′ if you have a hallway over 4 feet wide.
A runner rug can be placed along one wall of the hallway, leaving about 18 inches between them.
What are the best ways to measure your entryway to fit a rug?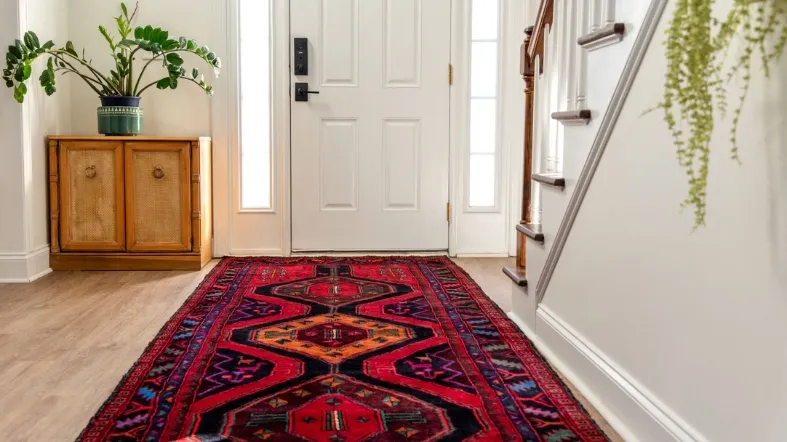 To measure your entryway for a rug, you will need a measuring tape, a pen, and paper. Here are the steps to follow:
Step 1: Measure the Entryway
Use the measuring tape to measure the length and width of your entryway at its widest points. Write down the measurements on the paper.
Step 2: Define the Purpose
Decide what purpose you want the rug to serve in your entryway.
Whether it covers the whole floor space or just part, whether it defines a specific area or blends in with the rest of the room.
This will help you determine how much floor space you want to leave around the rug.
Step 3: Consider Door Clearance
Consider how much clearance you need for the door to open and close without getting stuck on the rug.
You want to choose a rug size that does not block or interfere with the door movement.
It is a good rule of thumb to leave 18 inches of flooring space between the door and the rug.
Step 4: Account for Furniture
Benches, consoles, coat racks, and plants in or near your entryway should be considered.
You want to choose a rug size that does not overlap or clash with these items. Leaving 12 inches of floor space between furniture and the rug edge is a good rule of thumb.
Factors to Consider When Selecting Rug Size for an Entryway
The size of your entryway is only one factor to consider when choosing a rug size. These factors include:
Foot Traffic
Rugs need to be cleaned and replaced based on foot traffic in your entryway. Pick a rug size that can handle the wear and tear of your entryway.
Make sure the rug covers the main walkway. In addition to durability and stain resistance, choose a rug that is easy to clean and stain resistant.
Material and Durability
You should choose a rug material based on your climate, lifestyle, and preferences. Wool or synthetic rugs are good options if you live in a cold or humid climate.
Natural fiber or cotton rugs are washable and eco-friendly if you have pets or children.
Weather Conditions
In your entryway, weather conditions can affect how your rug performs and is maintained.
If your entryway gets a lot of rain, snow, or sunlight, consider an indoor-outdoor rug. A dark-colored or patterned rug hides stains in dusty or dirty entranceways.
Cleaning and Maintenance
Rug cleaning and maintenance affect how your entryway looks and smells.
If you have a busy schedule or a large family, choose a rug that can be machine washed or spot cleaned.
If you suffer from allergies, a wool rug or natural fiber rug might be a good choice.
Design and Color
A rug's size and style can enhance and match your entryway decor. Choose a rug that complements your space and reflects your personality.
A bright or light-colored rug can brighten up a small or dark entryway. For large or plain entryways, you might like bold colors or patterns.
Budget Constraints
Rugs can vary in size and quality depending on your budget. If your budget is tight, you can cover your entryway essentials with a small or medium-sized rug.
Synthetic or cotton rugs are inexpensive and durable. A large or custom-sized rug can fill your entire entryway floor space if you have a flexible budget.
You might also want to choose a natural fiber or wool rug that is luxurious and long-lasting.
Local Shopping Options and Availability
Rug availability and local shopping options can affect how easy it is to find and buy them. Various sizes, materials, and styles of rugs are available in urban areas.
Compare prices and quality before making a purchase. Buying rugs of a particular size, material, or style may be tough in rural areas.
You might have to order online or travel far to find the right rug for your entryway.
Interior Design Style
The interior design style that you have can affect how well your rug blends in with your entryway decor.
You want to choose a rug size and style that matches the overall theme and mood of your space.
Choose a rug with clean lines and neutral colors if you have a modern or minimalist design style. The ornate or floral rug may work well with a traditional or rustic design style.
Family Needs (pets, kids, etc.)
Your family needs can affect how comfortable and safe your rug is. Choose a rug size and material that meets your pets, kids, and other family members.
A washable cotton or natural fiber rug may be necessary if your pet sheds hair. If you have elderly or disabled family members, consider a wool or synthetic rug that is slip-resistant.
FAQs on What Size Rug For Entryway
Should smaller entry rugs be placed under front doors or away from them?
Place the front legs of the rug about 18 inches away from the door to allow it to open without catching.
Do entryway rugs need a non-slip pad?
Yes, a non-slip rug pad prevents slipping and keeps the rug anchored firmly in place in high traffic areas.
Is low or high pile best for entryway rugs?
For entryways, a very low profile or flatwoven rug avoids tripping and accommodates frequent foot traffic.
How much bare floor should surround an entry rug?
Plan for 12-18 inches of exposed flooring around the rug to accommodate door swings and furniture legs.
Conclusion
Choosing the right rug size for your entryway can make all the difference. It can also affect how comfortable and functional your entryway is for you and your family.
It depends on the size of your entryway, the rug's material, design, and color. Measure your entryway and take into account any furniture or objects in or near it.
This guide will help you find a rug that fits your entryway perfectly and enhances its beauty.