Just like humans need space to live and grow, goldfish also need adequate space for their growth and well-being. The size of the tank in which a goldfish lives plays a crucial role in its health and longevity.
So if you don't know what size tank does goldfish need and choose the wrong size, it can lead to health problems and a shorter lifespan.
In this blog, we'll explore the importance of tank size, the potential consequences of getting it wrong, and how to determine the ideal size for different types of goldfish. Stay tuned!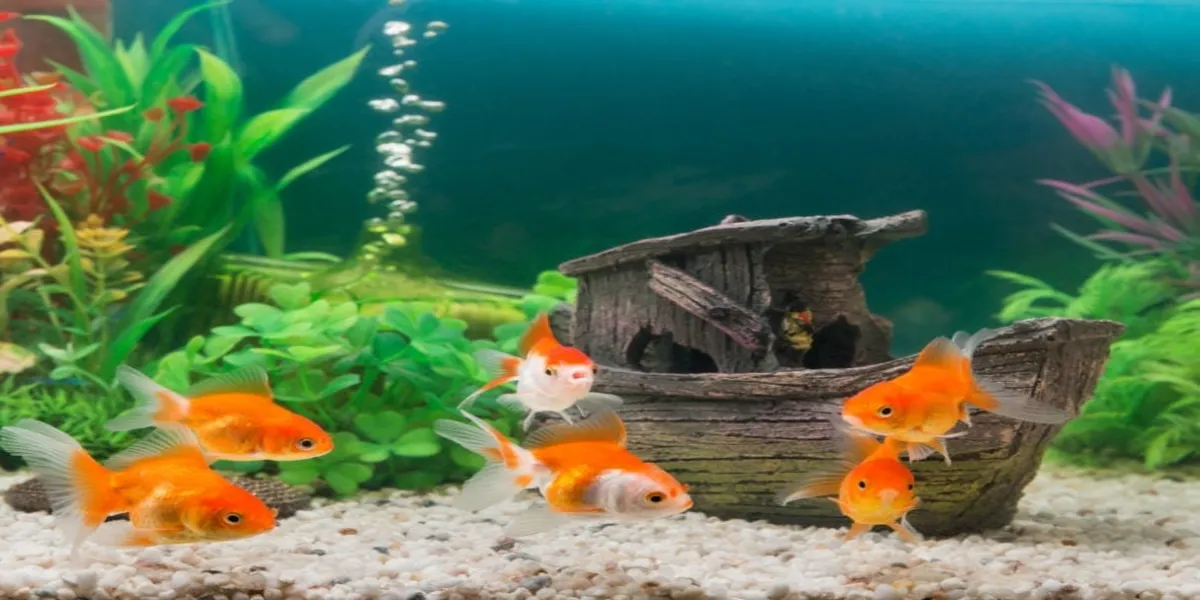 What Size Tank Does a Goldfish Need?
For a single goldfish, a minimum tank size of 20-30 gallons is recommended to ensure adequate space for swimming and proper water quality. If you plan to add more goldfish, increase the tank size by 10-20 gallons per additional fish for optimal health and growth.
Types of Goldfish and Their Tank Size Needs
| Type of Goldfish | Minimum Tank Size (Gallons) | Notes |
| --- | --- | --- |
| Common Goldfish | 30-40 | Preferably kept in ponds; very active swimmers |
| Comet Goldfish | 30-40 | Similar care to Common Goldfish |
| Fantail Goldfish | 20-30 | Slower swimmer; less space needed |
| Oranda Goldfish | 20-30 | Require good filtration due to wens on heads |
| Black Moor Goldfish | 20-30 | Require well-filtered, stable environments |
| Ranchu Goldfish | 20-30 | Need stable water conditions and good filtration |
Why Tank Size Matters for Goldfish Health?
Health and Longevity
The health and longevity of a goldfish are directly linked to the size of its tank. A spacious tank allows goldfish to swim freely, which is vital for their physical health. Just like we need room to move and exercise, so do goldfish!
Room for Swimming
Goldfish are not just static decorations; they are active swimmers. A larger tank gives them the necessary space to swim, which keeps them fit and healthy.
Imagine trying to run in a small room; it's the same for goldfish in a small tank!
Impact on Growth
The size of the tank has a significant impact on the growth of your goldfish. In a small tank, goldfish can become stunted, which means they stop growing even though they are not fully grown.
It's like trying to grow a big plant in a small pot!
Water Quality
A larger tank helps maintain better water quality. It dilutes toxins and wastes more effectively, creating a healthier environment for your goldfish.
Think of it as living in a clean, spacious house versus a small, dirty room. Which would you prefer? Your goldfish feel the same way about their tank!
Goldfish Varieties and Their Ideal Living Conditions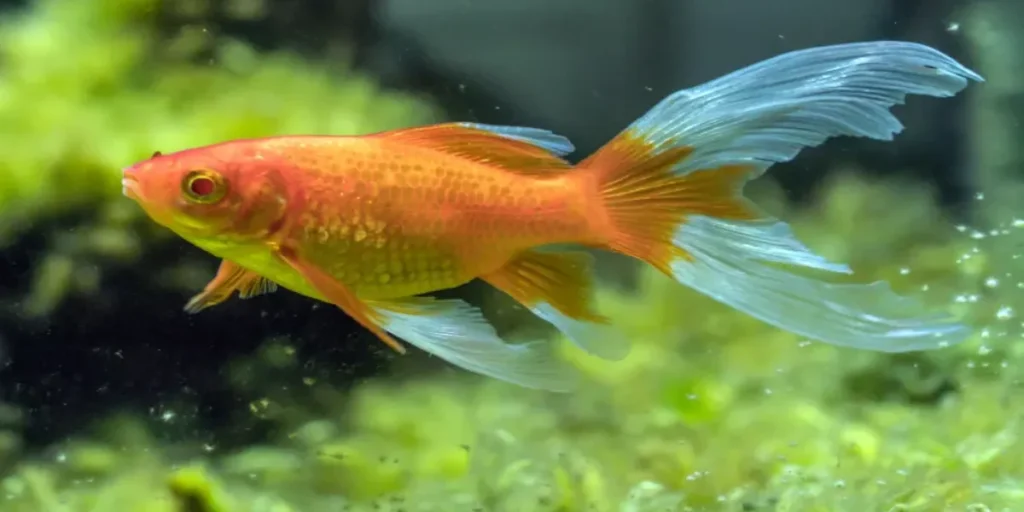 Common Goldfish
Common goldfish are known for their hardiness and adaptability. They can thrive in various conditions, but they still need ample space to swim and grow.
For these active swimmers, a tank size of at least 30 gallons is recommended.
Comet Goldfish
Comet goldfish are notable for their speed and agility in the water. They grow quite large and are vigorous swimmers, requiring a spacious environment. A minimum tank size of 50 gallons is ideal for them.
Fantail Goldfish
Fantail goldfish are smaller than some other types but they still love to swim around. To ensure they have enough room for swimming and exploring, a tank size of at least 20 gallons is recommended.
Oranda Goldfish
Oranda goldfish are a type of fancy goldfish known for their distinctive "brain-like" head growth.
They require high-quality water conditions to stay healthy. A minimum tank size of 20 gallons is recommended for these unique fish.
Black Moor Goldfish
Black Moor goldfish are easily recognizable by their telescopic eyes and deep black color.
They have poor eyesight, so it's important to keep them in a tank without sharp objects that could harm them. A minimum tank size of 20 gallons is recommended.
Ranchu Goldfish
Ranchu goldfish, another type of fancy goldfish, are known for their lack of dorsal fin and round body shape.
Like the Oranda, they require high-quality water conditions. A minimum tank size of 20 gallons is recommended for these charming fish.
How to Calculate the Ideal Tank Size for Your Goldfish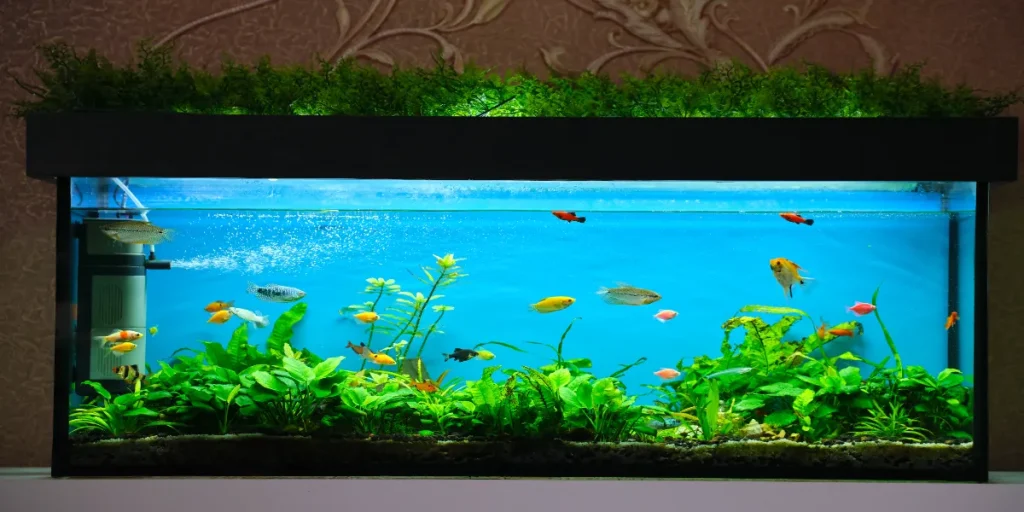 Measure Your Goldfish's Length
First, you'll need to find out how big your goldfish is from its nose to the end of its tail fin. Use a soft measuring tape to measure it in inches. Why does size matter?
Well, the bigger the fish, the more space it needs to swim and be happy. If your goldfish is 3 inches long, take note of that. This is your starting point for finding the right tank size.
Consider the Tank Shape
Tank shape plays a big role in your fish's comfort. Go for a rectangular shape rather than a tall, narrow one. Rectangular tanks give more surface area for oxygen exchange, helping your fish breathe easier.
Avoid picking a tank that's shaped like a tall vase. Choose one that's more like a wide box.
The One-Inch-Per-Gallon Rule
This is a popular rule in fishkeeping circles. It means for every inch of fish, you need one gallon of water. Do the math! Multiply your goldfish's length by 1 gallon to get the minimum tank size.
If your goldfish is 3 inches long, you'll need at least a 3-gallon tank. But remember, bigger is usually better.
Calculate Space for Multiple Fish
Have more than one goldfish? Calculate the space needed for each and add it all up. Don't cram them in a small tank. They need room to swim freely.
If you have two 3-inch goldfish, aim for a tank that holds at least 6 gallons of water.
Space for Filter and Plants
A good filter helps clean the water, but it also takes up space. Also, adding plants is great for oxygen and hiding spots but reduces swimming areas.
If you choose a 6-gallon tank but add a big filter and plants, you may actually need an 8 or 10-gallon tank to give your fish enough room.
Think Ahead for Fish Growth
Goldfish grow fast, especially if well-fed and in a clean tank. Always buy a tank larger than your immediate needs to allow space for growth.
Even if your goldfish are small now, think about a year from now. They could be twice as big, so plan ahead!
Verify Tank Size Calculations
Before you buy that tank, double-check your calculations. It's always good to be extra sure.
If you thought you needed a 6-gallon tank, go over your math one more time. If everything checks out, you're good to go!
Maintain Safe Water Conditions
After setting up the tank, use water testing kits to check the pH, ammonia, nitrites, and nitrates. Make sure they are in safe levels for your goldfish.
If your water test shows high ammonia levels, you may need to do a water change or add a better filter.
Factors Influencing the Choice of Tank Size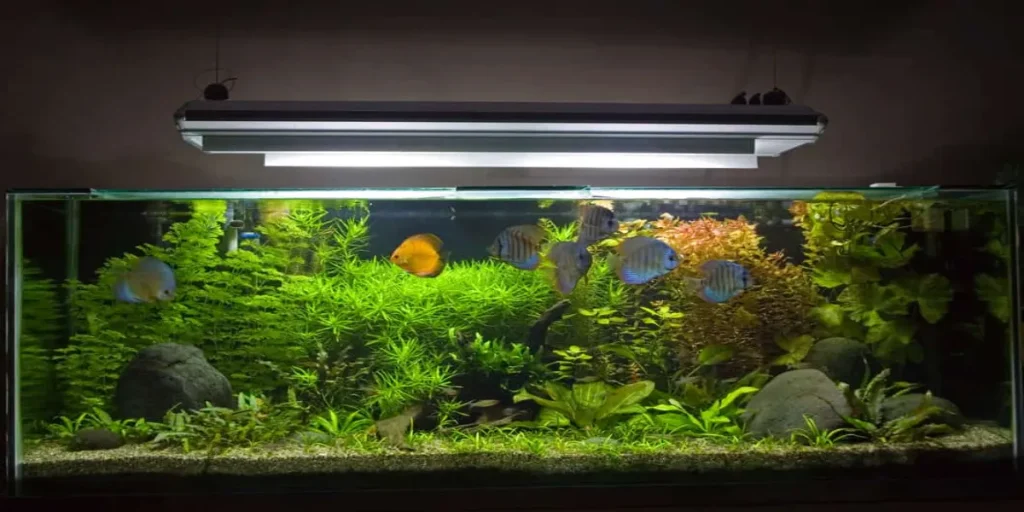 Number of Goldfish
The number of goldfish you plan to keep plays a big role in the tank size. More fish need more space. If you have three goldfish, a 60-gallon tank is a good start.
Filtration System
The filtration system is crucial for maintaining water quality. Larger tanks need powerful filters to clean the water effectively. For example, a 50-gallon tank might need a filter rated for 70 gallons.
Additional Tank Decorations
Tank decorations like plants and caves can take up space, reducing swimming room for your fish. If your 20-gallon tank has a lot of decorations, it might only have room for one goldfish.
Type of Substrate Used
The type of substrate used can affect water quality. Some substrates can change the pH of the water. For instance, crushed coral substrate can make the water more alkaline.
Aeration and Oxygenation
Aeration and oxygenation are vital for your goldfish's health. Larger tanks may require additional equipment like air stones or bubble walls to ensure proper oxygen levels.
Future Growth of Goldfish
Remember to consider the future growth of your goldfish. Goldfish can grow quite large, so plan for a larger tank than you might initially need. If your goldfish is 2 inches long now, it could grow up to 10 inches in the future.
Common Mistakes to Avoid When Selecting a Goldfish Tank
Choosing Too Small a Tank
One common mistake is choosing too small a tank. This can lead to health problems for your goldfish.
Imagine living in a tiny room; it's not comfortable, right? The same goes for your goldfish. They need space to swim and grow.
Ignoring Filtration Requirements
Another mistake is ignoring filtration requirements. Good filtration is essential for maintaining water quality.
It's like having a good garbage system in your city. Without it, things would get dirty and unhealthy pretty quickly!
Overcrowding the Tank
Overcrowding the tank is another common mistake. Too many fish in one tank can lead to poor water conditions.
It's like having too many people in one room; it gets uncomfortable and stressful.
Skimping on Maintenance Supplies
Finally, skimping on maintenance supplies is a mistake you should avoid. Regular maintenance is key to keeping your fish healthy.
It's like keeping your room clean; if you don't, it becomes a mess! So, invest in good quality cleaning supplies for your tank.
Frequently Asked Questions
Can Goldfish Live in Bowls?
No, bowls are not suitable for goldfish as they do not provide enough space or proper filtration.
How Often Should I Clean My Goldfish Tank?
It's recommended to perform a partial water change once a week.
Is It Better to Have a Taller or Wider Tank?
Wider tanks are generally better as they provide more swimming space.
Can Different Types of Goldfish Share the Same Tank?
Yes, but it's important to ensure all types have similar care requirements.
Conclusion
Choosing the right tank size for your goldfish is crucial for their health and happiness. Remember that each type of goldfish has its own specific needs, and always plan for future growth.
By avoiding common mistakes and understanding the factors that influence tank size, you can create a healthy and enjoyable environment for your goldfish. Happy fish keeping!