What Size Tankless Water Heater To Replace A 40 Gallon?
We may earn affiliate fees for purchases using our links (at no additional cost to you).
Tankless water heaters have become very popular as they can heat a good quantity of water without any tank.
People often ask, "what size tankless water heater to replace a 40-gallon?"
Choosing the right size tankless water heater saves you from saving your money and increasing the effectiveness of the water heater.
In this article, we will answer your question and help you to pick the proper size of your water heater according to your need.
What Size Tankless Water Heater To Replace A 40 Gallon?
Manufacturers of tankless water heaters use GPM specs to decide how big their heaters are.
This is also written in small print about the rise in temperature.
If the temperature of your groundwater is 45 degrees and the rise in temperature is 45 degrees at 3.2 GPM. 
This means that the water coming out of the heater will be 90 degrees Fahrenheit and will flow at a maximum rate of 3.2 Gallons Per Minute.
If a tankless unit heats water at a rate of 3.2 gallons per minute, a 40-gallon tank-type heater will run out of water in just ten minutes.
A 3.2 GPM tankless water heater is the perfect size to replace a 40-gallon. If you want the hot water more quickly, you may use a 4-5 GPM tankless water heater.
How To Determine The Appropriate Size Of a Tankless Water Heater?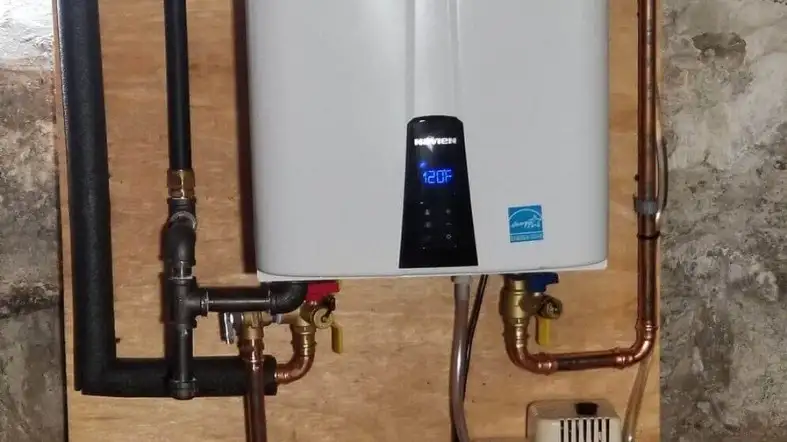 At a given flow rate, tankless water heaters are rated by the maximum temperature rise that is possible.
To properly size a demand water heater, you must ascertain the required flow rate and temperature rise for its application in your home. 
Step 1:
Determine the maximum number and total flow rate of devices you wish to operate. Then, add their flow rates together (gallons per minute).
This is the desired flow rate for the water heater on demand.
Suppose, you intend to run a hot water faucet with a flow rate of 0.75 gallons per minute and a shower head with a flow rate of 2.6 gallons per minute simultaneously. 
The demand water heater would require a minimum flow rate of 3.26 gallons per minute. Install low-flow water fixtures to reduce water flow rates.
Step 2:
Determine the required temperature rise. To calculate the temperature rise, subtract the temperature of the incoming water from the desired output temperature. 
Assume the incoming water temperature is 50°F unless you know otherwise. (By assuming a low temperature, you ensure that your tankless unit is not undersized.)
If you reside in a warm climate, the water temperature is likely to be significantly higher.
Water should be heated to between 105 and 115 degrees Fahrenheit. In this scenario, you would need a demand water heater with a 55° temperature rise.
Step 3:
A typical shower will be between 104 and 106 degrees Fahrenheit and use 2.6 gallons of water.
Assuming your incoming water temperature is 40 degrees Fahrenheit and you want to produce enough hot water to run two showers simultaneously, what temperature rise is required?
You must increase the incoming water temperature from 40 to 105 degrees. You must be able to heat a minimum of 5,2 gallons of water.
Therefore, you will need a tankless water heater capable of producing a minimum 60-degree temperature rise at 5.2 gallons per minute.
>> What is the best tankless water heater for 5 people?
Calculating Flow Rates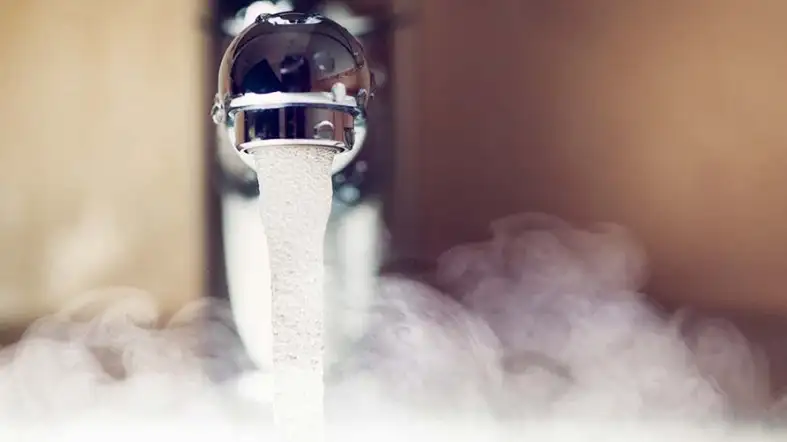 The graph below depicts the water consumption range and average water temperatures for a variety of fixtures. 
We recommend using 2.5 GPM for a shower and 1.0 GPM for a bathroom as a guide for determining your total simultaneous water requirements.
For instance, if you are running two showers simultaneously, you will need 5 gallons per minute of hot water from the tankless water heater.
If you simultaneously ran a shower and a washing machine, you would require 4.5 gallons per minute from the water heater.
You will want to select a unit whose capacity meets or exceeds your simultaneous hot water demand.
Note: tankless water heaters are designed to heat only potable (drinking) water, and the inlet water should not be preheated.
Other Sizing Notes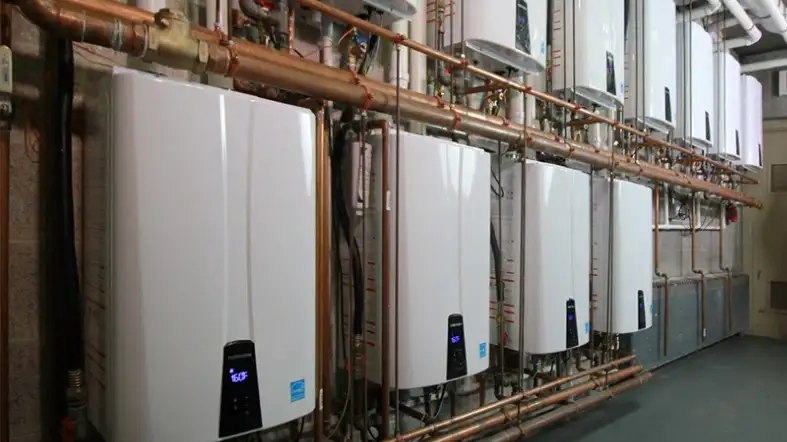 Gas tankless water heaters can produce a greater temperature rise per gallon per minute than electric models. 
The majority of instantaneous water heaters are rated for a range of inlet temperatures.
A flow rate of 5 gallons per minute is required for gas-fired demand water heaters and 2 gallons per minute for electric water heaters to achieve a 70°F water temperature rise. 
Faster flow rates or cooler inlet temperatures can reduce the water temperature at the farthest faucet.
FAQs About Replacing A 40 Gallon Tankless Water Heater
Which Sizes Are More Durable?
The type of tankless water heater is a greater determinant of its durability than its size.
Gas tankless water heaters have a longer lifespan than electric water heaters.
The model and brand of the product play a role in the lifespan, but typically, gas-fired tankless heaters have a lifespan of over twenty years while electric water heaters have a lifespan of 7 to 10 years.
Where Can I Find The Appropriate Model Size?
All model sizes are likely to be available at departmental plumbing stores.
Consider ordering them online for your convenience, but be sure to read the specifications to avoid complications.
What Size Tankless Water Heater I Can Install Myself?
This is not a do-it-yourself project, as a trained installer is required. The installation procedure is extremely complex.
It involves gas connections, electrical circuits, propane units, etc. In certain instances, the store always recommends a technician.
Which Tankless Water Heater Size Is The Simplest To Maintain?
Clearly, smaller model sizes would be easier to maintain than larger model sizes.
Regardless, you will require periodic professional inspections of your tankless water heater.
This includes inspecting for leaks, examining the air vents, and cleaning the burner, among other tasks.
If you live in a region with hard water, you should consider flushing your tankless water heater with vinegar every three weeks to prevent sediments from clogging the heat exchanger, particularly for smaller models.
What Are The Prices For The Various Sizes Of Tankless Water Heaters?
Regarding size and model, the prices of tankless heaters vary.
A small gas-fired model can cost approximately $180, whereas the larger sizes can cost up to $2,000.
A model of average size is also available for $1,000. Electric tankless heaters range in price from $90 to $900.
Conclusion
Now you know the answer to the question, "what size is a tankless water heater to replace 40 gallons?"
After calculating your water flow rate and required temperature rise for normal hot water usage, you must account for periods of peak usage to ensure that your water heater can serve you during both. 
We hope you will find our given information highly helpful for choosing your tankless water heater. Use your water heater with proper maintenance.