Calculating the cost of wood beams is crucial for construction projects.
This wood beam cost calculator provides a formula and factors to consider when estimating expenses, helping you make informed decisions and stay within budget.
Understanding the Wood Beam Cost Formula:
The wood beam cost formula is a simple calculation that helps determine the total cost of a wood beam based on its length and the cost per foot of wood.
By understanding this formula, you can accurately estimate the expenses associated with purchasing wood beams for your project.
Let's break down the formula and go through the variables step by step.
The Wood Beam Cost Formula: WBC = LW * CPF
In this formula:
WBC stands for Wood Beam Cost, which represents the total cost of the wood beam.
LW refers to the Length of the wood beam in feet, indicating how long the beam is.
CPF represents the Cost Per Foot of wood, which is the price you pay for each foot of wood used in the beam.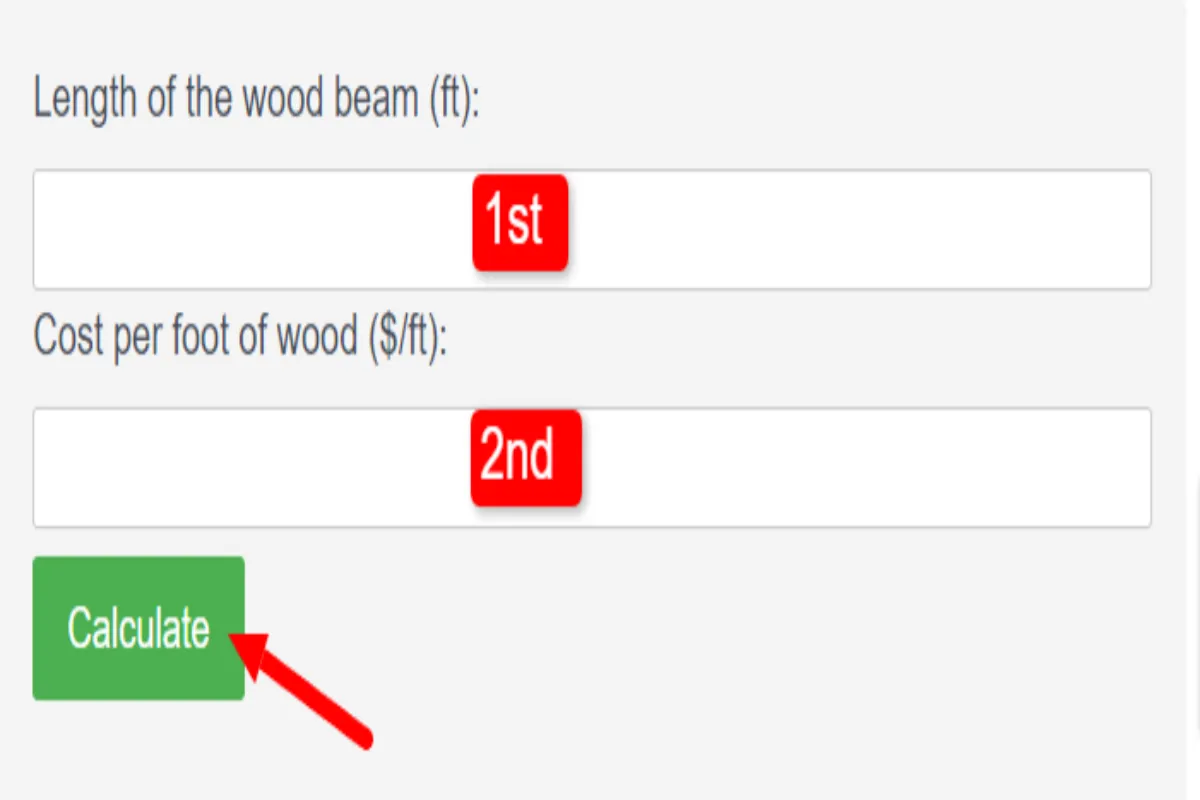 To calculate the wood beam cost, follow these steps:
Step 1: Determine the Length of the Wood Beam (LW)
Measure the length of the wood beam using a tape measure or ruler. Ensure accurate measurements by aligning the measuring tool parallel to the beam's length. Record the measurement in feet.
Step 2: Determine the Cost Per Foot of Wood (CPF)
Research and compare prices of wood in your local market or from suppliers.
Consider factors such as the type of wood, quality, and any additional treatments or finishes required.
Calculate the average cost per foot by dividing the total cost by the total length of the wood.
Step 3: Calculate the Wood Beam Cost (WBC)
Multiply the Length of the wood beam (LW) by the Cost Per Foot of wood (CPF) using the formula WBC = LW * CPF. This will give you the total cost of the wood beam.
Example Calculation:
Let's say you have a wood beam that is 10 feet long (LW) and the cost per foot of wood (CPF) is $5. To calculate the wood beam cost (WBC), use the formula WBC = LW * CPF.
WBC = 10 feet * $5/foot
WBC = $50
In this example, the total cost of the wood beam would be $50.
Factors Affecting Wood Beam Cost
Let's explore the key factors that affect the cost of wood beams:
Type of Wood Used:
The type of wood chosen for the beams has a significant impact on the cost.
Softwood beams, such as pine or spruce, are generally more affordable compared to hardwood beams like oak or mahogany.
Engineered wood beams, which are made by bonding multiple layers of wood together, offer cost-effective alternatives to solid wood beams.
Beam Dimensions and Specifications:
The dimensions and specifications of the wood beams directly affect the cost.
Longer beams generally cost more than shorter ones due to the increased material required.
Additionally, larger beams with greater thickness and width will be more expensive.
It's important to consider the specific dimensions and specifications needed for your project when estimating costs.
Market Prices and Availability:
Market prices for wood can fluctuate based on supply and demand.
Factors such as seasonal variations, regional availability, and market conditions can impact the cost of wood beams.
It's advisable to stay updated on current market prices and be aware of any potential fluctuations that may affect the cost of wood.
Additional Treatments or Finishes:
Certain treatments or finishes applied to wood beams can add to their overall cost.
For example, if the beams require fire-retardant treatments, pressure treatment for outdoor use, or specific finishes for aesthetic purposes, these additional treatments will contribute to the final cost.
Consider any necessary treatments or finishes when estimating the overall cost of wood beams.
Types of Wood Beams and Their Cost Range
Here are the main types of wood beams and their respective cost ranges:
Softwood Beamsv Cost:
Softwood beams are commonly used in construction projects due to their availability and affordability.
They are derived from coniferous trees such as pine, spruce, and fir. Softwood beams offer decent strength and are suitable for many applications.
The cost range for softwood beams varies depending on factors such as the type of softwood used and the beam dimensions. On average, softwood beams can cost between $2 to $8 per linear foot.
However, keep in mind that prices may fluctuate based on market conditions and regional availability.
Hardwood Beams Cost:
Hardwood beams are known for their durability, strength, and aesthetic appeal. They are derived from deciduous trees like oak, walnut, and maple.
Hardwood beams are often used in high-end construction and architectural projects where both functionality and visual appeal are important.
The cost range for hardwood beams is generally higher compared to softwood beams due to their premium qualities. On average, hardwood beams can cost between $10 to $30 per linear foot.
However, certain hardwood species, such as exotic or rare woods, can have significantly higher prices.
Engineered Wood Beams Cost:
Engineered wood beams, also known as composite beams, are manufactured by combining wood fibers or veneers with adhesives and resins.
These beams offer enhanced strength, stability, and dimensional consistency compared to natural wood beams.
They are commonly used in modern construction for their reliability and versatility.
The cost range for engineered wood beams depends on the specific product and brand. On average, engineered wood beams can cost between $5 to $20 per linear foot.
Prices may vary based on the type of engineered wood used, such as laminated veneer lumber (LVL), glulam beams, or parallel strand lumber (PSL).
It's important to note that the cost ranges provided are approximate and can vary based on factors like the beam dimensions, quality, market conditions, and geographical location.
When planning your project, consider your budget and requirements to choose the most suitable wood beam type that meets your needs.
Determining the Length of the Wood Beam
Here is a step-by-step process for determining the length of a wood beam:
1. Measure the span:
Start by measuring the distance between the two points where the wood beam will be supported.
This span measurement will serve as the starting point for determining the required length of the beam.
2. Consider load requirements:
Assess the intended use of the wood beam and the weight it needs to support.
Different applications may have specific load requirements based on the type of structure and its purpose.
These load requirements will influence the length of the beam.
Consult relevant building codes, engineering guidelines, or a structural engineer to determine the appropriate load requirements for your project.
3. Account for overhangs and supports:
Take into account any overhangs or projections that the wood beam needs to cover.
Measure the distance from the support points to the outermost edge of the overhang.
Add this measurement to the span length to determine the total length needed for the beam.
4. Plan for attachment points:
If the wood beam needs to be attached to other structures or components, consider the space required for attachments such as brackets, bolts, or connectors.
Measure the distance needed to accommodate these attachments and add it to the overall measurement.
5. Consider future modifications:
Anticipate any potential future modifications or alterations to the structure where the wood beam will be installed.
If there is a possibility of extending the beam's length in the future, it may be prudent to choose a longer beam initially.
This can save you from the hassle and expense of replacing the beam later on.
6. Seek professional guidance if necessary:
For complex projects or situations involving heavy loads, it is advisable to seek guidance from a structural engineer or an experienced professional.
They can provide expert advice and calculations to ensure the beam's length meets the necessary safety requirements.
Real-World Applications and Considerations
Residential construction projects:
Wood beams find extensive use in residential construction projects, serving as structural elements for floors, ceilings, and roof systems.
These beams provide strength and stability to the overall structure.
When estimating wood beam costs for residential projects, it's important to consider factors such as the required beam dimensions, wood type, and desired finishes.
For instance, in the case of open-concept designs, longer wood beams might be needed to span wider areas, increasing the overall cost.
Additionally, considering the aesthetics, homeowners may opt for specialty finishes, which can impact the cost as well.
Commercial and industrial applications:
Wood beams are also utilized in commercial and industrial settings for various applications. In commercial buildings, they are often used for decorative purposes, creating visually appealing features such as exposed beam ceilings.
When calculating wood beam costs for commercial projects, it's crucial to account for the specific requirements of the space, such as load-bearing capacity, fire safety regulations, and design preferences.
Additionally, industrial applications may involve larger-scale projects, where factors like bulk purchasing, customized specifications, and delivery logistics come into play, affecting the overall cost calculations.
Challenges and potential cost-saving measures:
When working with wood beams, certain challenges may arise that can impact the overall cost.
One common challenge is wood beam sizing and availability. Finding the required dimensions or lengths of beams can sometimes be difficult, especially for non-standard or specialty projects.
This may lead to higher costs due to the need for custom orders or extra processing. However, cost-saving measures can be implemented.
For example, utilizing engineered wood beams instead of traditional solid wood beams can offer cost advantages without compromising structural integrity.
Additionally, purchasing wood beams in bulk or sourcing from local suppliers can often result in cost savings due to economies of scale and reduced transportation costs.
Conclusion:
Accurately estimating the cost of wood beams is essential for budgeting and planning construction projects.
By understanding the wood beam cost formula and considering factors like wood type, dimensions, market prices, and additional treatments, you can make informed decisions and choose the most suitable wood beam option while staying within your budget.