Is your home plagued by flickering lights? But can a bad circuit breaker be the reason behind those light flickers?
In this article, we'll delve into the intriguing world of circuit breakers and flickering lights. No more settling for temporary fixes!
Find out why those flickers occur and how to fix them. Embrace a well-lit, uninterrupted space and put an end to the annoyance.
Can A Bad Circuit Breaker Cause Lights To Flicker?
Yes, a bad circuit breaker can cause lights to flicker. This is because the circuit breaker is responsible for controlling the flow of electricity to the lights, and if it is not functioning properly, it can cause fluctuations in the power supply.
Common Causes of Flickering Lights for Circuit Breakers
Overloaded Circuit
One common cause of flickering lights is an overloaded circuit. Too many appliances or devices connected to a single circuit can exceed its capacity and result in fluctuating power supply. 
To fix this, redistribute the load by unplugging unnecessary devices or consider installing additional circuits.
Loose Electrical Connections
Another culprit behind flickering lights is loose electrical connections. Vibrations or temperature changes can cause wires to become loose, disrupting the flow of electricity. 
Check your circuit breaker panel and outlets for any loose connections. If found, tighten them or seek professional help to ensure secure connections.
Faulty Circuit Breaker
A faulty circuit breaker can also lead to flickering lights. Circuit breakers are designed to trip when there's an electrical overload or short circuit.
If a breaker is old or damaged, it may not function properly, resulting in intermittent power interruptions. In such cases, replace the faulty circuit breaker with a new one.
Voltage Fluctuations
Voltage fluctuations can cause lights to flicker as well. This can happen when there are inconsistencies in the electrical supply from the utility company.
Contact your utility provider to check if there are any issues with the voltage supply in your area.
If the problem persists, consider installing voltage stabilizers or consult an electrician for further assistance.
Aging Wiring
As wiring ages, it can deteriorate and lead to flickering lights. Over time, wires may develop cracks, become frayed, or lose their insulation.
These issues can cause fluctuations in electrical flow and result in flickering lights. 
If you suspect aging wiring as the cause, it's essential to have a professional inspect and replace any faulty or outdated wiring.
Environmental Factors
Environmental factors like power surges, lightning strikes, or nearby construction can also impact the stability of your electrical system, leading to flickering lights. 
While you may not have control over these external factors, installing surge protectors can help mitigate the potential damage caused by power surges.
What Level of Flickering Light Can People See?
A number of factors determine how much flicker a person can perceive of the flicker.
The Frequency of the Flicker
The frequency of the flicker plays a crucial role in determining whether it is visible to the human eye. It refers to the number of times the light source turns on and off per second, measured in hertz (Hz).
For most people, flicker becomes noticeable when it occurs at frequencies between 50 to 60 Hz. This frequency matches the standard alternating current (AC) power used worldwide.
The Intensity of the Light
Apart from frequency, the intensity of the light source also influences the visibility of flickering. The brighter the light, the more noticeable the flicker becomes.
A high-intensity light source can even show minor fluctuations in frequency, making them more visible. Understanding the impact of intensity helps in evaluating flicker concerns in different lighting setups.
Individual's Sensitivity to Flicker
Individuals react differently to flickering light. Individual sensitivity varies. A person with epilepsy or certain neurological disorders may notice flicker at lower frequencies.
Studying and addressing flickering light-related issues should consider individual differences. Lighting environments must be designed to address diverse needs and avoid health risks.
Potential Risks and Hazards of Ignoring Flickering Lights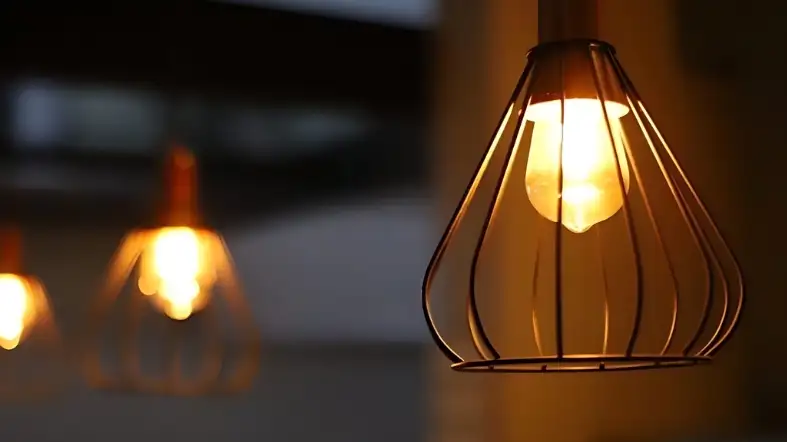 Electrical Fires
Flickering lights can be a sign of loose electrical connections or faulty wiring. If left ignored, these issues can increase the risk of electrical fires.
Fires can cause a lot of damage to your home and put your life in danger.
Electrical Shocks 
Flickering lights can also indicate electrical short circuits. When there's a short circuit, it means that the live and neutral wires are unintentionally connected. 
You could get an electrical shock if you accidentally touch a faulty light fixture or exposed wiring.
Electrical shocks can range from mild to severe and can cause injuries or even death.
Damage to Electrical Appliances
Inconsistent power supply caused by flickering lights can harm your electrical appliances.
Fluctuations in voltage can stress the delicate electronic components inside devices like computers, televisions, or refrigerators. 
This can lead to malfunctions, shorter lifespans, and expensive repairs or replacements.
Eye Strain and Discomfort: 
Continuously being exposed to flickering lights can strain your eyes and make them feel uncomfortable.
Rapid changes in light intensity can give you headaches, make your eyes tired, and make it difficult to focus. 
These symptoms can affect your ability to work or enjoy activities.
Disruption to Daily Activities
Flickering lights can disrupt your daily activities and make your life less enjoyable.
Dim or flickering lights can make it hard to read, study, or do tasks that require concentration. 
It can also create an annoying and distracting environment, making relaxing or having fun difficult.
Steps to Diagnose and Troubleshoot Circuit Breaker-Related Flickering Lights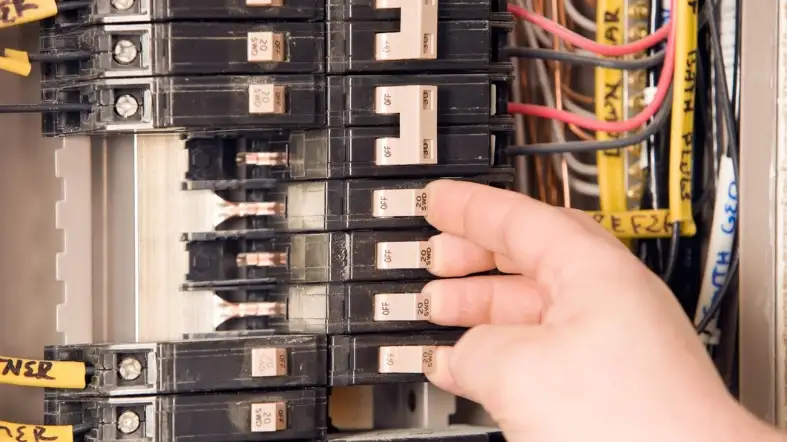 Step 1: Check for Loose Connections
Inspect the circuit breaker panel and outlets for any loose connections. Tighten them using a screwdriver, ensuring secure electrical contact.
Loose connections can cause flickering lights, so this simple fix may solve the issue.
Step 2: Test with Different Light Bulbs
Replace the light bulbs in the flickering fixtures with new ones. Sometimes, faulty bulbs can cause flickering.
If the new bulbs don't flicker, the problem was likely with the old bulbs, and you can replace them throughout the space.
Step 3: Balance the Electrical Load
An overloaded circuit can lead to flickering lights. Identify which outlets and appliances are on the same circuit as the flickering lights.
Try redistributing the load by unplugging or moving some devices to other circuits.
Step 4: Reset the Circuit Breaker
If the flickering persists, locate the circuit breaker corresponding to the affected lights and switch it off, then back on.
This resets the breaker and may resolve any temporary issues.
Step 5: Consider Voltage Fluctuations
Voltage fluctuations can also cause flickering lights. Contact your utility provider to check if there are any voltage irregularities in your area.
If they confirm fluctuations, you may need to install a voltage stabilizer to regulate the power supply.
Maintaining  Circuit Breakers to Prevent Flickering Lights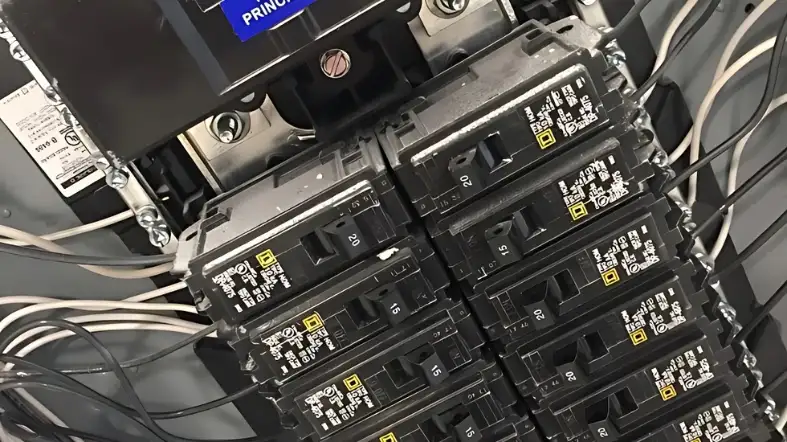 Visual Inspection
I will guide you through the process of maintaining your circuit breakers to prevent flickering lights.
Begin by visually inspecting the breaker panel for any signs of damage or loose connections. 
Look for burnt marks, melted components, or wires that appear loose. If you notice any issues, it's important to address them promptly.
Clean the Breaker Panel
Next, using a soft cloth or brush, gently clean the breaker panel to remove any dust or debris that may have accumulated over time. 
Make sure to turn off the main power supply before cleaning to ensure safety.
A clean panel helps maintain proper electrical contact and reduces the risk of flickering lights.
Test and Reset the Breakers
To ensure the breakers are functioning correctly, you need to test and reset them. Start by switching each breaker off and then back on one at a time. 
This resets the breaker and helps identify any faulty ones that may be causing flickering lights.
If a breaker repeatedly trips or feels hot to the touch, it may need to be replaced.
Check for Overloading
Overloading a circuit can lead to flickering lights. Evaluate the electrical load on each circuit and ensure it is within the recommended capacity. 
Avoid plugging too many high-power devices into a single circuit.
If necessary, redistribute the load by connecting devices to different circuits to maintain a balanced electrical system.
Maintain Proper Ventilation
Circuit breakers generate heat during operation. Ensure that the breaker panel has proper ventilation to dissipate heat effectively. 
Clear any obstructions around the panel and avoid placing objects that restrict airflow. Adequate ventilation helps prevent overheating and potential flickering of lights.
FAQs on the Cause of Lights Flickering for Bad Circuit
How Can I Tell If My Circuit Breaker Is Bad?
Signs of a bad circuit breaker include flickering lights, frequent tripping, buzzing sounds, or a hot breaker panel.
If you notice these signs, it's recommended to consult a professional electrician for proper diagnosis and repair.
Can I Fix A Bad Circuit Breaker Myself?
Working with electrical systems can be dangerous. It's best to leave the repair of a bad circuit breaker to a licensed electrician.
They have the knowledge and expertise to safely handle electrical components and ensure proper repairs.
What Causes A Circuit Breaker To Go Bad?
Circuit breakers can go bad due to factors such as aging, overload, electrical faults, or improper installation.
Wear and tear can affect their functionality, leading to issues like flickering lights.
Can Flickering Lights Be A Temporary Problem?
Electrical surges or weather conditions can cause flickering lights, depending on the cause.
If the flickering persists or worsens, it's important to investigate and address the underlying cause.
What Should I Do If My Lights Are Flickering?
If your lights are flickering, start by checking the light bulbs for loose connections.
If that doesn't solve the problem, consult a professional electrician to diagnose and fix the underlying electrical issue.
Conclusion
A bad circuit breaker can definitely cause lights to flicker, disrupting your daily life.
Flickering lights result from a malfunctioning breaker, which fails to regulate electrical flow effectively.
Regular inspections and prompt replacement of faulty circuit breakers are essential for a smooth and safe electrical system.
Don't let flickering lights be a persistent annoyance – act swiftly and ensure your home's electrical stability.