Are you tired of inadequate lighting when getting ready in front of the mirror? Have you ever wondered, "Should vanity lights be wider than the mirror?"
Well, fret not, as we delve into this crucial aspect of your daily routine. Embrace a radiant, well-lit vanity space in which you will feel confident and energized.
Find out how to achieve the perfect balance between form and function. The right vanity light width impacts your everyday grooming experience, so let's discuss it.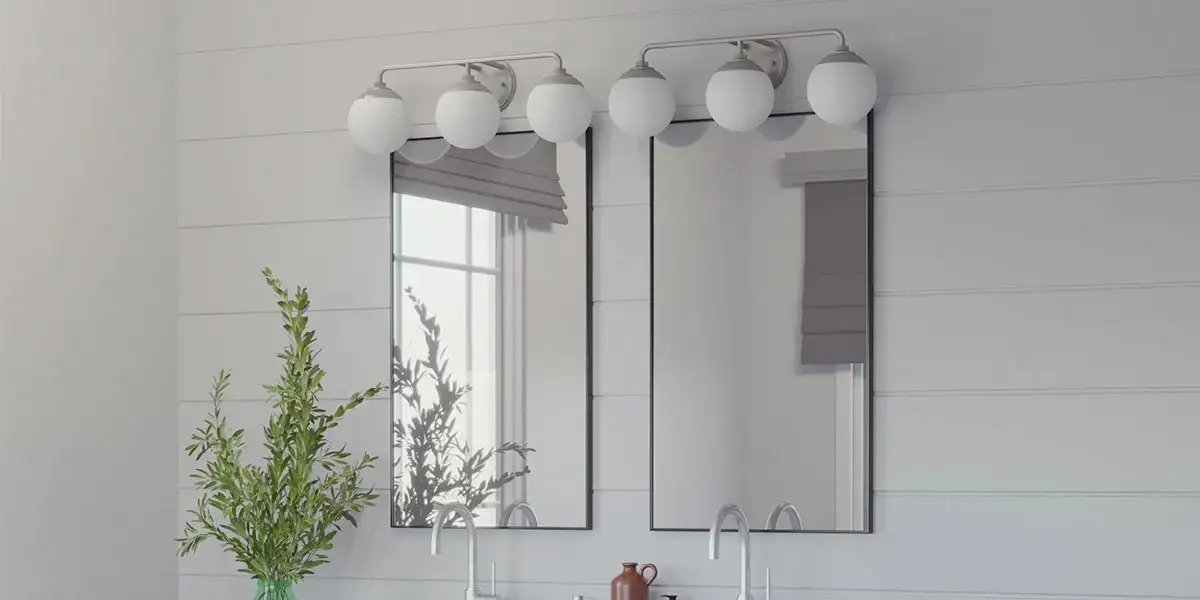 Should Vanity Light Be Wider Than Mirror?
Yes, vanity lights should be wider than the mirror. This ensures even illumination and minimizes shadows, enhancing your grooming experience. A wider light spread creates a balanced and flattering reflection.
The table below shows how much wider a vanity light has to be than a mirror.
| Mirror Width | Ideal Vanity Light Width |
| --- | --- |
| 24 inches | 30 inches |
| 30 inches | 36 inches |
| 36 inches | 42 inches |
| 42 inches | 48 inches |
| 48 inches | 54 inches |
| 60 inches | 66 inches |
| 72 inches | 78 inches |
| 84 inches | 90 inches |
| 96 inches | 102 inches |
How to Measure for a New Vanity Light?
The best way to measure for a new vanity light is to follow the steps below.
Step 1: Measure the Width of Your Mirror
Start by measuring the width of your bathroom mirror to get a good idea of the size of your vanity light.
Measure from one outer edge to the other, making sure to include any decorative frame if present. Note down the measurement in inches.
This step is crucial as it will help you choose the right-sized vanity light that complements your mirror. Provides adequate illumination for your space.
Step 2: Calculate the Ideal Width of the Vanity Light
Next, calculate the ideal width of the vanity light fixture by using a simple formula. Add the width of your mirror to the width of your vanity countertop (if applicable).
Then, divide the total sum by two. The result will give you an approximate measurement for the width of the vanity light that suits your space.
If your mirror is 24 inches wide, and your vanity countertop is 36 inches wide, the total is 60 inches.
Taking this number and dividing it by two gives you 30 inches, so a vanity light around 30 inches wide fits the bill.
Step 3: Measure the Height of Your Mirror
Now, measure the height of your bathroom mirror from the top to the bottom edge. Include any additional trim or molding that may be part of the mirror.
Jot down the measurement in inches. The height is crucial to selecting the appropriate vanity light that covers the entire mirror evenly.
Avoid casting shadows during grooming tasks.
Step 4: Determine the Ideal Height for the Vanity Light
To determine the ideal height for your new vanity light, consider the height of your bathroom ceiling.
As a general rule, leave at least 7 feet of clearance from the floor to the bottom of the vanity light fixture.
If you have a high ceiling, adjust the light height accordingly, but avoid glare by not setting it too low.
Ensure that the vanity light is not installed too high, as it may create unflattering shadows on your face.
Step 5: Account for the Number of Bulbs
Before finalizing your vanity light purchase, consider the number of bulbs the fixture can accommodate.
The more bulbs you use, the better the illumination, but be mindful of wattage and type.
Compared to traditional incandescent bulbs, LED bulbs are energy-efficient and emit less heat. Choose a fixture that can accommodate the number of bulbs required.
Step 6: Choose the Right Style
Consider the style of the vanity light that complements your bathroom's aesthetics. There are many styles to choose from, including modern, traditional, industrial, and vintage.
Consider the existing decor and theme of your bathroom to select a vanity light that blends seamlessly.
Enhances the ambiance of the space. You should not only think about the vanity light as a functional fixture, but also as a design element.
Step 7: Review the Installation Process
Finally, before making a purchase, review the installation process of the vanity light. Ensure you have the necessary tools and follow the manufacturer's instructions carefully.
Consider hiring a professional electrician if you are uncomfortable with electrical work.
You can create a visually appealing and well-lit bathroom by following the correct installation procedure.
What are the different types of vanity light fixtures?
Below are the most common types of vanity light fixtures:
1. Wall Sconces
Wall sconces are a popular choice for vanity lighting, especially in bathrooms with limited space.
These fixtures are mounted directly on the wall and can feature various designs, from modern to traditional.
Sconces provide focused lighting and can be installed on either side of the mirror or as a pair flanking it.
2. Bath Bars
Bath bars are horizontal light fixtures that come in various lengths and feature multiple light bulbs.
Commonly installed above or beside mirrors, they provide even illumination across the width.
A bath bar can be found in a variety of styles and finishes for a variety of bathroom aesthetics.
3. Vertical Fixtures
Vertical vanity light fixtures are designed to be mounted vertically alongside the mirror.
These fixtures are ideal for narrow spaces or when you want more focused lighting on the face.
Vertical fixtures can come with a single light or multiple lights arranged in a column.
4. Ceiling-Mounted Fixtures
Ceiling-mounted vanity light fixtures are installed directly on the ceiling above the vanity area.
They offer general or ambient lighting for the entire bathroom. They can be combined with other lighting sources to create a well-lit space.
5. Pendant Lights
Pendant lights, typically used for decorative purposes, can also be employed as vanity lighting.
To add a touch of elegance and style to a bathroom, they can be mounted above the mirror.
The design of your bathroom's pendant light can be tailored to your tastes, sizes, and materials.
6. Mirror Lights
Mirror lights are specifically designed to be installed directly on the bathroom mirror. Mirrors are illuminated by them, eliminating shadows and creating a clear reflection.
Mirror lights come in different configurations, such as strips or rings. They are often used for modern and minimalist bathroom designs.
7. LED Backlit Mirrors
LED backlit mirrors serve both as mirrors and lighting fixtures. The LED lights are integrated into the mirror's frame, providing a soft, diffused glow around the edges.
LED backlit mirrors are energy-efficient and create a sleek, contemporary look in the bathroom.
8. Vanity Light Bars
Vanity light bars are similar to bath bars but are more compact and often have a simpler design.
They feature a row of light bulbs in a single fixture and can be installed above or beside the mirror.
There are several styles and sizes of vanity light bars, so they are suitable for any bathroom design.
9. Shaded Fixtures
Shaded vanity light fixtures come with lampshades or glass shades that cover the bulbs.
The shades can diffuse the light, creating a softer and more flattering illumination for grooming tasks.
Shaded fixtures are available in diverse designs, from classic to contemporary. They allow you to find a style that matches your bathroom's theme.
10. Rustic and Vintage Fixtures
For a rustic or vintage-inspired bathroom, you can opt for vanity light fixtures with distressed finishes, exposed bulbs, or decorative elements that evoke a nostalgic charm.
These fixtures add character to the space and complement the traditional or farmhouse-style decor.
Benefits Of Wider Than Mirror Vanity Light
Light Distribution is Key
The first benefit lies in light distribution. When you use a wide vanity light, it covers more area. It does not merely focus on one spot. 
You get a well-lit mirror, which allows for better visibility. You can see your reflection. Tasks like shaving or applying makeup become easier.
Say Goodbye to Shadows
Shadow problems are common with poor lighting. With a wide vanity light, you banish these shadows.
Your face receives even lighting from all angles. It creates a flattering image. You won't miss any spots while grooming.
A Touch of Style
A wide vanity light also adds a stylish element. It enhances your bathroom's overall aesthetic appeal.
You can choose from various designs. These designs can complement your interior décor.
Energy Efficiency Matters
You might be thinking about energy consumption. I understand your concern. However, many wide vanity lights use LED technology.
LEDs are energy-efficient. They save electricity, which helps reduce your energy bills.
Eye Care Comes First
Eye health is crucial. Poor lighting often leads to eye strain. But, with a wide vanity light, you get soft, even light.
It's easier on your eyes. You can perform tasks without straining your eyes.
Enjoy Better Durability
Wide vanity lights, especially LED ones, offer better durability. They last longer than traditional lights.
You don't have to change the bulbs often. It saves you both time and money.
What are the considerations for placing the vanity light?
When placing your vanity light, keep several factors in mind to ensure proper illumination.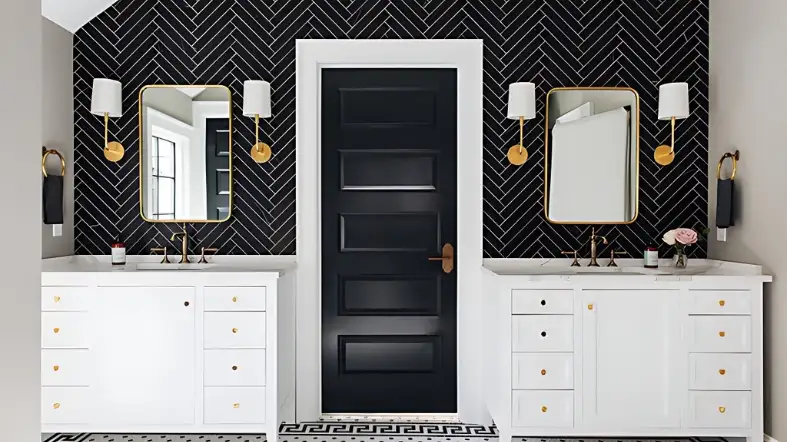 Height Above the Mirror:
Ideally, the vanity light should be mounted at eye level or slightly above the mirror's top edge.
Applying makeup or shaving becomes easier with this placement since shadows are minimized.
Bathrooms with multiple users with different heights may benefit from adjustable vanity lights.
Distance from the Wall:
Make sure the vanity light is positioned at a distance from the wall so that the light is distributed evenly.
A common recommendation is to have the fixture about 36 inches away from the wall's edge. This can vary based on the fixture's design and the mirror's size.
Ensure that the light is not too close to the wall to prevent harsh shadows.
Centered Placement:
For single-sink vanities, center the vanity light above the mirror and sink to achieve a balanced look.
Consider installing multiple vanity lights above each sink if you have a larger mirror or a double-sink vanity.
Symmetry is visually appealing and creates a harmonious atmosphere.
Clearance from the Ceiling:
Avoid a cramped appearance by leaving adequate space between the vanity light fixture and the ceiling.
As mentioned earlier, around 7 feet of clearance from the floor to the bottom of the fixture is recommended.
Horizontal or Vertical Orientation:
Vanity lights come in both horizontal and vertical designs. A horizontal fixture is commonly used for single mirrors or for multiple lights above each sink in a double vanity.
In contrast, vertical fixtures are preferred when the mirror is wider and more focused lighting is needed.
Light Spread:
Consider the spread of light emitted by the vanity light. Some fixtures provide direct, focused lighting, while others offer diffused or ambient light.
You may choose one or both to achieve the desired illumination depending on your needs.
Electrical Safety:
If you're replacing an existing vanity light, ensure that the new fixture's electrical box aligns with the old one.
If you're installing a new light, ensure that the electrical box is securely anchored to the wall or ceiling.
Make sure you follow the manufacturer's installation guidelines and hire a licensed electrician if necessary.
Avoiding Glare:
Be mindful of the light's glare, especially if the vanity light uses exposed bulbs. Consider using fixtures with diffusers or shades that direct the light downwards.
Also, prevent harsh glare, which can be uncomfortable during grooming tasks.
Bathroom Size and Style:
Consider the size of your bathroom and the existing decor when choosing the vanity light.
Having powerful bathroom lighting may be beneficial, while softer, ambient lighting may be better.
Also, select a fixture that complements the overall style of your bathroom for a cohesive and attractive look.
Installing a Vanity Light: A Step-by-Step Guide
Follow these instructions to safely and effectively install a new vanity light fixture: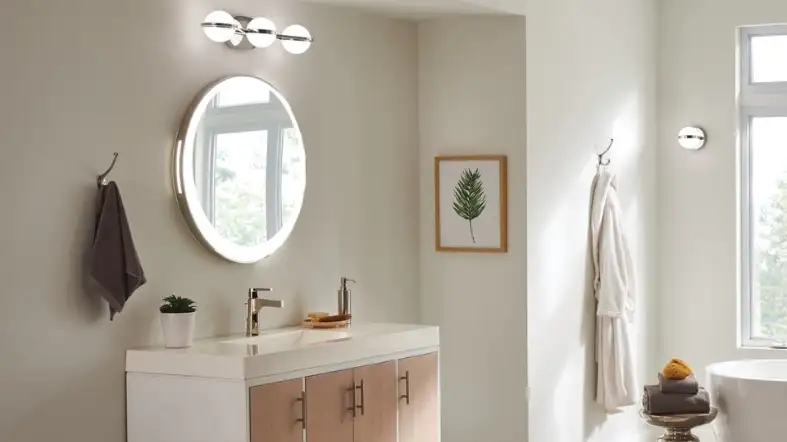 Turn off the Power
Turn off the power supply to the existing light fixture before installing the vanity light.
Locate the circuit breaker that controls the fixture's electricity and switch it off. To be sure, test the old fixture's switch to confirm that the power is indeed off.
Remove the Old Fixture
Using a screwdriver, carefully remove the screws securing the old vanity light fixture to the wall. Gently pull the fixture away from the wall to expose the electrical wires.
Look for wire nuts connecting the fixture's wires to the electrical wires in the junction box. Unscrew the wire nuts and disconnect the fixture from the wall.
Inspect the Junction Box
With the old fixture removed, take a moment to inspect the junction box. Ensure that it is secure and in good condition.
If you notice any damage or instability, address these issues before proceeding with the installation of the new fixture.
Prepare the New Fixture
Before installation, refer to the manufacturer's instructions for your new vanity light fixture.
If you have a vertical or horizontal bathroom layout, note whether the fixture can be installed horizontally.
If the fixture requires assembly, carefully follow the provided instructions to put it together.
Attach the Mounting Plate
Depending on the fixture design, you may need to attach a mounting plate to the junction box.
Mounting plate screws should be aligned with those in the box, and screws should be used to fasten them. This step ensures a stable base for the vanity light fixture.
Connect the Wires
Gently pull the electrical wires out of the junction box. These wires are color-coded for easy identification: black for hot, white for neutral, and green or bare for ground.
Match the corresponding wires from the fixture to the electrical wires in the junction box. Use wire nuts to securely connect the wires.
It's essential to ensure the connections are tight and properly insulated.
Mount the Fixture
Lift the new vanity light fixture carefully and align it with the mounting plate or the junction box.
Use the screws provided with the fixture to fasten it in place. Take care to ensure the fixture is level and stable on the wall.
Install the Light Bulbs
Install the appropriate light bulbs as recommended by the fixture manufacturer. Ensure that you do not exceed the fixture's maximum wattage.
Properly installed light bulbs ensure efficient and safe operation of the vanity light.
Test the Fixture
Once all the components are securely in place, test the new vanity light. Turn the power back on at the circuit breaker and flip the switch to check if the fixture turns on.
If the light does not work, turn the power off again and review your connections before trying again.
Adjust and Finish
If necessary, make slight adjustments to the fixture's position. Loosen the screws and reposition the fixture until you are satisfied with its alignment.
Once you achieve the desired placement, securely tighten the screws to finalize the installation.
Attach Any Accessories
If your new fixture comes with decorative shades or covers, follow the manufacturer's instructions to attach them.
These accessories add a finishing touch to the vanity light, enhancing its appearance and contributing to your bathroom's overall ambiance.
Common Mistakes To Avoid When Matching Vanity Light And Mirror Widths
Avoid Guessing the Mirror Size
Measuring your mirror size matters a lot. Some people make a mistake here. They guess instead of measure.
This can lead to errors. You could end up with a vanity light that's too large or too small. Always use a tape measure. This will give you the precise size of your mirror.
Bigger Isn't Always Better
Regarding vanity lights, size matters; some think a bigger light is always better. But this isn't the case. A light that's too large can overpower a small mirror. 
It can also make a small bathroom look cluttered. So, always choose a light that is slightly narrower than your mirror.
Ignoring the Style of Your Bathroom
Style plays an important role in your choice. Some people forget this. They choose a light that doesn't match their bathroom. 
This is a big mistake. Your vanity light should complement your bathroom's style. For a modern bathroom, choose a modern light. For a rustic bathroom, choose a rustic light.
Forgetting About Your Daily Routine
Your daily routine is also important. Some people neglect this when choosing a light. Do you spend time at the vanity for tasks like shaving or applying makeup? 
If yes, you need a light that provides enough illumination. A wider vanity light can help you with this.
Overlooking the Number of Sinks
Another common mistake is forgetting about the number of sinks. If you have a double sink, you need two lights. Some people buy only one light.
This can lead to uneven lighting. So, make sure you buy a light for each sink. This will help create a balanced look.
Overspending on Vanity Lights
Budget is another factor that you should consider. Some people overspend on vanity lights.
This is a mistake. Vanity lights come in different price ranges. Choose a light that offers good quality but is within your budget.
FAQs on if Vanity Light Be Wider Than Mirror or not
Why Should The Vanity Light Be Wider Than The Mirror?
Having a wider vanity light ensures that the light spreads evenly across your face when you stand in front of the mirror.
It reduces shadows and provides better visibility.
What Happens If The Vanity Light Is Narrower Than The Mirror?
If the vanity light is narrower than the mirror, it may create uneven lighting.
Also, cast shadows on your face, making it difficult to see clearly while getting ready.
Can The Vanity Light Be The Same Width As The Mirror?
Ideally, it's best to have the vanity light slightly wider than the mirror to achieve balanced lighting.
If you cannot find a wider light, placing it at the same width can still work but may not provide optimal lighting conditions.
How Much Wider Should The Vanity Light Be Compared To The Mirror?
Aim for a vanity light that extends a few inches beyond the mirror on both sides.
This extra width helps to distribute light more evenly and ensures a well-lit reflection.
Are There Other Factors Besides Width To Consider When Choosing A Vanity Light?
Yes, in addition to width, you should also consider the height and style of the vanity light.
The height should be appropriate for your bathroom space, and the style should complement the overall aesthetic of your bathroom decor.
Should I Consult A Professional For Help With Selecting A Vanity Light?
If you're unsure about the right vanity light size and placement, consulting a professional electrician or an interior designer can be helpful.
They can offer expert advice based on your bathroom layout and lighting needs.
Conclusion
When choosing a vanity light, consider having it slightly wider than your mirror.
This ensures ample and even illumination across the mirror's surface, reducing shadows during grooming tasks.
Your bathroom's aesthetics and daily routines are enhanced by well-proportioned vanity lights.
Remember, the right-sized vanity light complements your mirror and adds a touch of style to your space. Happy vanity light shopping!