Is the mysterious dance of flickering lights in one room leaving you puzzled and uneasy? Wondering what's causing this enigmatic phenomenon?
Worry not, as we shed light on the reasons behind this perplexing issue. Unravel the electrical enigma and discover the emotional rollercoaster it puts you through.
Take this illuminating journey to uncover the flickering lights that intrigue you.
5 Potential Causes of Flickering Lights in a Single Room
Loose Bulb Connection
The first thing to check is whether the light bulb is properly screwed in and securely connected to the socket. Sometimes, a loose connection can cause flickering. 
Faulty Light Bulb
A flickering light could be a result of a faulty bulb. If tightening the bulb doesn't solve the issue, try replacing it with a new one. 
Dimmer Switch Issues
If flickering occurs when using a dimmer switch, it could be due to incompatible bulbs.
Certain LED or CFL bulbs may not be compatible with older dimmer switches, causing flickering.
Electrical Wiring Problems
Faulty or outdated electrical wiring can also cause flickering lights. If the issue persists after trying the above steps, seek help from a qualified electrician. 
Overloaded Circuit
If the flickering is accompanied by other electrical appliances turning on or off, it could indicate an overloaded circuit. 
An overloaded circuit occurs when too many devices are connected to a single circuit, exceeding its capacity. 
What Is the Impact of Flickering Lights?
Here are some common impacts of flickering lights: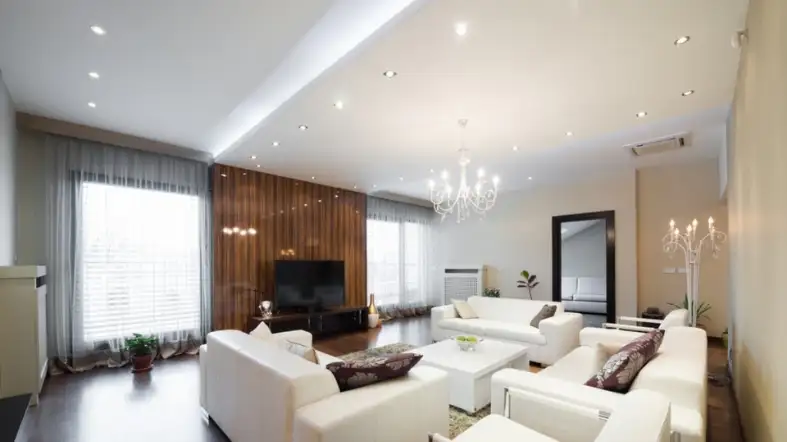 Health Effects of Flickering Lights
There are various health effects associated with flickering lights, depending on the individual.
A flickering light may trigger seizures or headaches in people with epilepsy or migraines. Light pulses can also cause discomfort, eye strain, and dizziness or nausea in some people.
To ensure the well-being and comfort of people with such conditions, it's crucial to be cognizant of these effects.
Impact on Cognitive Performance
Prolonged exposure to flickering lights can impact cognitive function and focus.
When the brain struggles to maintain attention, tasks requiring sustained mental effort are difficult to accomplish.
In study areas or workplaces where mental performance is critical, minimize exposure to flickering lights.
Visual Disturbances Caused by Flickering Lights
Flickering lights can create visual disturbances, such as afterimages or ghost images.
These visual artifacts can make it challenging to perceive objects accurately. They can affect tasks that require precise vision, like reading or driving.
When experiencing visual disturbances from flickering lights, take breaks in well-lit areas to give the eyes time to readjust and minimize strain.
Sleep Disruption Due to Flickering Lights
The body's natural sleep-wake cycle can be disrupted by flickering lights, especially at night.
Light intensity and frequency can confuse the internal clock, making it difficult to fall asleep or stay asleep.
Avoid flickering light sources before bedtime and use steady, non-flickering lighting in the bedroom.
Psychological Effects of Flickering Lights
In some individuals, flickering lights can induce feelings of unease and anxiety, especially those sensitive to changes in light.
Such psychological effects may impact mood and overall well-being. People will feel more relaxed and comfortable in environments with stable, flicker-free lighting.
Safety Concerns with Flickering Lights
In certain settings, flickering lights can pose safety risks. In workplaces or public spaces, flickering lights might hinder visibility, leading to accidents or errors.
The safety and well-being of occupants in these areas depend on promptly addressing flickering lights.
Regular maintenance and inspection of lighting systems can help prevent potential hazards.
Identifying Electrical Issues Causing Flickering Lights
Flickering lights could be a symptom of underlying electrical problems in the wiring or fixtures. Check for loose connections, faulty bulbs, or overloaded circuits.
To avoid electrical hazards or fires, seek the assistance of a qualified electrician if you're unsure about electrical troubleshooting.
How can I stop flickering lights?
To stop the flickering of lights, here are a few steps you can take to fix it.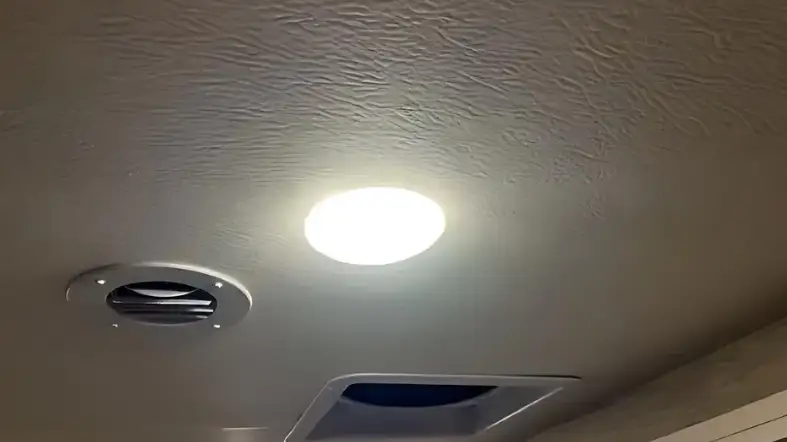 Step 1: Check for Loose Bulbs and Fixtures
Start by turning off the power and inspecting all light bulbs and fixtures. Ensure each bulb is securely screwed in and the fixtures are tightly attached to the ceiling or wall.
Tighten any loose bulbs or fixtures to establish a stable connection.
Step 2: Address Voltage Fluctuations
Use a voltage tester to monitor the incoming voltage from your utility provider. If you notice irregular voltage levels, contact your utility company to investigate the issue.
Voltage stabilizers can also help regulate fluctuations and prevent flickering.
Step 3: Replace Faulty Light Switches
Test each light switch in the affected area to identify any faulty ones. If you notice a switch causing flickering, replace it with a new one.
High-quality switches ensure a reliable connection and eliminate flickering.
Step 4: Upgrade to LED Bulbs
Consider upgrading your incandescent or fluorescent bulbs to LED bulbs. LED lights are not only energy-efficient but also less prone to flickering.
They provide stable lighting and have a longer lifespan, reducing the likelihood of flickering issues.
Step 5: Avoid Overloading Circuits
Ensure you don't overload any circuits in your electrical panel. Distribute electrical loads evenly across different circuits to prevent exceeding their capacity.
If necessary, consult an electrician to upgrade your electrical panel.
Step 6: Address Wiring Issues
Inspect your electrical wiring for any damage or frayed ends. Faulty wiring can cause flickering lights.
If you find any issues, contact a licensed electrician for repairs or replacements.
Step 7: Use Quality Bulbs and Fixtures
Choose high-quality light bulbs and fixtures from reputable brands. Cheap or low-quality products may lead to flickering issues.
Investing in reliable lighting solutions ensures a stable and flicker-free environment.
Step 8: Schedule Professional Inspection
If the flickering persists despite your efforts, it's time to seek professional help. Schedule an electrical inspection with a qualified electrician.
Identifying underlying issues and providing the best solutions for flicker-free lighting is their specialty.
Tips for reducing flickering in preventive maintenance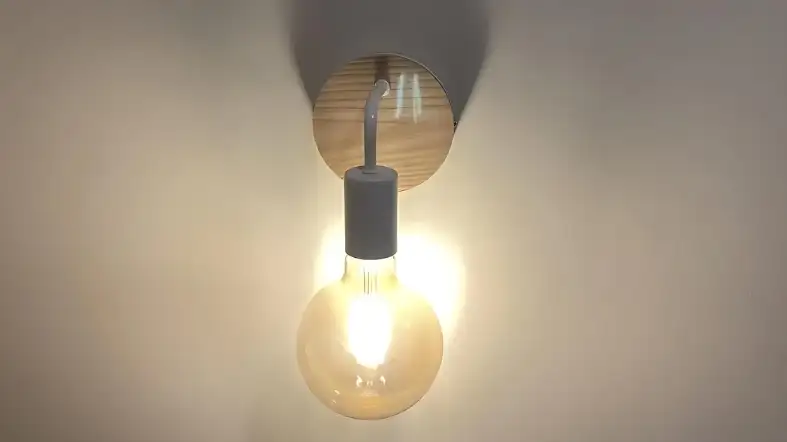 Regularly Inspect and Tighten Light Bulbs
To prevent flickering lights, regularly inspect and tighten light bulbs in your fixtures. Over time, bulbs can become loose due to vibrations or other factors.
Start by turning off the power to the light fixture and let the bulbs cool down before handling them. Gently twist each bulb clockwise to ensure a secure fit in the socket.
If you notice any damaged bulbs, replace them promptly with new ones. Loose bulbs can cause intermittent connections, leading to flickering issues.
This simple maintenance task ensures stable lighting and reduces flickering problems.
Upgrade to High-Quality Bulbs and Fixtures
Upgrade to high-quality bulbs and fixtures to minimize flickering. Opt for bulbs with a high Color Rendering Index (CRI) and a color temperature that suits your space.
As LEDs produce steady illumination, they are energy-efficient, long-lasting, and have a long lifespan.
Look for reputable brands known for their reliability and performance. Consider upgrading the fixtures themselves if they are outdated or prone to flickering.
Improved materials and engineering can significantly reduce flickering in modern fixtures. Ensure a more consistent and pleasant lighting experience.
Address Electrical Wiring and Connection Problems
An electrical wiring problem or an issue with a connection can also cause flickering lights to occur.
You should inspect your electrical system if you notice persistent flickering across multiple fixtures.
Prioritize safety and consult a qualified electrician for this task. A skilled electrician can identify and correct faulty wiring, loose connections, or damaged components.
A properly grounded and well-maintained electrical system can prevent flickering problems.
Install Voltage Stabilizers or Surge Protectors
Electrical voltage fluctuations can contribute to flickering lights. Voltage stabilizers and surge protectors can regulate and stabilize the voltage supplied to your fixtures.
The voltage stabilizer maintains a steady voltage level, preventing sudden spikes or drops. Surge protectors protect your lighting from lightning and faulty appliances.
Installation instructions should be followed when installing stabilizers and surge protectors.
Keep Light Fixtures Clean and Dust-Free
Dust and dirt can accumulate on light fixtures and bulbs, leading to reduced performance and flickering. Regularly clean your light fixtures to prevent such issues.
First, turn off the power and allow the bulbs to cool down. Gently remove the fixture covers, shades, or bulbs and clean them using a soft, lint-free cloth.
Avoid using water or harsh cleaning agents that could damage the fixtures. Reassemble the fixture after dusting the interior and exterior and wiping the bulbs gently.
This maintenance routine extends bulb life and reduces flickering while extending bulb life.
Balance Electrical Loads Across Circuits
Uneven distribution of electrical loads across circuits can contribute to flickering lights. Electrical appliances or equipment drawing significant power should ideally be distributed.
Your lights will remain stable with this balancing because overloads can be prevented on a single circuit.
Consider redistributing electrical loads if you experience flickering when using specific appliances.
Ensure safety and compliance with electrical codes by consulting a professional electrician.
Consider LED Lighting as an Energy-Efficient Option
LED lighting offers numerous benefits beyond energy efficiency. They emit less heat, making them safer and reducing the risk of flickering due to overheating.
EDs have a longer lifespan than traditional incandescent bulbs, reducing bulb replacements. LED bulbs come in a variety of color temperatures so that you can customize your home's lighting ambiance.
With LED lighting, you not only save energy but also create a more comfortable and stable lighting environment.
Using multiple appliances on the same circuit at once
Several high-power appliances connected to the same circuit can cause voltage drops and flickering. Avoid using multiple high-power devices on the same circuit simultaneously.
Don't run multiple appliances on the same circuit, such as the microwave, toaster, and electric kettle.
Distribute their use across different circuits to reduce power demand. Keeping your lighting fixtures electrically stable minimizes flickering and potential issues.
FAQs on flickering lights in one room
What Should I Do If Tightening The Bulb Doesn't Stop The Flickering?
If tightening the bulb doesn't work, try replacing it with a new one. Make sure it's compatible with the fixture.
If the flickering continues, check the light socket, switch, and wiring for potential issues.
Can A Faulty Light Switch Cause Flickering Lights In One Room?
Yes, a faulty light switch can be a possible cause of flickering lights in one room.
Check the switch for damage or loose connections. If needed, replace the switch or seek professional assistance.
Are Voltage Fluctuations Responsible For Lights Flickering In One Room?
Yes, voltage fluctuations can cause lights to flicker.
This can occur due to large appliances turning on and off or issues with the electrical system.
Consulting an electrician can help address voltage irregularities.
Why Do My Lights Flicker Only In One Room And Not Throughout The House?
Flickering lights limited to one room could be attributed to specific issues within that room's electrical circuit or components.
Investigating the bulb, socket, switch, and wiring in that room is essential.
When Should I Call A Professional To Fix Flickering Lights In One Room?
If you've tried basic troubleshooting steps, like checking bulbs and switches, but the flickering persists, call a professional electrician.
They can assess and address any underlying electrical issues safely and effectively.
Conclusion
Say goodbye to the frustration of flickering lights in one room.
By understanding the common causes like loose bulbs, faulty switches, and voltage fluctuations, you're now equipped to troubleshoot and fix the problem. 
Keep your room brightly illuminated by taking the necessary steps, and enjoy a flicker-free lighting experience.