Can you paint a vanity light fixture and give it a stunning makeover?
Imagine transforming a dull, outdated fixture into a stylish focal point that perfectly complements your bathroom decor.
This article walks you through the process of repainting your vanity light fixture, regardless of your DIY experience.
Enjoy this simple yet impactful project and unleash your creativity.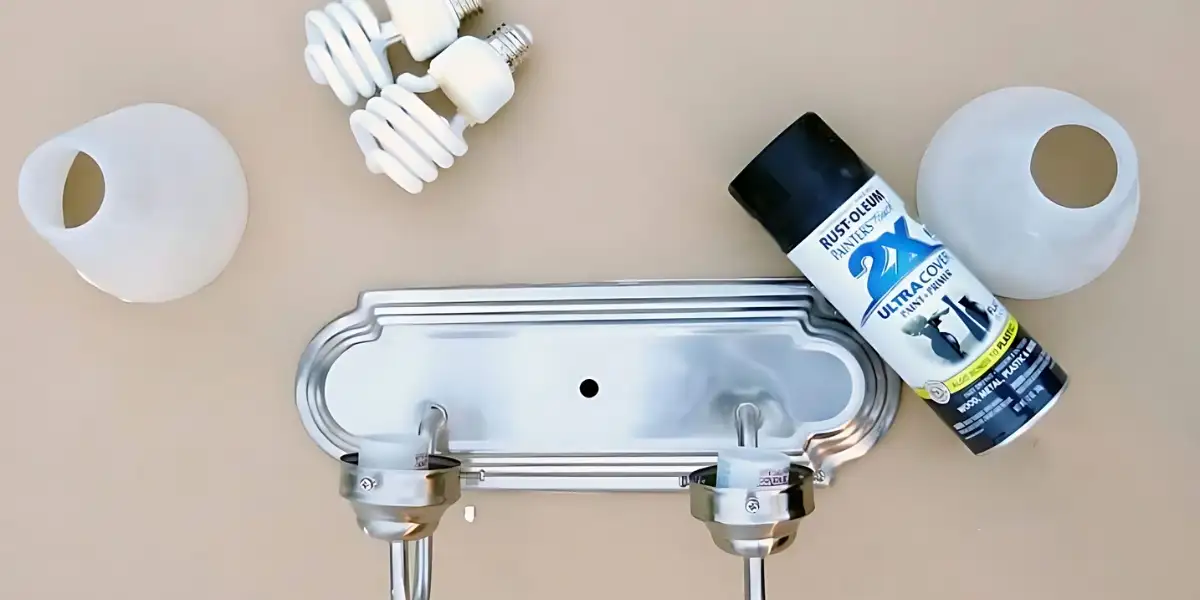 Can You Paint a Vanity Light Fixture?
Yes, you can paint a vanity light fixture. It's a simple and effective way to update its look and match your bathroom decor.
Make sure to follow the proper preparation and painting steps in order to achieve a fresh and customized look.
What should I do before painting the vanity light fixture?
The following is a guide to preparing the vanity light fixture for painting.
Clean the fixture thoroughly:
Make sure the vanity light fixture is thoroughly cleaned before painting. Take a damp cloth or sponge and gently wipe down the surface, removing any dust, dirt, or grime.
If there are stubborn stains or buildup, you can use mild soap or a gentle cleaning solution.
After cleaning, make sure the fixture is completely dry before moving on to the next step.
Remove the light bulbs and coverings:
Remove the light bulbs and any covers or shades attached to the fixtures before painting.
Be sure to remove the glass or plastic coverings from the light bulbs before unscrewing them.
This will provide you with a clear and accessible surface for painting.
Disassemble the fixture (if necessary):
Vanity light fixtures may require disassembling before painting depending on their design.
Some fixtures have removable shades, decorative elements, or other components. If applicable, refer to the manufacturer's instructions to safely detach these parts.
Using this method, you can paint each component individually, ensuring a professional finish.
Sand the surface:
Lightly sand the surface of the vanity light fixture. Use fine-grit sandpaper or a sanding sponge to gently roughen up the existing finish.
It is important to avoid overspending or applying too much pressure, as this can damage the fixture.
Once you've finished sanding, wipe away any dust or debris with a clean cloth.
Fill any imperfections:
Inspect the vanity light fixture for any dents, scratches, or holes that may affect the final appearance.
If you discover any imperfections, it's essential to fill them before painting. Choose an appropriate filler or putty designed for the material of your fixture.
Apply the filler using a putty knife or a similar tool, ensuring that it fills the imperfections smoothly and evenly.
Dry the filler completely according to the manufacturer's instructions.
Prime the surface:
Applying a coat of primer is crucial for achieving a durable and professional-looking paint job.
If your vanity light fixture is metal, plastic, or glass, choose a primer formulated specifically for it.
Using a paintbrush or a spray primer, evenly coat the surface of the fixture.
Besides improving paint adhesion, primer creates a smooth, uniform base for the final coat. Follow the drying time specified on the primer product.
Mask off surrounding areas:
Protect any surrounding areas you don't want to paint before you begin painting.
Cover edges, nearby walls, or other surfaces that might get painted accidentally with painter's tape.
Apply the tape carefully, ensuring it adheres securely and creates clean lines.
This step will save you time and effort in cleaning up any accidental paint splatters or drips later on.
Choose the right paint:
You must choose high-quality paint suitable for the material of your vanity light fixture when painting it.
Select a paint that adheres to the surface of your fixture, whether it is metal, plastic, or glass.
Depending on your aesthetic, you may also want to consider paint finishes like matte, satin, or glossy.
Read the instructions on the paint can for application and drying times.
How to Choose the Right Paint for Your Vanity Light Fixture?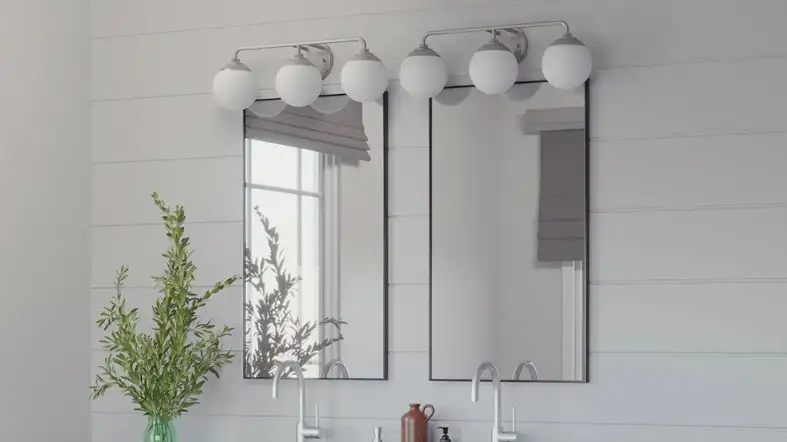 Here are some tips on how to choose the right paint for your vanity light fixture.
Consider the fixture material:
The first step in selecting the right paint for your vanity light fixture is to consider its material.
Each type of material may require a specific type of paint to ensure proper adhesion and durability.
Opt for paint designed for the material:
Look for paint specifically formulated for the material of your vanity light fixture. For metal fixtures, choose a paint designed for metal surfaces.
Select a paint suitable for plastic or glass if your fixture is made from those materials. Using the appropriate paint will help prevent peeling, chipping, or discoloration.
Check for heat-resistant properties:
Since vanity light fixtures can generate heat, choose a heat-resistant paint.
Specially formulated heat-resistant paints can withstand temperature changes caused by lighting.
Ensure that the paint you select is labeled as heat-resistant to maintain its appearance and durability.
Consider the finish:
The finish of the paint determines the sheen or shine on the surface. You can choose from options like matte, satin, or glossy finishes.
Consider the overall style and aesthetic of your bathroom when deciding on the finish.
Glossy finishes provide a sleek and polished appearance, while matte finishes provide a subtle look.
Test the paint on a small area:
Test the paint on an inconspicuous area before applying it to the entire vanity light fixture.
This allows you to ensure that the paint adheres well and provides the desired finish.
Evaluate the color, coverage, and adhesion before proceeding with the full application.
Consider using a primer:
While not always necessary, using a primer can enhance the adhesion and durability of the paint.
If you're painting over a dark or uneven surface, a primer can help create a smooth base for the paint.
Choose a primer that is compatible with both the fixture material and the paint you'll be using.
Read manufacturer recommendations:
Always read the manufacturer's recommendations and instructions on the paint can.
They often provide specific guidance, application techniques, and drying times.
These instructions will ensure the best results and prolong the life of your painted vanity light fixture.
Step-by-Step Guide: Painting Your Vanity Light Fixture
Gather your supplies:
Before starting the painting process, gather all the necessary supplies.
There are no special tools required, but you will need tape, newspaper, sponges, brushes, and paint for the vanity light fixture.
Prepare the workspace:
Protect nearby surfaces from paint splatters by clearing the area around the vanity light fixture. This will make it easier to work and minimize the cleanup afterward.
Clean the fixture:
Begin by cleaning the vanity light fixture thoroughly. Clean the fixture with a soft cloth and a mild soap solution. Allow the fixture to dry completely.
Remove or cover delicate parts:
Be careful not to paint delicate parts or components of your vanity light fixture. This will ensure that only the desired areas are painted.
Sand the surface:
Using fine-grit sandpaper or a sanding sponge, lightly sand the surface of the fixture. This step helps create a rough texture that allows the paint to adhere better.
Be gentle and sand in even strokes to avoid damaging the fixture.
Apply primer:
Apply a coat of primer specifically designed for the material of your vanity light fixture.
Use a paintbrush or a paint sprayer to evenly coat the surface. The primer helps the paint adhere better and provides a smooth base for the final coat.
The primer manufacturer will specify the drying time.
Paint the fixture:
Use a paintbrush or a paint sprayer to apply thin and even coats of paint after the primer has dried.
Start from the top and work your way down, ensuring complete coverage. Allow each coat to dry according to the paint manufacturer's instructions before applying the next one.
Apply additional coats (if needed):
Depending on the desired finish and the coverage of the paint, you may need to apply additional coats.
Follow the same process of thin and even application, allowing proper drying time between coats.
Remove tape and clean up:
Once you're satisfied with the paint coverage and the fixture is dry, carefully remove any painter's tape.
Use a damp cloth to wipe up paint spills or drips. Dispose of drop cloths or newspaper used as protection.
Reassemble and reinstall:
If you had removed any parts or components, reassemble them once the paint is completely dry.
Take care to handle the fixture gently to avoid scratching or damaging the newly painted surface. Finally, reinstall the vanity light fixture in its designated place.
Risks and Precautions When Painting a Vanity Light Fixture
Painting a vanity light fixture can be a hazardous task. Here are the risks and precautions you need to take.
Risk of Electrical Shocks
Remember electricity can be dangerous. It can give you a shock. So always turn off the power before you start painting.
This means switching off the light switch. But it's even better to turn off the power at the circuit breaker.
Risk of Fire
Next, think about the risk of fire. Some types of paint can catch fire easily.
They have a warning on the can, so always check this. Use water-based paints as they are less likely to catch fire.
Damage to the Fixture
When painting, you might accidentally damage the fixture. For instance, paint can get into sockets or switches.
To prevent this, cover any parts you don't want to paint with tape.
Exposure to Paint Fumes
Paint fumes can make you feel sick. They can give you a headache or make you dizzy. So, always paint in a well-ventilated room.
This means opening windows or turning on a fan.
Risk of Messy Results
Painting can be messy, and if not done correctly, it may not look good. To avoid drips and runs, don't put too much paint on your brush.
Apply several thin coats instead of one thick one.
Risk of Wasting Time and Money
If you don't prepare the fixture properly, the paint may not stick. This means you've wasted your time and money.
To avoid this, always clean the fixture and lightly sand it before painting.
Risk to the Environment
Lastly, think about the environment. Some paints can harm it. Choose eco-friendly paints when possible.
And remember, don't pour leftover paint down the drain. Find a safe way to dispose of it.
Maintenance and Care for Painted Vanity Light Fixtures
The following tips will help you maintain and care for your painted vanity light fixtures:
Gentle cleaning:
Clean the vanity light fixture regularly with a soft, damp cloth or sponge. Avoid using harsh chemicals or abrasive cleaners, as they can damage the paint.
Gently wipe away any dust, dirt, or smudges to maintain the fresh appearance of the fixture.
Avoid excessive moisture:
While painted surfaces are generally durable, it's important to avoid excessive moisture exposure.
Do not place your vanity light fixture near direct water sources, such as the sink or shower.
To prevent discoloration or water damage, wipe the fixture dry immediately if water spills.
Handle with care:
Handle the painted vanity light fixture carefully when cleaning or performing maintenance.
Avoid using sharp or abrasive tools that could scratch or chip the paint. Light bulbs or coverings should be removed or reinstalled gently to prevent accidental damage.
Touch-up as needed:
Over time, your painted vanity light fixture may experience minor wear or chipping.
If necessary, touch-ups can be completed using the leftover paint from the original project.
Paint the affected area using a fine brush, blending it carefully with the surrounding painted surface.
Avoid direct heat exposure:
Excessive heat can affect the longevity and appearance of the paint on your vanity light fixture.
Avoid placing the fixture near heat sources like heat lamps and overheated bulbs.
LED or low-wattage light bulbs that generate less heat are better choices to minimize paint damage.
Regular inspection:
Periodically inspect your painted vanity light fixture for any signs of wear, discoloration, or damage.
Look for areas where the paint may be chipping or peeling and address them promptly with touch-ups.
Keep the fixture looking good and maintain its integrity with regular inspections.
FAQs About Painting Vanity Light Fixtures
Do I Need To Use A Primer Before Painting?
Using a primer is highly recommended to ensure paint adhesion and a smooth finish.
Paint jobs with different textures or finishes will also last longer when primed.
What Type Of Paintbrush Should I Use?
For small vanity light fixtures, a synthetic bristle paintbrush with a flat or angled tip is suitable.
The brush size should allow you to evenly apply the paint and reach all areas of the fixture.
If you prefer, you can also use a paint sprayer for a more even and professional finish.
How Long Does The Paint Take To Dry?
Drying times can vary depending on factors such as temperature, humidity, and the type of paint used.
It's recommended to wait at least 24 hours between coats of paint before applying the next.
Follow the specific drying time instructions provided by the paint manufacturer.
Can I Repaint A Vanity Light Fixture That Has Already Been Painted?
Yes, you can repaint a vanity light fixture that has already been painted.
To start, clean, sand, and possibly remove any peeling or chipping paint before painting.
Follow the same steps outlined for preparing and painting a new fixture.
Can I Change The Color Of My Vanity Light Fixture?
Yes! You can change the color of your vanity light fixture to match your bathroom decor or style.
Enjoy the transformed look of your bathroom by choosing a paint color that complements its design.
How Long Will The Painted Finish On The Fixture Last?
Vanity light fixtures can last for several years if prepared, applied, and maintained properly.
The paint can be damaged by frequent cleaning, exposure to moisture, and excessive heat.
Regular inspections and touch-ups can help maintain the appearance over time.
Conclusion
Transforming your bathroom decor is within reach! By painting your vanity light fixture, you can easily customize its look to match your style.
With the right materials and proper preparation, you can achieve a professional finish.
Take your creativity to the next level – paint your vanity light fixture to refresh your bathroom. It's time to make your space truly shine!