Are you planning to install a vanity light in your bathroom? One important question that may come to mind is whether you need an electrical box for a vanity light.
The answer is crucial for ensuring both the safety and functionality of your vanity light installation.
Here, we will explore the importance of a vanity light electrical box and provide insight into proper wiring.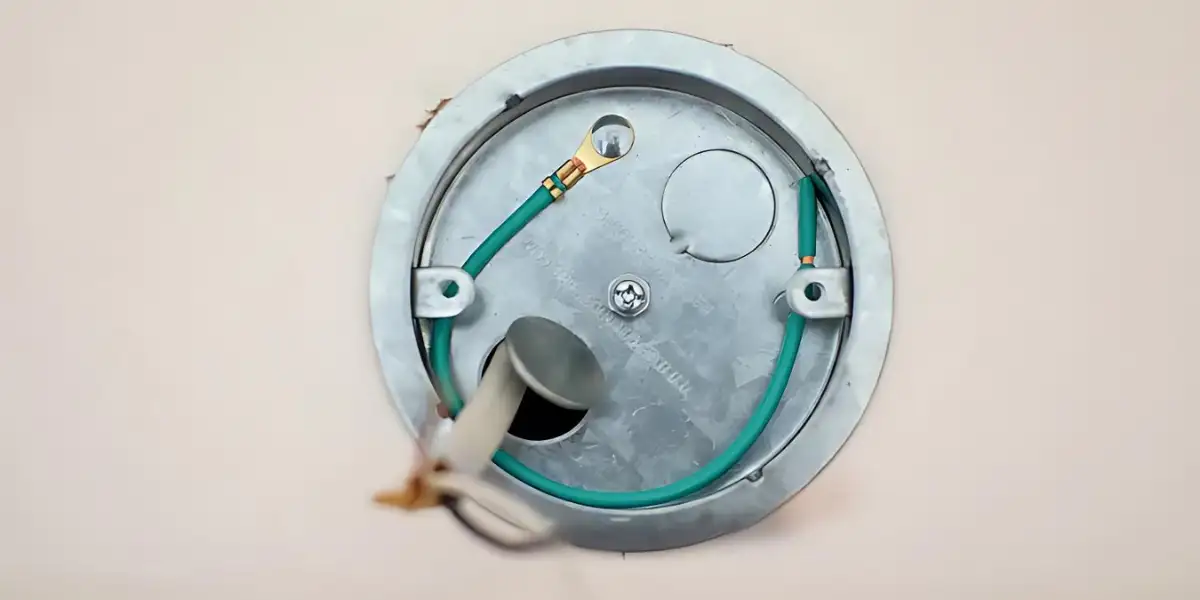 Do I Need an Electrical Box for a Vanity Light?
Yes, an electrical box is absolutely necessary for a vanity light.
It ensures safety, supports the weight of the fixture, and conceals wiring connections. Without it, the installation would be unsafe and violate electrical codes.
Here is a table showing the sizes of the electrical boxes needed for vanity lights.
| Vanity Light Size  | Electrical Box Size Required |
| --- | --- |
| Small (1-2 bulbs | Single-gang electrical box |
| Medium (3-4 bulbs | Single-gang or double-gang electrical box |
| Large (5+ bulbs | Double-gang or larger electrical box  |
Why an Electrical Box is Necessary?
The following are some of the reasons why it is necessary to have an electrical box.
Ensures Safety and Compliance
The primary reason for using an electrical box is safety. It helps protect against electrical hazards by enclosing the wiring connections securely.
Fires and electrical shocks can occur without a box. They can leave wires exposed and vulnerable.
Electrical boxes ensure compliance with local building codes to protect homeowners.
Supports the Weight of the Fixture
Vanity lights come in various shapes and sizes, and some can be quite heavy.
An electrical box provides a stable support structure to hold the weight of the fixture securely. This will make the vanity light more secure and less likely to fall or break.
Conceals and Organizes Wiring Connections
Another important function of an electrical box is to conceal and organize the wiring connections.
In the box, the electrical wires are neatly tucked away, preventing them from being exposed.
It makes it easier to troubleshoot and make future repairs or changes to your vanity light installation.
Facilitates Proper Installation and Maintenance
The vanity light is securely mounted in an electrical box, simplifying installation.
It ensures that the wiring is done correctly, reducing the risk of electrical issues or malfunctions.
When performing maintenance or repairs, a box makes accessing wiring connections safer.
Types of Electrical Boxes for Vanity Lights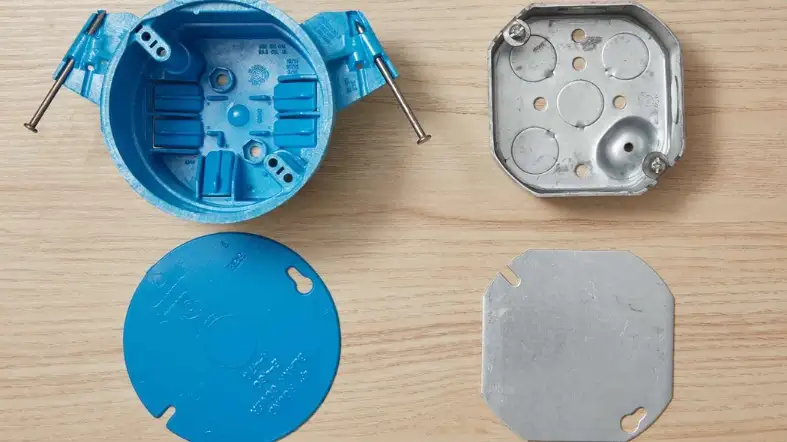 Choosing the right type of electrical box for a vanity light can be a daunting task. They are,
Octagon Electrical Boxes
Octagon electrical boxes are commonly used for installing vanity lights. These boxes have eight sides and a center knockout hole for wiring.
Metal or plastic, they are mounted directly on the wall or ceiling. Octagon boxes provide a sturdy and secure base for mounting vanity light fixtures.
Round Electrical Boxes
Round electrical boxes are another option for installing vanity lights. These boxes have a circular shape and can be made of metal or plastic.
They come in various sizes to accommodate different wiring configurations and fixture types.
Round boxes provide a neat and compact solution for mounting vanity light fixtures.
Retrofit Electrical Boxes
A retrofit electrical box is ideal for installing vanity lights in existing walls without cutting large holes.
Installation of these boxes requires a small opening and expansion to fit between the wall studs.
Retrofit boxes save time and effort by eliminating the need for extensive wall modifications.
Fan Rated Electrical
If you plan to install or add a fan to your vanity light fixture, you will need a fan-rated electrical box.
Boxes support the weight and vibration of ceiling fans, providing a stable mounting surface. Fan rated boxes are typically made of metal for added strength.
Steps to Install an Electrical Box for a Vanity Light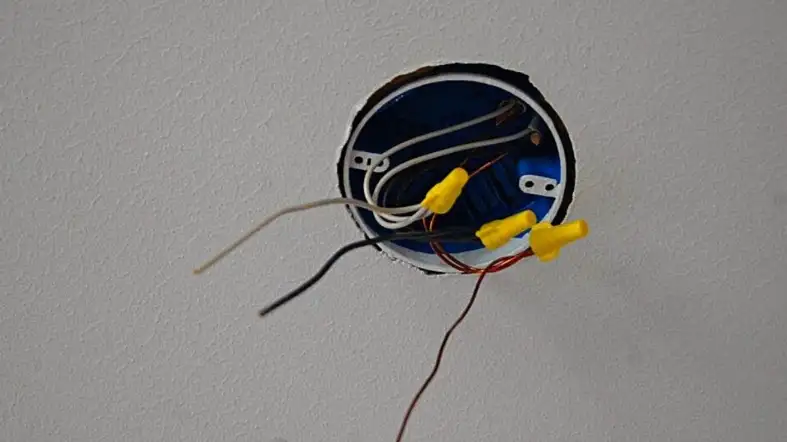 The installation of an electrical box for a vanity light requires the following steps:
Step 1: Gather the necessary tools and materials
To begin installing an electrical box for a vanity light, you'll need a few essential tools and materials.
Prepare electrical tape, wire nuts, a voltage tester, wire strippers, a drill, and a drywall saw for the job.
Step 2: Turn off the power supply
If you are installing an electrical box, make sure the power supply in the area is turned off before you begin.
Locate the circuit breaker corresponding to the room and switch it off.
Step 3: Plan the box placement
Locate the electrical box based on the vanity light's position and your local electrical code.
Measure the distance between studs or joists to determine where the box will be mounted.
Step 4: Mark the location and cut an opening
Using a pencil, mark the center of the electrical box on the wall. Then, using a drywall saw, carefully cut out the opening following the marked lines.
Be cautious not to damage any existing wires or plumbing behind the wall.
Step 5: Install the electrical box
Take the electrical box and position it within the cutout. Screw the box into the studs or joists after aligning the mounting holes with the wall marks.
Ensure the box is level and securely fastened.
Step 6: Connect the electrical wiring
Strip about 3/4 inch of insulation from the ends of the electrical wires in the box and vanity light.
Use electrical tape to insulate the wire nuts after twisting the corresponding wires together.
Step 7: Attach the vanity light fixture
Follow the manufacturer's instructions to attach the vanity light fixture to the electrical box.
Typically, this involves connecting the fixture's mounting plate to the box using screws. Ensure the fixture is securely attached and aligned properly.
Step 8: Test the connections and restore power
Double-check all the wire connections to ensure they are secure and properly insulated.
Then, restore power to the circuit by turning the corresponding breaker back on. Use a voltage tester to confirm that electricity is flowing to the vanity light fixture.
Step 9: Mount the cover plate and finish the installation
If your electrical box requires a cover plate, attach it according to the manufacturer's instructions.
Verify that the vanity light works by turning on the switch once the cover plate is secured.
Factors to Consider When Installing an Electrical Box for a Vanity Light
When installing an electrical box for a vanity light, there are several factors to consider.
Location of the Vanity Light
When you plan to install a vanity light, the first thing to consider is where to place it. Now look at your bathroom mirror. Put the light where it will help you most.
It should be above it. But, some people also place it on the sides. Keep in mind that the light should not create shadows on your face when you look in the mirror.
Type of Electrical Box
There are many types of electrical boxes. Some are metal, others are plastic. They also come in different shapes and sizes.
The type you choose depends on your wall and the kind of vanity light you have. Metal boxes are durable and they are good for heavy vanity lights.
Plastic boxes are lightweight and easy to handle. They work well for small and medium lights.
Wiring and Electrical Requirements
Vanity lights need electricity to work. This means you must have the right wiring in place. Also, check the voltage of your light.
Some lights need more electricity than others. Make sure your home's electrical system can handle it. You may need a professional electrician to check this for you.
Safety Considerations
Safety is very important when working with electricity. Always turn off the power before you start any work. Wear protective gloves and eyewear.
Make sure the area is dry to prevent electrical shocks. Remember, if you feel unsure or unsafe, it's best to call a professional.
The Mounting Process
Once you've picked the right electrical box, you need to mount it. This process involves attaching the box securely to the wall. This is where your vanity light will hang.
So, the box needs to be sturdy. Use screws to attach the box. But remember, don't tighten the screws too much. This can damage the box.
The Importance of a Neat Job
Lastly, neatness counts! No one likes to see messy wires. Keep them tucked away inside the box. If you have extra wire length, coil it neatly.
Use wire nuts to connect wires. This prevents them from touching each other and sparking. A neat job is not only safe but also looks good.
Common Mistakes to Avoid When Installing an Electrical Box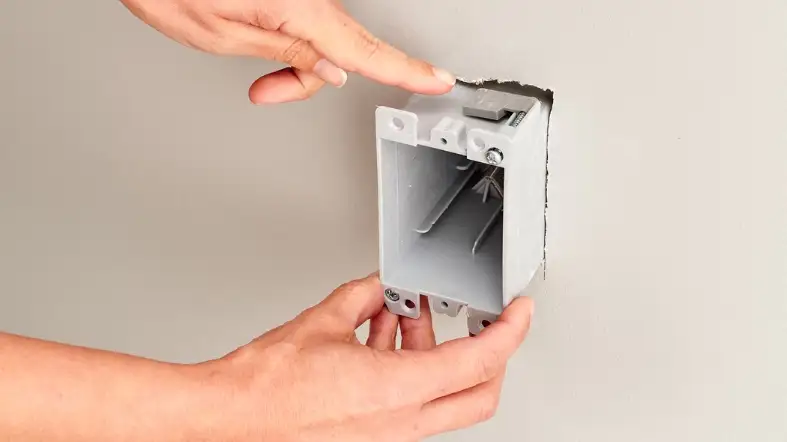 Here are some mistakes to avoid:
Neglecting to turn off the power:
The most critical mistake is not turning off the power supply first. Shut off the corresponding circuit breaker when working with live wires to avoid electrical shock.
Choosing the wrong box size:
Electrical boxes come in various sizes to accommodate different wiring configurations.
Choose a box that can comfortably accommodate the wires, switches, and outlets you plan to connect.
Using an undersized box can lead to overcrowding and make the installation more challenging.
Insufficient box support:
Mounting an electrical box without proper support can result in a loose or unstable fixture.
The box should be securely attached to a stud or joist using appropriate screws or fasteners.
Insufficient support can cause the box to sag or detach from the wall, posing a safety risk.
Improper wire connections:
Incorrectly connecting wires can lead to electrical shorts, malfunctions, or even fires.
Ensure that you match the correct wires together, following color-coded standards or labeling.
Ensure the wire connections are tightly secured with wire nuts and properly insulated.
Overstuffing the box:
Avoid cramming too many wires into the electrical box. Overstuffing can cause poor wire connections, increased heat buildup, and difficulty fitting the cover.
It's essential to maintain ample space within the box to allow for proper airflow and prevent overheating.
Inadequate grounding:
The safety of an electrical installation can be compromised by improper grounding.
The grounding wire must always be securely connected to the electrical box's grounding terminal.
Grounding ensures the circuit's proper functioning and helps prevent electrical faults.
Ignoring local electrical codes:
Electrical codes dictate proper installation procedures and requirements in each jurisdiction.
Ensure compliance with applicable codes during installation by familiarizing yourself with them.
Infractions of these codes can lead to safety hazards, failed inspections, and potential legal problems.
Rushing the installation:
Taking your time and working carefully is vital when installing an electrical box.
Rushing through the process can result in mistakes and overlook critical safety measures.
Connect all components properly, strip wires adequately, and secure all components securely.
Skipping the testing phase:
It's important to test the electrical box's connections and functionality after installation.
Use a voltage tester to verify that there is no electricity flowing to the wires before proceeding.
Once the power is restored, test the vanity light to ensure it operates correctly.
Alternatives to Electrical Boxes for Vanity Lights
If you cannot use an electrical box to install vanity lights, there are a few alternatives.
Retrofit Electrical Box:
If you have an existing wall without an electrical box, you can use a retrofit electrical box.
Vanity lights can be mounted directly to the surface of the wall with the help of these boxes.
Adjustable brackets allow retrofit boxes to be installed on different wall thicknesses.
Surface-Mounted Wiring:
Another alternative is surface-mounted wiring, which eliminates the need for wall boxes.
A conduit or wire mold encloses and protects electrical wires running along the wall.
Surface-mounted wiring is ideal for installing vanity lights on concrete walls or tiled surfaces.
Plug-In Vanity Lights:
A plug-in vanity light is a convenient temporary or non-permanent lighting solution. These lights come with a cord and plug that can be connected to an electrical outlet.
A mounting bracket or adhesive backing allows them to be attached to any mirror or wall.
With plug-in vanity lights, you don't need electrical wiring or boxes to install or replace them.
Battery-Powered Vanity Lights:
Battery-powered vanity lights offer a wireless and portable option for lighting up your vanity area.
Installing these lights is typically easy with adhesive backing or mounting brackets.
This is a great solution when electrical wiring cannot be done or when flexibility is needed.
Junction Box Extension Rings:
An extension ring can be used in some cases where the electrical box is too deep into the wall.
An additional depth of the electrical box allows the vanity light fixture to be mounted properly.
The depth of junction box extension rings can be adjusted to suit different installation needs.
FAQs About Electrical Boxes for Vanity Lights
Can I Use A Plastic Electrical Box For My Vanity Light Installation?
It depends on the local electrical codes and regulations. Certain jurisdictions allow plastic electrical boxes for low-voltage applications.
The best fire-resistant and durable electrical boxes for 120-volt wiring are metal ones.
What If There Is No Electrical Box On My Wall For The Vanity Light?
If there is no electrical box on your wall, it's essential to consult a professional electrician.
To ensure a safe and compliant installation, they will assess the situation and provide suitable solutions.
Can I Install A Vanity Light Without An Electrical Box?
It is not recommended to install a vanity light without an electrical box.
Boxes protect wiring connections and prevent accidental contact with live wires.
They are a fundamental safety requirement in electrical installations.
Can I Install A Vanity Light Electrical Box Without Following Specific Codes?
Yes, electrical installations must adhere to local electrical codes and regulations.
Codes define how electrical work should be done, including wiring, grounding, and electrical boxes.
Consult your local electrical codes or consult a qualified electrician to ensure compliance.
Should I Hire A Professional To Install An Electrical Box For A Vanity Light?
Whether you should hire a professional or do it yourself depends on the complexity of the installation.
If you have limited experience or are uncertain about any aspect of the installation, contact an electrician.
Conclusion
Ensure a safe and compliant vanity light installation by using an electrical box.
The electrical box protects wiring, provides a secure mounting point, and aligns with electrical codes.
Safeguard your electrical connections and create aesthetically pleasing vanity lighting with the box.