Is your bathroom light driving you crazy with its annoying flickering? After a long day, imagine finding solace in a relaxing bath, but finding your bathroom light dancing erratically.
In this quick and informative guide, we'll show you how to put an end to that pesky flickering once and for all. Fix the flickering light in the bathroom with these simple yet effective solutions!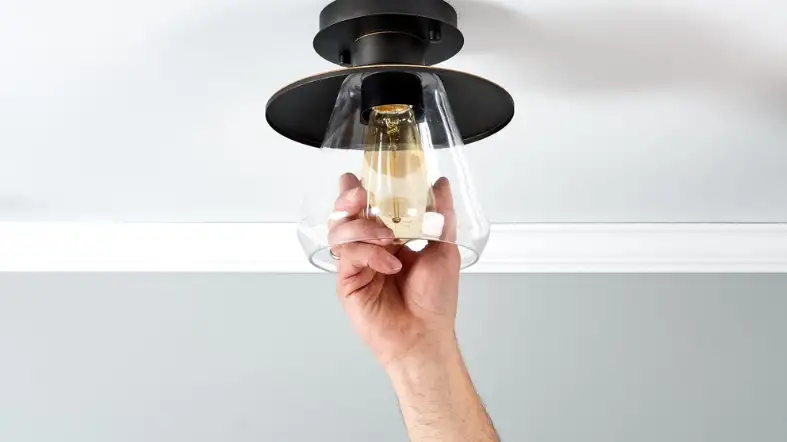 How to Fix a Flickering Bathroom Light?
Step 1: Safety First
Before we begin, always remember to prioritize safety. Make sure to turn off the bathroom light switch and unplug any electrical devices connected to the circuit.
Safety is super important, so take your time to double-check everything.
Step 2: Gather Your Tools
To fix the flickering light, you'll need a few tools. Don't worry; it's nothing complicated! Here's what you'll need:
– A ladder or step stool (if needed)
– A replacement light bulb
– A screwdriver (usually a Phillips-head or flat-head, depending on the light fixture)
– Cleaning supplies (a soft cloth or tissue)
Step 3: Remove the Light Cover
Now, let's get closer to the flickering light. Use the screwdriver to carefully remove the screws that hold the light cover in place.
Put the screws somewhere safe, so you don't lose them. Gently remove the cover and set it aside.
Step 4: Inspect the Bulb
Take a good look at the light bulb. Is it loose? If it is, try tightening it gently.
Sometimes, loose bulbs can cause flickering. If tightening doesn't solve the issue, it's time to replace the bulb.
Step 5: Replace the Bulb
Grab your new light bulb and carefully insert it into the light socket. Give it a gentle twist until it feels secure.
Remember not to overtighten it, as that can cause other problems. Once the new bulb is in place, move on to the next step.
Step 6: Clean the Light Cover and Fixture
Sometimes, dirt and dust can accumulate on the light cover and fixture, causing poor connections and flickering.
Take your soft cloth or tissue and wipe away any dirt or debris you see. Make sure to clean both the cover and the fixture thoroughly.
Step 7: Reattach the Light Cover
Now that everything is clean, it's time to put the light cover back in place.
Align it properly, and using the screwdriver, reinsert and tighten the screws. Make sure they're snug but not too tight.
Step 8: Power It Up
Once you've securely reattached the light cover, it's time to turn the power back on. Head to the bathroom light switch and flip it on. Voila! Your flickering bathroom light should be fixed.
Why Are My Lights Flickering in the Whole House? 6 Common Causes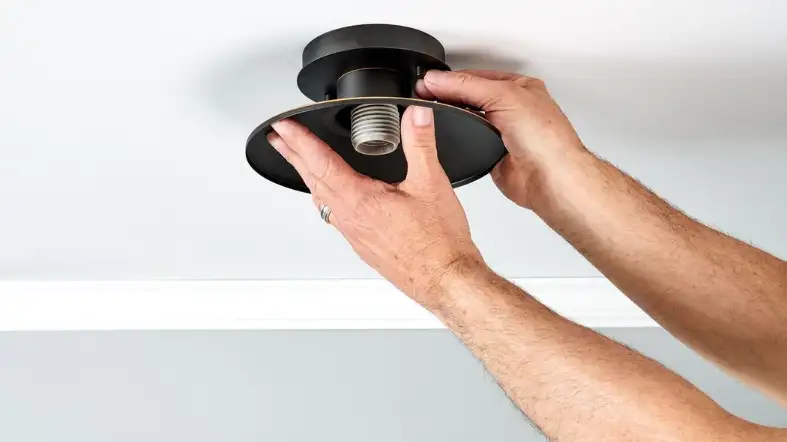 Loose Light Bulb
One possible culprit is a loose light bulb. When the bulb isn't securely screwed into the socket, it can cause intermittent flickering.
To fix this, make sure to tighten the bulb gently but firmly. Just give it a little twist until it feels snug in the socket.
Faulty Light Bulb
Sometimes, the light bulb itself may be the issue. If you've tightened the bulb properly and it still flickers, it's time to try a new one.
Grab a replacement bulb and carefully insert it into the socket. Give it a gentle twist to secure it, but remember not to overtighten it.
Poor Electrical Connections
Flickering lights can also occur due to poor electrical connections.
Over time, the wires that connect the light fixture to the electrical system can become loose or corroded, causing intermittent power flow. 
Fixing this issue might require the help of an electrician to ensure safe and proper repairs.
Dimmer Switch Problems
If your bathroom light is connected to a dimmer switch, it can sometimes lead to flickering.
Dimmer switches control the brightness of the light by regulating the electrical current. 
If the switch isn't compatible with the light fixture or is malfunctioning, it can cause flickering.
In this case, you might need to replace the dimmer switch or consult an electrician for assistance.
Voltage Fluctuations
Fluctuations in the electrical voltage supplied to your home can also be a factor in flickering lights.
When there are voltage drops or surges, it can affect the stability of your bathroom light. 
This issue typically requires professional help to diagnose and address any underlying electrical problems.
Old or Faulty Light Fixtures
Over time, light fixtures can become worn out or develop faults. Damaged or outdated fixtures can lead to flickering lights.
If you suspect the fixture itself is the problem, consider replacing it with a new one. Be sure to consult an electrician for proper installation and to ensure safety.
How Big a Problem Are Flickering Lights?
Flickering lights can be a nuisance, but they can also be a sign of a more serious problem. Here are some of the potential problems associated with flickering lights:
Electrical Issues:
Flickering lights may be a sign of loose or faulty wiring within your home's electrical system. This can pose a significant fire hazard, making it crucial to address the problem promptly.
To ensure safety, enlist the services of a qualified electrician who can inspect and identify any wiring issues. They will be able to make the necessary repairs, ensuring your electrical system operates smoothly and securely.
Circuit Overloading:
Another common cause of flickering lights is circuit overloading. Flickering lights can occur when too many electrical devices are connected to a single circuit.
Consider redistributing the load among different circuits or investing in higher-capacity breakers if required.
This will help maintain a steady flow of power and minimize potential disruptions.
Faulty Light Bulbs:
Sometimes, flickering lights may have a simple solution – faulty light bulbs. If you notice flickering in a specific fixture, try replacing the light bulb first.
Opt for high-quality bulbs and ensure they match the wattage recommendations of the fixture. If the flickering stops, the issue lies with the old bulb, and you can enjoy a well-lit space once again.
Appliance Interference:
Flickering lights can also be influenced by other power-hungry appliances. Air conditioners or heaters can cause electrical fluctuations when they draw substantial power.
Turn off other devices one by one and observe if the flickering persists if an appliance is to blame. This will help you identify the culprit and find ways to mitigate the impact on your lighting.
Preventive Measures To Avoid Future Occurrences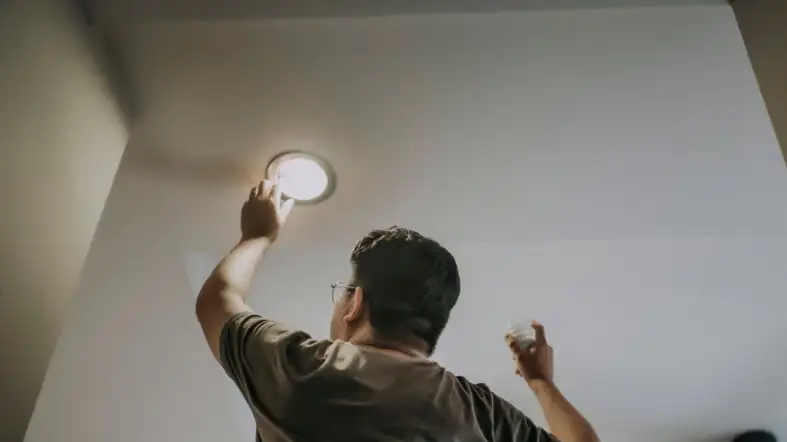 Check the Light Bulb
Start by turning off the light and examining the bulb. Sometimes, flickering is caused by a loose or faulty bulb.
Gently twist the bulb to ensure it is properly screwed in. If it's loose, tighten it until it fits snugly.
Replace the Bulb
If tightening the bulb doesn't solve the flickering issue, it's time to replace it. Unscrew the old bulb by twisting it counterclockwise.
Take it to a store and find a replacement bulb of the same wattage. Make sure to get a compatible bulb that fits your light fixture. 
Once you have the new bulb, screw it in by twisting it clockwise until it's secure.
Check the Light Switch
Now, let's move on to the light switch. Sometimes, a faulty switch can cause flickering.
Turn off the power to the bathroom light at the circuit breaker to ensure safety. Use a screwdriver to remove the switch cover plate. 
Carefully inspect the switch for any loose or damaged wires. If you find any, you may need to call a qualified electrician to fix it.
If everything looks fine, turn the cover plate on and restore power at the circuit breaker.
Examine the Electrical Connections
Flickering lights can also result from loose or damaged electrical connections. Before proceeding, turn off the power to the bathroom light at the circuit breaker.
Remove the light fixture cover by unscrewing the screws holding it in place. Carefully examine the wires connecting the fixture to the electrical box. 
Ensure all connections are secure and tightly fastened. If you notice any loose or damaged wires, it's best to consult a professional electrician to fix the issue. 
Once you've checked the connections, reattach the fixture cover by screwing it back in place.
Consider Voltage Fluctuations
Voltage fluctuations in your electrical system can also contribute to flickering lights.
If you notice flickering in multiple lights throughout your home, it might be worth consulting an electrician to investigate and address any underlying voltage issues.
FAQs on Fixing A Flickering Bathroom Light
Why Is My Bathroom Light Flickering Intermittently?
Intermittent flickering could be caused by loose wiring connections, a faulty switch, or a worn-out bulb.
Check and tighten the connections, replace the bulb, and if the issue persists, seek professional help.
Can A Flickering Bathroom Light Be Dangerous?
Flickering lights can indicate underlying electrical issues, which can potentially be hazardous.
It's important to address the problem promptly to prevent any electrical damage or safety risks.
How Often Should I Replace My Bathroom Light Bulbs?
Light bulbs generally last for several months to a few years, depending on usage.
If you notice frequent flickering, it's advisable to replace the bulb as it may be nearing the end of its lifespan.
Are There Any DIY Fixes For A Flickering Bathroom Light?
Tightening the bulb and cleaning the contacts are simple DIY steps to try.
If the problem persists, it's best to consult a professional electrician to avoid any potential risks.
When Should I Call An Electrician For A Flickering Bathroom Light?
If basic troubleshooting steps like tightening the bulb or replacing it don't solve the issue, it's wise to call an electrician.
They can diagnose and repair any underlying electrical problems effectively and safely.
Conclusion
Don't let a flickering bathroom light ruin your peaceful moments. Take charge and restore tranquility with these simple steps.
Ensure a secure electrical connection, tighten the bulb, and clean the contacts. If the issue persists, consult an electrician to address any underlying wiring problems.
Illuminate your bathroom with confidence and bid farewell to flickering frustrations.