Are you worried about the damage a rug pad may cause to your hardwood floors?
You're not alone! Many homeowners are concerned about the potential for scratching and dulling the finish of their hardwood floors.
This blog post will focus on the potential risks of using a rug pad on hardwood floors, as well as offer tips on how to protect your floors while still enjoying the benefits of a rug pad.
Do rug pads damage hardwood floors?
Yes, poor quality rug pads can damage hardwood floors by scratching the surface and causing discoloration or staining.
They could also transfer color to the flooring. Good-quality rug pads can make vacuuming smooth, reduce wear and tear, and protect hardwood flooring.
Therefore, it's important to choose the right type of rug pad to avoid any potential damage to your hardwood floors.
>>can you place a fire pit on an outdoor rug
Rug Pads That Won't Damage Hardwood Floors
The good news is that a variety of rug pad materials are safe for hard surface flooring including hardwood.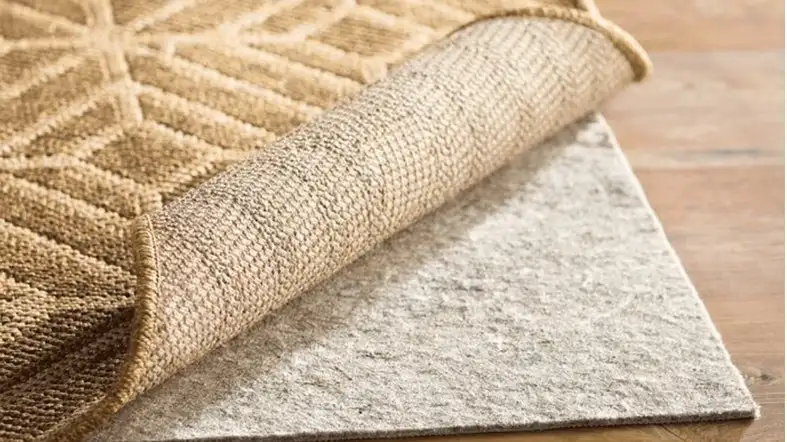 Natural Rubber
Natural rubber rug pads offer the highest performance, protection for hardwood floors, and safety.
It is odorless, free of pollutants, and environmentally beneficial. It provides traction without adhering to the floor.
Natural rubber pads are ideal for use on hardwood floors because they provide a secure grip without adhering.
Natural paddings are safer because they do not stain or damage the flooring.
These rug pads do not include plasticizers that represent a significant risk to humans and animals.
They are also significantly superior to the prevalent PVC cushioning used beneath the rugs.
A high-quality natural rubber rug pad will never adhere, discolor, or stain laminate or vinyl flooring.
Negatively, these rug pads provide little cushioning.
They are ideal for applications requiring thinner padding for low clearance, such as carpets and mats beneath doorways.
100% FELT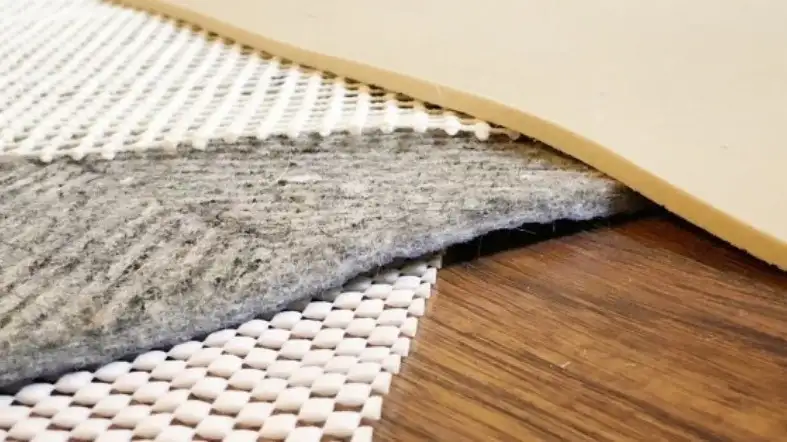 Felt rug pads are frequently made from recycled materials, making them environmentally friendly.
If underfoot comfort and coziness are important to you, a felt rug pad is ideal. It adds padding to the rug.
These pads are regarded as the safest to use on hardwood floors because they do not adhere to or stain the floor.
Felt rug pads offer your furniture and carpet a strong, resilient cushion that is also extremely plush. 
This padding protects your flooring from damage and scratches caused by the carpet and heavy furniture such as tables and sofas.
These pad varieties are soft and comfortable underfoot, making them ideal for use in the bedroom or living room.
They also soundproof your property, which is advantageous for apartment dwellers.
As with any other product, felt pads have disadvantages, such as their inability to attach firmly to the floor since they lack a nonslip surface.
Felt rug pads are entirely eco-friendly because they are created from recycled materials.
They do not have excellent anti-slip properties. Felt rug pads are ideal for large area rugs placed beneath heavy tables, recliners, and sofas.
>> What type of rug pad for 9×12 rug?
Felt/ Natural Rubber Hybrid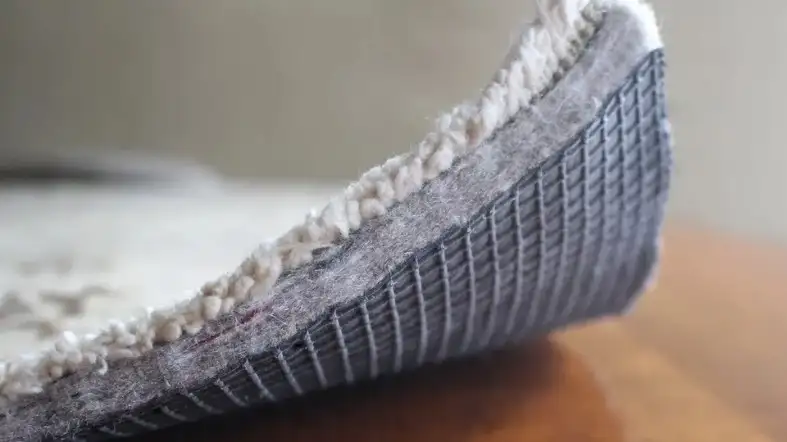 The mix of natural rubber and felt creates rug pads suitable for hardwood floors with dual surfaces. This alternative is both slip-resistant and padded.
To join the rubber and felt layer, a chemical-free heat pressing technique is utilized during the manufacturing process.
The layers will not separate over time and will not be off-gas. This hybrid pad is sturdy. It's also excellent for flat-woven rugs.
The combination of natural rubber and felt rug pads can be used to generate a rug pad that is both extremely plush and slip-resistant.
Since there is no adhesive used, it does not stain the hardwood floors and is considerably safer to use on the flooring.
This type of pad also provides a comfortable and cozy feeling to your feet while firmly holding the rug in place.
This pad is both eco-friendly and safe, as it does not include any dangerous or poisonous chemicals.
If you want a rug pad that will last for a long time, this is your best option because the material is quite sturdy.
>> What size rug pad for 8 x 10 rugs?
What Kinds Of Pads Can Damage Your Hardwood Floors?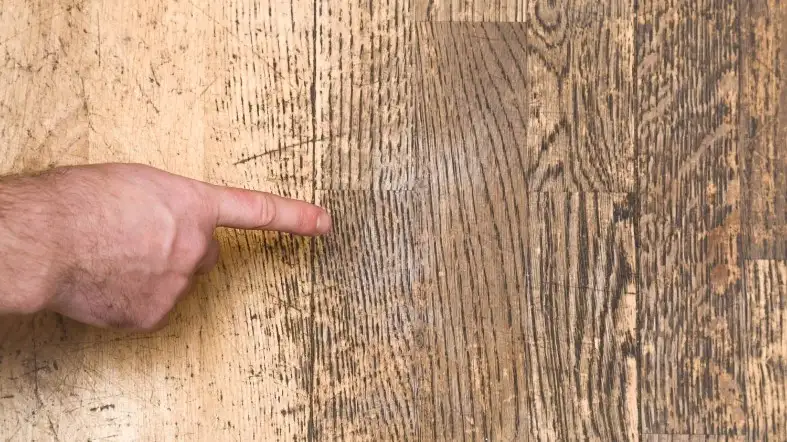 Plastic rug pads are much cheaper than felt and natural rubber rug pads, but they can't be used on hardwood floors.
Because these pads don't have non-slip backs and move around a lot on hardwood floors, they can eventually scratch and stain the floor.
Also, because they are often too thin, they don't have enough cushion to protect your floor.
Even though the backs of the plastic rug pads are coated with adhesive, they tend to stick to the floor instead of gripping it, which can leave residues and stains you didn't expect.
These pads are likely to stain and damage the finish on your hardwood floor because they can give off dangerous chemicals like VOCs and Phthalates.
These chemical compounds can harm human health and the health of other living things. That's not good!
>> How to iron out creases in polypropylene rug?
Can You Put PVC Rug Pads On Wood Floors?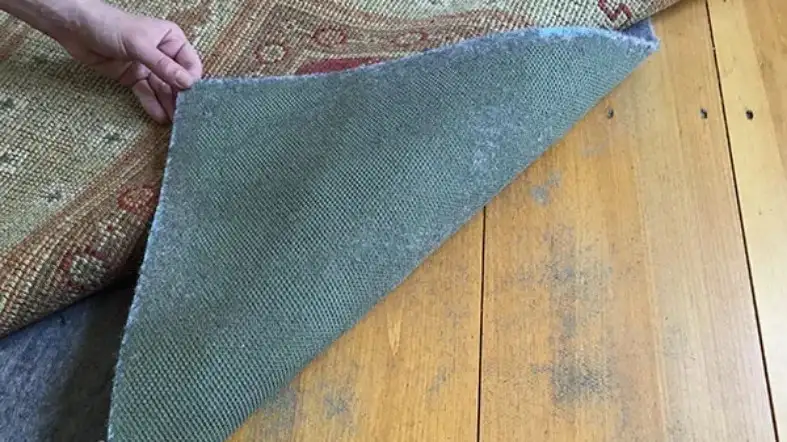 Rug pads made of synthetic latex or PVC (Polyvinyl chloride) are safe as long as they let air through.
Most of these types of rug pads make it hard for air to get through.
Moisture may build up under the rug. Also, the latex's plasticizers may seep into the floor's surface and cause damage that can't be fixed.
Rugs with latex pads or backings often have a grid or cross-hatch pattern that shows wear and tear over time.
How To Choose The Right Rug Pads For Hardwood Floors?
The use of rug pads beneath an area rug is a topic of frequent controversy.
Professionals have cautioned against the use of specific pads that may mar the finish of hardwood flooring.
This part examines the optimal rug pad for air quality, discoloration, and preservation.
The vast majority of pads on the market today are imported.
Many are high in VOCs (Volatile Organic Compounds), derived from petroleum-based compounds such as PVC, which can chemically react to polyurethane floor coatings.
If an inferior pad is placed beneath a rug for too long, it might leave behind residue that causes lasting harm to the floor. 
Some low-cost latex or synthetic rubber pads are produced with clay fillers that initially function well but subsequently degrade into dust.
Selecting a high-quality rug pad is vital and can prevent future complications. Here are some of the most important benefits of rug pads:
Safety
The most crucial function of a pad is to ensure safety. Pads for rugs will keep rugs flat and fixed, preventing slips and falls caused by rug movement.
>> How to deep clean a silk rug?
Protection 
 A pad prevents the rug from hurting the floor's surface.
Some rugs and carpets are woven atop abrasive secondary backing material that, if left unchecked, can wear through the finish on your floor.
A pad can prevent dye transfer from the rug to the floor finish.
Rug preservation 
A pad can significantly extend the life of your rug by preventing the strands from becoming flattened or squeezed.
The rug pad protects the back of the rug from excessive damage caused by rubbing against a hard floor surface.
This is particularly crucial for hand-knotted rugs, as the knots are located on the rug's reverse and must be safeguarded.
Comfort 
Adding a pad to a rug thickens it, making it cushy underfoot.
Tips for hardwood floors Maintenance 
Hardwood floors are a lovely and timeless addition to any house, but they require specific maintenance to remain in pristine condition.
Here are five simple care ideas for hardwood floors:
Vacuum routinely
This will aid in the removal of any dirt, dust, or other material that may gather on the floor and cause scratching.
Use a vacuum with a soft brush attachment in order to avoid damaging the floors.
Sweep or dry mop weekly
To vacuuming, weekly sweeping and dry mopping will help maintain your hardwood floors clear of filth and grime.
Avoid damaging floors with furniture
Place padding beneath the legs of all chairs, tables, and other furniture to avoid scratches and scuffs.
Do not use strong chemicals or cleaning agents
Be sure to use soft, nonabrasive cleansers while cleaning your hardwood floors. Harsh chemicals can harm floors and remove their sheen.
Plan for frequent cleaning and refinishing
Every few years, depending on the amount of foot traffic in your home, you may need to have your hardwood floors professionally cleaned and refinished.
This will help to preserve their brand-new appearance.
FAQs on if Rug Pad Damage Hardwood Floors
Do You Need To Place A Pad Beneath A Rug On Hardwood Floors?
Yes, it is best to use rug pads with custom area rugs in order to keep them in place permanently.
Employing separate pads increases the durability of both the floor and the handmade carpets.
Do Rug Pads Harm Hardwood Floors During Summertime?
In the summer, rug pads containing latex or similar chemicals can cause irreparable harm to hardwood floors.
High temperature acts as a progressive catalyst between the floor sealant components and the latex.
The pads can therefore result in significant discoloration and even corrosion of the delicate parts.
These rug pads should not be used on hardwood floors, especially during the summer.
Do I Need A Rug Pad For Soft Mats On Hardwood Floors?
If you want to keep the mats in place on the hardwood floors, you can use rug pads.
Many prefer to spread the soft mats across the floors like an open blanket.
In this instance, it is not necessary to use the hefty rubber pads to weigh down the mats.
It is recommended to use rug pads with some rugs to prevent floor damage.
Am I Required To Use Rug Pads On Laminated Hardwood Floors?
Finishing hardwood floors with lamination or sealants can make the surface rather slippery.
It is unlikely that your rugs will remain in place on the laminated floors.
Rug cushions can be utilized to preserve the integrity of both the designer rugs and mats.
High-quality pads will safeguard the protecting layers as well.
What Type Of Rug Pad Should Be Used For Added Comfort On Hardwood Floors During The Winter?
During the winter, you can use thick rug pads for added comfort and warmth.
You must also ensure that none of the components in the heavier pads will have a negative impact on the laminated hardwood floors.
How Long Must I Wait Before Applying Rug Pads To Newly Treated And Sealed Hardwood Flooring?
Depending on the severity of the sealant substance, the drying process, the size of the building area, etc., you may not be able to place anything on the flooring for up to three weeks.
Due to a consistent increase in humidity in some areas, the process may take much longer than anticipated.
Before applying or setting anything on newly treated wood floors, it is generally recommended to wait at least a few weeks.
You can also request a timetable from the construction managers including the surface drying time frame and other variables.
Final Words
Now you know the answer to the question, "do rug pads damage hardwood floors?"
Your hardwood floor's longevity depends on the quality and substance of your rug pad.
Before purchasing the best rug pad for hardwood floors, you must evaluate the compatibility between the rug pad and floor type, rug pad materials, and quality.
Invest most heavily in a high-quality rug pad. In the long run, a cheap rug pad may cost more than a more expensive option.