Building a deck is like building a mini outdoor room. It's important to use the right size nails for deck framing to ensure it's strong and safe. The wrong size could lead to a shaky deck or even accidents.
In this guide, we'll dive into the specifics of nail sizes, types, and techniques to ensure your deck stands strong and secure for years to come.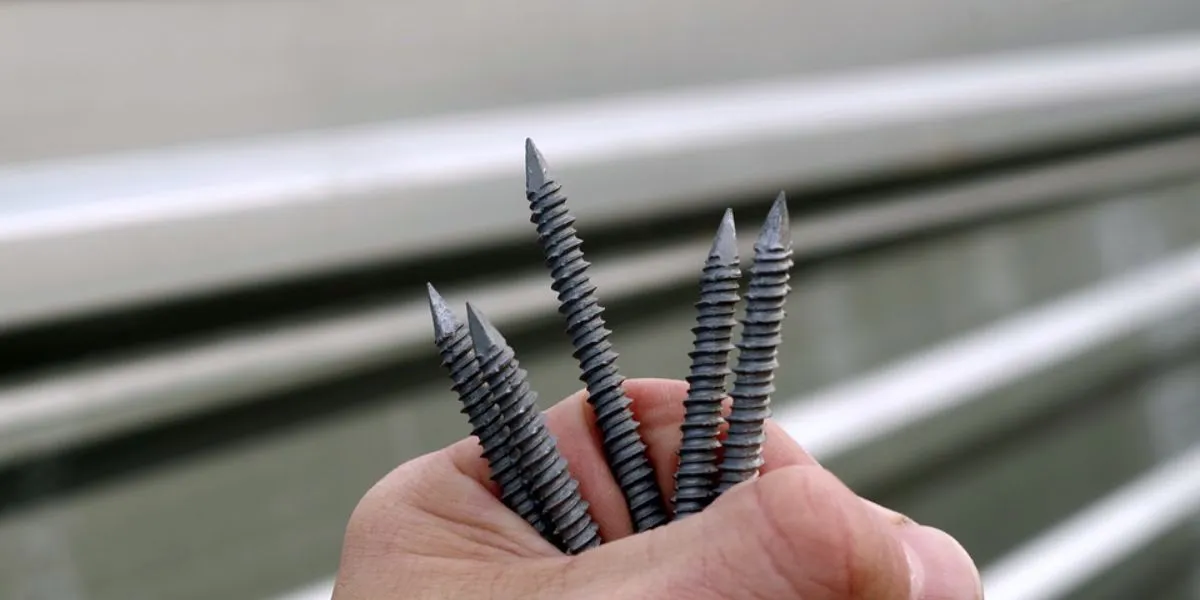 What Size Nails for Deck Framing?
For deck framing, 16D galvanized nails are commonly used for securing 2x lumber, while 8D or 10D nails are suitable for 5/4x boards. The length should be at least three times the thickness of the wood being fastened.
Recommended Nail Sizes and Materials by Scenario
| Deck Framing Scenario | Recommended Nail Size | Material |
| --- | --- | --- |
| Securing 2x lumber to joists or beams | 16d galvanized common nails | Galvanized steel |
| Attaching 5/4x deck boards to joists | 8d or 10d nails | Galvanized steel or stainless steel |
| Fastening railings or balusters | 8d or 10d finishing nails | Galvanized steel or stainless steel |
| Attaching ledger boards to the house | Lag screws or structural screws | Galvanized steel or stainless steel |
Different Types of Nails for Deck Framing
Galvanized Nails
Galvanized nails are a popular choice for deck framing. They are made of steel and coated with zinc. This zinc coating acts as a barrier that protects the steel from rusting, making them ideal for outdoor projects like decks.
When using galvanized nails, make sure to hammer them in straight to avoid damaging the zinc coating.
Stainless Steel Nails
Stainless steel nails are another excellent option for deck framing. They are highly resistant to rust and corrosion, thanks to the chromium present in stainless steel.
This makes them an excellent choice for decks in wet climates or near bodies of water. Stainless steel nails are a bit more expensive than other types, but their durability and longevity make them worth the investment.
Aluminum Nails
Aluminum nails are lightweight and resistant to rust, making them suitable for certain types of deck framing.
However, they're not as strong as other types of nails, so they're not recommended for heavy-duty framing or for decks that will bear a lot of weight.
Aluminum nails are best used with cedar or redwood decks, as these woods are less dense and easier for the nails to penetrate.
Ring-Shank Nails
Ring-shank nails have a unique design that sets them apart from other types of nails. They have rings on their shanks that provide extra grip, making them less likely to pop out over time.
This makes ring-shank nails an excellent choice for areas with high winds or heavy foot traffic.
However, they can be more difficult to drive into harder woods, so it's important to choose the right size and type of ring-shank nail for your specific project.
How to Choose the Right Nail Size for Deck Framing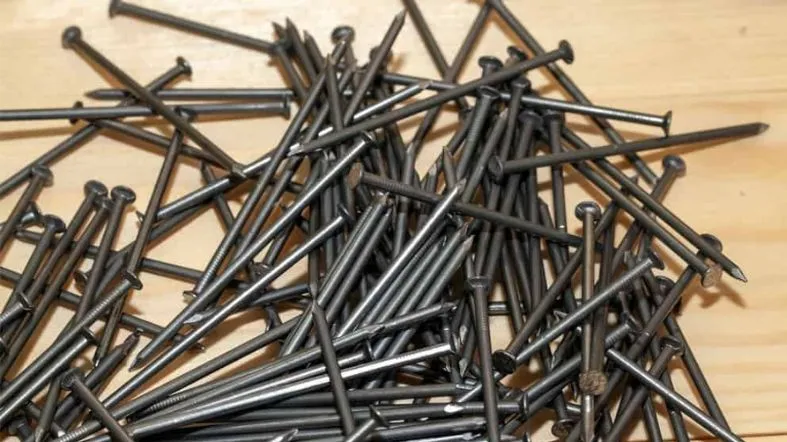 Measure the Decking Board Thickness
First up, grab a ruler or tape measure to find out the thickness of your decking boards.
Let's say your boards are 1 inch thick. Then, for a strong bond, your nails should be at least three times that length.
Types of Nails: Galvanized vs. Stainless Steel
Two common types of nails for decks are galvanized and stainless steel. Galvanized nails are coated to prevent rust. Stainless steel nails resist corrosion naturally.
For a deck near a saltwater pool, stainless steel would be the better option.
Optimal Nail Length
The ideal length of a nail is three times the thickness of the deck board. For a 1-inch board, you'd want a 3-inch nail.
This ensures the nail penetrates the joist and holds everything securely.
Gauge Matters: Choose the Right Diameter
Nail gauge, or diameter, also plays a role. A thicker gauge, like 10-gauge, offers more holding power.
Test the Nail Penetration
Before you start the main project, do a test run. Take a scrap piece of board and the nail you think will work. Hammer it in and see how well it holds. If it wobbles, you may need a different size or type.
Spacing the Nails
For secure deck framing, space your nails about 16 inches apart along the joists. Place the nails 2 to 3 inches away from the board ends to avoid splitting.
Angled Nailing Technique
When nailing close to the edge or end of a board, angle the nail slightly to avoid splitting the wood. Aim for a 30- to 45-degree angle for optimal hold.
Utilize Nail Sets for a Clean Finish
A nail set is a tool that helps you drive the nail below the surface of the wood. Give it a tap with your hammer. Now the nail sits flush with the board.
Safety Precautions
Don't forget your safety gear. Use protective eyewear and earplugs, especially if you're using a nail gun.
Double-Check Your Work
After framing a section of your deck, step back and check. Make sure all boards are secure and no nails are protruding. Make adjustments as needed.
Factors Influencing Nail Size Selection for Deck Framing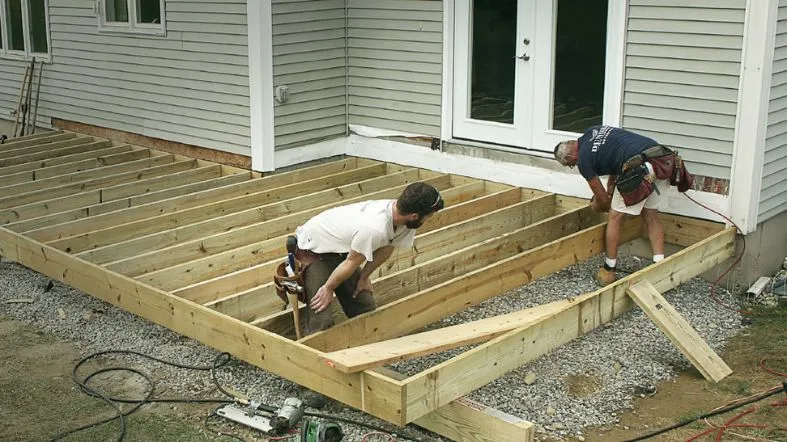 Material of the Deck Boards
The type of material you choose for your deck boards can affect the size of the nails you need.
For example, composite decking often requires smaller nails than wood decking.
Type of Framing Wood
The type of wood you choose for your deck frame can also affect your nail size choice. Harder woods like oak or maple may require larger nails.
Load-Bearing Requirements
If your deck will need to support a lot of weight, like a hot tub or a large gathering of people, you might need larger nails.
Weather Conditions
If you live in a wet climate, you might want to choose rust-resistant nails like stainless steel or galvanized nails.
Building Codes and Regulations
Your local building codes might specify certain nail sizes for deck construction. Always check with your local building department before starting your project.
Aesthetics and Finish
The size and type of nail you choose can affect the look of your finished deck. For a smooth finish, consider using smaller nails or hidden fasteners.
Cost and Budget
Larger nails are usually more expensive, so consider your budget when choosing nail size. It's not just about the cost of the nails, but also the cost of any additional tools or equipment you might need.
Available Tools and Equipment
Some types of nails require special tools to install, like a nail gun or hammer drill. Make sure you have the right equipment before you start building.
Longevity and Durability
Choosing the right nail size can help ensure your deck lasts as long as possible. Larger nails tend to provide more stability and durability, especially for larger decks or decks made from heavy materials.
Safety Concerns
Using the wrong nail size can lead to a shaky or unsafe deck, so always choose carefully. It's always better to err on the side of caution when it comes to safety.
Practical Tips for Deck Framing with Nails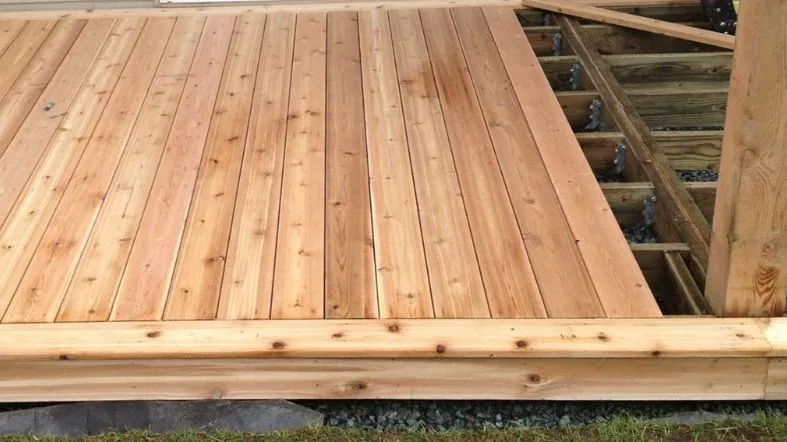 Test the Nails on a Small Section First
Before you start nailing your entire deck, it's good to test a few nails on a small section first. This will help you make sure they're the right size and type for your deck material.
Look for Nails With High Shear Strength
When choosing nails for your deck framing, look for ones with high shear strength. These nails are less likely to bend or break under pressure.
Use the Right Nail Length and Diameter
The length and diameter of your nails can significantly affect their holding power.
For example, longer nails are typically better for securing larger pieces of wood, while shorter nails might be sufficient for smaller, thinner pieces.
Follow Best Practices for Nail Placement
Proper nail placement can help ensure your deck is strong and stable. As a rule of thumb, nails should be placed at least 3/4 inch from the edge of the wood to prevent splitting.
Also, when nailing two pieces of wood together, make sure the nail goes through both pieces and comes out the other side for a secure hold.
Dos and Don'ts When Choosing Nails for Deck Framing
Do Check Local Building Codes
Always check your local building codes before starting any construction project. These codes often specify requirements for deck construction, including the size and type of nails you should use.
Don't Skimp on Quality
While it might be tempting to save money by buying cheaper nails, remember that quality matters!
Cheaper nails might not hold as well or last as long, leading to a less stable and durable deck.
Do Consult Professionals for Large Projects
If you're planning a large or complex deck project, consider consulting with a professional contractor or engineer first.
They can provide valuable advice and guidance, helping you choose the right nail size and type for your specific project.
Don't Forget to Account for Hidden Costs
Remember to factor in the cost of any necessary tools or equipment when budgeting for your deck project.
This includes not only the cost of the nails themselves, but also any special tools you might need to install them.
FAQs
Can I use aluminum nails for heavy-duty deck framing?
No, aluminum nails are not recommended for heavy-duty deck framing due to their lower strength.
Are stainless steel nails better for decks near saltwater?
Yes, stainless steel nails are recommended for decks near saltwater due to their superior corrosion resistance.
Does the nail length need to be exactly three times the thickness of the decking board?
No, but the nail length should be at least three times the thickness for optimal hold.
Is angled nailing recommended for all types of boards?
Angled nailing is specifically advised for nailing close to the edge or end of a board to prevent splitting.
Are galvanized nails safe for all types of wood?
No, the chemicals in some pressure-treated woods can corrode galvanized nails, so it's important to verify compatibility.
Conclusion
Choosing the right nail size for deck framing is crucial for building a strong, safe, and long-lasting deck.
Remember to consider factors like the material of your deck boards, the type of wood you're using for framing, and your local climate and weather conditions.
And always follow local building codes and regulations! Happy building!