Choosing the right tank for your bearded dragon is crucial for its health and happiness. The tank size can significantly impact their growth, stress levels, and overall well-being.
Let's explore how to select the perfect home for your scaly friend!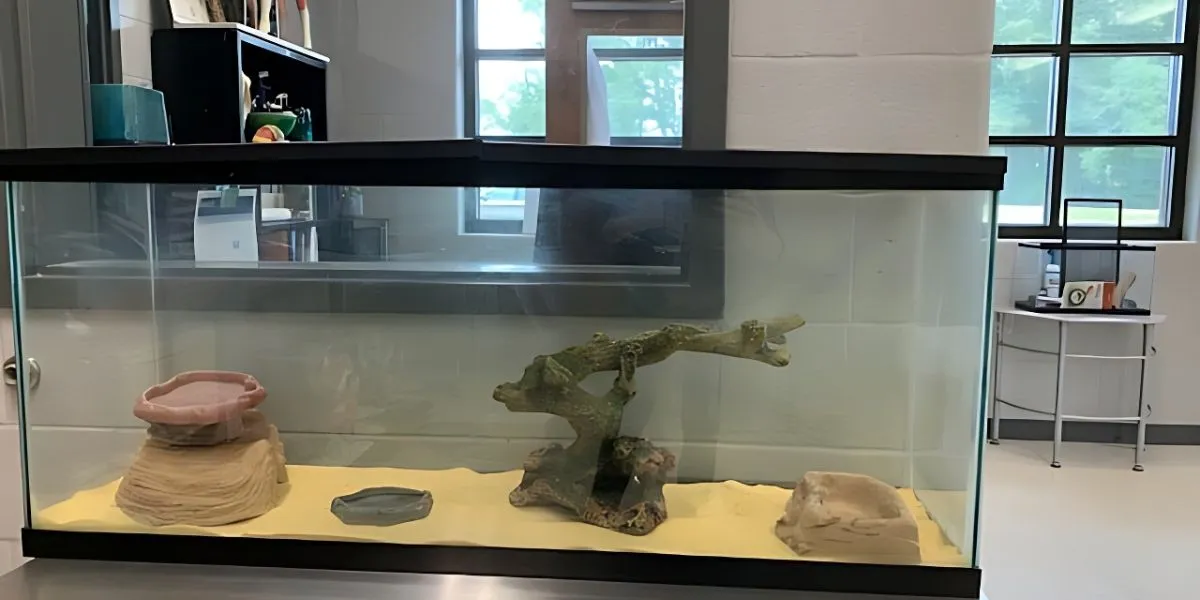 What Size Tank Does a Bearded Dragon Need?
For a bearded dragon, a 20-gallon tank is suitable for babies, but adults need at least a 40-gallon to 75-gallon tank for ample space and comfort. The tank should measure at least 36 inches in length, 18 inches in width, and 18 inches in height for adult bearded dragons.
Recommended Tank Sizes by Age
| Bearded Dragon Age | Recommended Tank Size | Minimum Dimensions |
| --- | --- | --- |
| Baby (0-5 months) | 20 gallons | 24″x12″x12″ |
| Juvenile (5-12 months) | 40 gallons | 36″x18″x16″ |
| Adult (12+ months) | 40-75 gallons | 36″x18″x18″ |
Different Types of Tanks Suitable for a Bearded Dragon
Glass Terrariums
Glass terrariums are a top choice for many bearded dragon owners. They're strong and long-lasting, making them a great investment.
The clear glass allows you to observe your pet easily and also lets in plenty of light. Plus, they're excellent at retaining heat, which is vital for your bearded dragon's health.
Wooden Enclosures
Wooden enclosures are another solid option. They're robust and excellent at holding in heat. However, they don't offer the same clear visibility as glass terrariums.
This means you might not be able to watch your bearded dragon as closely. But if your pet prefers a more private environment, a wooden enclosure could be just right.
Plastic Tubs
If you're looking for a lightweight and easy-to-clean option, consider plastic tubs. They're especially handy for young dragons or as a temporary home during cleaning or travel.
However, they may not provide the best visibility or heat retention.
Acrylic Cages
Acrylic cages combine the best of both worlds: they're clear like glass but much lighter. This makes them easy to move around when needed.
However, keep in mind that acrylic can scratch easily, so handle with care to keep your cage looking its best.
The Importance of Tank Size Based on Bearded Dragon's Life Stage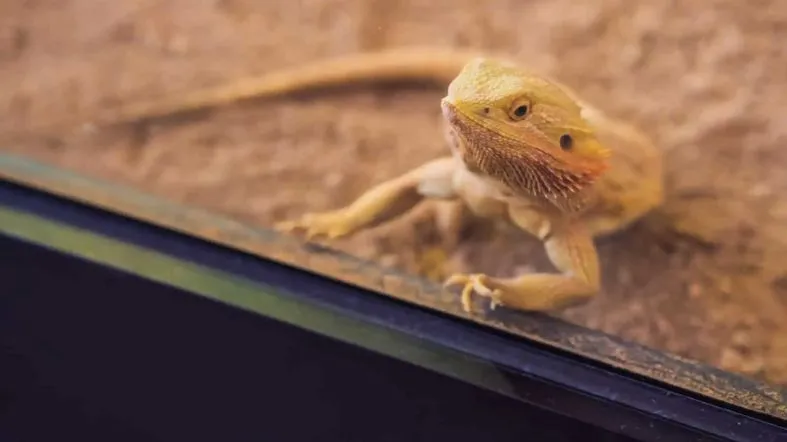 Baby Stage
Baby bearded dragons are tiny and don't need a lot of space. A smaller tank is actually better for them because it makes it easier for them to catch their food. But remember, they grow quickly, so be ready to upgrade!
Juvenile Stage
As your bearded dragon grows into its juvenile stage, it will need more room. A larger tank allows them to explore and exercise, which is important for their development. Make sure there's enough space for them to move around freely.
Adult Stage
Once your bearded dragon reaches adulthood, it will need a large tank. Adult bearded dragons love to roam around, bask in the heat, and engage in natural behaviors. A spacious tank helps them stay active and healthy.
Factors Influencing Tank Size Selection for a Bearded Dragon
Bearded Dragon Size and Age
The size and age of your bearded dragon play a big role in choosing the right tank size. A baby dragon needs less space than an adult, but remember, they grow quickly!
Activity Levels
Active bearded dragons need more room to roam, bask, and explore. If your dragon loves to move around, go for a larger tank.
Accessories and Decorations
The number of accessories and decorations in the tank can take up space. Make sure there's still plenty of room for your dragon to move around.
Number of Bearded Dragons
Planning to house more than one bearded dragon in a tank? You'll need a larger tank to give each dragon enough space.
Ventilation Requirements
Good airflow is crucial for your bearded dragon's health. Choose a tank that allows for proper ventilation.
Budget Considerations
Larger tanks can be more expensive. Keep your budget in mind when choosing a tank size, but remember, your dragon's comfort comes first!
How to Upgrade Tank Size as Your Bearded Dragon Grows
When to Upgrade
Keep an eye on your bearded dragon as it grows. A baby dragon fits in a small tank, but it won't stay that way for long.
When you see your dragon starting to look cramped or unable to move freely, it's a sign. It's time to think about a new, bigger home for your pet.
You don't want to stress your dragon by keeping it in a small space for too long.
How to Make the Transition Easier
Moving to a new place can be stressful for bearded dragons, just like it can be for people. So, here's how you can help. First, put some of its favorite items from the old tank into the new one.
This could be a special rock, toy, or hiding spot. It makes the new place feel like home. Next, place the new tank next to the old one for a few days.
This lets your dragon see and smell the new environment. After a few days, let your dragon explore the new tank while still keeping the old one close by.
Finally, make the full move. Take your bearded dragon and put it in its new home. Make sure to keep an eye on it to see if it's happy and stress-free.
Tips on Choosing the Next Tank Size
Picking the right tank size is crucial. A good rule to follow is "the bigger, the better". Aim for a tank that's at least 55-75 gallons for a full-grown adult bearded dragon.
But don't just look at the gallon size. Also think about the shape of the tank. Bearded dragons love to climb, so a tank that's tall is as important as one that's long.
Check that the tank has good ventilation. A mesh top works well for this. Your dragon needs fresh air to stay healthy.
Lastly, make sure the tank is easy to clean. Look for a tank with a removable bottom tray, so you can clean up easily.
Common Mistakes to Avoid When Choosing a Tank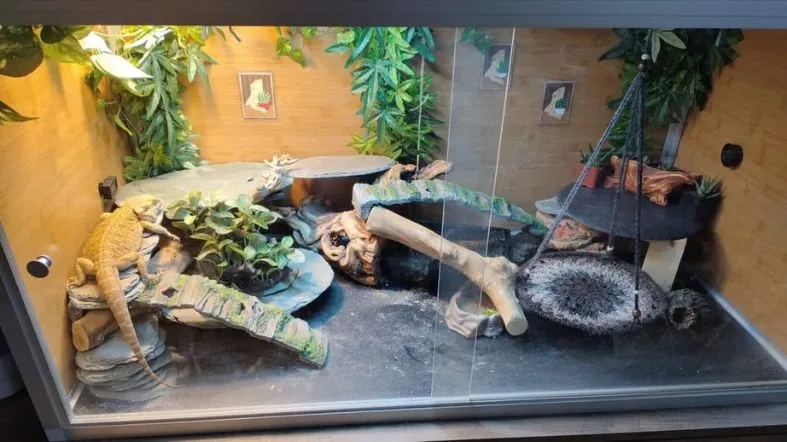 Choosing Too Small of a Tank
Don't underestimate how much space your bearded dragon needs. A tiny tank isn't just a tight fit; it's a health risk.
Cramped spaces can make your dragon stressed, sad, and even stop it from growing properly. Always go for a bigger tank when in doubt, because a happy dragon needs room to roam.
Overcrowding the Tank
You might think filling the tank with lots of decorations and toys will make it more fun. That's not always true. Too much stuff can make your dragon feel trapped and stressed.
And if you're thinking of adding another bearded dragon, think twice. Bearded dragons are territorial. Putting more than one in the same tank could lead to fights or stress.
Inadequate Ventilation
Remember, your dragon needs to breathe fresh air just like you do! A tank with bad ventilation can cause respiratory problems for your pet.
Always opt for a tank with a mesh top or built-in vents. Check them often to make sure they're not blocked.
Ignoring Material Safety
Some materials look cool but are dangerous for bearded dragons. Avoid tanks or accessories made from treated wood or some plastics, as these can be toxic.
Also, steer clear of sharp or jagged decorations. They might cause injuries. Always choose materials that are safe for reptiles, like smooth rocks and driftwood. Safety first!
FAQs
Can a baby bearded dragon be kept in a 40-gallon tank?
While it's possible, a smaller tank is usually better for baby bearded dragons to help them catch their food more easily.
Is a wooden enclosure suitable for a bearded dragon?
Yes, wooden enclosures are robust and good at retaining heat, although they offer less visibility compared to glass terrariums.
Are plastic tubs recommended for adult bearded dragons?
Plastic tubs are generally not recommended for adult bearded dragons due to poor visibility and heat retention.
Do bearded dragons need a tall tank for climbing?
While bearded dragons do enjoy climbing, the tank's length and width are generally more important factors to consider.
Does the number of decorations affect a bearded dragon's comfort?
Yes, too many decorations can make the tank feel crowded and stressful for the bearded dragon.
Conclusion
Choosing the right tank size for your bearded dragon is crucial for their health and happiness. Always consider factors such as their age, size, activity levels, and the number of dragons when selecting a tank.
Avoid common mistakes like choosing too small of a tank or overcrowding it. With proper care and attention, you can create an ideal home for your scaly friend!