Knowing the right size pressure tank for a family of 4 is crucial for maintaining consistent water pressure and prolonging the life of your water pump.
The benefits are clear: efficient water usage, cost savings, and improved home comfort. However, choosing the wrong size could lead to frequent pump cycles and decreased water pressure.
This article will guide you through the process of determining the ideal pressure tank size, exploring various types, and understanding the installation process. Let's dive in!
What Size Pressure Tank Do You Need for a Family of 4?
For a family of 4, a pressure tank with a capacity of 36 to 50 gallons is generally recommended considering an average drawdown capacity of 10-15 gallons. This size ensures adequate water supply for daily activities and appliances while optimizing pump performance.
Recommended Pressure Tank Sizes by Family Size
| Family Size | Recommended Pressure Tank Size | Average Drawdown Capacity |
| --- | --- | --- |
| Single | 20-30 gallons | 5-7 gallons |
| Family of 2 | 26-36 gallons | 7-10 gallons |
| Family of 4 | 36-50 gallons | 10-15 gallons |
| Family of 6 | 50-80 gallons | 15-24 gallons |
Different Types of Pressure Tanks Suitable for a Family of 4
Diaphragm Tanks
Diaphragm tanks use a flexible rubber diaphragm to separate the water and air within the tank.
This design allows for efficient water pressure management and is a popular choice for many households.
Bladder Tanks
Bladder tanks are similar to diaphragm tanks, but they use a replaceable bladder instead of a diaphragm. This feature makes bladder tanks easier to maintain and repair if needed.
Fiberglass Tanks
Fiberglass tanks are lightweight and resistant to corrosion. They're an excellent choice for environments with aggressive water or harsh conditions. Plus, their lightweight design makes installation easier.
Steel Tanks
Steel tanks were once common, but they've become less popular due to the risk of corrosion. However, they're still a viable option if properly maintained and treated to resist rust.
Importance of Water Consumption Rate While Determining Pressure Tank Size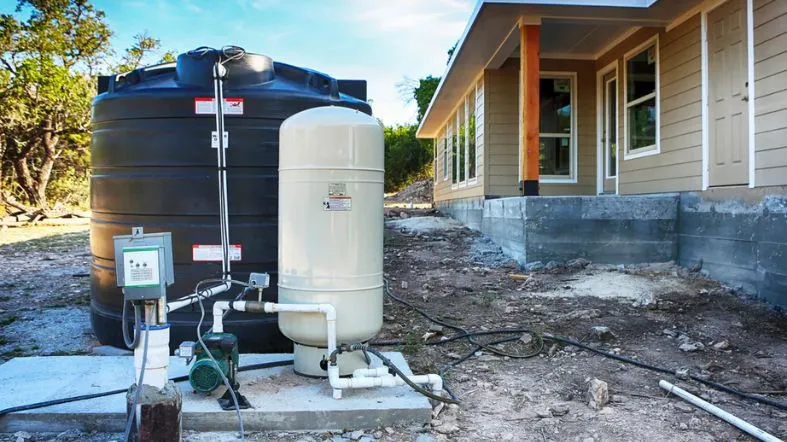 Average Daily Water Consumption
The average daily water consumption rate is a key factor in determining the size of your pressure tank.
It's important to estimate how much water your family uses each day to ensure you choose a tank that can meet your needs.
Peak Demand and Usage Patterns
Peak demand periods, like the morning hours when everyone is getting ready for the day, can significantly impact your water usage.
Your pressure tank should be able to handle these peak times without running out of water.
Appliances That Use Water
The number and type of appliances that use water in your home also influence your water consumption rate.
Appliances like dishwashers, washing machines, and sprinkler systems can use a lot of water, so consider these when choosing your pressure tank size.
Factors Influencing Pressure Tank Size Selection for a Family of 4
Water Pump Capacity
The capacity of your water pump plays a significant role in determining the size of your pressure tank. A larger pump may require a larger tank to handle the increased water flow.
Plumbing System
The design and condition of your plumbing system can also influence the size of your pressure tank. A well-designed system can help maintain steady water pressure, reducing the need for a larger tank.
Quality of Incoming Water
The quality of your incoming water can affect the performance and lifespan of your pressure tank. For instance, hard water can cause mineral buildup, affecting the tank's efficiency.
Backup Supply Considerations
Having a backup water supply can influence the size and type of pressure tank you choose. If you have a reliable backup, you might opt for a smaller tank.
Budget and Cost
Your budget and the cost of different types of pressure tanks can also influence your decision. While larger tanks provide more capacity, they also tend to be more expensive.
Energy Efficiency
Energy-efficient pressure tanks may be more expensive initially but can save money in the long run by reducing energy costs.
Space and Installation Requirements
The space available for installing a pressure tank can limit your options for tank size. Make sure to measure your available space before making a decision.
Local Regulations and Zoning Requirements
Local regulations and zoning requirements may also influence the type and size of pressure tank you can install. Always check with local authorities to ensure compliance.
How to Calculate the Ideal Pressure Tank Size for Your Family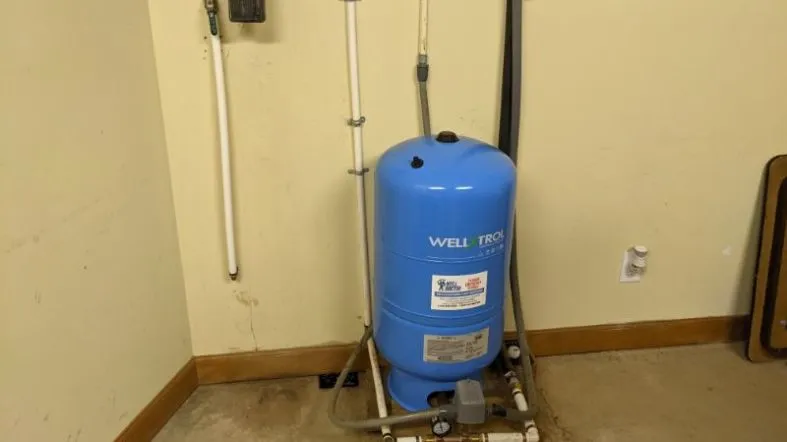 Know Your Daily Water Usage
First, figure out how much water your family uses in a day. You can check your water bill for this information.
For example, if your family uses 300 gallons per day, write that number down. Knowing your daily water usage helps you find a tank that's not too small or too big.
Consider Drawdown Capacity
Drawdown capacity is the water your tank can actually give you between pump cycles. So, if you have a 50-gallon tank, you might only get 15 gallons of drawdown capacity.
Think of it like the milk left in the jug after everyone has had their cereal; you need enough for everyone but not so much that it goes to waste.
Use the Formula
There's a formula you can use to get a pretty good idea of the tank size you'll need: Daily Water Usage divided by the Number of Pump Cycles per day.
For instance, if you use 300 gallons a day and your pump runs 3 times a day, you'd do 300 divided by 3. That's 100 gallons per cycle.
Check Pump Output
Look at how much water your pump can move in a minute. This is called Gallons Per Minute or GPM. If your pump has a GPM of 20, it would take 5 minutes to fill a 100-gallon tank. Make sure your pump can handle the tank size you've calculated.
Factor in Growth
Is your family growing? Maybe you're planning to have another kid, or maybe grandma is moving in. Make sure to choose a tank that can handle a few extra gallons.
So, if you calculated you need a 100-gallon tank, maybe go for a 120-gallon tank to have room for growth.
Seek Professional Advice
Lastly, it's a good idea to talk to an expert. They can look at your calculations and your home's plumbing and tell you if you've picked the right size.
Just like you'd ask a teacher to check your homework, asking an expert makes sure you've done it right.
Signs That You Need to Upgrade Your Pressure Tank
Decreased Water Pressure
If you notice a significant drop in water pressure, it's a clear sign that you might need to upgrade your pressure tank. This could be due to the tank's inability to hold enough water.
Frequent Pump Cycles
Frequent pump cycles are another sign to watch out for. If your pump is turning on and off more often than usual, it could mean that your pressure tank is too small and can't keep up with your water usage.
Age of the Tank
The age of your tank can also affect its performance. Older tanks may not work as efficiently as newer models. If your tank is old, consider upgrading to a newer model that can perform better.
Change in Family Size or Water Usage
Changes in your family size or water usage patterns can also necessitate an upgrade.
If more people are using water or if you're using more water for new appliances or activities, your current pressure tank might not be sufficient.
FAQs
Can I use a smaller pressure tank than recommended for a family of 4?
No, using a smaller tank than recommended may lead to frequent pump cycles and decreased water pressure.
Is drawdown capacity the same as the total tank size?
No, drawdown capacity is the usable water volume the tank provides between pump cycles.
Are fiberglass tanks suitable for harsh water conditions?
Yes, fiberglass tanks are corrosion-resistant and are suitable for environments with aggressive water.
Do steel tanks require special maintenance?
Yes, steel tanks need to be regularly treated to prevent rust and corrosion.
Does a higher Gallons Per Minute (GPM) rating mean I need a bigger tank?
Not necessarily; a higher GPM may fill the tank faster, but the ideal tank size is determined by various factors including daily water usage and pump cycles.
Conclusion
Selecting the right pressure tank size for a family of four is crucial for maintaining consistent water supply, reducing energy costs, and extending pump life.
Consider factors like daily water consumption, pump capacity, plumbing infrastructure, budget, local regulations, and signs that you need an upgrade.
Always consult with professionals when making this important decision.