Welcome to the world of precise gas pipe sizing! The Natural Gas Pipe Sizing Chart BTU is more than just numbers; it's a roadmap to efficiency and safety.
Natural Gas Pipe Sizing Chart BTU
| PIPE SIZE (inches) | Actual ID | 10 ft | 20 ft | 30 ft | 40 ft | 50 ft | 60 ft | 70 ft | 80 ft | 90 ft | 100 ft | 125 ft | 150 ft | 175 ft | 200 ft | 250 ft | 300 ft | 350 ft | 400 ft |
| --- | --- | --- | --- | --- | --- | --- | --- | --- | --- | --- | --- | --- | --- | --- | --- | --- | --- | --- | --- |
| 1/2" | 0.622 | 172 | 118 | 95 | 81 | 72 | 65 | 60 | 56 | 52 | 50 | 44 | 40 | 37 | 34 | 30 | 27 | 25 | 23 |
| 3/4" | 0.824 | 360 | 247 | 199 | 170 | 151 | 137 | 126 | 117 | 110 | 104 | 92 | 83 | 77 | 71 | 63 | 57 | 53 | 49 |
| 1" | 1.049 | 678 | 466 | 374 | 320 | 284 | 257 | 237 | 220 | 207 | 195 | 173 | 157 | 144 | 134 | 119 | 108 | 99 | 92 |
| 1 1/4" | 1.380 | 1,390 | 957 | 768 | 657 | 583 | 528 | 486 | 452 | 424 | 400 | 355 | 322 | 296 | 275 | 244 | 221 | 203 | 189 |
| 1 1/2" | 1.610 | 2,090 | 1,430 | 1,150 | 985 | 873 | 791 | 728 | 677 | 635 | 600 | 532 | 482 | 443 | 412 | 366 | 331 | 305 | 283 |
| 2" | 2.067 | 4,020 | 2,760 | 2,220 | 1,900 | 1,680 | 1,520 | 1,400 | 1,300 | 1,220 | 1,160 | 1,020 | 928 | 854 | 794 | 704 | 638 | 587 | 546 |
| 2 1/2" | 2.469 | 6,400 | 4,400 | 3,530 | 3,020 | 2,680 | 2,430 | 2,230 | 2,080 | 1,950 | 1,840 | 1,630 | 1,480 | 1,360 | 1,270 | 1,120 | 1,020 | 935 | 870 |
| 3" | 3.068 | 11,300 | 7,780 | 6,250 | 5,350 | 4,740 | 4,290 | 3,950 | 3,670 | 3,450 | 3,260 | 2,890 | 2,610 | 2,410 | 2,240 | 1,980 | 1,800 | 1,650 | 1,540 |
| 4" | 4.026 | 23,100 | 15,900 | 12,700 | 10,900 | 9,660 | 8,760 | 8,050 | 7,490 | 7,030 | 6,640 | 5,890 | 5,330 | 4,910 | 4,560 | 4,050 | 3,670 | 3,370 | 3,140 |
Natural Gas Pipe Size Chart BTU
Note: This table provides the capacity in cubic feet of gas per hour for different pipe sizes and lengths, specifically for natural gas.
Understanding the Gas Pipe Sizing Chart
The gas pipe sizing chart provides a comprehensive reference for determining the ideal pipe size based on various factors, including the length of the pipe run and the required BTU (British Thermal Units) supply for the appliances connected to the system.
The chart lists common pipe sizes (ranging from 1/2″ to 4″ in diameter) along with their actual inner diameters.
It then presents BTU values corresponding to different pipe lengths, ranging from 10 to 400 feet.
Pipe Sizing and BTU Supply Relationship
The relationship between pipe size, pipe length, and BTU supply is crucial for ensuring that appliances receive sufficient gas pressure for efficient operation.
As gas flows through a pipe, friction and pressure drop occur due to the pipe's size and length.
These factors can lead to reduced gas pressure at the point of use, affecting the appliance's performance.
The gas pipe sizing chart helps in determining the correct pipe diameter to maintain adequate pressure and deliver the required BTU supply to each appliance.
Interpreting the Chart

Pipe Size and BTU Capacity:
Each row of the chart corresponds to a specific pipe size, listing the BTU supply for varying lengths.
For instance, if you have a 1/2″ pipe and need to supply gas up to 50 feet, the chart indicates a BTU capacity of 72.
As the pipe length increases, the chart demonstrates how the BTU supply gradually decreases due to pressure drop.
Choosing the Right Pipe Size:
To utilize the chart effectively, start by determining the total BTU requirement of all connected appliances.
Then, identify the furthest appliance from the gas source and consider the pipe length required to reach it.
By matching the total BTU requirement with the BTU capacity for that specific pipe size and length, you can confidently choose the appropriate pipe diameter.
Significance of Proper Pipe Sizing: Understanding Why It Matters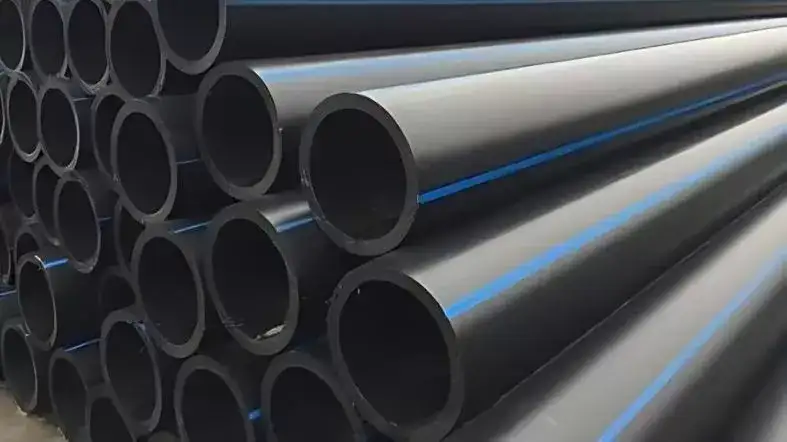 Importance of Accurate Sizing
Proper pipe sizing is an essential foundation for a well-functioning gas pipe system.
When it comes to supplying natural gas to appliances, getting the pipe size right isn't just a preference—it's a necessity.
Undersized pipes can lead to sluggish gas flow, causing appliances to operate inefficiently.
On the other hand, oversized pipes might seem like a good idea, but they can lead to other problems.
Efficiency and Performance
Choosing the correct pipe diameter ensures that appliances receive adequate gas pressure for optimal operation.
Imagine a water hose: too narrow, and the water trickles; too wide, and the flow loses its force.
Similarly, a well-sized pipe lets gas reach appliances at the right pressure. This leads to efficient heating, reliable cooking, and consistent hot water.
Pressure and Velocity
Understanding pressure and velocity is key. As gas moves through a pipe, friction and pressure drop occur.
Smaller pipes increase pressure drop, making appliances starved for gas.
Conversely, larger pipes can decrease gas velocity, affecting combustion and pressure regulation.
Preventing Hazards
Proper pipe sizing also addresses safety concerns. Gas leaks are a real danger if the pressure isn't regulated correctly.
Undersized pipes can lead to gas accumulation, increasing the risk of leaks.
On the other hand, oversized pipes might not allow gas pressure to be safely controlled.
Balancing BTU Demands
Different appliances have varying BTU (British Thermal Unit) demands. A furnace needs more BTUs than a stove, for instance.
Accurate pipe sizing balances BTU demands across the system. This ensures each appliance gets the right gas supply, preventing issues like a lukewarm shower due to competing appliances.
Energy Efficiency
When pipes are accurately sized, gas delivery is precise. This means appliances burn fuel more efficiently.
Energy wastage due to inefficient combustion is minimized. Your gas bill will reflect the efficiency, and you'll have the satisfaction of minimizing your environmental impact.
Avoiding Extra Costs
Wrong pipe sizing can lead to extra costs down the line.
Undersized pipes may require upgrades to meet growing demand, while oversized pipes result in unnecessary installation expenses.
By getting the pipe size right initially, you save money in the long run.
System Longevity
Just like a car engine performs better when well-tuned, a gas pipe system thrives when accurately sized.
Proper sizing extends the lifespan of appliances and the entire system. Appliances run efficiently, experiencing less wear and tear.
Factors Influencing Pipe Sizing: What Shapes Your Choices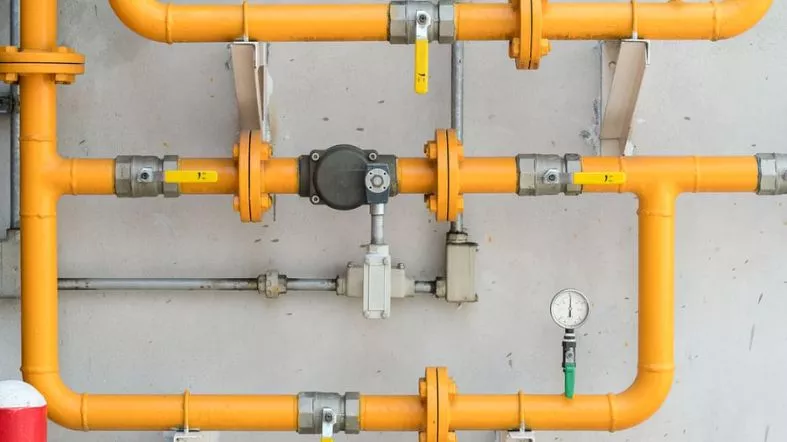 Gas Type and Pressure Requirements
Choosing the right pipe size isn't just about distance and BTU needs. The type of gas you're using matters.
Different gases have varying pressure requirements for efficient flow. The pipe size must match these requirements for proper functioning.
Elevation Above Sea Level
Elevation has a sneaky impact on gas flow. As you climb higher, air pressure drops. This affects gas pressure, too.
High elevation areas might need larger pipes to maintain adequate gas pressure.
Number of Appliances
Consider all the appliances connected to your gas line. More appliances mean more gas demand.
A higher BTU requirement will likely need a larger pipe diameter to accommodate all these gas-hungry devices.
Total Pipe Length
The length of your pipe impacts gas pressure. Longer pipes mean more friction and pressure drop.
To counteract this, you might need a larger pipe size to ensure enough gas pressure reaches the end of the line.
Gas Velocity and Combustion
Getting gas from point A to point B isn't enough; it's about how fast it travels. Gas velocity affects combustion efficiency.
If the gas moves too slowly, appliances might not burn it efficiently, affecting both performance and safety.
Balancing Competing Demands
Your gas pipe system serves multiple appliances, each with its own gas demand. Balancing these demands is crucial.
If one appliance hogs all the gas, others might suffer. Proper sizing ensures each appliance gets what it needs.
Future Growth
Predicting the future is tough, but it's smart to consider potential growth.
If you plan to add more appliances or extend your gas line, factor in the future gas demand. Sizing your pipes right from the start can save you hassles down the road.
Code and Safety Regulations
Gas piping isn't a free-for-all; there are codes and regulations to follow. These rules ensure safety and proper functioning. Pipe sizing that adheres to these standards keeps your system in compliance.
Installation and Safety Considerations: Ensuring a Reliable Gas Pipe System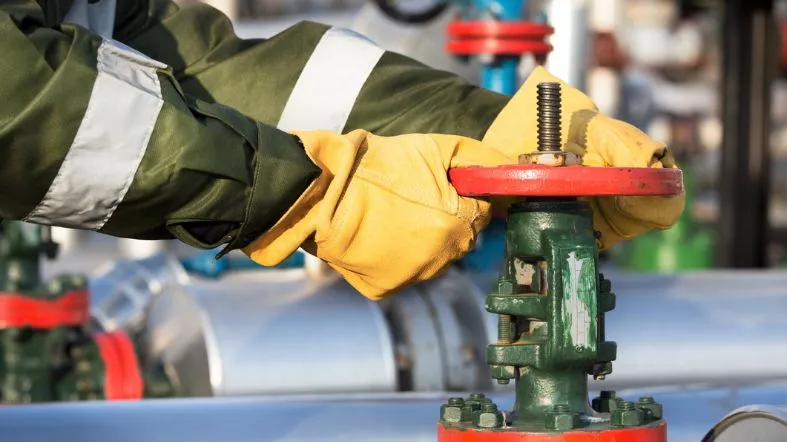 Proper Support and Fastening
When it comes to installing a gas pipe system, ensuring proper support and fastening is crucial.
Imagine pipes as the backbone of your gas supply; they need to be strong and steady.
Securing pipes with appropriate supports not only prevents them from sagging but also ensures they don't buckle under their own weight.
This is essential for the safety of your system. Just like a sturdy foundation is vital for a building, proper support is the backbone of your gas pipe setup.
Protection from Physical Damage
In the journey of setting up your gas pipe system, one of the key considerations is protecting your pipes from physical damage.
Think about where your pipes will run – avoid areas where they might face impacts, such as busy corridors or places with heavy machinery.
By carefully choosing the path for your pipes, you shield them from potential harm. Also, consider adding protective coverings in vulnerable spots.
This extra layer of protection can be the difference between a smooth-running system and a costly repair job.
Joints and Connections
As you put your gas pipe system together, remember that joints and connections are the heart of it all.
Just like a puzzle, each piece needs to fit perfectly to ensure everything works smoothly.
When connecting pipes, make sure to use properly sealed connections. This is like locking in the pieces of the puzzle to prevent any gaps or leaks.
To do this, use approved materials like thread sealant or joint compound. A leak-free system is like a well-tuned engine – it operates without hitches and keeps your home safe.
Inspect for Leaks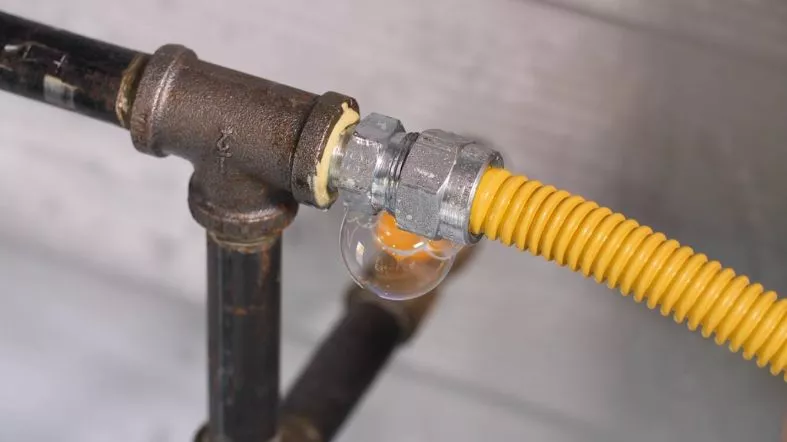 Before you start using your gas system, it's time for an important step: inspecting for leaks.
This is like doing a final check before a big event to make sure everything is in place.
Apply a simple soap and water solution to all the connections. If you spot any bubbles forming, you've found a leak that needs fixing.
This step is like catching a small issue before it becomes a big problem – it ensures your system is ready to perform without any hiccups.
Ventilation and Clearance
When setting up your gas system, don't forget about the need for proper ventilation and clearance.
Think of this as giving your appliances the room they need to breathe and work efficiently.
Appliances require fresh air to burn gas properly. So, make sure they're placed in well-ventilated areas.
Also, maintain clearance between gas pipes and any sources of heat. This helps in preventing overheating and potential hazards.
Follow Local Codes
In the world of gas installations, following local codes is a must.
These codes are like the rules of the road – they keep everyone safe and moving in the right direction.
Different areas have different codes and regulations for gas pipe installation. Take the time to learn and understand these guidelines.
Following them ensures your system is up to standard and reduces the risk of accidents.
Expert Involvement
Sometimes, it's wise to admit that you're not an expert in everything.
When it comes to gas pipe installations, it's perfectly okay to consult experienced plumbers or gas technicians.
These professionals are like your guides on a complex journey. They know the ins and outs of gas systems and can ensure everything is set up correctly.
Seeking their expertise is a smart move that guarantees a job well done.
Test the System
After all the hard work of setting up your gas pipe system, it's time for the ultimate test: turning it on.
Think of this like the moment before the curtain rises on a big show. Turn on each appliance connected to the system and monitor its performance closely.
If anything seems off, don't hesitate to address it immediately. This step ensures that your gas system is ready to perform at its best, giving you peace of mind.
Emergency Shut-off
In every system, it's important to know how to hit the brakes in case of an emergency.
Your gas pipe setup is no different. Knowing the emergency shut-off procedures is like having a fire extinguisher – you hope you never need it, but it's crucial to have just in case.
Make sure everyone in your household knows how to turn off the gas supply quickly in case of any unexpected situations. It's a safety measure that can make all the difference.
Stay Informed
The journey of maintaining a gas pipe system doesn't end with installation.
To ensure the long-term safety and efficiency of your system, it's important to stay informed.
Think of this like staying updated with the latest news – it keeps you in the know.
Keep an eye out for any updates, recalls, or necessary maintenance for your system.
This proactive approach ensures that your gas pipe system continues to perform reliably.
Conclusion
In the realm of natural gas supply, precision matters. The gas pipe sizing chart acts as a guiding light for anyone involved in designing or upgrading a gas pipe system.
By deciphering the relationship between pipe size, pipe length, and BTU supply, stakeholders can make informed decisions that guarantee the efficiency, safety, and performance of appliances.
Remember, a well-sized gas pipe not only ensures proper functioning but also offers peace of mind by mitigating potential hazards associated with gas leaks and pressure irregularities.