Smoke detectors are devices that warn you when there is a fire in your home. They can save your life and prevent a lot of damage.
But to work properly, they need batteries. Do you know what size battery your smoke detector uses?
In this blog post, We will answer this question and give you some tips on choosing the right smoke detector battery.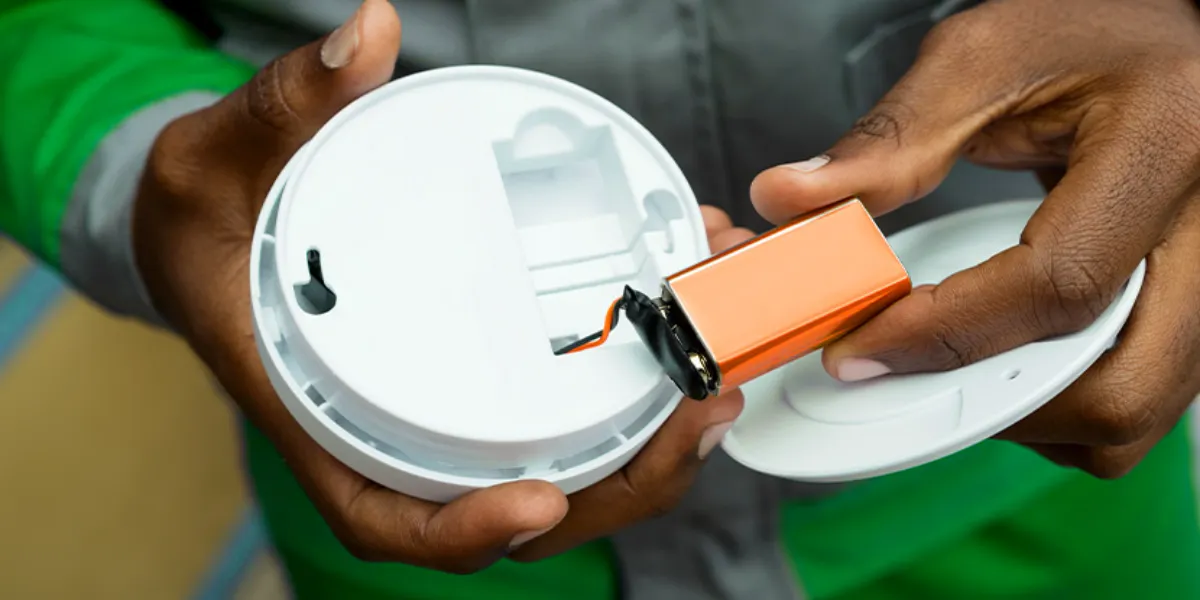 What Size Battery For Smoke Detector?
The most common battery size for smoke detectors is 9V, but some models also use AA or AAA batteries. Hardwired smoke detectors with 9V backup batteries are effective 94% of the time, according to the National Fire Protection Association.
Here is a table that shows the most common types of smoke detectors and their battery sizes:
| Type of Smoke Detector | Battery Size |
| --- | --- |
| Ionization | 9V or AA |
| Photoelectric | 9V or AA |
| Dual-Sensor | 9V or AA |
| Smart | Lithium |
| Hardwired | 9V or AA |
Different Types of Smoke Detectors and Their Battery Requirements
Ionization Smoke Detectors
Ionization smoke detectors are the most common type of smoke detectors. They use a small amount of radioactive material to create an electric current inside a chamber.
When smoke enters the chamber, it disrupts the current and triggers the alarm. Ionization smoke detectors are good at detecting fast-flaming fires, such as paper or grease fires.
Photoelectric Smoke Detectors
Photoelectric smoke detectors use a light source and a sensor to detect smoke. When smoke blocks the light, the sensor activates the alarm.
Photoelectric smoke detectors are good at detecting slow-smoldering fires, such as furniture or electrical fires.
Dual-Sensor Smoke Detectors
Both ionization and photoelectric technology are used in dual-sensor smoke detectors.
They can detect both fast-flaming and slow-smoldering fires, making them more reliable and effective.
There is a wide consensus among fire safety experts that dual-sensor smoke detectors are the best.
Smart Smoke Detectors
Smart smoke detectors are connected to the internet and can send you alerts on your phone or other devices.
They can also communicate with other smart devices in your home, such as thermostats, lights, or cameras.
Smart smoke detectors can give you more information and control over your fire safety.
Hardwired Smoke Detectors
Hardwired smoke detectors are connected to your home's electrical system and don't rely on batteries for power.
In the event of a power outage, they still have backup batteries. Hardwired smoke detectors are more reliable and less likely to fail than battery-powered ones.
How to Determine the Correct Battery Size for Your Smoke Detector?
If you are not sure what size battery your smoke detector uses, here are some ways to find out:
Reading the User Manual
In your smoke detector's manual, you should find information about the type and size of the battery.
You should keep the user manual in a safe place where you can easily access it when you need it. Search for the model number of your smoke detector online if you don't have the user manual.
Identifying Battery Compartments
Another way to find out what size battery your smoke detector uses is to look at the battery compartment.
The battery compartment is usually located on the back or side of the smoke detector.
You may need to twist, slide, or open a cover to access it. The battery compartment should have markings that indicate the size and polarity of the battery it needs.
Checking Online or Manufacturer's Website
You can find the battery size of your smoke detector online or on the manufacturer's website.
To see the battery size of your smoke detector, search for the brand name, model number, or type.
Consultation with Professionals
A professional can help you determine the correct battery size if none of the above methods work.
Contact the manufacturer, the fire department, or a licensed electrician if you need help.
Factors Influencing Battery Size and Type for Smoke Detectors
The size and type of the battery you need for your smoke detector depend on several factors, such as:
Voltage Requirements:
Different smoke detectors have different voltage requirements. For example, some smoke detectors need 9V batteries, while others need 1.5V AA batteries.
You should always use the correct voltage for your smoke detector to avoid damaging it or reducing its performance.
Battery Longevity:
Different batteries have different lifespans. For example, lithium batteries last longer than alkaline batteries.
You should choose a battery that has a long lifespan and can provide consistent power to your smoke detector.
Alarm Features:
Different smoke detectors have different features that affect their battery consumption.
For example, some smoke detectors have chirping sounds, light indicators, or voice alerts that use more battery power than others.
You should consider these features when choosing a battery for your smoke detector.
Environment and Temperature:
Different batteries perform differently in different environments and temperatures. For example, some batteries may not work well in cold or humid conditions.
You should choose a battery that is suitable for the environment and temperature where your smoke detector is installed.
Smoke Detector Model and Manufacturer:
Different smoke detector models and manufacturers may have different recommendations or requirements for the battery size and type.
You should follow the instructions and guidelines provided by your smoke detector's model and manufacturer to ensure optimal performance and safety.
Safety Standards and Regulations:
Different areas may have different safety standards and regulations for smoke detectors and their batteries.
For example, some states require 10-year sealed battery smoke detectors in new or renovated homes.
You should check the local laws and codes before installing or replacing your smoke detector's battery.
Importance of Regular Battery Checks and Replacement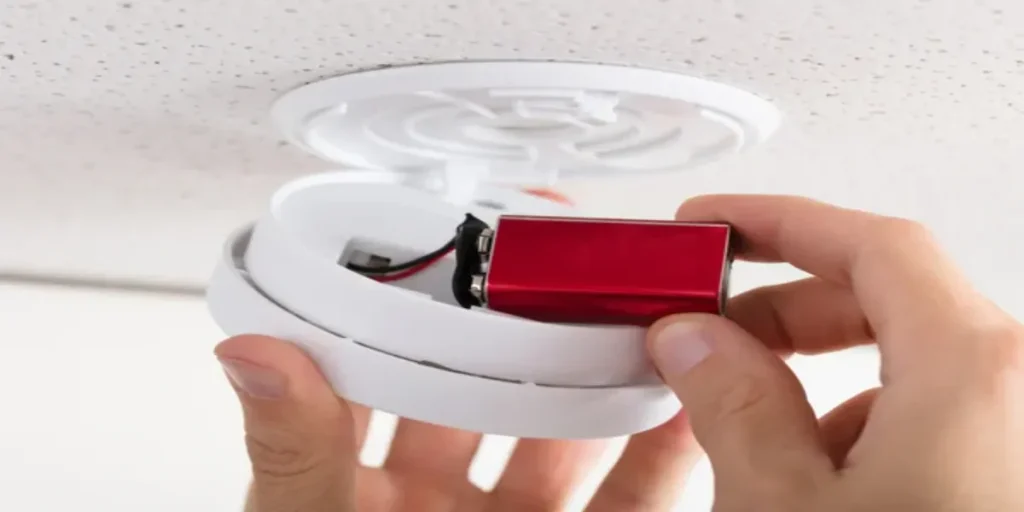 Regular Checks
Regular checks make sure your smoke detectors work. The National Fire Protection Association says you need a new battery every year.
If your alarm makes a chirping sound, change the battery. Regular checks find problems like dust or damage. Cleaning with compressed air helps.
Battery Check or Replacement
How often you check depends on your smoke detector. Some use lithium batteries that last up to 10 years. But you should test them often.
Others use 9V or AA batteries. Change these every six months or yearly. Test them once a month. Use the calendar or daylight changes to remind you.
Consequences of Neglecting Battery Maintenance
Ignoring battery care is risky. If detectors don't have power, they might miss smoke. Or they won't sound like loud alarms. This risks harm from fire.
Not caring for batteries can also cause false alarms. These are loud and bothersome. And if they happen a lot, you might ignore real alarms.
Best Practices for Battery Replacement
Use the right battery size. Look at the device's guide. Pick long-lasting, strong batteries. Get rid of old batteries the right way. Don't just toss them.
Try to recycle them. After changing, test your detector. Press the test button. Listen for the sound. Write the change date on the battery. It tells you when to change it next.
FAQs about what size battery to use for a smoke detector
Do smoke detectors use rechargeable batteries?
No, only disposable 9V alkaline batteries are recommended, not rechargeable varieties which may have lower voltage output.
Why are flat 9V batteries preferred over rounded types?
It is easier to electrically contact flat terminal batteries with smoke detector terminals than rounded ones.
How long should a fresh 9V battery last in a smoke detector?
With normal intermittent operation, a fresh alkaline 9V battery should last around 6-12 months before needing replacement in a smoke detector.
How often should I replace the battery as maintenance?
Replace the smoke detector battery at least once a year or immediately when an audible low battery warning chirps.
Can I use a different size battery if 9V types are unavailable?
An adapter sleeve for a 9V connector can be used in a pinch to replace 8 AA batteries.
Are lithium 9V batteries superior to alkaline types?
Lithium 9V batteries provide a longer service life of up to 10 years in smoke detectors, though cost considerably more.
Conclusion
Smoke detectors are important devices that can protect you and your family from fire hazards. Make sure your smoke detectors are powered by the right type and size of battery.
This blog post explains what factors influence smoke detector battery size and type, the different types of smoke detectors, and their battery requirements.
This information should help you choose the right smoke detector battery.