Knowing what size battery is best for electric bike is crucial for anyone looking to enjoy long, uninterrupted rides.
This knowledge offers benefits like optimal performance and enhanced riding experience but may pose challenges due to the variety available. A poorly chosen battery can lead to frequent charging and reduced bike efficiency.
This article will guide you through the process of determining the ideal battery size, exploring various types, and more. Let's embark on this journey to ensure your e-bike runs smoothly and efficiently.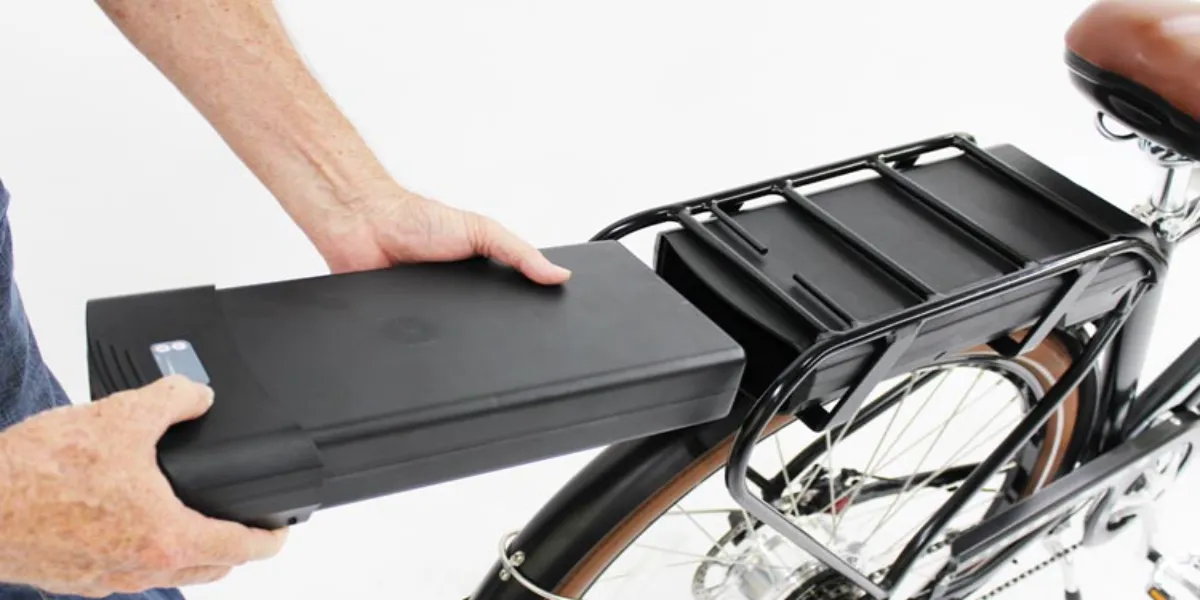 What Size Battery is Best for Electric Bike?
For electric bikes, a battery with a capacity of around 400-500 watt-hours (Wh) is suitable for most riders. This provides a balance between weight, cost, and range, ensuring optimal performance for varied riding conditions. The best electric bike's battery size depends on individual usage needs.
Electric Bike Battery Sizes Chart:
| | |
| --- | --- |
| Battery Size | Suitable for |
| Small (10-20 Ah) | Short commutes, flat terrains |
| Medium (20-30 Ah) | Longer rides, hilly terrains |
| Large (30+ Ah) | Long distances, heavy loads |
Different Types of Batteries Suitable for Electric Bikes
Lithium-Ion Batteries
Lithium-ion batteries are the most common type of batteries used in electric bikes. They are lightweight and have a long lifespan.
However, they are not cheap, not perfect, and not readily available. Some OEM's sell a moderately sized lithium e-bike battery pack for $1000 plus.
Lead-Acid Batteries
Lead-acid batteries used to be found in cheap electric bikes, but now you rarely come across them in the e-bike world. These are inexpensive to produce because lead is a very abundant metal.
However, they rapidly deteriorate, meaning they have short lifespans. In addition, they are much heavier than Li-ion and require intensive care to extend their lifespan.
Nickel-Cadmium Batteries
Nickel-cadmium (NiCd) batteries have more capacity than lead-acid batteries, making them a popular choice for electric bicycles.
However, nickel-cadmium is expensive, and cadmium is a nasty pollutant and hard to recycle. On the other hand, NiCd batteries will last longer than lead-acid batteries.
Nickel-Metal Hydride Batteries
Nickel-metal hydride (NiMh) batteries are somewhat more efficient than NiCd batteries. But they are also more expensive.
Most people report that NiMh offers little improvement in range over NiCd. However, they will last longer and are easier to dispose of correctly.
Lithium Iron Phosphate Batteries
Lithium iron phosphate (LiFePO4) operates across a wide temperature range, making it a viable option for various applications or weather conditions.
Its advantages include a longer life span, charge efficiency, no maintenance, extreme temperature operation, and an ability to charge quickly.
Guide to Choosing the Ideal E-Bike Battery Size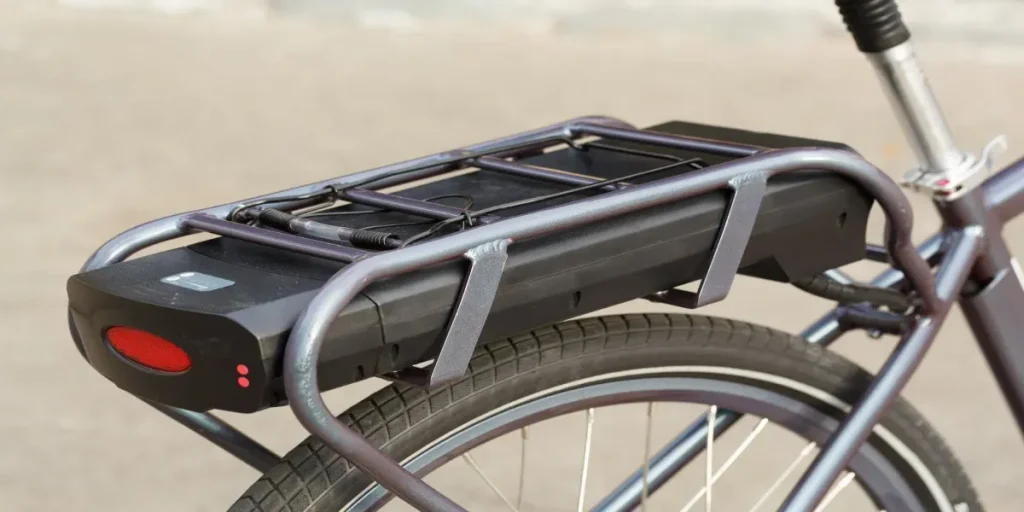 Selecting the ideal battery size for an electric bike involves several considerations and calculations to ensure your e-bike meets your riding needs efficiently.
Understand Your Riding Needs
First, you need to understand your riding needs. How far do you plan to travel on a single charge? For long-distance rides, a battery with more amp-hours is necessary.
Additionally, if you're riding in hilly or windy areas, or if you're a heavier person, you might also need a battery with more amp-hours.
Consider the Voltage
The voltage of the battery is another crucial factor. Most e-bikes come with either 36V or 48V batteries. However, some e-bikes now come with 52V and even 72V batteries.
A higher voltage implies the battery can store more energy, providing additional power and speed.
Check the Amp-Hours
Amp-hours (Ah) determine how far you can go on a single charge. The more Ah your battery has, the more mileage you can get. However, consider that speed, your weight, and road conditions also affect mileage.
Choose the Right Type of Battery
Different types of batteries are available for e-bikes, such as lithium-ion, lead-acid, nickel-cadmium, and more.
Each type has its own advantages and disadvantages. For instance, lithium-ion batteries are efficient and long-lasting but can be expensive.
Calculate the Required Battery Capacity
You can calculate the required battery capacity using the formula:
Battery Capacity Required (Wh) = Power Demand per distance traveled (Wh / mile or km) x Typical Distance Traveled (miles or km).
This calculation will provide you with an idea of the size of the battery you need for your e-bike.
Factors in Selecting E-Bike Battery Size
Choosing the right battery size for an electric bike is influenced by several factors, each contributing to the overall performance and efficiency of the e-bike.
Battery Capacity
The first factor to consider is battery capacity, measured in ampere-hours (Ah). A higher Ah allows the battery to power your e-bike for a longer distance. Therefore, for long distances, opt for a battery with higher Ah.
Motor Power
Consider the power of your e-bike's motor, measured in watts (W). A more powerful motor necessitates a larger battery.
For a motor power of 250W, a 10Ah battery should suffice, but for a 500W motor, a 20Ah battery might be necessary.
Bike Weight and Rider Weight
The weight of the bike and the rider significantly influence the battery size. Heavier bikes and riders require larger batteries due to the increased power needed to move. For heavier bikes or riders, a larger battery is advisable.
Terrain
The terrain you'll be riding on is also a pivotal factor. Riding uphill or on rough terrain demands more power compared to flat or smooth surfaces. Those tackling lots of hills should consider larger batteries.
Usage Frequency
The frequency of usage plays a role too. Daily commuters might need a larger battery compared to occasional riders.
Battery Type
Battery type is a crucial factor, with three main types used in e-bikes: lead-acid, nickel-cadmium (NiCd), and lithium-ion (Li-ion).
Lead-acid batteries are cheapest but heaviest, while Li-ion batteries are lightweight and have a longer lifespan.
Weather Conditions
Weather conditions, especially cold, can reduce a battery's performance and lifespan. Those living in colder climates might need a larger or more efficient battery.
Cost Consideration
Finally, cost is an essential factor. Larger batteries with higher capacities tend to be more expensive, so balancing your e-bike needs with your budget is vital.
Maintaining Your Electric Bike Battery
Regular Charging
Regular charging is key to maintaining your e-bike battery. Don't wait for the battery to fully discharge before charging it. Instead, charge it after every ride, even if it's not completely drained.
Proper Storage
Proper storage is also important. Store your battery in a cool, dry place away from direct sunlight. Extreme temperatures can damage the battery and reduce its lifespan.
Cleaning
Keep your battery clean. Dust and dirt can affect its performance. Use a soft cloth to wipe the battery and its contacts regularly.
Avoid Overcharging
Avoid overcharging your battery. Don't leave it plugged in for too long after it's fully charged. This can lead to overheating and damage the battery.
Regular Inspection
Finally, conduct a regular inspection of your battery. Check for any signs of damage or wear and tear. If you notice anything unusual, take your e-bike to a professional for a check-up.
Balanced Use
Balanced use of your e-bike can help maintain the battery. Avoid using the highest power setting all the time. Mix in some pedaling to reduce the load on the battery.
Battery Removal
When not in use, remove the battery from the e-bike. This can prevent unnecessary power drain and prolong the battery's life.
Regular Servicing
Regular servicing of your e-bike can also help maintain the battery. A professional can check the battery's health and recommend any necessary replacements or repairs.
Firmware Updates
Keep your e-bike's firmware updated. Manufacturers often release updates that can improve battery performance and efficiency.
Safe Riding
Lastly, safe riding practices can protect your battery. Avoid riding on rough terrains that can cause physical damage to the battery.
FAQs
Can I overcharge my e-bike battery?
Overcharging your e-bike battery is possible and can lead to damage, so it's advised to unplug it once it's fully charged.
Do weather conditions affect the performance of an e-bike battery?
Yes, cold weather can reduce a battery's performance and lifespan.
Does the terrain impact the choice of e-bike battery size?
Yes, rough or uphill terrain demands more power, which may necessitate a larger battery.
Is it necessary to remove the battery when not in use?
Removing the battery when not in use can help prevent unnecessary power drain and prolong the battery's life.
Are nickel-cadmium batteries hard to recycle?
Yes, cadmium is a pollutant and makes nickel-cadmium batteries hard to recycle.
Conclusion
Choosing the right battery for your electric bike is crucial for ensuring a smooth ride. By considering your specific needs and maintaining your battery properly, you can enjoy longer rides and a longer battery life. Happy biking!