Are you planning to install a new septic tank for your 4-bedroom house but confused about what size to choose?
Knowing what size septic tank for a 4-bedroom house can save you time, money, and future headaches. Choose too small, and you'll face frequent maintenance issues; go too big, and you're overspending.
This article will guide you through the process of determining the right size, exploring various types of septic tanks, and understanding the installation process.
Let's dive in to ensure your home has the optimal septic system!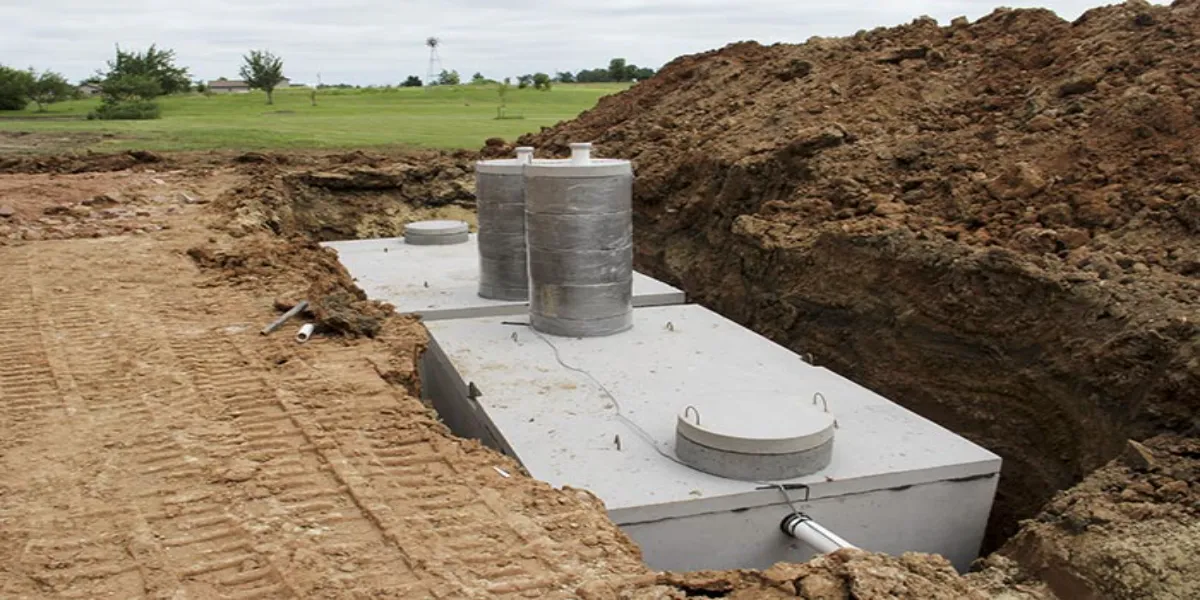 What Size Septic Tank Do You Need for a 4 Bedroom House?
For a 4-bedroom house, a septic tank with a capacity of at least 1,250 gallons is generally recommended. This size accommodates the daily wastewater flow and conforms to most local building codes. Consulting a professional is always a good idea to get the exact estimate for a certain house.
4 Bedroom House Septic Tank Size Need:
| Number of Bedrooms | Minimum Septic Tank Size (Gallons) | Recommended For |
| --- | --- | --- |
| 1-2 | 750-1,000 | Smaller homes, fewer occupants |
| 3 | 1,000-1,200 | Medium-sized homes |
| 4 | 1,250-1,500 | Larger households |
| 5+ | 1,500-2,000+ | Very large homes, high usage |
Understanding Different Types of Septic Tanks
Concrete Tanks: The Sturdy Choice
Concrete tanks are like the superheroes of septic tanks. They're strong, sturdy, and can last a long time. But, they're also heavy. So, you'll need a team of professionals to install them.
Plastic or Polyethylene Tanks: Lightweight and Easy
Next up are plastic or polyethylene tanks. These tanks are the opposite of concrete tanks. They're light as a feather, making them easy to install. But, they might not last as long as their concrete counterparts.
Fiberglass Tanks: Resistant but Pricey
Meet the fiberglass tanks. They're also light and easy to install. Plus, they have a special power: they resist rust and corrosion. But, they can be a bit pricey.
Advanced Treatment Systems: High-Tech Efficiency
Last but not least, we have advanced treatment systems. These systems use high-tech methods to clean wastewater more effectively. They might cost more, but they're super efficient.
Making the Right Choice
Remember, each type of septic tank has its own strengths and weaknesses. So, choose the one that fits your needs and your budget best.
How to Calculate the Right Septic Tank Size for a 4-Bedroom House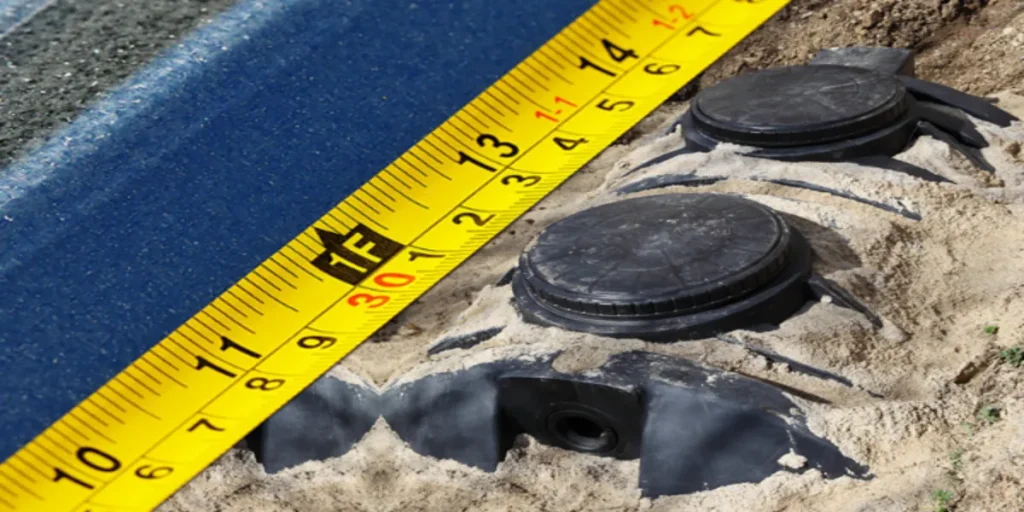 Determining Your Daily Wastewater Flow
Calculate Daily Wastewater Flow: First, let's figure out how much wastewater your home makes each day. For each person in your house, count 75 gallons.
If you have 4 people living in your house, that's like filling up 4 kiddie pools every day! So, you'd multiply 75 gallons by 4 people. That's 300 gallons every day!
Conducting a Soil Percolation Test
Soil Percolation Test: Next, you have to do something called a "soil percolation test".
It sounds fancy, but it just means checking how fast water sinks into the ground. Your yard has to be able to soak up the water coming out of the septic tank. Usually, a professional can do this test for you.
Factoring in Local Regulations
Local Building Codes and Regulations: You can't just put any septic tank in the ground. Your city or town has rules.
Some places say your septic tank has to hold at least two days of wastewater. So, if your family makes 300 gallons a day, you'd need a tank that can hold 600 gallons. But always check the local rules!
Long-Term Planning for Future Needs
Long-Term Planning: What if Grandma moves in, or you have a new baby? More people means more water.
Plan for the future so you don't have to get a new septic tank soon. If you think your family might grow, get a bigger tank.
Balancing Codes and Budget
Local Building Codes and Budget: Big tanks cost more money. Small tanks might not meet the rules or hold enough water. Make sure you balance the rules and what you can afford.
If the minimum size by law is 1,000 gallons, but your calculations say 800 gallons, you have to go for the 1,000-gallon tank. Check prices and see what fits your budget.
Factors Influencing Septic Tank Size Selection for a 4-Bedroom House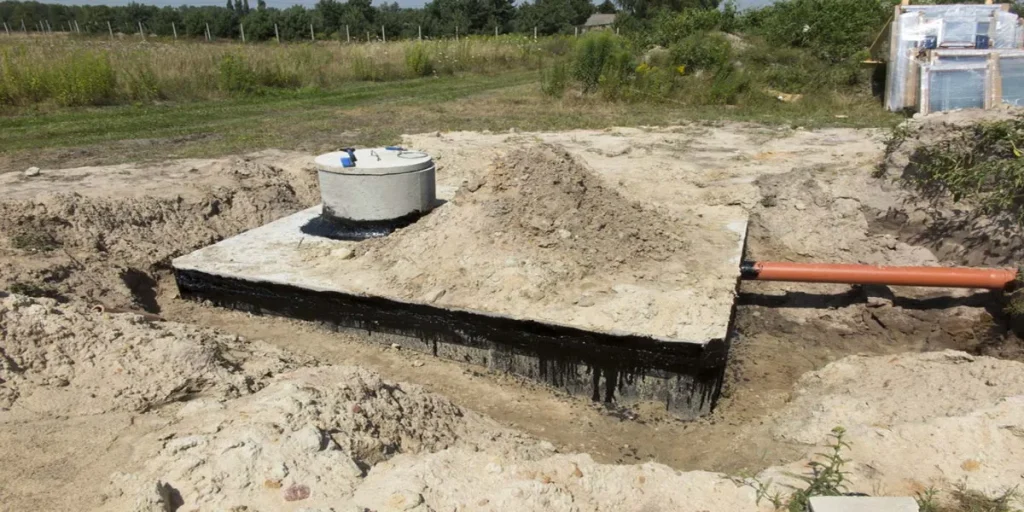 Number of Occupants Affecting Tank Size
The number of occupants is a big factor. More people means more water usage. So, if your 4-bedroom house is full of people, you'll need a larger septic tank.
Water Usage Habits to Consider
Your water usage habits also matter. Do you take long showers or run the dishwasher often? If so, your household uses a lot of water, and you may need a larger septic tank.
Local Regulations You Should Know
Local building codes and regulations can influence your septic tank size too. Some places have rules about the minimum size for a septic tank. Make sure to check these before making a decision.
Long-Term Planning for Future Needs
Think about your long-term plans. Are you planning to add more bedrooms or people to your house in the future? If so, consider getting a larger septic tank now to save trouble later.
Importance of Environmental Considerations
Environmental considerations are important too. If your property is near a body of water or wetland, you may need a specific type of septic system to protect the environment.
Factoring in Budget and Installation Costs
Finally, consider your budget and installation costs. Larger septic tanks and advanced systems can be more expensive to purchase and install. Make sure to factor this into your decision.
Septic Tank Maintenance and Longevity
The Importance of Regular Pumping and Cleaning
Just like you clean your room, septic tanks need cleaning too. Every 3-5 years, call a professional to pump and clean your tank. This removes the sludge and keeps your tank working well.
Why Inspections are Crucial
Think of inspections as a doctor's check-up for your septic tank. Regular inspections can find small issues before they become big problems. It's like finding a small cavity before it turns into a toothache!
Signs of a Failing Septic System You Should Know
Your septic system will give you signs if it's not feeling well. Watch out for slow drains, sewage odors, or wet spots in your yard. If you notice these, it's time to call a professional for help.
Local Regulations and Permits to Consider
Zoning Requirements to Check
First, check with your local zoning office. They'll tell you if there are any rules about where you can put a septic system. For example, you might not be able to install it too close to a property line.
Why Environmental Assessments are Necessary
Next, you might need an environmental assessment. This is a special check to make sure your septic system won't harm local plants or animals.
Required Paperwork and Approvals to Get
Finally, you'll need to get some paperwork and approvals. Your local health department can tell you what you need. For your septic system! Make sure to get this done before you start installing your system.
FAQs
Can I install a concrete septic tank myself?
No, due to the heavy weight of concrete septic tanks, professional installation is recommended.
Is a 750-gallon tank sufficient for a 4-bedroom house?
No, a minimum of 1,250 gallons is generally recommended for a 4-bedroom house.
Do local regulations affect the size of my septic tank?
Yes, local building codes can dictate the minimum size of a septic tank you can install.
Does the number of occupants in the house influence septic tank size?
Yes, more occupants typically require a larger septic tank.
Are environmental assessments always required for septic tank installation?
Not always, but they may be necessary if your property is near sensitive ecosystems like wetlands.
Conclusion
Choosing the right septic tank for your home involves considering many factors, from the size of your household to local regulations.
By understanding these factors, you can make an informed decision that suits your needs and protects the environment.
Remember, regular maintenance is key to keeping your system running smoothly for years to come.