What Size Bike For 3 Year Old? Find Out Now!
We may earn affiliate fees for purchases using our links (at no additional cost to you).
There are a variety of excellent bicycles for kids available, and we can assist you in finding the ideal one for your 3-year-old child.
We will ponder over what size for a 3-year-old kid as well as the many types of bikes available.
Whether you're looking for a regular bicycle or something a bit more specialized, we can assist you in locating the ideal bicycle for your youngster.
What Size Bike For 3 Year Old?
Since we know the fact that children grow at different rates, there is no definitive answer to this question.
For example, some 3-year-olds may be ready for a larger bike while others may still require a smaller bike.
To generalize, for a kid of 3 years, you will need a bike with wheels ranging from 12 inches to 14 inches in diameter.
| Bike Name | Bike Size | Wheel Size  |
| --- | --- | --- |
| Balance bike | 14" – 20" | 12" |
| Pedal Bike | 12" – 14" | 14" |
| Strider Bike | 15" – 22" | 14" |
| Dirt Bike | 17" – 21" | 14" |
What Size Balance Bike for a 3 Years Old Kid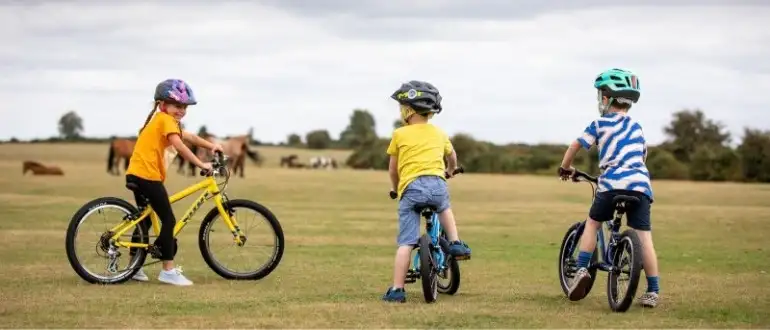 For a 3-year-old toddler, you must get a balancing bike between 14″ and 20″ in size. Typically, a balance bike with 12-inch wheels is the preferred option for children.
How to choose the best balance bike for a 3-year-old kid
The proper fitness and the weight of the bike are important matters to think about a balance bike.
Fitness of the bike
Above all, the bike must fit for comfort. The smallest balance bikes feature 10-inch wheels, while the largest have 20-inch wheels.
The saddle should be one inch lower than your child's inseam. Your youngster should be able to put both feet flat on the ground, with a minor knee bend. 
They'll be able to comfortably reach the ground and take big, sweeping, and effective strides when they get going.
Weight
 When it comes to kids' bikes, the weight recorded by scales is vital.
Heavier models may weigh around 11lbs/5kg, while lighter variants may weigh closer to 6.8lbs/3kg. For an adult, that may not seem like much, but for a youngster, it is.
More importantly, a lighter bike will be easier for your learning toddler to ride, especially if there is an occasional hill.
What Size Pedal Bike For A 3-Year-Old Kid?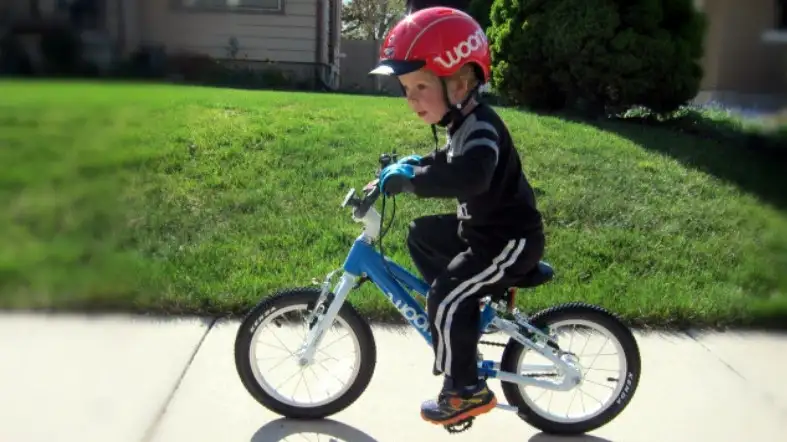 From the ground to the top of the seat, a straightforward size is to look for a bike that is 14 to 16 inches.
This will make it easy and safe for your child to reach the pedals and handlebars.
How to Choose the best pedal bike for a 3-year-old kid
There are 3 most important things to ensure while buying a pedal bike. These are,
The perfect geometry of the bike
Achieving an appropriate Bottom Bracket height/location, crank length, and handlebar reach in such a little frame is extremely difficult.
You have to take care the bike has been designed in such a way that even the smallest of riders can ride safely and comfortably.
Hand Brakes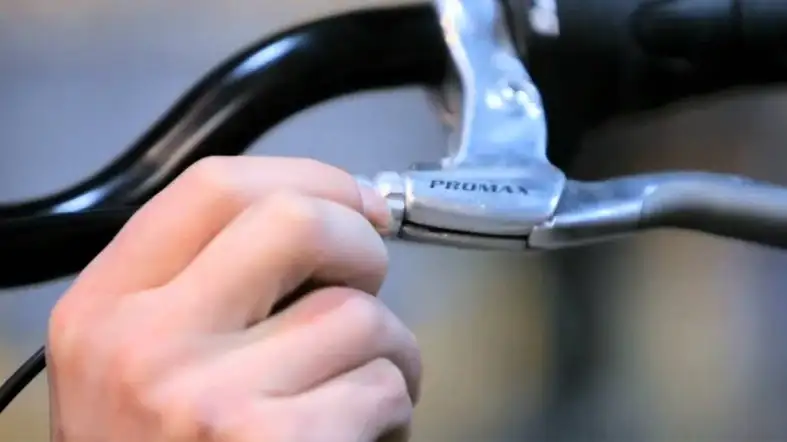 We believe that children as young as three years old are capable of and should utilize hand brakes they should.
As a result of their tendency to engage the coaster brake when attempting to push off and pedal, small children may become dissatisfied.
Gearing
When it comes to a child's first bike, the single gear ratio, also known as the gain ratio, is critical.
It must be capable o transporting the children up and down minor inclines while yet allowing them to go at a reasonable pace on the flats.
What size Strider bike for a 3-year-old Kid?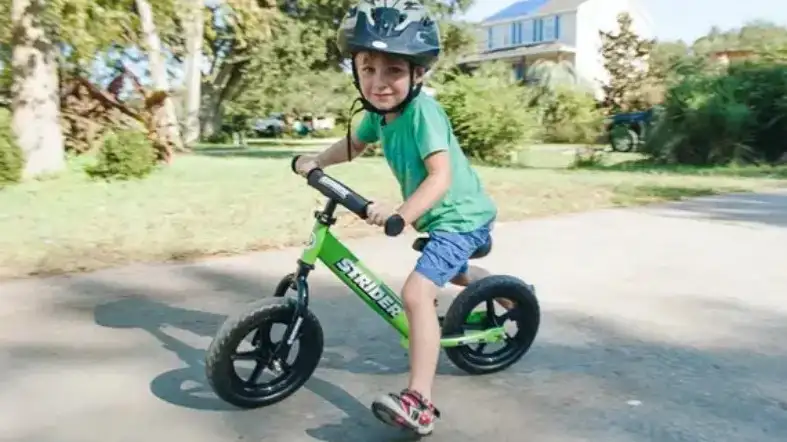 You should choose a 15"-22" sized strider bike for the utmost comfort of your kid. Also, do not forget to think about 14" wheels.
What Should I think about when choosing a strider bike for a 3 years old kid?
Handlebar grips
 They are one of the first safety features used on the strider bike.
A rubber grip with a knobby end keeps kids' hands from hitting the ground when they fall or when the handlebars hit a wall, tree, or another object.
All strider bikes have grips, and most of them have safety bumpers on the grips.
Because this is a simple and common way to keep your child safe, be careful about buying a bike without protective bumpers.
Bearings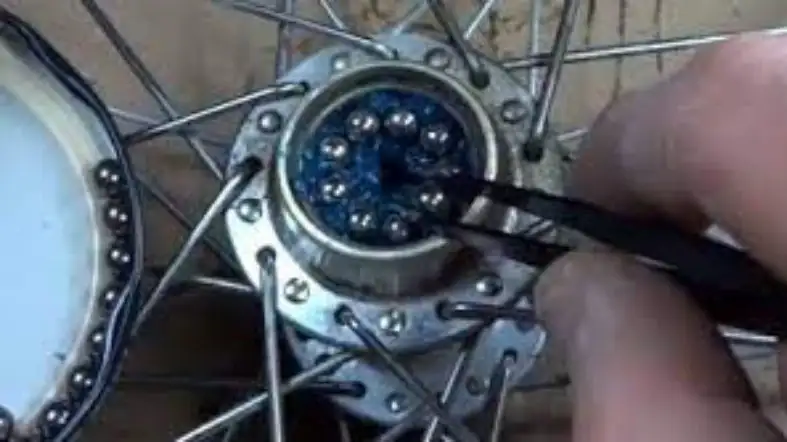 How fast and smoothly a bike tire spins around the axle depends on the bearings.
Water, dirt, and dust can't get into sealed bearings because they are surrounded by a rubber seal. 
So, when a bike with sealed bearings is spinning, there is less friction.
With less friction, your child's balance bike ride will be smoother and they will have to work less to move it.
Sealed bearings are a high-end feature that causes the price to be higher.
Sealed bearings are a "nice-to-have" but not a "must-have" when choosing the features for your ideal balance bike.
Turning limiters 
They stop the front wheel and handlebar from turning all the way around.
They are made to keep the brake cable from getting twisted and to keep the bike from making sharp turns.
People who like them say that they keep kids from jack-knifing, while people who don't like them say that they stop kids from learning how to steer when they are young and riding at slow speeds.
What Size Dirt Bike For 3-Year-Old Kid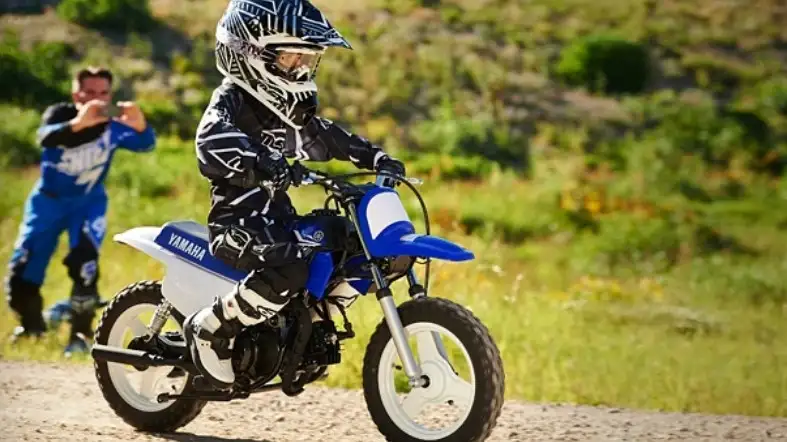 The optimal dirt bike size for a kid of 3 years is 17 inch to 21 inch with the wheels of 14 inch.
Which factors I should consider before choosing dirt bike for my 3 years old kid
Type of Engine
For a kid, a 50cc dirt bike is the best place to start. They don't have as much power or weight, which makes it easier for them to learn how to ride. 
Kids can ride these 50cc dirt bikes until they are about 7 years old. After that, they can move on to a bigger engine with 65cc or more.
Size of Wheel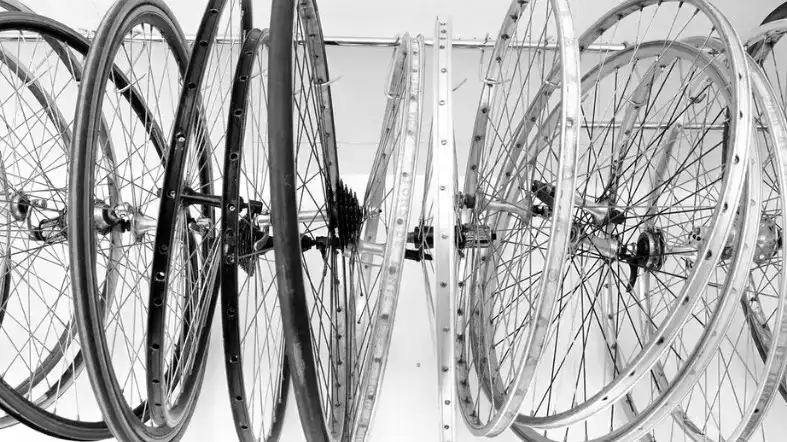 There are two different kinds of wheels on these dirt bikes: big wheels and small wheels.
The big wheels are more stable and smooth, and they make bumps on the road less noticeable. 
On the other hand, they are a lot heavier. Because small wheels are lighter, you can turn faster. But there are fewer things for you to choose from.
Now, the best way to figure out what size wheels your child needs is to let them sit on the bike.
If they can comfortably reach the ground and handle the weight of the bike, you can choose the bigger wheel.
Starter mechanism
Most dirt bikes for beginners can be started with the push of a button because they have an electric start.
When you get a bike with a bigger engine, the kick start comes in handy. 
Both are good, but the electric button might worry you if your child starts his bike by accident when you're not around. 
So, if the bike has an electric start, make sure that it can only be turned on when the key to the ignition is pushed to the side.
What Size Bike Wheels For A 3 Year Old Kid
As we have generalized earlier, a 3 years old kid needs 12 inch to 14 inch wheeled bike to use properly.
However, there are some steps on which you can depend to measure the perfect wheel diameter according to your kid's growth. These are,
Measure Your Child's Inseam
To do this, you have to,
Instruct your youngster to put on the bicycle shoes that they use for riding.
Have them stand straight up with their backs against a wall and their feet shoulder-width apart.
Lie the spine of the book on the top of their head and force the book against the wall.
Make use of the measuring tape that is located at the bottom of the book.
This value represents the height of your child. Make a note of it so you won't have to repeat the process in the future.
Find The Right Seat Height Based On The Child's Leg Length And Riding Ability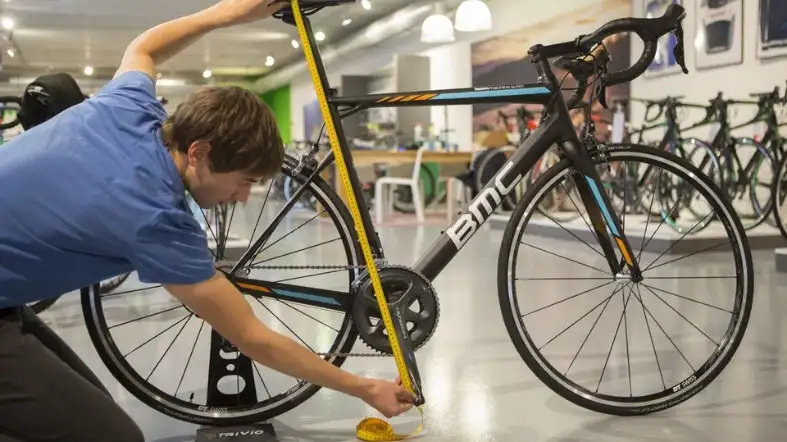 Now that you know what size bike is most likely best for your child, you need to think about how well your child can ride. 
How well a bike fits a child depends on how high the seat is compared to the child's inseam. 
But the seat height of a bike should be set differently depending on whether your child is a beginner, an experienced rider, or is still using the training wheel.
The seat height is the distance from the ground to the top of the seat.
This will help you narrow down your choices even more and make sure that the chair fits you perfectly from the start.
At this point, a child needs to be able to stop their bike easily with their feet. So, the seat height of their child's bike should be the same as the length of their child's legs.
Calculate and relate wheel sizes available based on inseam
Determine which of the one or two bike wheel size categories your child falls into based on the length of their inseam. 
In general, if your child's inseam is acceptable for the bike, it's preferable to get a larger wheel size than a smaller one.
A larger set of wheels provides greater stability and provides more room for expansion.
What Size Bike For 3 ½ Year Old Kid
It's a complex question to answer as the growth and heights differ from kid to kid. 
However, if we think about the approximate measurement, a 12 inch to 16 inch wheeled bike is okay for a 3 ½ years old kid.
Video: Kids Bike Sizes – A NEW Trick to Finding the BEST Fit
FAQs About The Right Size Bike For A 3-Years Old Child
What Kind Of Bicycle Does A 3 Years Old Require?
A 3 years old require a bicycle that is the proper size for him or her. It should be with a low seat and stable handlebars, it must be comfortable for the rider. 
Normally, balance bikes are the most appropriate bike for this age.
Is A 12 Inch Wheeled Bike Appropriate For A 3 Years Old Child?
In the end, it is determined by the height and weight of the child. A 12-inch bike, on the other hand, is generally considered appropriate for a 4-year-old child.
Can A Three-Year-Old Ride A Twenty-Inch Bicycle?
When riding a 20-inch bike with training wheels, a three-year-old can do it.
Why Balance Bike Is The Best For 3 Years Old Kids?
A balance bike is specifically designed for children under the age of four. So, it can be an excellent option for children of that age.
Balance bikes can assist children in learning how to balance and steer a bicycle, which can make the transition to a traditional bicycle more straightforward.
Final Words
Now hopefully you know what size bike for a 3-year-old kid you should buy. You should always select the correct size consciously.
A bike that is too large for a child can be extremely dangerous for him or her. Similarly, a bike that is too small can be frustrating to ride and can be difficult to use. 
An appropriate bike for a child should be tailored to his or her height and weight.
As a result, determine your most ambitious goal and spending limit to purchase the best size bike for your 3-year-old child.