What Size Tent Do I Need For 50 Guests?
We may earn affiliate fees for purchases using our links (at no additional cost to you).
For a successful event organization, you must use tents to gather your guests. Here a question is very common, " what size tent do I need for 50 guests?"
The size of tents depends on various things like the sitting plans, event type, floor space etc. To calculate your tent size, you must consider these things.
Read our full article to know your answer. You will also know how to choose the perfect tent for you.
What Size Tent Do I Need for 50 Guests?
In general, if you are expecting 50 guests or less, you will need a tent that is 20″x20″. It will allow you enough space to accommodate your guests, as well as room to dance, eat, and relax.
Here is a table of different seating style tents for 50 guests: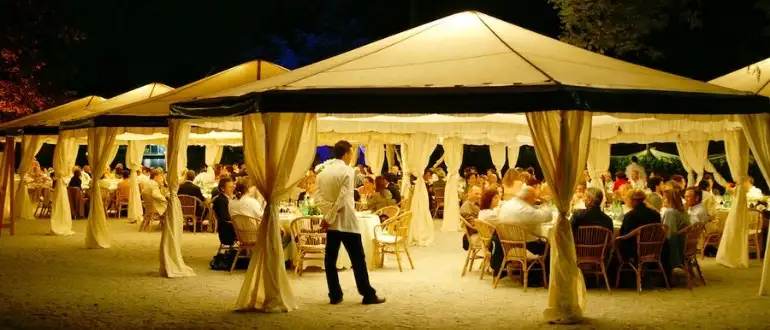 seating like in a theatre
Theater seating is just like it sounds. In rows, you put the seats facing the same way, toward a stage or other focal point.
At a wedding, you can break the rows into two parts to make an isle. You can also keep the rows together when you have an outdoor conference or other events.
Because this seating arrangement lets you keep the seats close together and doesn't need a lot of space for tables, you can have a lot of people in the tent. 
When people are seated in a theater style, they usually have more room than when they are sitting down. You need a 20′ X 20′ frame tent to seat 50 people in theater-style.
Seating In The Bench
Make sure your party, event, or wedding is medieval-themed. The banquet-style seats are just right for you. Long guest tables are used in the seating arrangement. To finish the look, set up a buffet for people to eat.
For each person, you only need 10 sq. ft. When you have 50 people coming, you need a 20′ X 30′ frame tent.
Cocktail Style
A cocktail setup has tall tables for people to sit and talk at, and the tables are usually set up so that people can only stand up. There are usually a few chairs scattered around.
Many people have this set up as part of the main event, but some people only have cocktail-themed events. If you go to this place, appetizers are served instead of a full meal.
It's important to think about the tables where your guests will eat and drink at this kind of event.
Even with the tables in place, each guest will need about 8 square feet, so you can fit a lot of people into a small tent.
50 people will need a 20′ X 20′ frame tent.
>> What tent size accommodates 75 guests?
SITTING FOR A DINNER
Having a sit-down dinner is a good idea for company parties and picnics, weddings, and other events where food is provided by a company. 
It is easier for caterers to set up tables with food to pass around or bring pre-plated meals for the guests at sit-down dinner events because there are round tables for the guests to sit at.
In this case, the round tables occupy a lot of space, which means that each guest needs about 12 square feet to feel at home.  When you have 50 people coming, you'll need a 20′ X 30′ frame tent.
How to Choose the Right Size of Tent for Your Party or Event
Whether you're having a family reunion or a wedding, having a tent can make it a lot better. When you choose the right tent, it can make the party even more fun by covering the seats, becoming an outdoor ballroom, or even making an indoor space look more glamorous. 
Party and event tents can be used for a lot of different things, but you need to pick the right one for your needs. There are a lot of things to think about when you choose a tent for your event.
Size of the Room
Measure the space you have for the tent to figure out how big it can be for your event. Also, you need to make sure the tent's edges are at least 10 feet wide. 
This makes it safe to anchor and set up. When measuring for the right size, of course, you should also think about any nearby buildings, cooking facilities, and access to get in and out of the house.
The number of guests
The more people you have, the bigger the tent may have to be. Having more than one tent set up for your event may be necessary at some point in time. 
To make sure you get the right set up for the number of people at your event, it's best to work with a pro.
where you live and the weather
The size of the tent you need will also depend on where your event is going to be.  A different type of tent might be used if the tent is near water to protect it from weather that comes from the water. 
It's also possible that the surface the tent will be put on will help to figure out its size.
Restrictions on height
A tent may not be tall enough for you to use inside. Take into account the height of the space you'll be using the tent in, along with its width and length. 
Make sure you have an expert check out the space and help you choose the right tent for inside.
Your Vision
The size of the tent you see in your mind is important, and most tents are a little like a blank piece of paper. 
These things can be set up in any way you want. You can also choose the size that best fits the space you have for your event.
Make sure you choose the right tent size for your event. Your guests, dance floor, food service, and anything else you plan to put under the tent need to have enough space. 
>> What is the best size tent for 100 guests?
Video: What Size Tent For 50 Guests
FAQs About Choosing A Tent For 50 Guests
Which factors can affect the tent size for 50 guests?
Size of your band
Bar & Buffet size
Social distancing
Lounge areas
Entertainment
Decor
How Do I Know What Size Of Tent I Need?
Using the following information, you can determine the required square footage:
15 square feet per person for a sit-down dinner (round tables).
Cocktail on a stand approximately 5 to 6 square feet per person
Seating at chairs is limited to 8 square feet per individual.
2 – 3 square feet of dance space per person
Don't forget to include additional space for your band, DJ, Podium, and so on. 
Final Thoughts
Hopefully, you have got an answer to the question, " what size tent do I need for 50 guests?"  You want the event to be a success, so you need to think about all of the above things. 
If you rent a party tent, make sure it's big enough to fit all your guests. Choose a tent rental company that has a lot of different tents, because that will give you a lot of choices.