Before today, probably you thought that geometry had no practical application! But here you are; at this very moment, you need geometry. 
You have to use geometry to find out what size tent for 75 guests.
It's impossible for any average person to estimate the cost of a tent rental or set-up until they know exactly what size they require. So, let's find out.
What Size Tent For 75 Guests?
For 75 guests, a 30′ x 60′ tent is ideal, providing enough space for seating, catering, and movement. This size accommodates all guests comfortably while allowing for different layouts, ensuring a successful event atmosphere.
75 Guests Tent Size Chart:
| The Number of Guests | The Purpose of The Tent | Tent Size | Square Footage |
| --- | --- | --- | --- |
| 65-75 | Seating Only | 20 x 40 | 800 sq. feet |
| 70-80 | Buffet | 20 x 50 | 1000 sq. feet |
| 70-80 | With Dance Floor & DJ | 30 x 40 | 1200 sq. feet |
| 75-80 | Seated Dinner | 20 x 40 | 800 sq. feet |
Types of Tents Suitable for 75 Guests
When planning an event for 75 guests, it's crucial to understand the various tent options available. Each type presents unique advantages and potential limitations.
Traditional Elegance: Pole Tents
Pole tents stand out as a classic choice for various gatherings. They're appreciated for their straightforward design involving center poles and stakes at the perimeter.
While their ease of setup and cost-effectiveness are notable, their need for a large, flat area and the presence of poles that may obstruct views or disrupt seating configurations are downsides to consider.
Versatility and Structure: Frame Tents
In contrast, frame tents are characterized by their sturdy metal frame, eliminating the need for center poles and thus offering unobstructed space within.
Their adaptability is evident in their suitability for diverse surfaces, encompassing grass, concrete, and decks. However, this comes with a higher price tag and a more complex setup process.
Spacious and Sturdy: Clearspan Tents
Clearspan tents contribute a sense of openness and minimalism, thanks to their robust frame and absence of interior poles.
They excel in offering maximum space and resilience against the elements, particularly wind and weather. Their main drawbacks are the significantly higher costs and intensive installation demands.
Unique Ambiance: Sailcloth Tents
For those seeking a distinctive style, sailcloth tents capture attention with their sculpted peaks and translucent sailcloth material.
They excel in aesthetics, allowing natural light in the daytime and emitting a cozy warm glow when evening arrives. Nonetheless, their specialized materials and design result in higher expenses.
Making the Right Choice
In summary, selecting the appropriate tent encompasses considering each style's pros and cons, with a focus on your event's specific needs, budget, and location.
Engaging with a professional event planner or rental company is advisable to ensure an informed decision.
Calculate The Size Of The Tent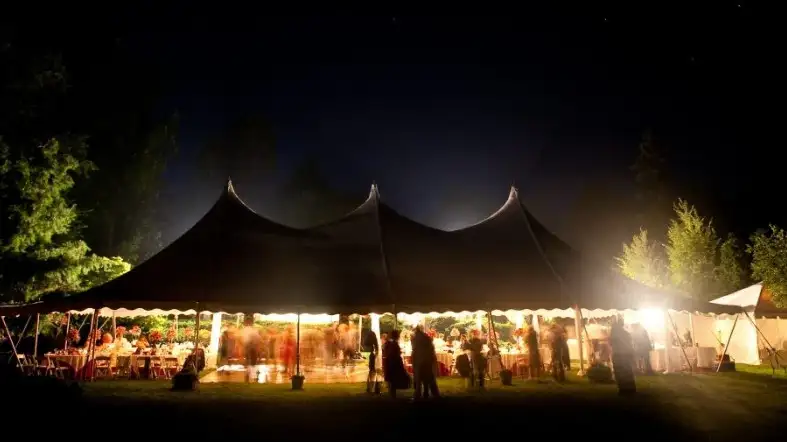 You may have access to any online tent size calculator to calcite the tent size, but we don't consider that reliable.
So, the approach that is outlined below should be followed.
You will get to do some mathematics. But don't worry; it won't be difficult. 
determine the number of the guests
The number of guests is the most important consideration here. As you can see in the chart given above, how the guest number affects the tent size.
If you have 60-inch round tables, these tables can accommodate 8 people efficiently.
If everyone will be sitting for dinner, you will need 100 square feet of space for every 8 people.
So, a 60 inches round table requires a 10 x 10 or 00 square feet space. An example will further clarify it for you.
Example: You need a tent for 75 guests. So, what do you do? Divide 75 by 8. You will get 9.3 round tables.
As a half table is of no use we have to round it up. So, we need 10 round tables.
Now, for every round table, we need 100 square feet of space. So, how much room for 10 round tables?
10 x 100 = 1000 square feet of space. So, you need a 1000 square feet tent for 75 guests if you have round tables. 
However, if you want to cut the cost of the tent, you can use long tables.
For long tables, 8 people can accommodate easily 80 square feet of space. In that case, an 800 square feet tent will do the job.
>> What size tent for 40 people?
Take into consideration the bridal party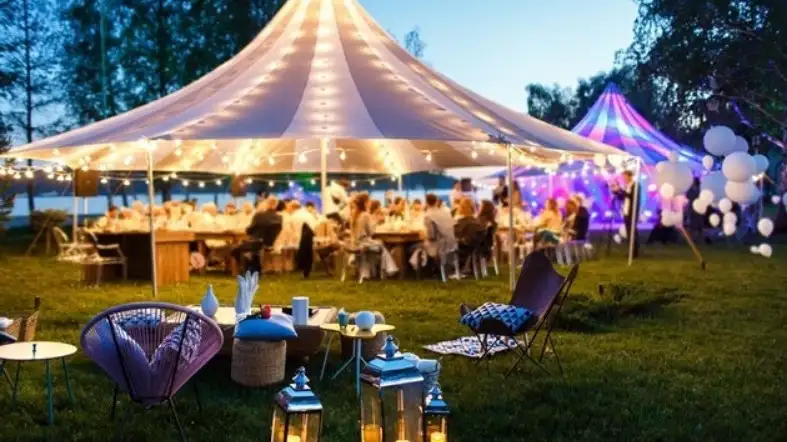 For any bridal party, we usually use the traditional tables with a long head. 
If that is the case, you will need space for that. Divide by four the total number of guests you intend to have seated at the long table.
Don't forget to include the bride and groom here.
The calculation result is the number of tables with a length of 8 feet required to construct the head table. 
To achieve the desired look, you need space in front of the tables as well as behind them (where people may enter and exit).
So, you will need 10 feet by 10 feet space for each head table.
For illustration purposes, a bridal party of 12 people would require three 8-foot tables. So, the needed space here is 300 square feet.
The Buffer Requires Different Considerations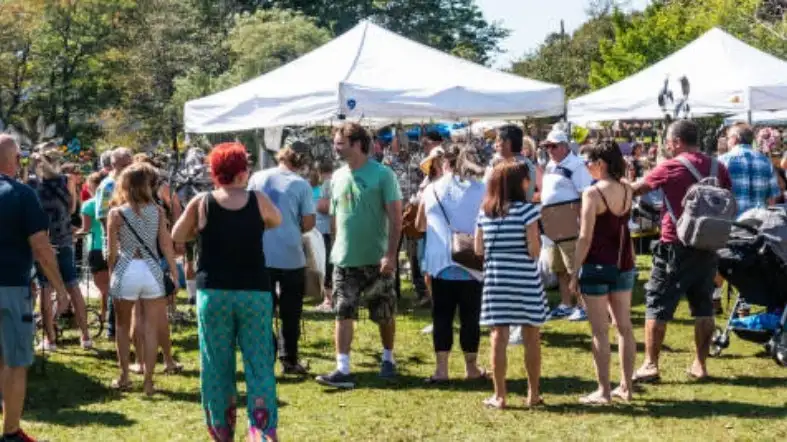 If you want to form a good buffet line, you have to use 8-inch tables. And, for every 8-inch table, you have to offer 100 square feet of space.
The good news is you don't have to worry here as they will tell you beforehand about the appropriate number of buffet tables for the completion of the event efficiently.
Imagine a party where the required number of buffet tables is four.
So, there will be an additional 400 square feet of space required.
>> What size tent for 100 guests?
Determine The Other Things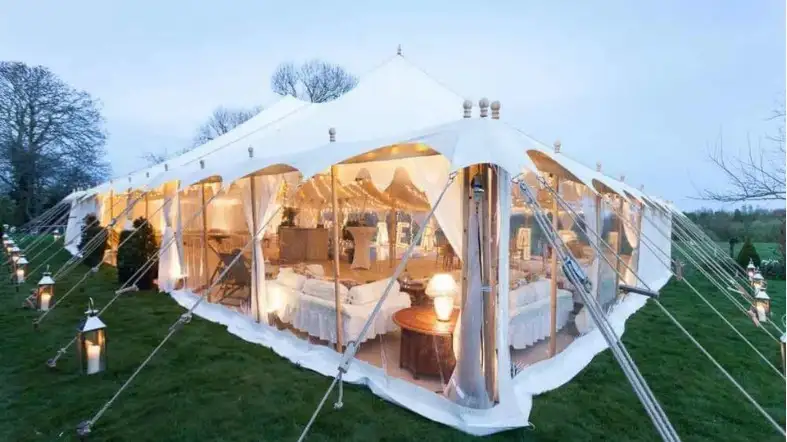 Do you require space for a stage in order to host a band? Do you intend to have a space for people to dance? These all are essential considerations.
Each and every one of these things is going to require space within your tent. So, you have to plan accordingly. 
Because no one wants to be more than two feet apart from the proposed stage, you need more space than the real size of dance floors and stages.
If I were to use a dance floor that measured 12 feet by 12 feet, I would ensure that it had a minimum size of 16 feet by 16 feet.
Doing so will increase the tent size by 256 square feet.
Now do the final math
Using the information you have, arrive at the total square footage space needed for the scenario.
The result that the calculation will provide is the very minimum need for your space.
If you pick a tent that is any smaller than this one, your guests will spend the whole night butting elbows with one another.
Factors to consider for the right size tent for 75 guests
When considering what size tent to get for 75 guests, there are several factors to take into account:
Type of event
The type of event will impact the size of the tent needed. For example, if it is a seated dinner, you will need more space per guest than if it is a cocktail party.
Seating arrangement
The type of seating arrangement you choose will also impact the size of the tent. Round tables will require more space than long banquet tables.
Additional space
You will need to factor in additional space for things like a dance floor, a DJ or band, a bar, and any other entertainment or activities you plan to have.
Weather conditions
If you are hosting the event outdoors, you will need to consider the weather conditions in your area.
A tent that can protect your guests from rain, wind, or extreme heat may require more space than a basic canopy.
Budget
The size of the tent will impact the overall cost of the event.
You will need to balance your budget with the size of the tent needed to accommodate all of your guests comfortably.
Tips for Optimizing Tent Layout for 75 Guests
Organizing an event requires meticulous planning, especially when it involves accommodating 75 guests in a tent. Here are some vital tips to consider:
Efficient Use of Space
To maximize the potential of your venue, it's essential to strategize the layout. Begin by arranging the indispensable items such as tables, chairs, and the dance floor, ensuring there is ample space for guests to navigate freely.
Prioritize unobstructed access to high-traffic areas like the buffet and restrooms.
Enhancing Guest Comfort
The comfort of your guests is paramount. It's important to organize seating in a manner that fosters conversation.
Additionally, take into account the weather conditions; for instance, during high temperatures, establish shady spots using umbrellas or canopies.
Integrating Decor and Lighting
The ambiance of a tent can be significantly elevated through decor and lighting. Utilize lights to accentuate principal points such as the entrance, stage, and dining tables.
Adorn the space with flowers, banners, or balloons that resonate with your event's theme.
FAQs about the Right size tent for 75 guests
How Many Chairs Fit In A 20×40 Tent?
In a 20×40 or 800 square feet space, 80-90 standard-size chairs fit easily.
So, if you have this much space, it is enough for 75 people.
How Many Tables Does A 20×40 Tent Hold?
A 20×40 space can accommodate at least 8 large tables. It may even accommodate ten 60-inch large tables if set properly.
So, it is enough for 80 people at least.
How Many Rectangular Tables Fit In A 20×40 Tent?
Twelve 8-inch (standard size) rectangular or banquet tables can easily fit in 800 square feet or 20×40 space.
How Much is Dance Floor Size For 75 Guests?
For 75 guests, you need a 1200-square-foot tent.
A 1200 sq. feet tent will give you a 12 x 15 or 180 square feet dance floor space.
How Much Does A Tent Cost For 75 Guests?
For 75 guests, you require an 800-1200 square feet tent.
So, for a tent of this size, you will have to pay $400-650 or even more based on the tent's quality and arrangement.
Final Words
So, determining what size tent for 75 guests is easy if you know the equations.
So, fix the needed space and the purpose of the tent, and then apply the simple tricks that we have discussed here. 
If you need any further help, we are just a comment away.