What Size Tent For 75 Guests?
We may earn affiliate fees for purchases using our links (at no additional cost to you).
Before today, probably you were thinking that geometry had no practical application! But here you are; at this very moment, you need geometry. 
You have to use geometry to find out what size tent for 75 guests.
It's impossible for any average person to estimate the cost of a tent rental or set-up until they know exactly what size they require. So, let's find out.
What Size Tent For 75 Guests?
Considering all the influencing factors, it is safe to say that for 75 guests, you would need an 800-1200 square feet tent.
The size of the tent for a particular number of guests varies based on the gathering type, what type of dinner you want to have, whether you want a bar or dance floor, etc. 
The Available Sizes Of Tent For 75 Guests:
As you already know, we have to consider some influencing factors before we set up or rent a tent.
So, various factors will play a role in determining the accurate size of the tent you need.  
We have prepared the chart below considering these factors to help you out.
| The Number of Guests | The Purpose of The Tent | Tent Size | Square Footage |
| --- | --- | --- | --- |
| 65-75 | Seating Only | 20 x 40 | 800 sq. feet |
| 70-80 | Buffet | 20 x 50 | 1000 sq. feet |
| 70-80 | With Dance Floor & DJ | 30 x 40 | 1200 sq. feet |
| 75-80 | Seated Dinner | 20 x 40 | 800 sq. feet |
Calculate The Size Of The Tent: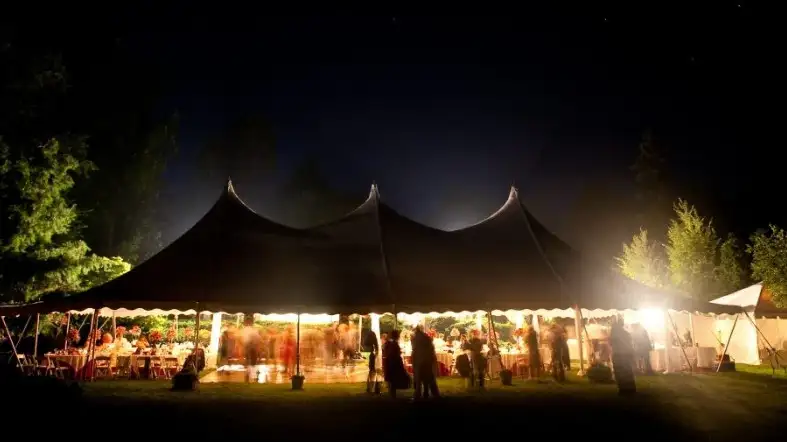 To calcite the tent size, you may have access to any online tent size calculator, but we don't consider that reliable.
So, the approach that is outlined below should be followed.
Here, you will get to do some mathematics. But don't worry; it won't be difficult. 
1. Determine how many visitors will be attending your event:
The number of guests is the most important consideration here. As you can see in the chart given above, how the guest's number affects the tent size.
Suppose, you have 60-inch round tables. These tables can accommodate 8 people efficiently.
Now, if everyone will be sitting for dinner, you will need 100 square feet of space for every 8 people.
So, a 60 inches round table requires a 10 x 10 or 00 square feet space. An example will further clarify it for you.
Example: You need a tent for 75 guests. So, what do you do? Divide 75 by 8. You will get 9.3 round tables.
As a half table is of no use we have to round it up. So, we need 10 round tables.
Now, for every round table, we need a 100 square feet space. So, how much space for 10 round tables?
10 x 100 = 1000 square feet space. So, you need a 1000 square feet tent for 75 guests if you have round tables. 
However, if you want to cut the cost of the tent, you can use long tables.
For long tables, 8 people can accommodate easily 80 square feet of space. In that case, an 800 square feet tent will do the job.
2. Take into consideration the bridal party: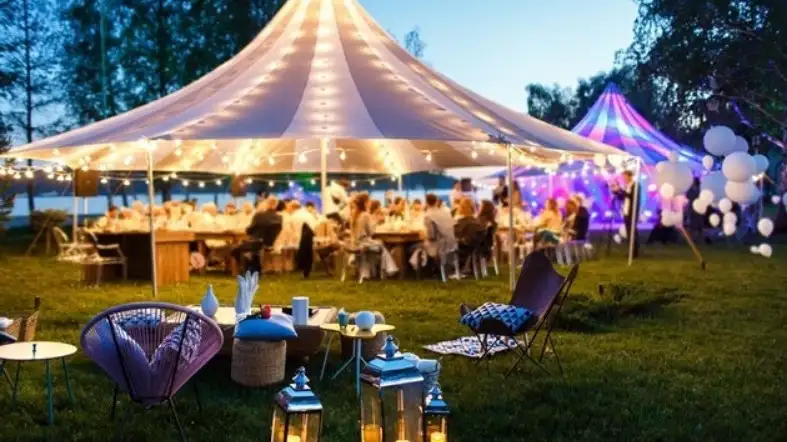 For any bridal party, we usually use the traditional tables with a long head. 
If that is the case, you will need space for that. Divide by four the total number of guests you intend to have seated at the long table.
Don't forget to include the bride and groom here.
The calculation result is the number of tables with a length of 8 feet is required to construct the head table. 
To achieve the desired look, you need space in front of the tables as well as behind them (where people may enter and exit).
So, you will need 10 feet by 10 feet space for each head table.
For illustration purposes, a bridal party of 12 people would require three 8-foot tables. So, the needed space here is 300 square feet.
3. The Buffer Requires Different Considerations: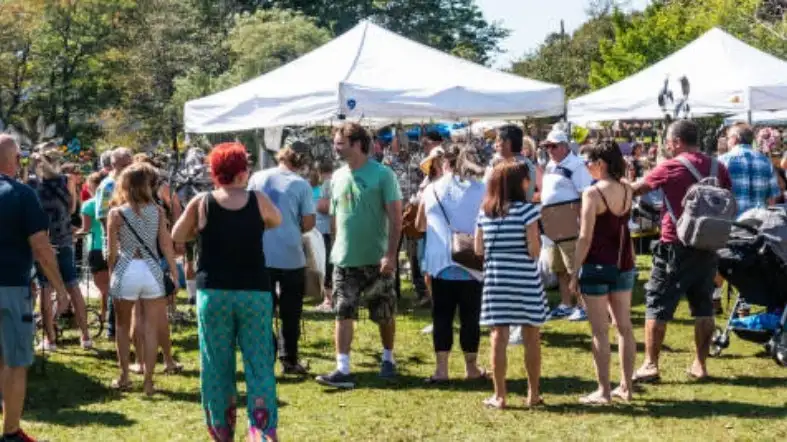 If you want to form a proper buffet line, you have to use 8-inch tables. And, for every 8-inch table, you have to offer 100 square feet of space.
The good news is you don't have to worry here as they will tell you beforehand about the appropriate number of buffet tables for the completion of the event efficiently.
For a better understanding, imagine a party where the required number of buffet tables is four.
So, there will be an additional 400 square feet of space required.
4. Determine The Other Things For Which You May Require Space: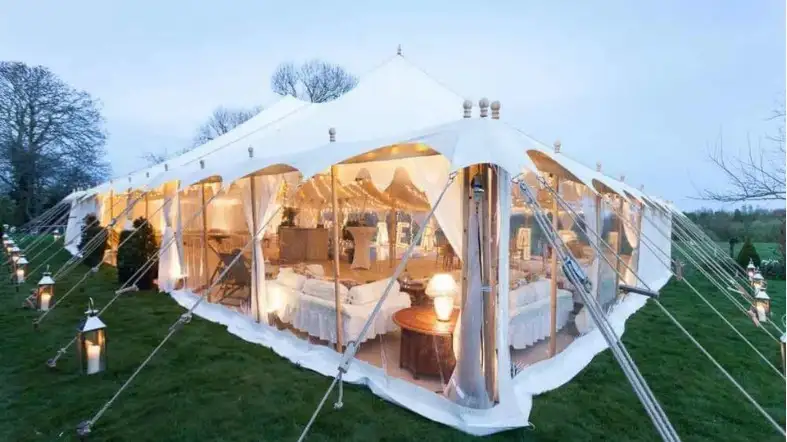 Do you require space for a stage in order to host a band? Do you intend to have a space for people to dance? These all are essential considerations.
Each and every one of these things is going to require space within your tent. So, you have to plan accordingly. 
Because no one wants to be more than two feet apart from the proposed stage, you need more space than the real size of dance floors and stages.
For instance, if I were to use a dance floor that measured 12 feet by 12 feet, I would ensure that it had a minimum size of 16 feet by 16 feet.
Doing so will increase the tent size by 256 square feet.
5. Now do the final math:
Using the information you have, arrive at a total square footage space needed for the scenario.
The result that the calculation will provide is the very minimum need for your space.
If you pick a tent that is any smaller than this one, your guests will spend the whole night butting elbows with one another.
FAQs about Right size tent for 75 guests:
How Many Chairs Fit In A 20×40 Tent?
In a 20×40 or 800 square feet space, 80-90 standard size chairs feet easily. So, if you have this much space, it is enough for 75 people.
How Many Tables Does A 20×40 Tent Hold?
A 20×40 space can accommodate at least 8 large tables. It may even accommodate ten 60-inch large tables if set properly. So, it is enough for 80 people at least.
How Many Rectangular Tables Fit In A 20×40 Tent?
Twelve 8-inch (standard size) rectangular or banquet tables can easily fit in an 800 square feet or 20×40 space.
How Much Dance Floor Size For 75 Guests?
For 75 guests, you need a 1200-square feet tent. Usually, a 1200 sq. feet tent will give you a 12 x 15 or 180 square feet dance floor space.
How Much Does A Tent Cost For 75 Guests?
For 75 guests, you require an 800-1200 square feet tent. So, for a tent of this size, you will have to pay $400-650 or even more based on the tent quality and arrangement.
Final Words:
So, we can conclude that determining what size tent for 75 guests is easy if you know the equations.
Now you know the equations and the factors that affect what size tent for 75 guests. 
So, fix the needed space and the purpose of the tent and then apply the simple tricks that we have discussed here. 
If you need any further help, we are just a comment away.