A curtain pole is the most essential element for curtains. It is also difficult to choose the ideal pole for your needs due to the abundance of items on the market.
But the thing that matters the most for a curtain pole is its size. The eyelet curtain might fit accurately curtain poles.
This article will let you know what size curtain pole is for eyelet curtains and help you choose the best one for you.
What Size Curtain Pole For Eyelet Curtains?
For 40 mm standard eyelet curtains, a curtain pole of 28 millimeters is recommended. The curtain pole should be roughly 1.5 times the width of the window, ensuring ample coverage and fullness when the curtains are drawn.
Curtain Pole Size Chart for Eyelet Curtains:
| Ideal pole diameter | Eyelet size |
| --- | --- |
| 28 milliliters | 40 milliliters |
| 35 milliliters | 50 milliliters |
| 50 milliliters | 66 milliliters |
The Most Popular Size
As the 40-milliliter is the most used eyelet curtain, the 28-milliliter curtain pole is the most sold and used curtain pole.  
The next most popular eyelet is the 35 milliliter. So, combinedly, it is safe to say that either a 28-millimeter or a 35-millimeter diameter is the standard size for a curtain pole.
But, if you need a pole less than 28 milliliters pole, you have to buy a metal one. 28mm is the smallest wooden pole.
Ranges Of Metal Poles
Metal poles start at 12mm as mentioned earlier. But, for an eyelet curtain, you need a 28mm pole. Fortunately, metal poles extend to 50mm as well.
>> What size curtains for 8 foot high ceilings?
Ranges Of Wooden Poles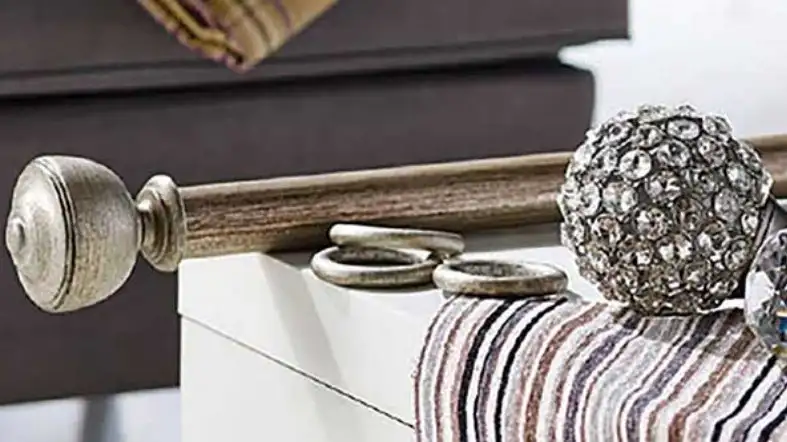 Wooden poles have a great range. Starting at 28mm, they extend to 55mm. 
They come with a traditional ball finial design. They have a variety of colors that are currently fashionable and combine wonderfully with contemporary home design trends.
Because of their tonal coloring, they blend incredibly perfectly with a variety of color combinations and design aesthetics.
Larger Poles
A curtain pole with a huge diameter may really make an impact on your window. Additionally, they are able to support the weight of thick drapes.
The greater diameters look great at huge windows, in spacious spaces, and with high ceilings.
Considering all these factors, you can get bigger poles for large curtains.
Larger diameters work incredibly well here. They will balance the curtain's appearance and aesthetics like a pro.
Pole Size Vs. Eyelet Curtain Size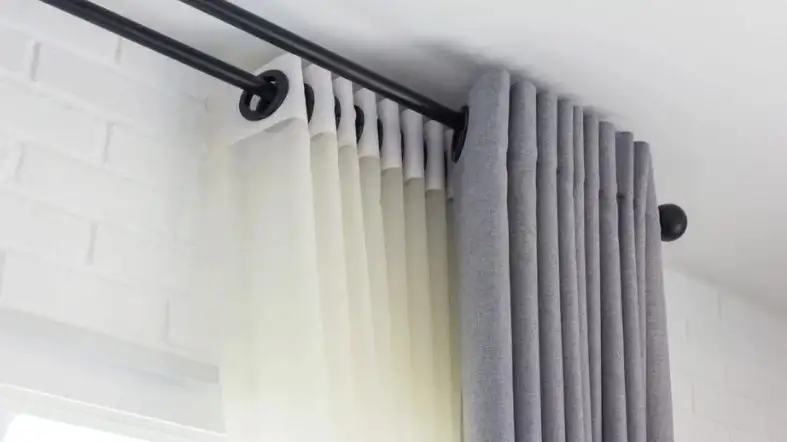 It is essential that you get the fitting just perfect if you want to be successful in creating that breathtaking window show-stopper.
Every fold on an eyelet curtain rod needs to be perfectly aligned with the pole. Therefore, exact measurement is vitally necessary.
We suggest using the following guidelines to determine how long a pole you need for your particular window size:
Take A Measurement Of The Distance Above The Window
Make a mark on the wall with a pencil to indicate the location of your eyelet curtain pole.
We suggest making your mark anywhere between 7 and 10 centimeters (cm) beyond the recess of the window.
You could want to go even higher than this for a greater dramatic impact, especially if your ceilings are quite high.
>> What size curtains for a 46 inch window?
Measure How Wide Your Window Is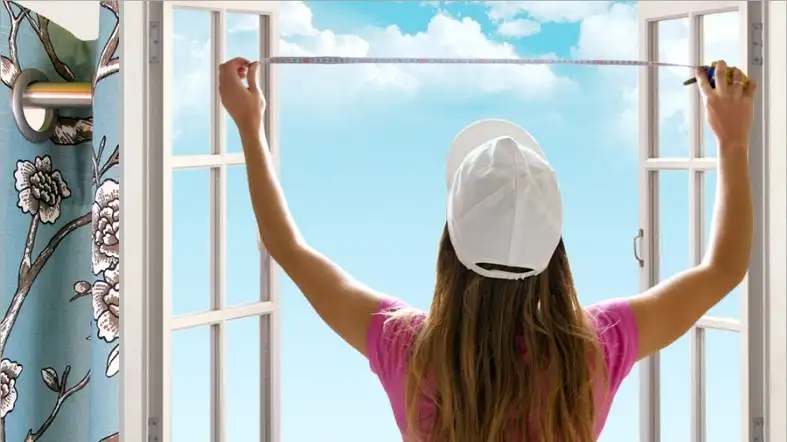 Now you are aware of the height at which your pole will rest, you need to measure the breadth of this space horizontally.
Take Readings From Both Sides Of The Window
On each side, we recommend designating an additional 15 centimeters on either side of the window frame.
It will ensure that your eyelet curtains may be drawn back all the way on either the inside or the outside of the window.
Compute The Total Of Your Measurements
Add the lengths you measured in steps 2 and 3 together to get the optimum length for your pole.
Remember that you can always trim it down to fit. If at all feasible, go with a pole that is a little bigger than the measurements.
This allows you freedom in case you wish to significantly alter the appearance when the pole is delivered.
Pro Tips: Consider any obstructions, such as furniture or radiators.  Or anything that you would prefer not to have your curtain poles dangle over when determining your perfect curtain pole length.
Make your window appear larger and taller: This is a special trick for those who like their window to appear bigger and taller than they originally are.
You can achieve this impression simply by adding a few centimeters to the sides and the top of the window.
But this is only possible if the space around the window is enough. Also, the curtain must be big enough to cover the whole extended distance.
It is possible that you will need additional curtain material if you do this, which will drive up the cost.
But, if an elegant appearance is what you're after, you should go ahead and give it a try.
>> What width drapes for sliding glass door?
How Much Weight Can The Curtain Pole Withstand?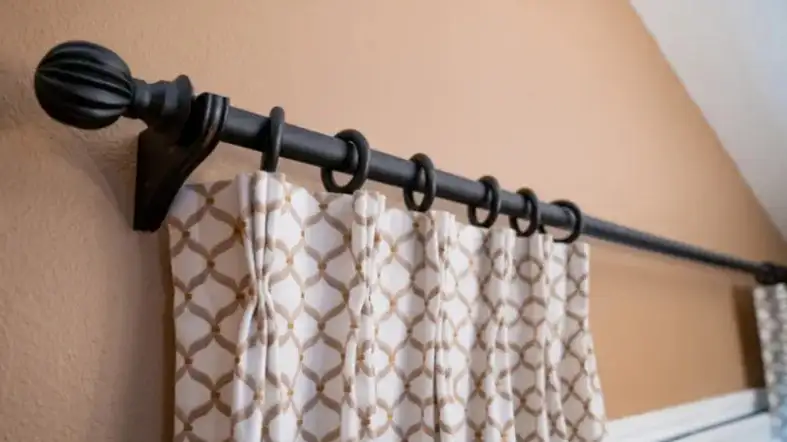 It is a very important factor to know if the curtain pole can hold the weight of the eyelet curtain. You don't want the curtain to come loose from the wall and fall.
Eyelet poles can, thankfully, support drapes of any weight, making them an extremely versatile option.
In order to keep your curtains in place, we recommend that you use the following diameters:
28 Milliliters Pole
If your curtain weighs more than 11 kg, this is the best option for you. This is also the most used one for eyelet curtains.
35 Milliliters Pole
We suggest going with a range that has a diameter of 28 millimeters for a curtain that isn't much heavy.
FAQs about RIght size curtain poles for eyelet curtains
What is the slimmest size pole for the eyelet curtain?? 
28mm is the slimmest size for eyelet curtains. The Artisan wrought iron series is only available in 12mm or 16mm diameters.
This is the slimmest to date. But it is of no use for an eyelet curtain.
Can I Use A 35mm Pole On A 50mm Eyelet Curtain?
Yes, you can use a 35 millimeters pole here.
But it is not the ideal option as you have to assist your curtains as they move up the pole.
How Far Should The Curtain Pole Extend Beyond The Window?
Depending on the barriers around the window, this might be a subjective matter or impacted by it.
Usually, on each side, the pole should have an extension of about 15-20 centimeters beyond the recess of the window. 
Does The Diameter Of The Curtain Rod Matter?
Yes, the diameter along with the length means a lot. It can be fragile if it's too thin. It will seem unwieldy if it is too thick.
There are many different materials and weights of cloth that influence the size and diameter of curtain rods.
Final words
If you know what size curtain pole for eyelet curtains you need, you can ensure the aesthetics of your eyelet curtain.
That's why we have offered an in-depth analysis of the pole size for the eyelet curtain.
In fact, money is also a big consideration. You don't have to spend extra money when a 35mm pole can do the job for you.
So, choose wisely and leave a comment about any concerns.