If you have sliding glass doors in your home, you need a beautiful curtain. Here you may ask, "What size curtains for sliding glass door?"
A proper-sized curtain is a must to protect you from sunlight and maintain your privacy.
In this article, we'll guide you through the process of determining the correct curtain size, exploring various types suitable for sliding doors, and considering factors.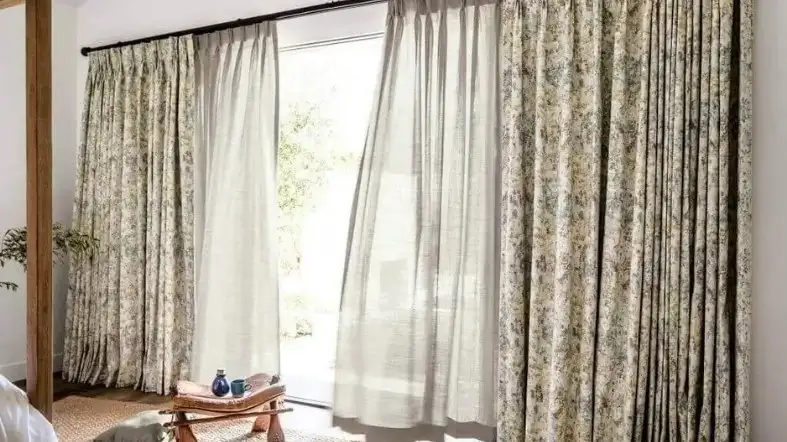 What Size Curtains For Sliding Glass Door?
For sliding glass doors, typically measuring 80″ in height and 72″ in width, curtains should be around 84″ long and 144″ wide for full coverage. The size of curtains depends on the size of your door. Always measure your door first before purchasing curtains.
Sliding Glass Door Curtains Size Chart:
| Door Size (Height x Width) | Curtain Size (Length x Width) |
| --- | --- |
| 80″ x 72″ (Standard Size) | 84″ x 144″ |
| 96″ x 96″ | 100″ x 192″ |
| 80″ x 60″ | 84″ x 120″ |
>> What length curtain rail for eyelet curtains?
Different Types of Curtains Suitable for Sliding Glass Doors
Sheer Curtains Overview
Sheer curtains are lightweight and allow natural light to filter in, creating a bright and airy ambiance. They're perfect for those who want to enjoy the view outside while maintaining a level of privacy.
However, they don't provide much insulation or block out light completely. For sliding glass doors, a size of 84″ x 144″ is preferable.
Blackout Curtains Features
Blackout curtains are designed to block out almost all sunlight, making them ideal for bedrooms or media rooms. They also provide good insulation.
However, they can make a room quite dark even during the day. A size of 84″ x 144″ is recommended for sliding glass doors.
Benefits of Thermal Curtains
Thermal curtains are great for energy efficiency as they help regulate indoor temperatures by blocking heat in summer and retaining heat in winter.
But they can be heavier and bulkier than other types. For sliding glass doors, a size of 84″ x 144″ is suitable.
Layered Curtains Flexibility
Layered curtains offer versatility as you can use a combination of sheer and blackout curtains. This allows for adjustable light control and privacy.
The drawback is that they require more maintenance due to multiple layers. A size of 84″ x 144″ is ideal for sliding glass doors.
Panel Track Blinds Functionality
Panel track blinds are modern and sleek, perfect for sliding glass doors. They offer easy operation and adjustable light control.
However, they may not provide a 'soft' aesthetic as curtains do. For these, the panel size should match the width of the individual glass sections of your door.
How To Choose The Right Curtains For Sliding Glass Doors
Measure The Length And Width Of Your Sliding Glass Door
Before you choose a style and pattern for your living room's sliding glass door curtains, you must know the size of your sliding glass door.
This is because the size of your sliding glass door will determine the size of your curtains. 
Standard sliding door height is 80 inches, so unless you have a custom-made door that is longer than the standard two-panel glass door, your door is probably about 6.8 feet high.
If you can't tell by looking, you can measure from the top to the bottom of the door to make sure it's a standard height.
The standard width of a sliding door is either 5 feet or 6 feet (60 inches or 72 inches), but most are 6 feet wide.
Again, you might need to get out your measuring tape if you can't tell by looking.
Now that you know how long and wide the window is, you can pick out the right curtain rod and curtains. 
Since the width of most two-panel sliding doors is 72 inches, choose a curtain rod with about 4 inches of space on each end (past the door frame) to bunch up the curtains when they are drawn on either side.
Since you'll need 4 inches on each side, you should find a rod that is 8 inches longer than the width of the door.
If the door is 72 inches wide, you'll need a curtain rod that's 80 inches long.
 When it comes to how long the curtains should be, you want them to be 3 inches above the door frame and 1 inch below the door frame. 
This way, the curtains will just touch the floor and not cover the top of the door frame.
That means your curtains need to be 4 inches longer than the height of the door, which is 80 inches. Curtains that are 84 inches long will work just fine.
>> What length curtains for 8 foot high ceilings?
Choose The Material And Style Of The Curtain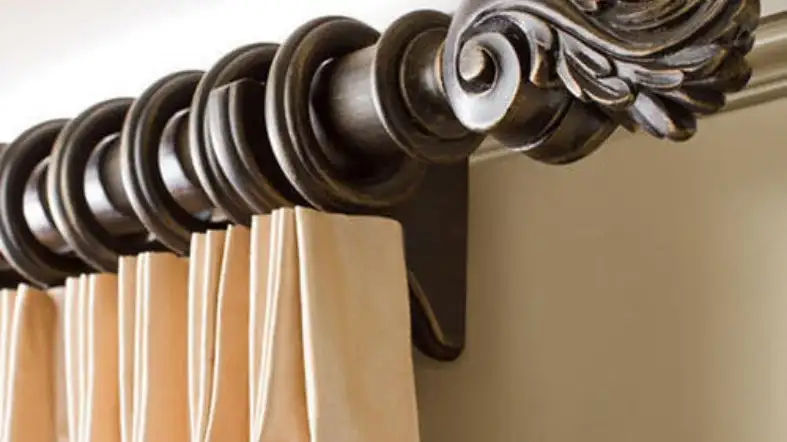 Now that you're done with the technical part, it's time to talk about how the curtains work and how they look.
Before you look at curtains with the color and pattern you want, you should decide on the style and type of fabric you want. 
This will help you narrow down your search. When it comes to style, single panel, double panel, and triple panel are the most common.
This means that you can have one large panel of fabric (called "single"), two panels so that there's one on each side (called "double"), or a combination of the two, with one panel on each side and one in the middle (triple).
As you can see here, this three-panel curtain set is very different from the more common one- or two-panel curtains because it gives a different kind of visual interest.
 When pulled together, it's hard to tell that there are three panels, and when they're apart, you can choose how much light to let in based on where the sun is.
Also, these curtains aren't too thin or too thick, so even when they're closed, some light can still get through. 
The sun won't be blocked by sheer curtains and thick "blackout" curtains will make the room very dark (and are only recommended for bedrooms of theater rooms).
For a living room, it's usually best to choose a material that is neither too heavy nor too light.
This way, when the sun is too bright to have the curtains fully closed, you can still let some soft light in.
>> What size curtains for 10 ft ceilings?
Select The Color And Design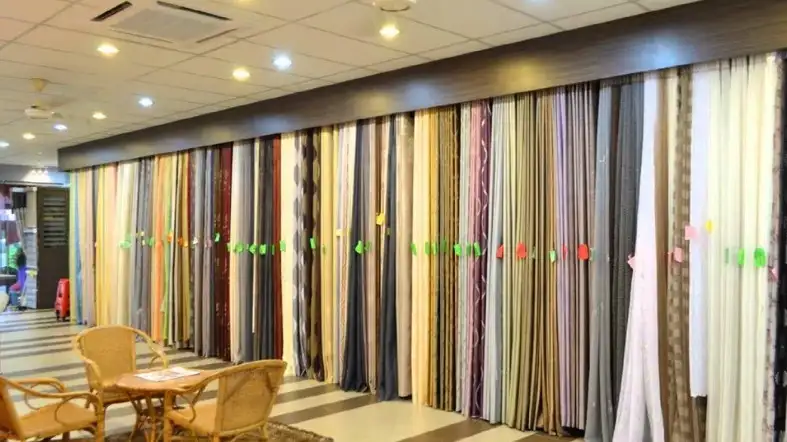 Once you've decided on the best style and amount of material for your sliding glass door curtains, you can pick a color scheme and pattern that fits in with the rest of your room. 
Since this living room has a greenish-gray standard sectional sofa and a cream-colored area rug, these curtains are the perfect contrast. 
The pattern brings out the solid colors of the sofa and rug, while the greenish-blue, gray, tan, and cream colors match the color scheme.
Now that you know how to choose the right size curtains for a sliding glass door, you'll be able to improve the look of your living room while also making it more comfortable and letting you control how much light comes in.
>> What kind of curtains for 9 foot ceilings?
Factors Influencing Curtain Size Selection for a Sliding Glass Door
Purpose of the Curtain
The curtain's purpose can influence its size. For privacy, full-length curtains are ideal. For decoration or light filtering, you might prefer shorter or sheer curtains.
Door's Total Width
The width of your sliding glass door will directly impact the width of your curtain. A wider door requires a wider curtain for full coverage.
Existing Decor and Style
Your current decor and style can dictate the size and type of curtain you choose. A minimalist style might favor straight, floor-length curtains, while a more traditional style might prefer drapes that pool on the floor.
Rod or Track System
The type of rod or track system you have can affect the size of your curtain. Some systems may require extra width for the curtains to open and close smoothly.
Maintenance and Cleaning
Consider how often you're willing to clean your curtains. Larger, heavier curtains may be more difficult to clean regularly.
Fabric Material
Different fabrics can shrink or stretch over time, which can affect the size of your curtain. It's important to consider this when choosing your curtain size.
Room Layout and Furniture Placement
The layout of your room and the placement of furniture can influence the size of your curtain. You wouldn't want your curtains to obstruct walkways or clash with furniture.
Budget Constraints
Your budget can also influence the size of your curtain. Larger curtains will generally be more expensive due to the extra material.
Energy Efficiency and Insulation Needs
Thicker, larger curtains can provide better insulation and energy efficiency by blocking drafts from your sliding glass door.
Local Climate and Sun Exposure
If you live in a sunny climate, you might prefer larger, thicker curtains to block out more sunlight. Conversely, in a colder, cloudier climate, you might prefer smaller, lighter curtains to let in as much light as possible.
Tips for Hanging Curtains on Sliding Glass Doors
Height Considerations
When hanging curtains, the height is key. Aim to hang the rod 4 to 6 inches above the door frame. This makes the door and room look taller. Remember, for sliding doors, curtains touching the floor are best.
Ensuring Door Usability
Ensure curtains don't hinder door use. Choose a rod length that allows curtains to be fully pulled back from the door area. This ensures easy access and lets in maximum light.
Safety Precautions
Safety is crucial. Keep cords out of reach if you have children or pets. Consider cordless or motorized curtains for better safety. Always secure the rod firmly to avoid accidents.
FAQs about the Curtains for Sliding Glass Door
Can I mix different curtain styles on a sliding
Yes, layered curtains, which combine sheer and blackout materials, are a popular choice for versatility.
Is it essential to measure my sliding glass door before buying curtains?
Absolutely, measuring ensures you get curtains that fit perfectly for functionality and aesthetics.
Are thermal curtains effective for energy efficiency with sliding glass doors
Yes, thermal curtains regulate indoor temperatures by blocking summer heat and retaining winter warmth.
Do all sliding glass doors have a standard size?
While many have a typical size of 80″ in height and 72″ in width, it's essential to measure as sizes can vary.
Does the curtain rod length significantly affect the functionality of the curtains?
Yes, the rod length determines how far curtains can be pulled back, affecting door accessibility and light entry.
Final Thoughts
We really hope that all of your inquiries regarding "what size curtains for sliding glass doors?" have been satisfactorily addressed.
The actual size of the sliding glass door, which is where the curtains will be installed, is the most significant element that should be considered first of all.
Other factors like the style and design of the door and the color and material of the curtains are also important.
So, keep all these things in your mind while choosing curtains for your sliding glass doors.