What Size Curtains For Sliding Glass Door?
We may earn affiliate fees for purchases using our links (at no additional cost to you).
If you have sliding glass doors in your home, you must need a beautiful curtain. Here you may ask, " what size curtains for sliding glass door?"
A proper sized curtain is a must to protect you from sunlight and maintain your privacy. So, you must know the size before buying it.
This article will help you in this factor. We will also let you know how to pick the proper sized curtain.
What Size Curtains For Sliding Glass Door?
The size of curtains depends on the size of your door. Since 60 or 72 inches is the standard length, the curtain rod length for sliding glass doors should be 3 to 6 inches longer on each side.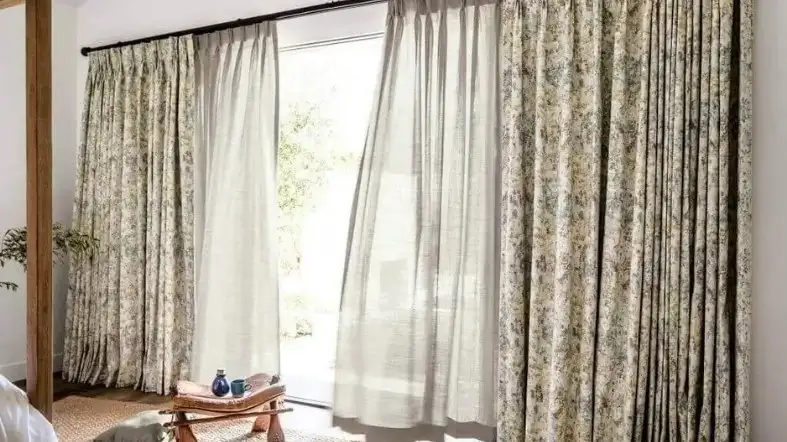 So, if your sliding glass door is 5 feet or 60 inches, the curtain rod should be between 66 and 72 inches.
A curtain rod for a 72-inch sliding glass door needs to be between 78 and 84 inches long. If your doors are an odd size, make sure to add 3 to 6 inches to each side.
How To Choose The Right Curtains For Sliding Glass Doors
Measure The Length And Width Of Your Sliding Glass Door
Before you choose a style and pattern for your living room's sliding glass door curtains, you must know the size of your sliding glass door. This is because the size of your sliding glass door will determine the size of your curtains. 
Standard sliding door height is 80 inches, so unless you have a custom-made door that is longer than the standard two-panel glass door, your door is probably about 6.8 feet high.
If you can't tell by looking, you can measure from the top to the bottom of the door to make sure it's a standard height.
The standard width of a sliding door is either 5 feet or 6 feet (60 inches or 72 inches), but most are 6 feet wide.
Again, you might need to get out your measuring tape if you can't tell by looking. Now that you know how long and wide the window is, you can pick out the right curtain rod and curtains. 
Since the width of most two-panel sliding doors is 72 inches, choose a curtain rod with about 4 inches of space on each end (past the door frame) to bunch up the curtains when they are drawn on either side.
Since you'll need 4 inches on each side, you should find a rod that is 8 inches longer than the width of the door. If the door is 72 inches wide, you'll need a curtain rod that's 80 inches long.
 When it comes to how long the curtains should be, you want them to be 3 inches above the door frame and 1 inch below the door frame. 
This way, the curtains will just touch the floor and not cover the top of the door frame. That means your curtains need to be 4 inches longer than the height of the door, which is 80 inches. Curtains that are 84 inches long will work just fine.
Choose The Material And Style Of The Curtain
Now that you're done with the technical part, it's time to talk about how the curtains work and how they look.
Before you look at curtains with the color and pattern you want, you should decide on the style and type of fabric you want. 
This will help you narrow down your search. When it comes to style, single panel, double panel, and triple panel are the most common.
This means that you can have one large panel of fabric (called "single"), two panels so that there's one on each side (called "double"), or a combination of the two, with one panel on each side and one in the middle (triple).
As you can see here, this three-panel curtain set is very different from the more common one- or two-panel curtains because it gives a different kind of visual interest.
 When pulled together, it's hard to tell that there are three panels, and when they're apart, you can choose how much light to let in based on where the sun is.
Also, these curtains aren't too thin or too thick, so even when they're closed, some light can still get through. 
The sun won't be blocked by sheer curtains, and thick "blackout" curtains will make the room very dark (and are only recommended for bedrooms of theater rooms).
For a living room, it's usually best to choose a material that is neither too heavy nor too light. This way, when the sun is too bright to have the curtains fully closed, you can still let some soft light in.
Select The Color And Design
Once you've decided on the best style and amount of material for your sliding glass door curtains, you can pick a color scheme and pattern that fits in with the rest of your room. 
Since this living room has a greenish-gray standard sectional sofa and a cream-colored area rug, these curtains are the perfect contrast. 
The pattern brings out the solid colors of the sofa and rug, while the greenish blue, gray, tan, and cream colors match the color scheme.
Now that you know how to choose the right size curtains for a sliding glass door, you'll be able to improve the look of your living room while also making it more comfortable and letting you control how much light comes in.
FAQs about the Curtains for Sliding Glass Door
How Long Are Curtains For Sliding Glass Doors?
Curtains for sliding doors are usually 84 inches long (7 feet) and 100 inches wide (8.3 feet). This size will fit most sliding glass doors with two panels. But there are curtains for doors that are wider. 
Extra-long curtains for sliding doors are usually 96 inches long (8 feet) and 100 inches wide (8.3 feet).
Most curtains for sliding glass doors won't be any longer than 96 inches. In these cases, you might need to look for curtains that are made just for you.
How Wide Should Your Curtains Be For A Sliding Glass Door?
The width of standard curtain panels is usually between 48 and 52 inches. But most of the time, you can find special curtains for sliding glass doors that are 100 inches wide.
How many panels you need depends on the width of the doors, the width of the curtains, and the style you want. We'll talk more about that in a moment.
How Big Should The Curtain Rod Be?
Standard sliding glass doors are 6.8 feet (80 inches) wide, and you can find curtain rods that fit this size. Now that you know how wide the sliding doors are, it will be easier to find a curtain rod that is the right size.
If your sliding glass door is a custom size, you might have to look a little harder to find the right-sized rod. It could mean going to a store that specializes in design or even ordering a curtain rod that is made just for you.
The curtain rod should have 4 inches of space on each end and should go past the door frame. This gives the curtain's fabric more room to gather when it's open.
 If a rod is already there, don't measure the decorative ends. Just measure the rod itself.
How Long Is A Curtain For A Three-Panel Sliding Glass Door?
Standard sizes for sliding glass doors with three panels are 9 feet wide (108 inches) and 12 feet wide (36 inches) (144 inches). 
For sliding doors with three panels, the curtains should be 96 inches long. When it comes to how many curtain panels you need, the standard is four curtain panels for a single layer.
Even so, you should still measure your three-panel sliding glass doors before hanging curtains. Measure the doors' height and width, and then add 2 inches to each side of the width. Also, take 1 inch off the height to leave space between the floor and the curtains.
Final Thoughts
We really hope that all of your inquiries regarding "what size curtains for sliding glass doors?" have been satisfactorily addressed.
The actual size of the sliding glass door, which is where the curtains will be installed, is the most significant element that should be considered first of all.
The other factors like the style and design of the door and the color and material of the curtains are also important. So, keep all these things in your mind while choosing curtains for your sliding glass doors.