The tent is an inevitable part and parcel of any occasion. Here a common question is, "what size tent for 100 guests?"
A perfect-sized tent can make your party more organized and charming. Also, it saves you money.
This article is here to serve the purpose of calculating the right size of tent for your event.
What Size Tent For 100 Guests?
You will need a 20′ x 40′ tent if the attendees will be seated in a ceremony manner, or if they will be standing around cocktail tables.
You will need a tent that is 20 feet by 50 feet if the visitors will be seated at tables.
Apart from the guest numbers, the tent size depends on the style of the event and the seating plan of your ceremony.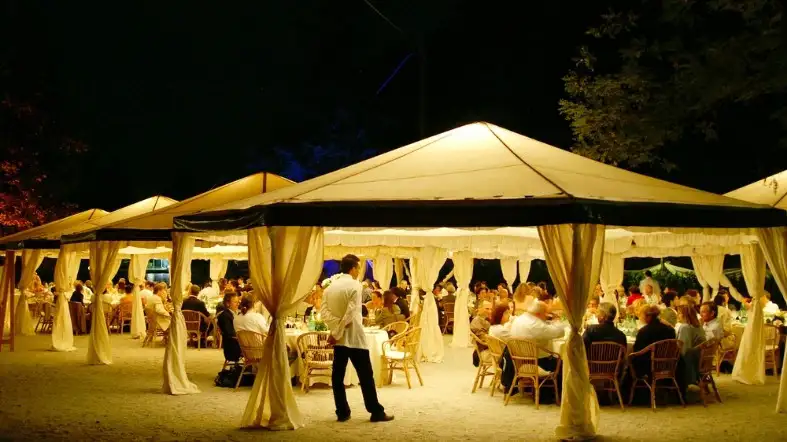 If you need to fit other objects underneath the tent, such as a bar, a buffet line, or a stage, you will need to purchase additional square feet.
Here is a chart for your convenience,
| | | | |
| --- | --- | --- | --- |
| Number of guests | Seating Style | Tent size | Approximate cost |
| 100 | Theatre | 20′ X 40′ | $585– $600 |
| 100 | Bench | 20′ X 50′ | $600– $700 |
| 100 | Cocktails  | 20′ X 40′ | $585 – $600 |
| 100 | Dinner | 20′ X 50′ | $600 – $700 |
Detailed Tent Size For Different Event Styles
Theatre Style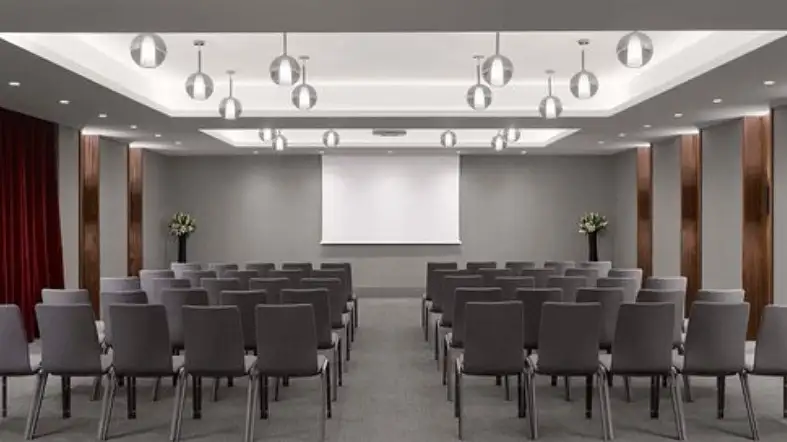 Theater seating involves rows facing in one direction, and this arrangement can also be used for outdoor events.
Dividing the rows in half can create an aisle for weddings.
This seating arrangement allows for a large number of people to be seated closely together without needing much space for tables.
People seated in theater style have more space to move around compared to other seating arrangements.
>> What size tent for 60 people?
Bench sitting /Banquet Style 
Whether you're having a party, event, or wedding, make sure it has a medieval theme. You will find that the seats arranged in a banquet style are ideal for you. 
The seating arrangement makes use of guest tables that are quite long. Set up a buffet for the guests to eat at as the finishing touch to the look.
You only need ten square feet of space for each individual. If you have 100 people coming, you will need a frame tent that is twenty feet by fifty feet.
>> What is the best tent size for 75 people?
Cocktail Style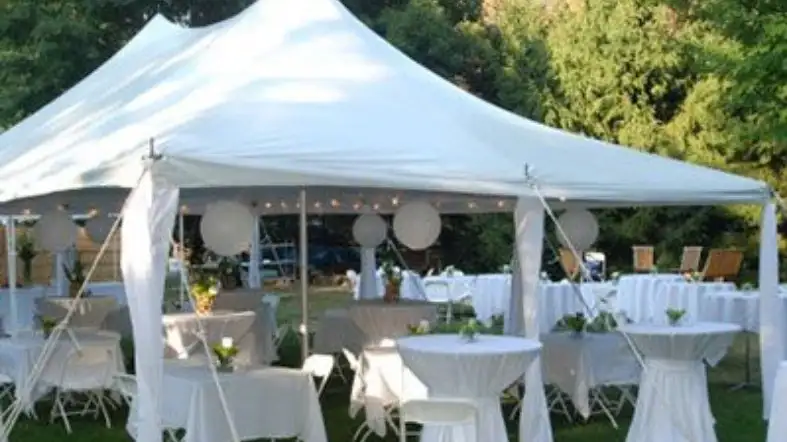 People can stand or sit at the tall tables that are typical of a cocktail setup.
The tables are typically arranged in such a way that sitting is not possible. There are a few chairs strewn about in various locations.
There are a lot of people who have this set up as a component of the main event, but there are also people who only host cocktail-themed events.
When you visit this establishment, rather than a full meal, you will be served a selection of appetizers.
When planning an event of this nature, it is essential to give some thought to the tables at which your guests will eat and drink.
Even with the tables set up, each guest will require approximately 8 square feet of space, which means you can fit a large number of people into a relatively small tent.
A frame tent that is 20 feet by 40 feet is required for 100 people.
Dinner Style 
It is a good idea to have a sit-down dinner for company parties and picnics, weddings, and other events where food is provided by a company, especially if the company is catering the event.
Because guests are seated at round tables during sit-down dinner events, caterers find it much simpler to set up tables with food to pass around or bring pre-plated meals for the guests.
Because there is limited room due to the presence of the round tables, we recommend allocating approximately 12 square feet of floor space to each of our guests.
When there are 100 people expected, you will need a frame tent that is twenty feet by fifty feet.
>> What is the best size tent for 40 people?
Things To Consider While Choosing Your Tent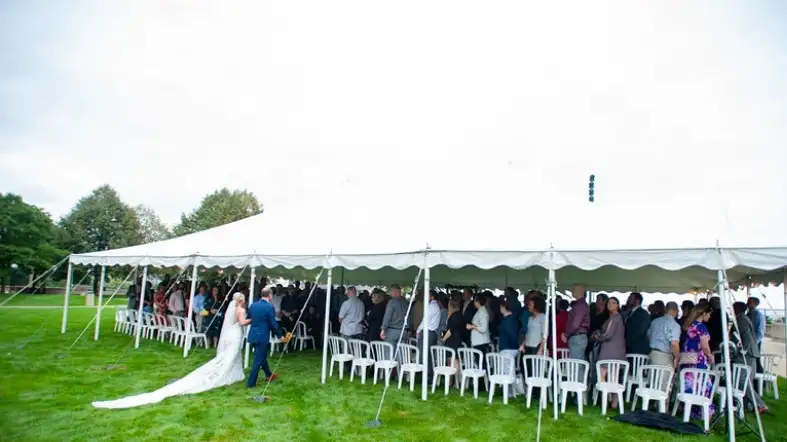 Dimensions of the Room
Determine the tent size for the event based on the available area for the tent. Additionally, the tent's edges must be at least 10 feet wide.
This makes anchoring and setting up safe. You should also consider surrounding structures, culinary facilities, and access to the home while determining the appropriate size.
>> tent measurements and occupancy?
The Number Of Guests
Depending on the number of guests, the tent may need to be larger. At some point, it may be necessary to set up multiple tents for your event.
To ensure that your event is appropriately set up for the number of attendees, it is important to consult with a professional.
Where you are celebrating and the climate
The size of the tent you require will also depend on the location of your event. In order to protect the tent from water-borne weather, a different type of tent may be utilized if it is located near water.
It is also likely that the surface on which the tent will be placed will influence its size.
Limitations on height
A tent may not be tall enough to accommodate your needs. Consider the height, width, and length of the area where you will be setting up the tent.
Ensure that an expert examines the room and assists you in selecting the appropriate tent for the inside.
The Type of Tent you desire
Importantly, the size of the tent you envision in your mind is comparable to a blank sheet of paper.
These objects can be organized however the user desires. You can also choose the size that fits your event's venue the best.
Ensure that you select the appropriate tent size for your event. Your guests, dance floor, food service, and everything else you intend to place under the tent must have sufficient room.
Other Equipment or Amenities Needed for a Tent Accommodating 100 Guests
When planning an event that requires a tent to accommodate 100 guests, there are other equipment and amenities that may be needed in addition to the tent itself.
These can include:
Tables and chairs:
Depending on the type of event, tables, and chairs may be necessary for guests to sit and eat, socialize, or watch a performance.
Lighting:
If the event is taking place at night or in a dimly lit area, lighting can be necessary to ensure the safety of guests and to create a pleasant atmosphere.
Heating or cooling units:
Depending on the time of year and weather conditions, heating or cooling units may be necessary to keep guests comfortable inside the tent.
Dance floor and stage:
For events such as weddings or concerts, a dance floor, and stage may be necessary for guests to dance or watch a performance.
Catering equipment:
For events where food is being served, catering equipment such as food warmers, chafing dishes, and serving tables may be necessary.
Sound system:
If there will be music or other audio components to the event, a sound system with speakers and microphones may be necessary to ensure guests can hear and enjoy the performance.
Restrooms:
Depending on the location of the event and the availability of nearby restrooms, portable restrooms may be necessary for guests.
FAQs about choosing the right size tent
If I Want To Feed My Guest, Will It Affect My Tent Size?
If you intend to feed your guests, you must consider the size of the tent you will require.
If you intend to host a brunch buffet, you will need sufficient space for warming trays, fruit plates, and coffee and tea stations. 
For a seated supper, seating arrangements must be determined in advance.
If you intend to host cocktail-worthy light hours, you will also need space for a spread and a bar.
Does The Event Type Affect The Tent Size?
The event type influences the required space the most.
For cocktail parties and tables with guests standing, calculate 8 square feet per person.
Per person, a buffet or reception requires 8 square feet. A seated supper might take up to 12 square feet per diner.
What if I have limited space for the tent?
If you have limited space, you may need to choose a smaller tent or consider alternative options such as using multiple smaller tents or a different type of venue altogether.
Final Thoughts
Now you know the answer to the question, "what size tent for 100 guests?" The size depends on which style you are supposed to seat your guest.
Other factors are also important in choosing tent sizes. Keep them in your mind too.
Think about the information we have given above to make your party look more beautiful.